What are you, as a straight, married man, doing on Instagram?
A loaded question, I suppose. It could be fairly presumed that you're doing what anyone else does on the social media platform: sharing the things you've seen that you find beautiful, interesting, funny or relevant. But the man who finds himself legally hitched to a woman is apt to convert their entire personal brand to "being married," and this makes them, in a term that gained recognition back in 2019, a "Wife Guy." 
A canonical example is Robbie Tripp, who sought to gain influencer status by constantly talking about the attraction and love he felt for his "curvy wife," Sarah Tripp. Although he faced backlash for his first viral post, which many deemed self-congratulatory, he kept at it, creating a rap persona around his preference for curvy women and, most recently, a TikTok account that continues to hammer this theme. Meanwhile, on Instagram, it's imperative that he posts about Sarah (who has a much bigger audience) frequently.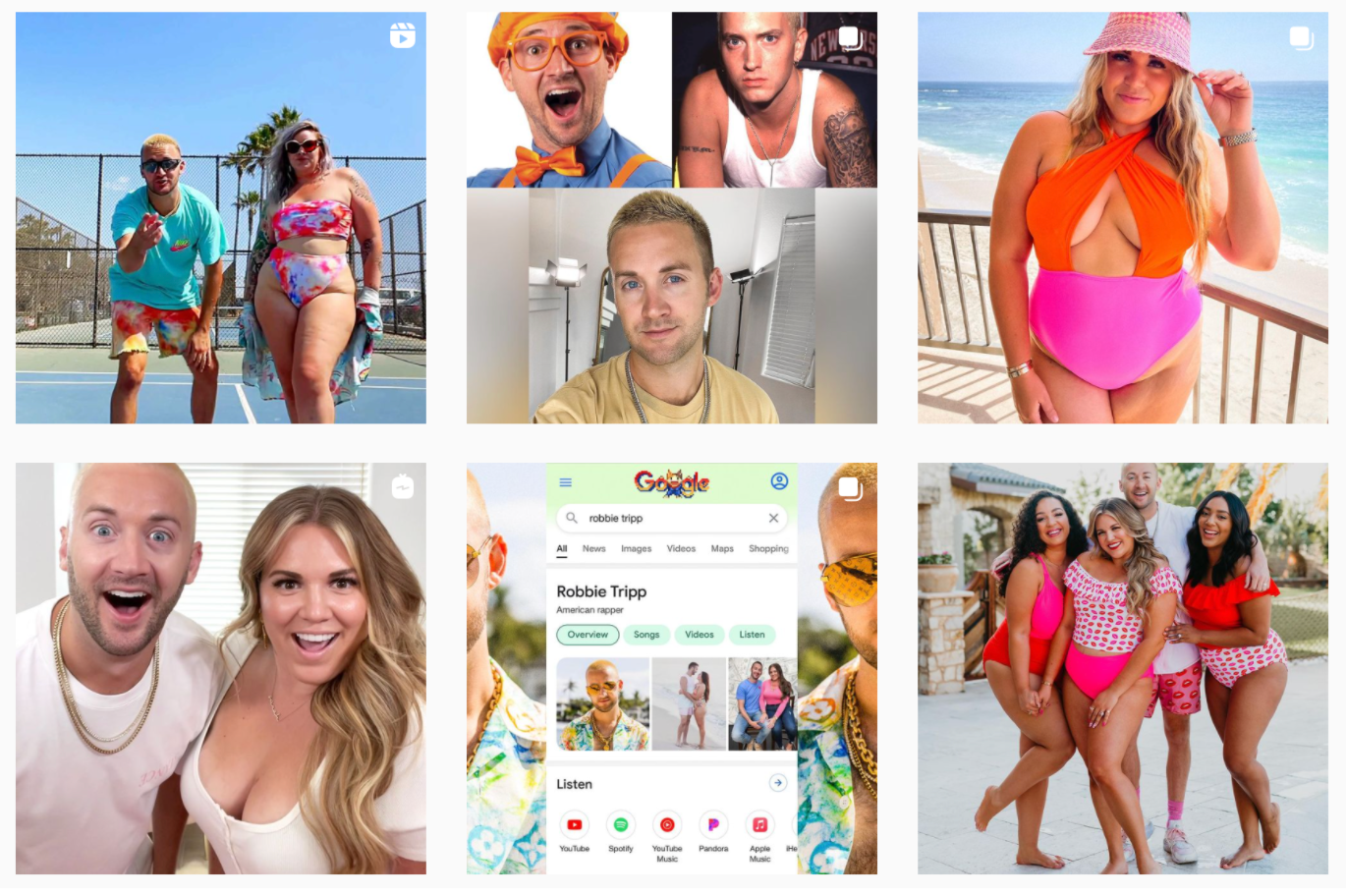 If this is a trap that Tripp has laid for himself — having to constantly acknowledge the woman responsible for any clout he may enjoy — he doesn't seem to mind that much. Nor is he alone. A higher-profile case would be that of Doug Emhoff, aka The "Second Gentleman," husband of Vice President Kamala Harris. Now, it's true a handful of people were already liking Emhoff's parade selfies on Instagram three years ago. But he doesn't have 759K followers today because they're eager to see him wearing a face mask around various Washington, D.C. monuments. From the moment Harris announced her presidential run, his account had to serve as a window onto her career, and in content, it's come to reflect that: a steady stream of photos and videos of the vice president. Even when the couple received the COVID-19 vaccine in December 2020, Harris stood by while Emhoff got the shot, as though to legitimize the picture for his feed.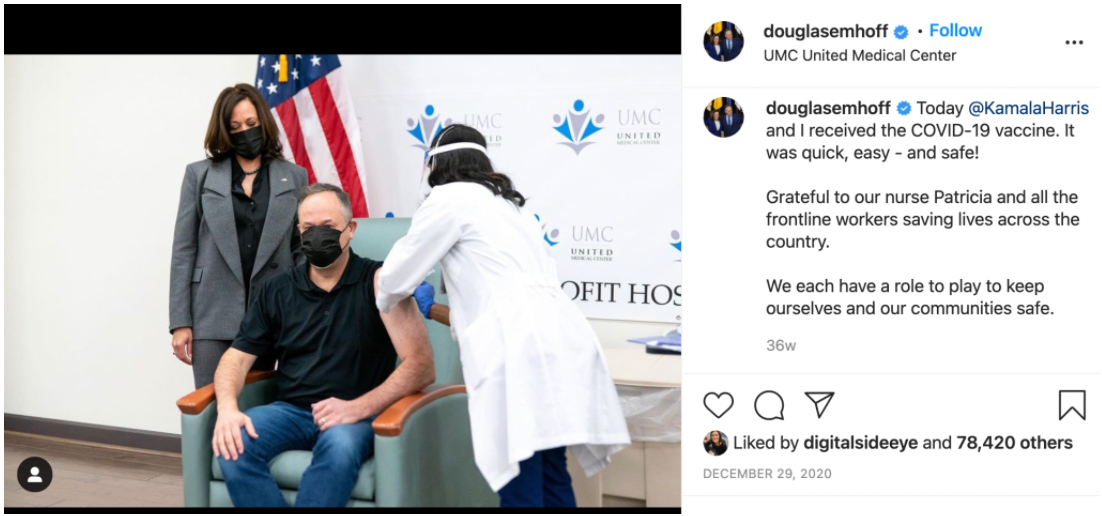 Harmless politicking, it seems — though the Instagram Wife Guy can also use the appearance of domestic bliss as a cover for something more insidious. Blaine Wetzel, a world-renowned chef who made his name with a restaurant inn on the remote Lummi Island in the Pacific Northwest, has a page that prominently features his wife Daniela Soto-Innes, an acclaimed chef herself. "The couple's romance, lavishly documented on Instagram since they met in 2018, has added a glamorous chapter to Mr. Wetzel's story," as food writer Julia Moskin has observed in the New York Times. 
That article, published this past May, was a detailed investigation into charges from 35 former employees that Wetzel misled customers about his high-end ingredients while running an abusive kitchen, withholding wages, using racial slurs, discriminating against women and turning a blind eye as male staff preyed on the local teen girls who worked there. 
It's a shocking report not because we have rosy ideas about the labor conditions of the restaurant industry (quite the opposite!), but because of the idyllic setting and aesthetic of purity that Wetzel cultivated around it. On Instagram — where he hasn't posted since the Times published the exposé — it's a lot of him and Daniela in nature. In one post, she's leaning against a tree, and the caption reads: "Soaking up all the redwood energy […] so beautiful."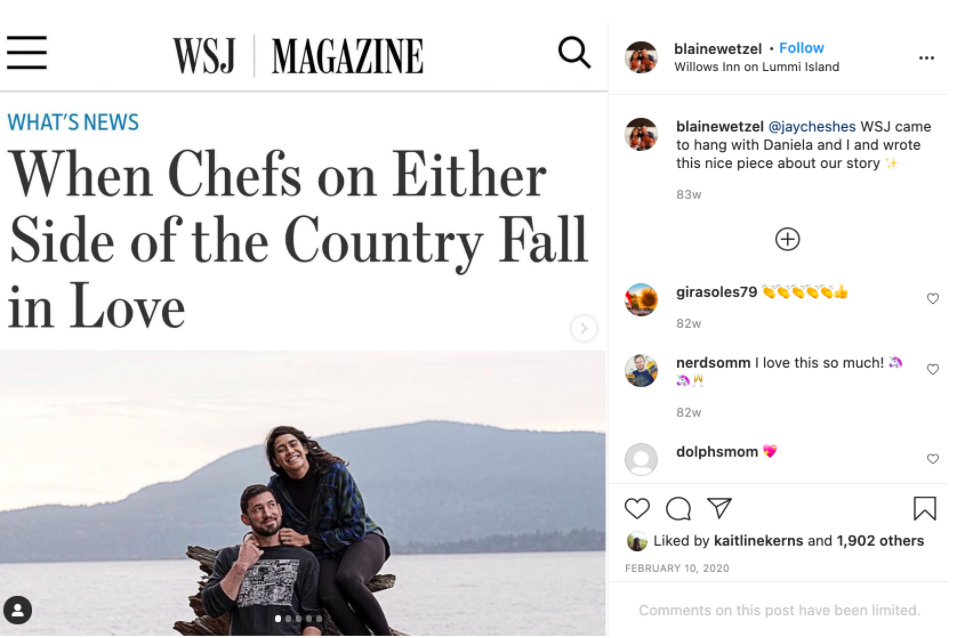 Does every wife-posting fiend have a deep, dark secret? Doubtful. Some are just cornballs who see in their spouses a chance to repeatedly brag while indulging in sappiness. Some may not have other subjects of interest to share. And a few, no doubt, are attempting to transition from cold, serious "brotography" to warmer, happier vibes. Yet there persists a folk wisdom cautioning against the serial wife-gazer. "Nobody cheats like a dude who keeps posting his wife or girl on social media," goes one popular adage, "giving them confidence so he can cheat in peace!" A man with his wife plastered all over his social media is, counterintuitively, seen as a probable horny DM slider — and not without a good bit of evidence to support the theory. If he only just started to advertise his wife, however, it may be that he was already caught stepping out and is trying to make amends. With these dogs in the mix, innocent wife guys start to look more suspicious.  
Elsewhere, some pieces of wife content defy the question of motive, and always will. Why did soccer superstar Lionel Messi, who tends to keep his Instagram family-friendly for his 264 million followers, share a video of his wife's butt workout in his Stories (and could it be a response to the Brazilian model who got an anal tattoo in his honor)? Why did Nev Schulman of Catfish fame celebrate a romantic anniversary with a photo in which his wife is sloppily licking his mouth? Why, to mark his 30th birthday, did wunderkind music manager Brandon Silverstein choose to appear as a background extra in his wife's mirror selfie? 
I'm sure I don't know. They must have their reasons. All we can say for sure is that straight men publicly identifying as married have a chaotic approach to the task — the unspoken rules and norms of Instagram don't apply. No two wife guys are quite alike, but each one needs to remind you how lucky he is.