Harvey Weinstein has long been an optimal target for satire: In 2008, Leslye Headland painted a deeply unflattering portrayal of him in a scathing play about her time as Weinstein's assistant; throughout its run, Entourage featured a fat, foulmouthed power producer named "Harvey Weingard;" and the handsy, sexist-boss in Heather Graham's Half Magic released in February was based on the lecherous movie mogul.
The most famous jibe, perhaps, came from a snarky Seth MacFarlane, host of the 2013 Oscars. After listing the nominees for Best Supporting Actresses, he noted the quintet was now "powerful enough to rebuff Harvey Weinstein's advances."
Family Guy has also been taking shots at Kevin Spacey and Brett Ratner since 2005.
But the joke is landing differently in the #MeToo era, largely because the satirists are predominantly female and their rebukes are undeniably warranted. Motivation for the mockery also differs from traditional forms of satire — i.e, political humor and social criticism — as #MeToo satirists seek catharsis, as well: for victims of abuse, for aggrieved women everywhere, and for society at large.
Take Los Angeles-based comedian and illustrator Jamie Loftus, for example, who tells me her Advent Calendar of Recently Disgraced Men released last Christmas was inspired by a fallen giant in her industry. "Louis C.K.'s apology prompted all of this," she explains, referring to the 25-part series of snot and blood-smeared portraits of #MeToo men posted daily on Instagram. It was meant to be a release, she says, for herself and for other female colleagues in comedy. "The intended audience was all women," she says — aggrieved women and victims of assault alike — since they're both familiar with this behavior. "Every woman I know has had an experience like this. So I wanted to show them a guy finally being smeared, literally, as opposed to smearing the victims, which I've experienced first hand."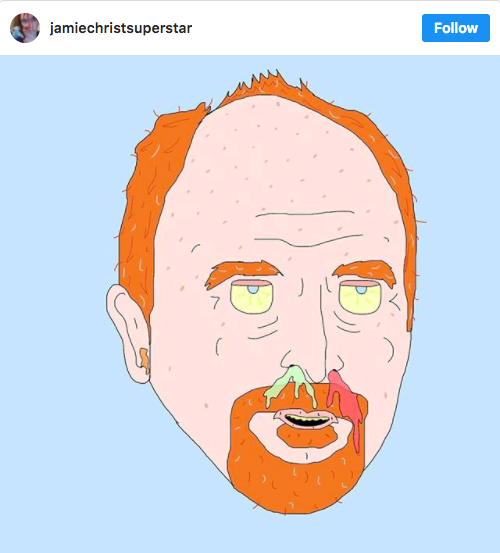 The series was intended to inform as much as humor, she says. Along with snot-riddled mugs of more obscure assailants from various industries, Loftus included the exact allegations of assault to provide context. "I drew them the way I draw normal portraits," she explains, "and then added pimples, pus and a bunch of gross shit as a visual metaphor for the nasty things they had done. They looked like garbage, which was how they were finally being portrayed in the media. It's little, but when your president is a rapist who actively wants to strip you and every marginalized group in the country of their basic rights, something little can help."
The Emmy award winning comic who couldn't quit cumming in front of his female colleagues was also the motivation for NY comedian Lauren Maul, who set the exact words of C.K.'s apology — and those of Weinstein, Lauer, and many, many others — to original music and made corresponding videos featuring animated paper dolls. "I started writing Louis' the day his apology came out," she tells me, "because I found it to be more of a pageant than an apology. It just sounded so melodramatic, like a piano ballad, with him explaining that he was also the victim. I wondered, what if I set this to music to show just how ridiculous it is?"
Maul thinks it's necessary to mock the men outed by #MeToo because, she says, if women aren't laughing at them, they'll be crying about them. "Life sucks," she adds. "That's why satire exists: to exaggerate the things we hate." All of the apologies are all horrible, she notes, but she found Mario Batali's to be particularly tone deaf — and ripe for satire — since it concluded with a recipe for cinnamon rolls.
The most conspicuous piece of #MeToo art, however, has been IRL. Three days before the Academy Awards, a lifesize statue of Harvey Weinstein reposed on a chaise lounge appeared on Hollywood Boulevard. The satin-robed replica had one hand outstretched along the couch, inviting people to sit next to him, and the other clutching a small Oscar statue next to his genitals. "You can read whatever symbolism into that you like," explains street artist Plastic Jesus. "Is he getting off on the power of the movie industry?"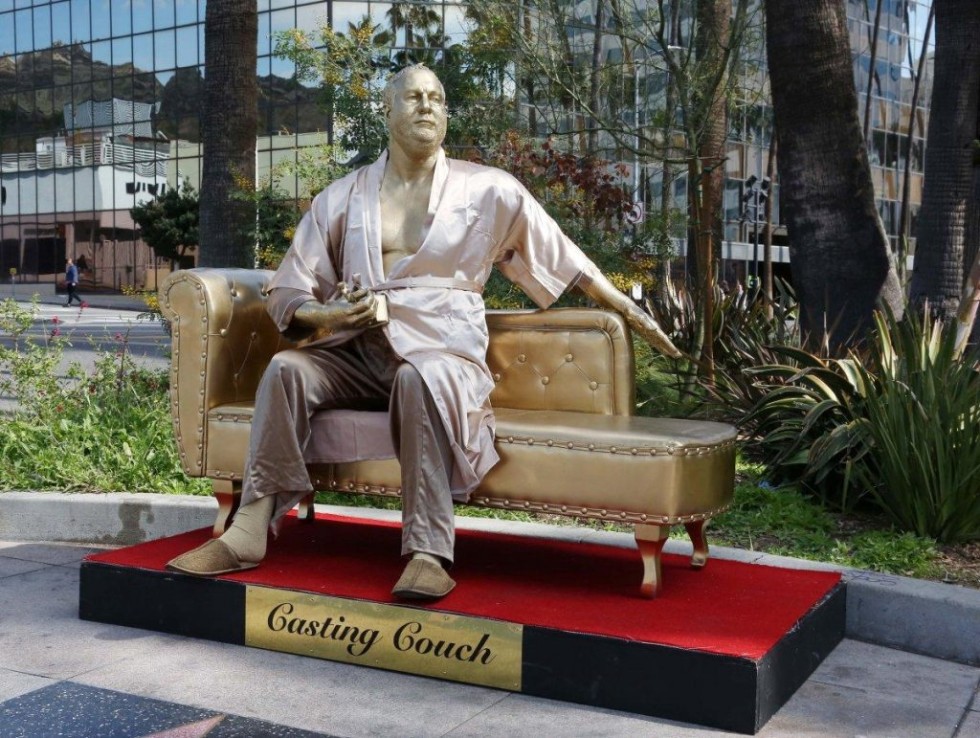 "Casting Couch" is a collaboration between Plastic Jesus and Joshua "Ginger" Monroe, both known for their avant garde installations. Plastic Jesus usually does Oscar-inspired works to show the underbelly of Hollywood, while Monroe is responsible for satirical creations like this: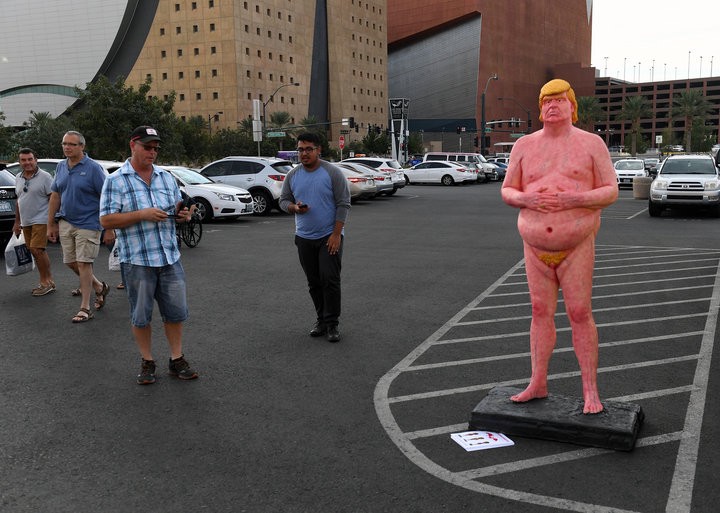 Plastic Jesus didn't want the Casting Couch to be perceived as capitalizing on the misery of others. So he made it interactive, allowing passers by to actually sit with Harvey. "There was only one emotion I wanted to convey," he tells me. "Disgust. Groups of women on Hollywood Blvd would egg each other to go and sit down, but they would reel in disgust. It's a complete change of perception. A year ago, people would have been in awe of this Hollywood icon. Now they were lining up to make fun of him."
But how cathartic would it be for actual #MeToo victims to cozy up to a statue holding an Oscar like his dick, or to flip through an advent calendar of bloodied up sex offenders? I ask Brooke Sprowl — founder and Clinical Director of My LA Therapy, who specializes in grief, trauma, and sexual assault — if she'd direct her clients to paper dolls of their assailants making mea culpas along with a recipe for cinnamon rolls. "It's a comedian's job to offend people and begin tricky dialogues," she says, noting a universal satisfaction to seeing the good guy restore moral order. Changing the cultural narrative around power and sexuality is valuable for women, society, and even men, she says. "The cultural shame surrounding sexual assault, including comedy and satire, is changing the social climate for the better by holding men accountable in very public and permanent ways."
However, she adds, it could be damaging to incorporate this sort of comedy into treatment with a survivor who is in the early stages of recovery. Comedy may feel trivializing to the patient as sometimes the reverberating effects of sexual trauma are not something one can easily laugh at in an authentic — and therefore cathartic — way. What's worse, she adds, this form of satire narrows in on the shallow insincerity of men's apologies, which could draw attention from the central issue of the horrors they've inflicted upon women.
The most thorough satirical ribbing looks to be forthcoming from Pulitzer Prize winning playwright David Mamet, who recently told the Chicago Tribune about a play he's written about Harvey Weinstein. It wouldn't be the first time Mamet fictionalized a real-life #MeToo moment: his 1992 work Oleanna, about a woman who accuses a college professor of harassment and assault, was largely seen as a response to Anita Hill's accusations against Clarence Thomas. "Every society has to confront the ungovernable genie of sexuality and tries various ways to deal with it and none of them work very well."
So why not give scorn and derision a shot?