Jonathan Shokrian, the founder and chairman of underwear subscription service MeUndies, isn't afraid to say it: "Real men don't need pee holes."
Shokrian is referring to the "fly" or "dick flap" — as I crassly call it — on the front of men's underwear. You know, that practical opening in the fabric that makes it easy to whip out your cock at a moment's notice, without undoing a belt (or braving your ass to the elements, if you were alive during the time of outhouses).
But innovators in the men's underwear space say that a fly isn't just unnecessary in the modern age; it's kinda passé. Instead, a "contour pouch" is more comfortable, and most importantly, provides a more flattering presentation of your member. Reminiscent of Renaissance-era codpieces, pouches remind me of a time when it was considered sexy to cradle your syphilis-laden package in a padded decorative sack.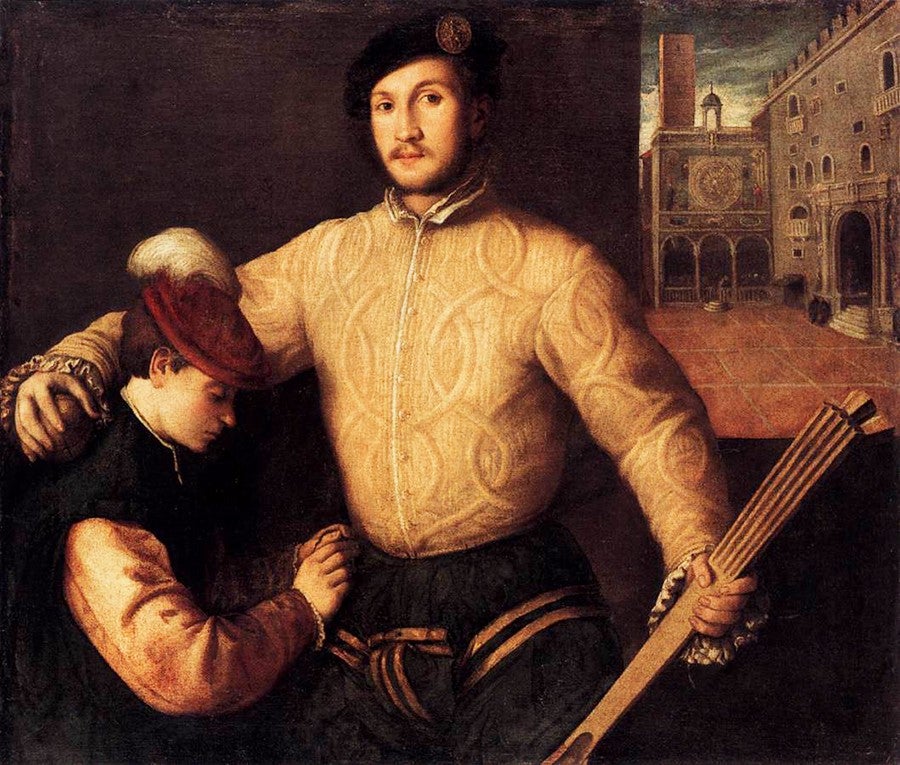 Ironically, "real man" underwear (sans fly) is far more similar to ladies' panties than the popular Joe Boxers of yore. I thought this might have something to do with a cultural shift toward less binary gender expectations (unisex fashion has become all the rage, after all). But Shokrian thinks the no-fly trend is actually more about our increasingly casual culture, as formalwear is in extreme decline and athleisure reigns. In a near-suitless world, one where men wear fuckboi dropcrotch sweatpants to the office, "there's really less of a need to unzip," he says.
Instead, follow the lead of this man on Reddit: "I just hang my junk over the waistband of my boxers, like a floppy bald man climbing the Berlin Wall circa 1987."
But not all men want to live in a dick-flapless world. Dexter, a 32-year-old living in San Francisco, recently found himself horrified while loading up his Asos cart with boxer briefs. "Escaping from that flap is part of the routine," he says, flabbergasted at the lack of options with a fly. "I don't want a phantom flap; I'm always gonna be pulling at it."
Shokrian has found underwear to be an extremely polarizing topic among men, with ardent "fly zone" defenders and detractors. Guys send him emails all the time either praising or denigrating the company's decision to sell fly-less drawers with "a diamond­-seamed pouch [that] cradles your jewels" in addition to more traditional types.
"There is a whole stigma that surrounds men's underwear," adds Robert Truitt, the founder of e-commerce site DudeUndies.com. It's kind of like the debate over thongs for women in the early aughts (but more contentious, because it involves fragile masculinity, and less fun, cuz neither "boxer" nor "brief" rhymes with the word "song").
Like most heated debates tied to notions of masculinity, being an "over the fence" or a "through the gate" guy all goes back to childhood. "The kid at the elementary school urinal who pulls his pants and underwear all the way down to his ankles to pee wears a scarlet letter," says Friedman. "Even the nose-picker makes fun of the kid who pulls his underwear down; If you're that kid, you have no business in any sort of upper echelon of elementary school social structure."
While I know nothing or urinal politics, I personally praise the rise of dick-flapless underwear for an incredible side effect I doubt any undie entrepreneur has considered. They ensure no one will ever "fuck through the hole," the least sexy activity imaginable, one I'm still convinced may be an urban legend. I've never even come close to this horrifying behavior myself, but I admit that the first time I saw a real live hard dick, it was peeping out through the opening in my first boyfriend's blue flannel boxers. The experience was like watching a stripper enthusiastically pop out of a birthday cake — only unappetizing, and definitely not hot.