When my friend Harrison watched Dave Chappelle accept the Mark Twain Prize at the John F. Kennedy Center last October, he didn't expect to fall in love with 79-year-old Speaker of the House Nancy Pelosi. But shortly after comedian Tiffany Haddish's opening act (timestamped at 9:38), Haddish introduced herself to Paul Pelosi backstage, who eagerly said, "We know who you are." Then he turned to his wife, who stood like a fan waiting in line. Pelosi hugged Haddish and told her she was great before offering, "We were movin' with you babe." With a snap of Pelosi's fingers, the two proceed to mom-dance to no music. 
"I was smitten with her from that point on," Harrison says, assuring me that it was more than worth the $5 donation to Thirteeen.org to watch the interaction in full. (The moment didn't make it to YouTube.)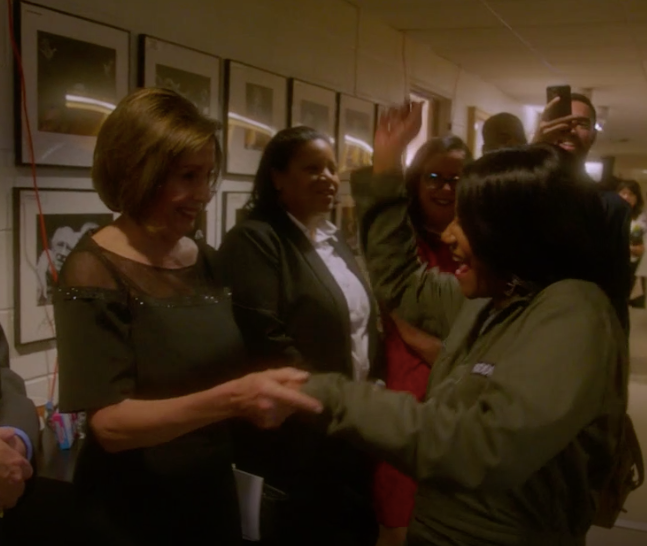 Of course, many other guys are more smutty than smitten. "I don't even like older women but Nancy Pelosi is banging," a redditor posted on r/unpopularopinion. "Her face isn't just adorable, it's also sexy. She's hot, beautiful and cute and dresses well. What more could you ask for? And big tits too! I don't care about her political views much. She just looks so huggable and so fuckable at the same time. I love you Nancy! I bet she smells like flowers."
A poster on the message board martialarts.com added, "I have noticed that she has a big ole rack of mams and is pretty slim. I bet her tits are great!! A lot of older women have great bodies because of the lack of sun damage." Later, he followed up by asking if there were any bathing suit pictures of her from her younger days. If not, there are definitely boob-inspired memes and YouTube videos flooded with comments about her "big old milkers." "If I got to suckin' on those hangers, I might even put it in, who knows," a fan writes.  
It's neither uncommon nor entirely gendered to sexualize politicians — after all, we've leered at everyone from JFK and Justin Trudeau, to Amy Klobuchar and Sarah Huckabee Sanders. The impulse to objectify them seems to come from the same place as the impulse to do the same with celebrities and other public figures. Seeing so much of a person in the media, most of us inevitably start to wonder about their sex life. But what's more rare is seeing Pelosi let loose, especially over the past three-plus years in which she's been the only adult in the room that Trump can't fire. She still dances, wears pink dresses and inspires women's slutty Halloween costumes. 
And yet, this isn't what turns on many of Pelosi's biggest male stans (let's call them Nancy Boys). Nope, many men think Speaker Pelosi is a babe precisely because she keeps the president on a tight leash. 
"Women who don't let the old boys do old boy stuff are a magnet to me," explains Terron, a 38-year-old in food and beverage management. "Plus, power is just sexy." (On this count, it should be noted that Pelosi, as speaker, is third in line for the presidency.)
According to clinical sexologist and sociologist Sarah Melancon, many men are aroused by power but because they've had a disproportionate amount of it for so long, there are simply more submissive women to choose from. "When it comes to sexual domination specifically, it's difficult to find a woman who's comfortable taking that role, even if they would enjoy it," she tells me. "Men who have these fantasies look to women like Nancy Pelosi, and hope their sexual prayers would be answered by her." 
Pelosi's power is such, though, that she's been criticized for her failure to share it with other women. For instance, last March, Linda Sarsour, who co-chairs the Women's March, posted on Facebook, "Nancy is a typical white feminist upholding the patriarchy doing the dirty work of powerful white men. God forbid the men are upset — no worries, Nancy to the rescue to stroke their egos." Sarsour was specifically railing against Pelosi's response to accusations that Minnesota Congresswoman Ilhan Omar's pro-Palestinian comments were anti-Semetic. The House Democratic leadership swiftly responded to the controversy by proposing a resolution that didn't name Omar, but pointedly condemned anti-Semitism instead of all forms of bigotry. It's part of a larger pattern of Pelosi being particularly threatened by her younger female colleagues like Alexandria Ocasio-Cortez, who Pelosi said was elected in a contest a "glass of water" could have won. 
It's possible then that Pelosi doesn't just make men feel protected from Trump, but also other women — and unfortunately, that might be part of what turns them on, at least subconsciously. Terron, who is raising two daughters, admits that the speaker is more of a career politician than a champion of feminism, but he insists that's the root of his attraction. Even though she plays the game, he thinks she's good at her job and that matters more to him than a pretty face. "There's a lot of candidates — male and female — that the establishment throws in your face due to being good-looking who fail amazingly," he says, citing Aaron Schock and Sarah Palin as examples. "But competency is everything." 
His attraction to Pelosi is also, he swears, no joke. "It's not tongue-in-cheek for me, but it'll never happen since we're both happily married and our paths will probably never cross," says Terron, who does admit that he isn't looking forward to her retirement. "It's going to take big, confident moves to fill the void Nancy will leave in my heart."