They're mostly forgotten today, but during the late 1980s and early 1990s — before the market was dominated by Nike and Under Armour — The Game Headwear was one of the most prominent college sports brands in the country. The Game sold a variety of college-branded fan goods—T-shirts, hoodies and jackets, as well as knickknacks such as candy tins and keychains. But its most popular product by far was its signature "bar" hat.
The hats were distinct in their simplicity: Made from cotton, they were a single color (often white) with a school's abbreviation ("LSU") or nickname ("Tigers") stitched in large, block letters above its full name ("Louisiana State University," for instance). Framing the text were three, solid horizontals bars of stitching.
Bar hats were ubiquitous on college campuses, especially among the frat-boy set, and especially in the Southeast, where the company was founded and is still headquartered today. Most wore hats for the school they went to, but some Game hats had national appeal — e.g., UNC, Duke, UCLA, Florida State and Miami, a reflection of their dominance in NCAA basketball and/or football.
But the most popular Game hat of all wasn't for a perennial title contender. Rather, it was the bar hat for the University of South Carolina, a historically mediocre football and basketball school whose teams' records hovered near .500 for much of the 1980s and 1990s.
Their popularity was due to the word "Cocks" prominently stitched across the front of the hat. That, of course, was shorthand for the university's mascot, the Gamecocks, the type of rooster often found in a cock fight, but in this context it's a reference to Revolutionary War hero Thomas Sumter, a South Carolina native.
The man behind the Cocks hats and The Game Headwear was Neil Stillwell, an Alabaman who opened a regional sporting goods chain called Neil's Sports Shops in the 1960s and 1970s.
A portion of The Game's business involved selling merchandise during college football games, and in 1984, Stillwell traveled to Taiwan to explore outsourcing production there. The trip inspired him to completely rethink his business model. The future wasn't in retail, he realized, but in manufacturing his own apparel and selling it to other retailers. Stillwell sold Neil's Sport Shops to start The Game, buying caps for $2 each in Taiwan and selling them for $15 back in the States.
The Game sold $600,000 worth of product its first year, and grew rapidly the following years due to an innovative marketing strategy: It was the first headwear brand to sign coaches to endorsement deals. Over the next few seasons, some of the most prominent college football coaches in the country wore Game bar hats, including Oklahoma's Barry Switzer, Auburn's Pat Dye and Florida State's Bobby Bowden, the second winningest coach in NCAA football history. Stillwell paid them $5,000 to wear a Game hat in a regular season contest, and $10,000 for bowl games.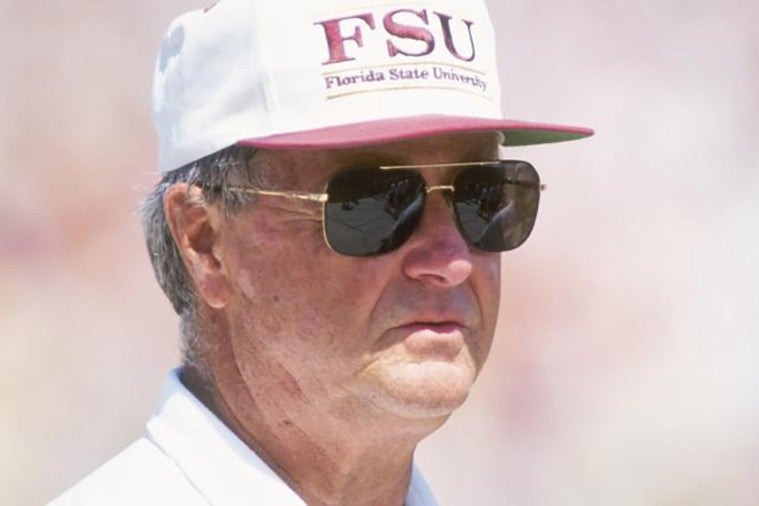 "Everyone wants to wear the same hat the coach is wearing on the sideline," says David Reese, a Game salesman since 1991. "And the hat looked great on television. You could easily pick it out. It's so generic, yet distinct: Three lines with lettering inside of it."
"They were especially big in the South," Reese continues. "You have so many good ol' boys, and they're all cap-wearers. If you're in the South and you have a college team you pull for, you probably had 10 hats for that team, and I guarantee you that three of them are bar design hats."
Whose idea it was to put "Cocks" on the South Carolina hats, however, is a matter of some dispute. "I've heard random people claim they came up with it," Reese says. "I think it's safe to say [The Game's] artist came up with it, though."
Whoever it was knew what they were doing: The Cocks hat was a top-seller across the country, strictly "because of the verbiage that's on it," Reese says, laughing.
For South Carolina fans, the nickname is not meant to evoke the male anatomy (or constitute an easy dick joke). Mothers and children loudly yell, "Let's go Cocks!" in the stands at South Carolina football games, without a hint of irony. "If you go to South Carolina, the word isn't thought of as nasty," Reese says.
Outside of South Carolina, however, guys wore the hats specifically because they were an easy dick joke (prominently displayed on their other head, no less). They thought it was funny for the same reason they play the Penis Game: They found it fun to be loud and crude in public. And if anyone ever called them out for wearing it, they could counter with, "Well, actually, that's the team's real name!" as an excuse.
At one point, the University of South Carolina became embarrassed by the association and tried to stop The Game from selling the hats, according to Reese. "Then they saw the royalties they were making on the sales. And they said, 'You know what, I think this is going to be okay.'"
Reese says the Cocks hats have been the best-selling Game hat almost every one of the 26 years he's sold the company's merchandise. They were so popular, in fact, that they inspired similarly tongue-in-cheek caps such as "Beavers" for Oregon State and "FU" for Furman University.
But like all fads, bar hats imploded, collapsing under the weight of their own popularity. Once everyone had a bar hat, they lost their cachet and sales dwindled, Reese says. Eventually, The Game lost its endorsement deals with coaches, its true differentiator. Nor could a family-owned business such as The Game compete with Nike and Under Armour, which now strike multimillion-dollar "head-to-toe" deals with prominent NCAA programs, barring them from wearing any other brand. "That eliminates companies like The Game," Reese says.
At its peak, The Game was a $82 million company. And while its yearly revenue is reportedly only a little more than half that today, the bar hat still drives a majority of those sales and can still be spotted in the wild from time to time.
Just the other day, Reese was on campus at the University of South Carolina, when he saw a male student park his car. Before getting out, the student took off a camouflage Cocks hat, and immediately replaced it with a white Cocks hat before heading off to class.