At the beginning of last week, two of my friends and I hatched a plan to get away from the masses as coronavirus swept into California in full: For my birthday in the last week of March, we'd drive to either Bishop or Red Rocks in Nevada — both beautiful places to camp and legendary for rock climbing.  
It didn't take many days before we spotted the red flags. In our excitement, we forgot about the swaths of nature-loving people who want the same kind of getaway, too. And as social media revealed, swarms of like-minded adventurers had already descended on one of our destinations. It's a similar story in other parts of the country, whether it's Texas or in the Pacific Northwest — we all want to be outside, isolating ourselves in nature. The only problem is that we're all thinking of the same places to end up.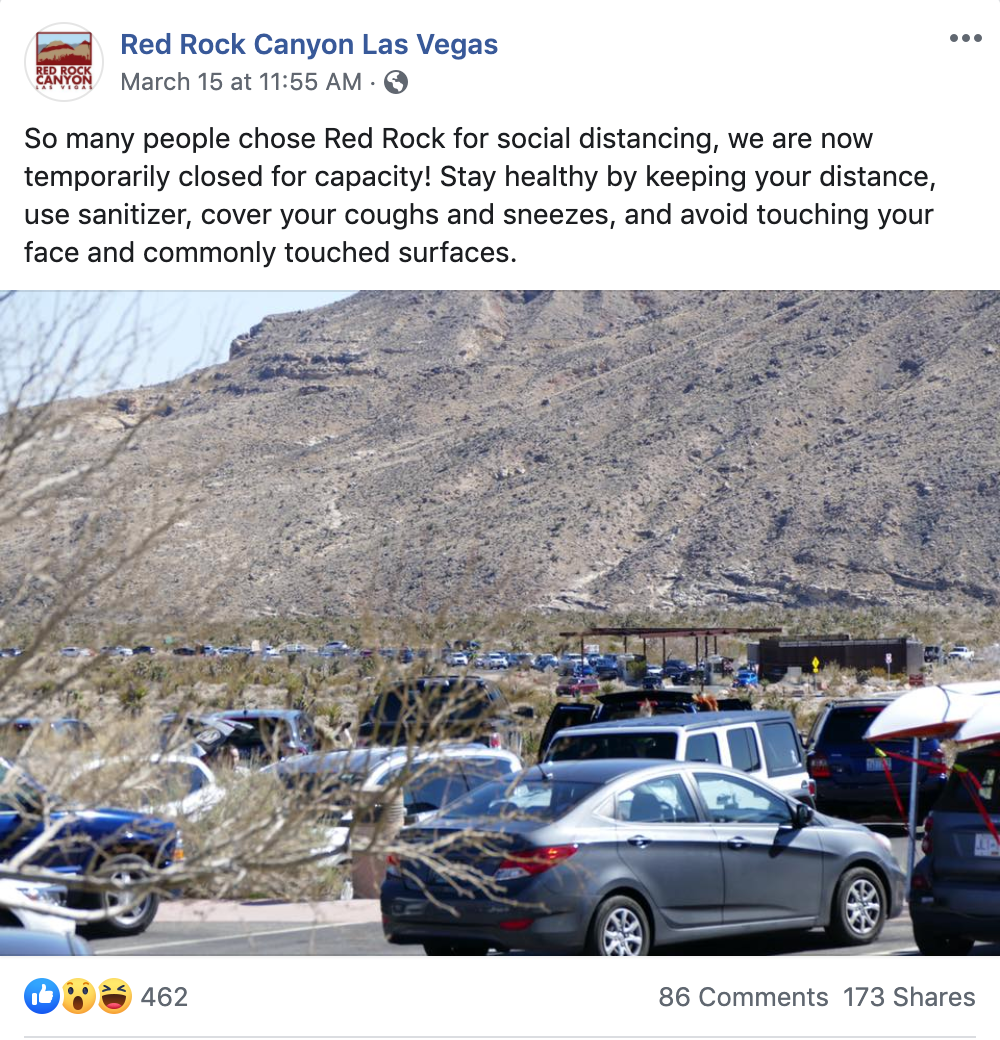 It may feel like there's endless wilderness to explore and temporarily claim, but in reality, our access to that wilderness is often more carefully managed than we expect. We're pulled to campgrounds that have running water and toilets and other people whom we can borrow paper towels from. And our parks are fed by roads that stream from every big city nearby, pooling around small towns unprepared for a deluge of visitors amid a shortage of supplies.
It's why Jolie Varela, who advocates for Native causes as Indigenous Women Hike, put out a message on Instagram calling on outdoorsmen to turn back from places like the Owens Valley (where I'd planned to go). Small towns, even ones that rely on adventure tourism, aren't able to adjust when infrastructure is failing us, be it via a lack of toilet paper or hospital staff. And the Native people who call these wild areas home don't deserve the specter of illness from outsiders. 
So just like that, it's crystal clear that no matter how badly I want to run away, I'm as tethered as ever to people and the things they provide. 
Judging by the thankful replies, a lot of people are generous enough to heed these warnings in earnest. Then again, someone like Varela wouldn't have to put out a warning unless things were already getting bad out there. For better or worse, the decision is now largely out of our hands: California announced earlier this week that all state campgrounds are closing, which is becoming a reality in more states every day (yesterday, it was Oregon that followed suit). 
That leaves me a handful of places near L.A. where I could still pitch a tent, and there's open Bureau of Land Management territory that allows for freeform camping on open ground. But now I'm worried about everyone else in my shoes that's pivoting to the same plan B. If I was trying to find a carefree method of social distancing, well, it's not such a carefree decision anymore. 
I guess it's just human nature to want to run from the catastrophe that's seeping deeper into each day of my life in the city. I wish I could turn inward instead, thinking of ways to support the people around me. It sounded so easy to get away and hide in the woods, if only for five days. Now it's less likely to happen every day I sit at home. I'm still trying to tell myself it's worth it to go and rough it with a pack of minimal supplies and no toilet to poop in, all during a quarantine in which we're supposed to shelter in place. 
As my departure dates grow nearer, though, I'm thinking I need new plans.