Offline, Josh Draper is a 45-year-old architect, designer and teacher at Rensselaer Polytechnic Institute who lives in Brooklyn and works at the firm PrePost.
Online, Josh Draper has more than 2 million Pinterest followers — making him one of the network's most popular men.
In his Pinterest bio, he describes himself as: "Designer, Maker, Educator, Dad" (in seemingly no order of importance). He has 175 different boards — some with deceptively simple names and topics ("Faces," "Paper"), some with decidedly twee themes ("Formwork and Formed," "Emergent," "Circulations"), some that tie directly into his line of work ("Tubular," "Roofs," "Structures") and some with a sense of humor. In a board called "Hippopotomy," he writes, "I suddenly need to know more, much more, about hippos. They are as cute as they are ferocious."
Other boards give a better sense of Draper's many interests: "Mineralia" and "Water." Typography, shoes, chairs and gadgets. Breaking Bad. One board, called "art i could actually buy" has various prints — including one of a man milking a cow, under which Draper comments, "I should get this for my in-laws (they're milk farmers!)"

His taste is approachable, but better than yours; he sees things you and I don't see, can group things together in ways that seem alternately simple and opaque. Pinterest, being largely visual, makes it hard for anyone to actually discuss their taste, which is a good thing; instead, it's presented just as pictures, rather than a bunch of pretentious jargon.
Looking through a Pinterest board of the most popular users reveals thumbnail after thumbnail of beautiful young women, all with casual, but suspiciously well-lit, profile pictures. Many boards are for coordinating bridesmaid dress colors and organizing one's collection of art deco-inspired furniture options. But talking to Draper, it becomes clear that Draper, who is, you know, male, hasn't assimilated to the Pinterest nation by learning to speak its language and adapting to what is expected on the network.
And yet, even though he doesn't fit the expected demographic, it turns out that Pinterest was made, unexpectedly enough, for him.
Social media networks have reputations — sometimes based in reality, sometimes not. With its resumes and prompts to network, LinkedIn is for boring suits. Frenetic and inherently short-form, Twitter is for comedians and obsessive media consumers. Facebook is Facebook — the reigning King of Social Media, home to baby pictures and ill-advised political statements. And Pinterest is for women.
In May 2014, in a poll conducted by research firm Ahalogy about Pinterest's promoted pins, 79 percent of user respondents were female. Pew finds that 42 percent of women on the internet use Pinterest — compared with only 13 percent of men. What's most interesting: Pinterest is the extreme, but it's not the only major social network that skews female. According to the same Pew poll, 77 percent of internet-using women use Facebook — compared with 66 percent of men. Twenty-nine percent of internet-using women use Instagram — compared to 22 percent of internet-using men. (Twitter and LinkedIn are both slightly more male.)
Maybe that's because Pinterest has long been a confusing social network for professionals; it's this globby web of images with more than 50 million users making scrapbooks called "boards" of images curated from all over the web — photographs, drawings, pictures of products you can buy, pictures of places you can go, anything at all. They also can follow other users to see when they've added any new boards or images, and if they see something they like, they can "re-pin" it to one of their own boards. The pins are all links, so if you click them you'll be taken to whichever site the person who pinned it found it from.
"People have this idea of Pinterest that it's like nails and hair and recipes, and it's really not that," Draper says. "It's this enormous resource of imagery. Not all of which has to be nails, hair and recipes. You can pin cliché guy stuff, too — race cars, guns and cigars."
As for the gender split, Draper is aware of it, and aware that his pins, sometimes, are a little outside the norm. He even uses it to his advantage, especially in his board titled "Messages," which consists of those short, often inspirational quotes you see pasted on image-heavy social networks like Instagram. "I will post some political things related to women, because I know I'll get the response that I want, or that I crave, to have dialogue about it," Draper says. These are quotes about sexism, or women's rights, or gay marriage, though certainly that's a minority even in the "Messages" board. (Most of the images are generic quotes: "I'd rather be honest than impressive" and "Have no fear of perfection — you'll never reach it.")

But to Draper, aside from the majority, there's nothing specifically about using Pinterest that would indicate that it somehow speaks more to women. And, curiously enough, Draper's existence on Pinterest appears to be for professional use, rather than the boredom-killing browsing that defines most other social networks.
Something that does seem to identify Draper as distinctly male is that he loves to engage in his Pinterest comments sections. The network's comments are not a focus of the network, and are pretty primitive — but they're there, beneath each pin. "I'll get into these whole drag-out, knock-down fights in the comments," Draper says. In fact, he'll often start them. On one of Draper's boards called "questions," an image macro featuring George W. Bush reads: "How many Presidents does it take to clean up a disastrous Republican presidency?"
Below it, a user named Rachel Orsborn comments, "You've lost a follower for this ignorant post. I don't care about your political opinion keep it off Pinterest."
Draper responds: "People who don't want political content on Pinterest usually just don't want the stuff that they don't agree with. And Pinterest is full of political content. Most users have a board that's political.
"A lot of women, well not entirely women, but they tend to be women, want Pinterest to be this kind of refuge, where there's no politics, no fights about whatever the political debate of the day is. And I understand that! Maybe they just want Pinterest to be a little bit nicer. And I get that. But I still do what I want to do."
Draper's Pinteresting started through his connections in the architecture world — and a very lucrative intro: He vaguely knew Evan Sharp, one of Pinterest's co-founders. Thus, he was invited to sign up, directly: "I ignored the invitation for awhile," he says. "Then I finally signed up! Then I ignored it some more." Thanks to this, he is, as he says, a little bit of an outlier in his popularity: "I'm an inorganic Pinterest user."
Turns out, Pinterest is a perfect social network for Draper — who falls in a category of men you could designate as the "Design Bro." The Design Bro will use the word "creatives" to refer to a group of people, will express reverence for and/or strong opinions about certain touchstones in art and architecture (Dieter Rams, Arne Jacobsen, Philippe Starck), are hyper-aware of certain locales (Copenhagen, Tokyo, San Francisco) and can jump back and forth between art talk and marketing talk without ever marking a line between the two. (In the Design Bro's mind, artists think he's a money person, and money people think he's an artist.) The Design Bro is to culture what the Tech Bro was a half-decade ago: It's his time. Everything falls under his purview. And everyone wants him.
Architects and designers like Draper are imagery magpies; they obsessively collect and organize images that interest them or that might contain ideas that could be useful later. And, bizarrely, nobody had figured out how to make software that does this well. Evernote does, sort of, but it can be bloated and slow due to its commitment to being a note-taking app. Services like Flickr are good at what they do, but they're tools for photographers, not for visual-focused types who want to clip, organize and save images from disparate places. There was a gap for some company to come in and exclusively cater to architects and designers, and Pinterest, regardless of its original intentions, filled that gap. "The reason that I use Pinterest is I've never found a better online resource for images related to what I'm interested in," Draper says. "I just haven't found one! And I've been around the block."
Most of the most popular male Pinterest users are Design Bros. This shouldn't be surprising given how perfectly Pinterest provides a utility for the Design Bro: He gets to show off his excellent taste in visuals (largely to women) and indulge in his love of collection at the same time.
Pinterest is, regardless of its utility as a private inspiration tool for design types, also a social network, and that's where Draper figured out a way to make the service work for him. "There's one thing that's more important than the pins you gather, and that's the people you follow," he says. "I'm a little downstream in a way. I gather who I think are the best people out there and then I curate them."
Why the popularity? Draper's theory is thus: when you sign up for Pinterest, the system asks you to choose among a selection of images for things you like, to give its recommendation algorithm a little data to gnaw on. Draper knows that thanks to a bump from Sharp, the process that suggests boards for new users to automatically follow suggests Draper. His "Products" board, which has several times more followers than his next-most-popular board, is on that list. "Products" (subtitled "cool stuff") includes 3,300 pins — stuff anyone can easily buy — from a cloud-shaped cement toilet paper holder to a sandwich cutter that cuts out in the shape of puzzle pieces.

"I was someone who could kind of anchor the site, because I was constantly providing content," he says. "Products" isn't his favorite board, but he's kind of stuck with it, because it overperforms all his other boards by so much.
But that's important, because Draper makes some money off of Pinterest. Not much, he says, and not often, but sometimes. "I seem to have some kind of goldmine — two million followers on a successful social media network — but I haven't figured out a way to make a lot of money with it," he says. Still, he leverages his power and mild fame from Pinterest into work, sometimes using his own Pinterest account, sometimes not.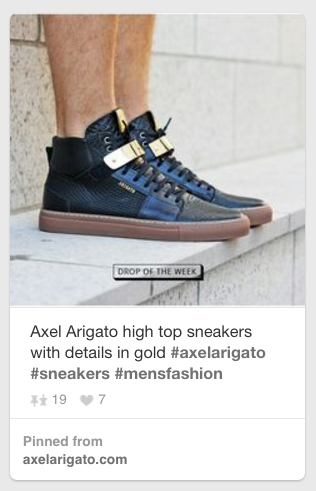 He likes to work with companies on Pinterest strategy, rather than a simple "pay per pin" setup. He'll talk to clients, providing answers to questions like: "What size should an image of a pin be? How should it be composed? Should it have text on it or not? Should you put a stack of narratives that have a narrative?" And as part of his consulting, he'll post some pins of whatever company he's working for — a shoe company, a new food delivery service — on his own popular boards. He likes to under-promise and over-deliver, by promising around 50 re-pins per item he posts, though he says he usually gets quite a bit more than that. For a simple pin, he says, "I usually would charge like $20 a pin, something like that. And it depends; if I'm doing it on my Products board, I'd charge more than on the other boards that have less traffic." Sometimes he doesn't take money at all; I asked about the myriad of pictures of Axel Arigato shoes on his Products page, and he laughed. "They contacted me and they traded me some sneakers. I sometimes get products for pins. That was a big deal for me, I'm wearing a pair right now."
But, for the most part, I get the sense that Draper treats the monetization stuff in the right way, which is to say he'll take money if it comes along easily but he isn't getting lost in optimization and analytics. This isn't his job, and he doesn't want it to be; this is a thing that helps his job and that's also fun. And also a thing that he thinks has legitimate social value: "If you're looking at a really good, creative person's collection of 10,000 images, that they really personally care about, that's enormously valuable. I'm sorry, but it is."