Logo TV, part of the the MTV family of networks, was launched as a home for LGBT-centric programming. While much of the programming day is not as, well, gay as it used to be, the network's signature programming, like RuPaul's Drag Race, still is. So it seems only… well, "natural" doesn't seem like the right word, but obvious that Logo might garner rather more than its fair share of FCC complaints. (Which, of course, is fruitless, since Logo is a cable/satellite channel and the FCC only regulates "indecency" when it comes to shows broadcast over the "public airwaves" between the hours of 6:00 a.m. and 10:00 p.m. — but never mind that.)
The complaints, however, dealt with the network's LGBT-themed branding less than you might expect. For example, two different viewers complained about RuPaul's Drag Race for reasons having nothing to do with drag, homosexuality, or anything else relating to the show's subject matter: They were both concerned with promos for the show including RuPaul using the word "goddamn."
"As a Catholic, I am very offended by this," wrote one viewer from Greenwood Lake, New York, a suburb on the New Jersey border. "Cable or not, it should be stopped immediately, and LogoTV network should be fined."
It's a bit out of the ordinary to see one of these complainants outright say that they know that the program being on cable is a factor in what the FCC can do, but this person didn't care, anyway.
Another viewer, from Georgetown, Kentucky, had tried to call or email Logo first, but couldn't find the network's contact information, so they complained to the FCC instead. "I have been watching this channel especially to watch RuPaul's drag queen show and have enjoyed it, but I think I've reached my limit of patience," the complaint explains. "Every single ad or preview of the show repeats the same scene of RuPaul using the words God Damn. I'm a Christian but pretty liberal and patient for the most part but this is really distressing for me."

Both were brushed off when the FCC responded. The latter viewer, however, got an ostensibly personalized letter different from the usual form response about cable shows, saying that the FCC enforces "the statutory prohibition against airing indecent programming 'by means of radio communications.'"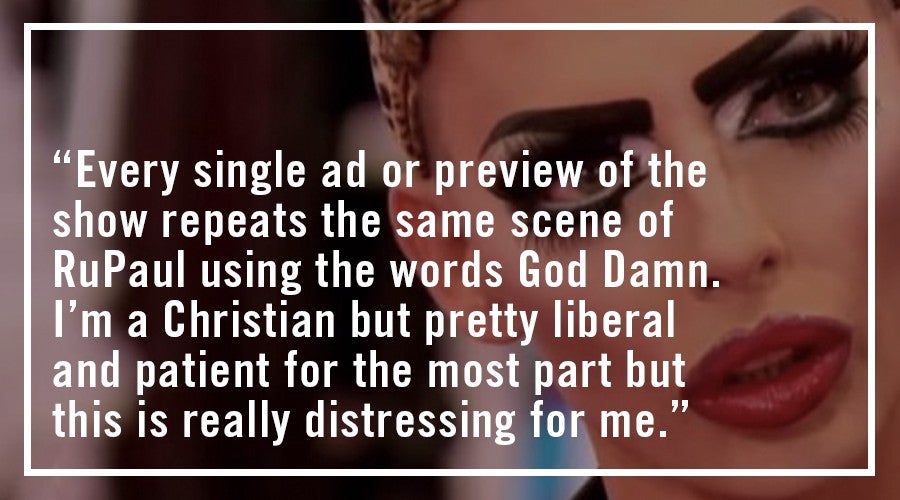 Last May, Logo aired the Eurovision Song Contest for the first time. Eurovision, which dates back to 1956, involves almost every European country sending a singer and original song to an outrageously gaudy (and awesome) talent contest once a year. Carson Kressley and Michelle Collins hosted, and one viewer from Montgomery, Alabama, was not happy with what they contributed to the broadcasts, sending in a complaint titled "Pornographic commentary during Eurovision Song Contest Coverage on Logo."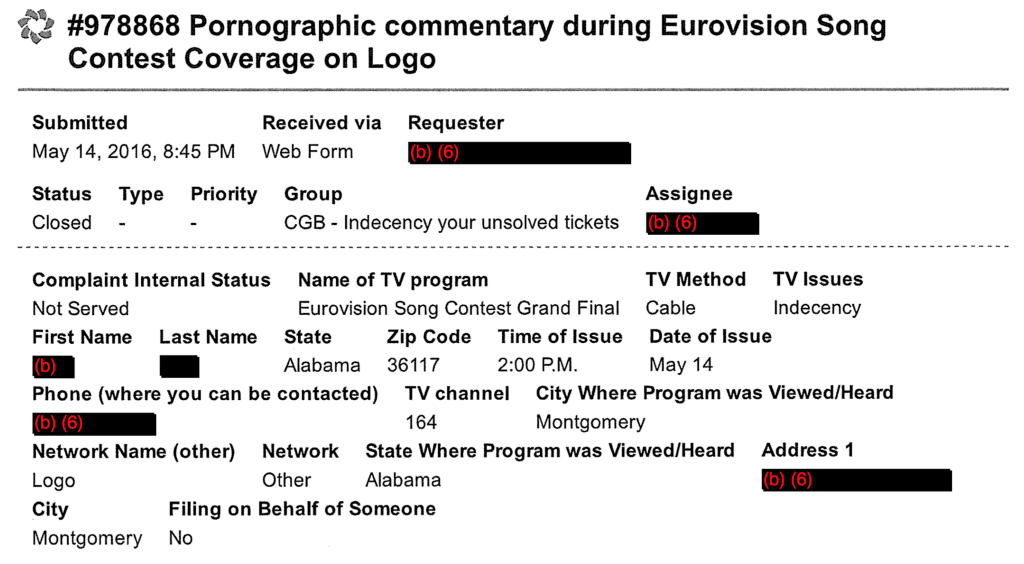 "The opening commentary by Kressley and Collins concentrated on lesbian, gay and bisexuality," wrote the complainant, "included graphic descriptions of intimate relations usually reserved for X-rated programming, and innuendo wholly inappropriate for a television event with 60 years of family-friendly broadcasts."
The complaint continues, "While this was Logo's first (the network is less than a year old) attempt at this broadcast, the commentary for the first hour should have been bleeped out in its entirety." (Logo launched over 10 years earlier, in 2005, for what it's worth.)
"The network and the two commentators should be sanctioned," the complaint concludes. "This report was agreed to by 9 adult persons who viewed the contest during a viewing party at my residence — several of whom left the party early as a result of the commentary."
Wait, what? Someone in Alabama not only held a large Eurovision viewing party, but the partygoers at an event celebrating something so kitschy were offended by discussion of "lesbian, gay, and bisexuality," as well? Really? Huh.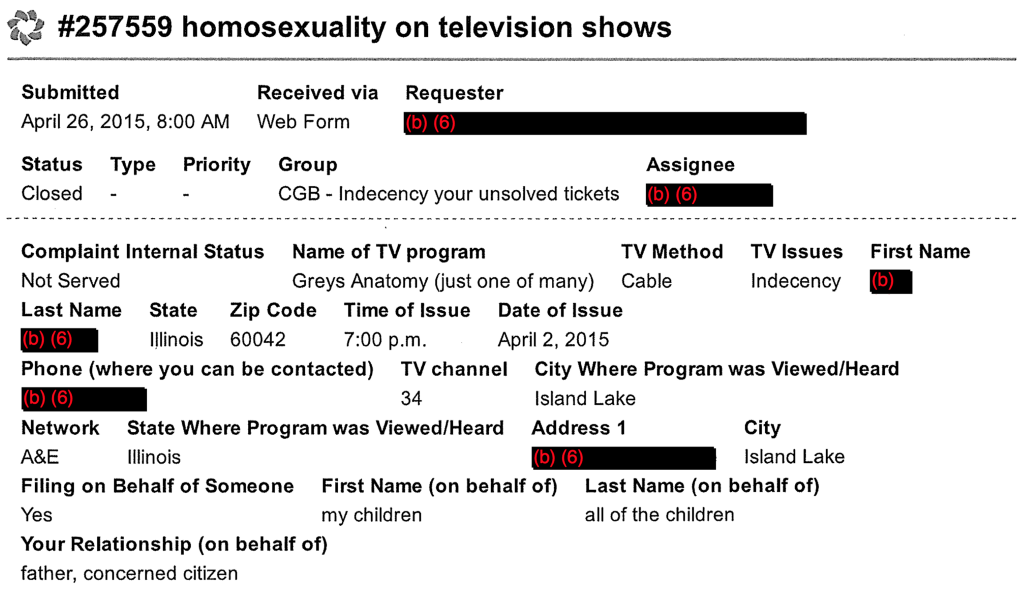 The FCC's keyword search also found a complaint from an Island Lake, Illinois resident who was angry that certain programming wasn't relegated to Logo. You can probably guess where this is going. Titled "homosexuality on television shows," this one gets interesting even before the comment section:
Name of TV program: Greys Anatomy (just one of many)
Filing on Behalf of Someone: Yes
First name (on behalf of): my children
Last name (on behalf of): all of the children
Your Relationship (on behalf of): father, concerned citizen
And then there's the comment. "How do you allow homosexual content in nearly every television program?," he writes. "Why do I have to explain that homosexuality is wrong when watching my television with my children. Your sole purpose is to keep such content off the air. Do you want the children to be gay? I am starting to wonder. There are stations that are exclusive to homosexual content, LOGO for example, keep the homosexual content there, or create other stations for the content."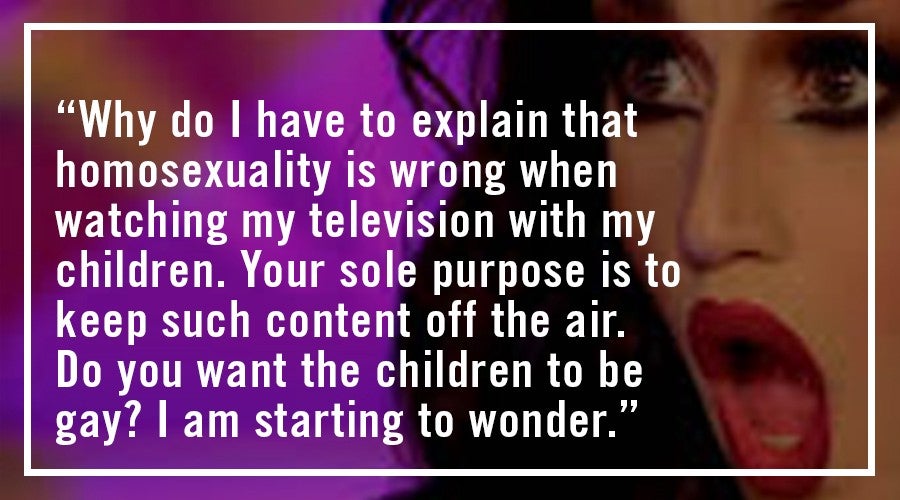 The FCC blew this fellow off with a form response about how "a complaint must relate to particular programming, rather than express a general opinion."
Thankfully, other than one dealing with the lack of closed captioning on Logo's website, that was about the extent of the complaints. Maybe America's overly panicky letter-writing contingent is more tolerant than you would think.