To understand comedian Ted Alexandro, you might start with his childhood in India, or his failed '80s rap group, or even his viral moment excoriating Louis C.K. But first, let's go straight to "The Movements," a track from Alexandro's latest comedy special, Senior Class of Earth. It's a good sampling of his signature moves.
In this four-minute bit, Alexandro addresses people who'd like to rebrand a certain social movement to be more inclusive. "This is called Black Lives Matter," he says. "They've already decided on a name. And if your first contribution to the movement is suggesting a name change, maybe you're not as in it as you think you are." The tag on the joke is actual advice: "Show up to a couple more meetings and stand in the back, quietly." Later in the bit, he covers Kendall Jenner's infamous Pepsi ad: "We finally found our first paid protester." But his real targets are the comedians and actors who served as ad spokesmen for the banks that caused the economic crash in 2008: "'What's in your wallet?' Not much, asshole. What's in yours?"
In a landscape of political comedy somehow still defined by cheap laughs, regressive jokes and outright assholery, Alexandro stands out for punching way up.
And, man, what a year he's had. Senior Class of Earth was rated Vulture's No. 5 stand-up special of 2018, and in 2019, Alexandro went on the road with Jim Gaffigan on his Quality Time tour. He launched a new podcast, A Little Bit Me. But you probably know him from that C.K. clip: In September, Alexandro performed at the Comedy Cellar, criticizing Louis for his sexual misconduct and, daringly, the venue for supporting him: "You know where you are," he tells the crowd. Video spread rapidly, earning accolades from both stand-ups and critics.
Alexandro says he was relieving a pressure to acknowledge a disgraced colleague. "I toured with [C.K.]. It's not [like] we were best friends who stayed in touch. But we were friends," Alexandro tells MEL. So when C.K. returned to the Comedy Cellar, Alexandro felt an obligation to react, though he wasn't sure if he would do it on stage. "I wasn't just taking shots at somebody. I was talking about somebody who was in the news," he says, noting that this was the same week Bill Cosby received his sentence for sexual assault and Brett Kavanaugh professed his love for beer while denying sexual assault allegations.
Alexandro's politics and working-class advocacy have informed his career. He co-founded the New York Comedians Coalition, made of roughly 300 comics, which successfully raised standard pay for New York comedians in 2005. It was the first rise in decades, followed by comedy clubs voluntarily raising pay in two separate occasions.
"Ted Alexandro clearly isn't cashing in on the aesthetic of activism — he's the real deal," says comedian Jake Flores, who co-hosts Pod Damn America, jokingly described as a "goth socialist podcast." Flores and his co-hosts are often vicious in their critiques of comedians with half-assed politics or who appear to co-opt movements for easy laughs. But Alexandro's Black Lives Matter joke was 100 percent earned, Flores says. He really did show up, stand in the back and listen. "I remember when I first moved to New York, I'd see [Alexandro] at Black Lives Matter events and stuff." Often, when comedians mention these topics without doing their homework, they end up using their references as a crutch: See this? Heard about this? "It's like putting your material in a life vest and rendering it unsinkable," Flores explains. 'Oh, you didn't like that joke? Well I guess you don't like THE MOVEMENT.' Everyone does this and it sucks."
In my conversation with Alexandro, he sounds more like a journalist than a comedian. He emphasizes the importance of spending time in spaces other than his comedian circles (though he does cherish this space), especially those that make him uncomfortable. He seems genuinely interested in the topics he covers. He talks about the strength of listening before he speaks. It doesn't sound like he's hot-taking on the day's headlines, because he isn't.
On tour with Gaffigan, Alexandro didn't share much of his political comedy. He tells me people don't expect it from Gaffigan, a down-the-middle comedian with broad appeal. Alexandro's job as an opener was to get the crowd ready for the headliner. But then the people he entertained would look up his solo work, and he slowly won new fans — including a couple in their 70s who drove from Philadelphia to Queens after watching him open.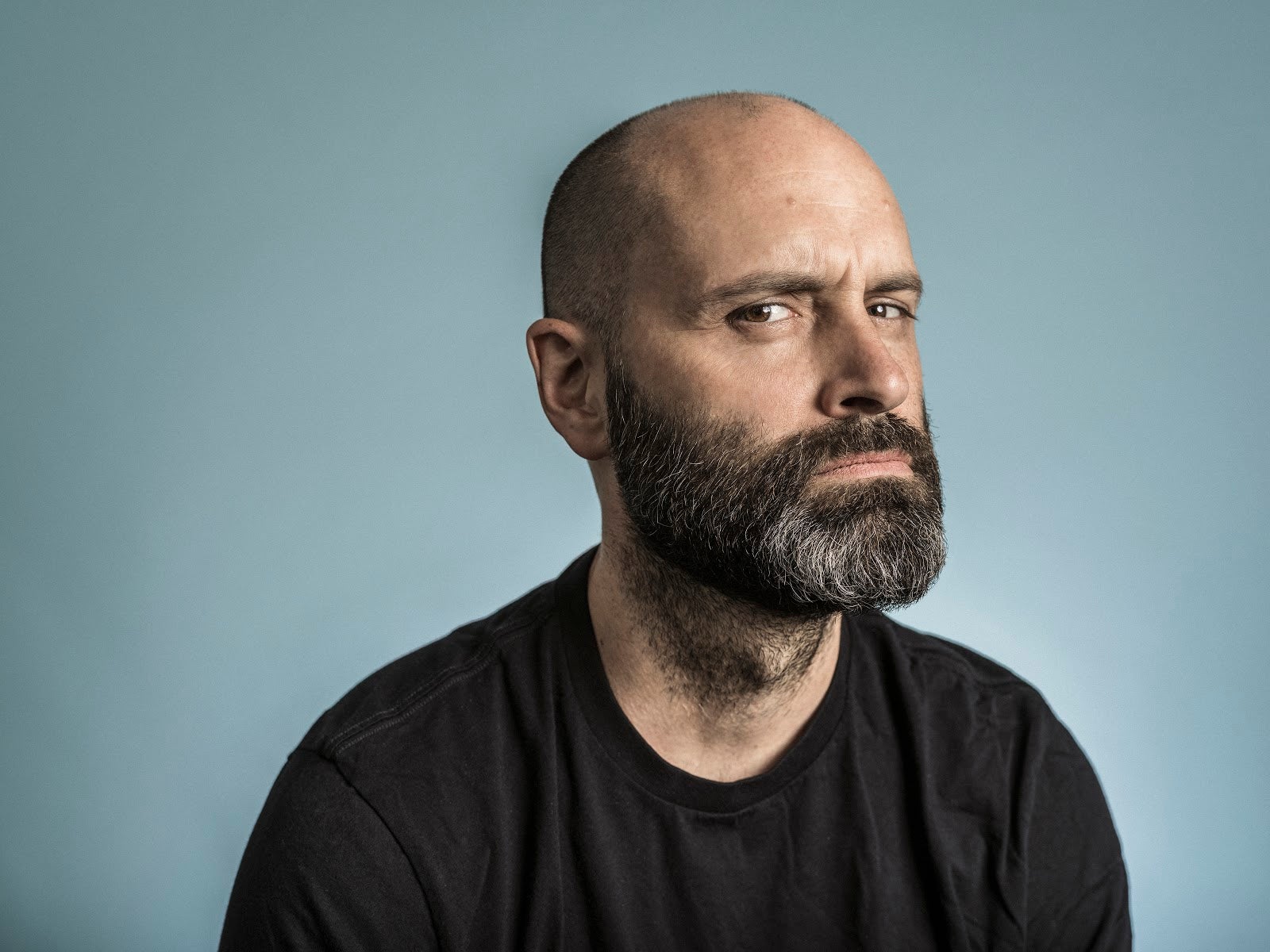 Maybe you wouldn't expect a political comic to pair well with Gaffigan, who's well known for a joke about Hot Pockets. But Alexandro has a history of popping up in unexpected places.
He spent a year in India when he was 4, he tells me, living in Bangalore and then Mumbai while his parents taught a marriage-counseling class through their church. India is the setting of Alexandro's first childhood memories. He says he knew he looked different there, but he never felt different or ostracized in any way. "I had this gift of an experience from my earliest childhood memories that I was the minority, and it was a positive experience. I can't really articulate with certainty the ways that it informed my worldview, but I'm certain that it did."
Decades later, Ted Alexandro was in another unlikely place: the Apollo Theater. More unlikely, he was there not as a comedian but a rapper. From the early '80s until 1990, Alexandro was one half of rap duo Brotherly Love; the other half was his older brother Rich. (Alexandro is one of five siblings.) Their career ended "due to popular demand" at the iconic Harlem theater. They were booed offstage — which, to be fair, they'd anticipated as a near certainty. It was only their fourth public performance.
"There are always things to learn from a bomb," Alexandro tells MEL. "And from that, I learned I didn't want to rap anymore." He describes the booing as visceral, an "out-of-body experience."
Years later, in 1997, Alexandro made his TV stand-up debut on Conan. At the time, Alexandro still worked part-time as a music teacher in Queens. A pre-social-media world allowed him to live this double life with ease. But after this set, the school's principal requested that Alexandro perform for an upcoming event, a faculty retreat. "I stupidly said yes. I wound up doing 15 minutes. Those kinds of gigs are bad even if you don't know everybody, and I knew everybody."
But while it may have been awkward, he did not bomb.
Senior Class of Earth, Alexandro's third special, dropped in October. Netflix passed on the special, Alexandro says, but did not give a specific reason why. "It was a disappointment. But it was also a constant reminder, the way the business is, you just have to figure out the next thing," he says. Eventually, the special was released and distributed by All Things Comedy (the comedian-owned company started by Bill Burr and Al Madrigal) and 800 Pound Gorilla Records.
It's part personal — he talks about his new relationship — and part political. There's material about the president, privilege and other topics that some of his white male colleagues might roll their eyes at.
That's not to say his political material fits neatly into a capital-r Resistance™ tote. In his previous special, I Did It, Alexandro admits he voted for Jill Stein over Obama in 2012. In Senior Class, he mocks people who shame non-voters. While some say other Americans died for our right to vote, he points out, people will also die because of your vote. "Enjoy your sticker," he says.
In this bit, Alexandro describes the 2016 election as the selection of the next murderer-in-chief. No matter who wins, there's still a cycle of "continuous murder" perpetuated by our country across the globe. Hillary Clinton almost broke the glass ceiling in the election, whose result he describes as "the shards of glass falling, murdering people."
And, of course, there are Trump jokes. But to me, Alexandro's approach feels fresh, at least compared to his more mainstream left-leaning colleagues. Alexandro says he wishes his grandparents were alive to see Trump get elected. He's not saying all Trump supporters are racist, he says — "I'm saying my grandparents were [racist]. And if you voted for Trump, you probably would've like them."
Stand-up comedy has historically privileged the white male perspective, Alexandro says, one where "you can talk off-the-cuff on everything and feel comfortable doing so." That doesn't work anymore, and Alexandro seems aware of the broader context surrounding his jokes. His Black Lives Matter bit is the perfect example. "You have to realize that there are dead bodies at the center of it," he says. "And not just the ones in the headlines — we're talking about American history." Regarding #MeToo, he points out that women have largely "been second-class citizens, [been] victims of violence, often at the hands of their own partner."
He consciously tries to put himself into spaces where he can learn, he tells me, because "the life that you structure nourishes what you bring to the stage." Still, to make it into his act, a joke first and foremost has to be funny. But that doesn't mean ignoring the weight of its subject matter. "If it's not something I'm on the front lines of," Alexandro says, "I owe it to the topic and to the people impacted by it to do my homework."