Burke, a 23-year-old man in Ohio who watches straight-oriented porn, has a favorite adult performer: Peter North, a 61-year-old Canadian-American who's appeared in more than 2,500 films.
Why? North is "incredibly versatile," Burke tells MEL. He loves the actor's pedigree. "He's been doing film since before I was alive, so there isn't a role he hasn't filled. Damn, even my dad probably knows about him."
Burke also loves watching North orgasm. He first discovered the performer while looking for tips on how to increase the volume of his ejaculate so he could give his girlfriend at the time "the biggest facials." As he scanned through videos, he started to recognize "the same dick" appearing "like 50 times in an 'In Da Eye' cumpilation." It was love at first stroke.
"Man, that guy's got a dick on him," Burke says.
As MEL writer Miles Klee reported last month, lots of men watch only lesbian porn in order to avoid seeing dicks and "turning gay," which places straight guys like Burke on the opposite side of the spectrum: They stan their big-dicked porn star kings.
Many ostensibly straight guys come together on Reddit and other online forums, creating fandoms and in-jokes around male talent — even specific penises.
Take, for example, Bruce Venture, whose multicolored member has given him a popular nickname. When redditors spot him in a porn GIF, they'll shout out "TWO-TONE MALONE!" in the comments like Milwaukee Bucks fans yell "Splash Mountain!" when Brook Lopez hits a three.
An unsettling Reddit thread spoke of a Two-Tone fandom gone too far: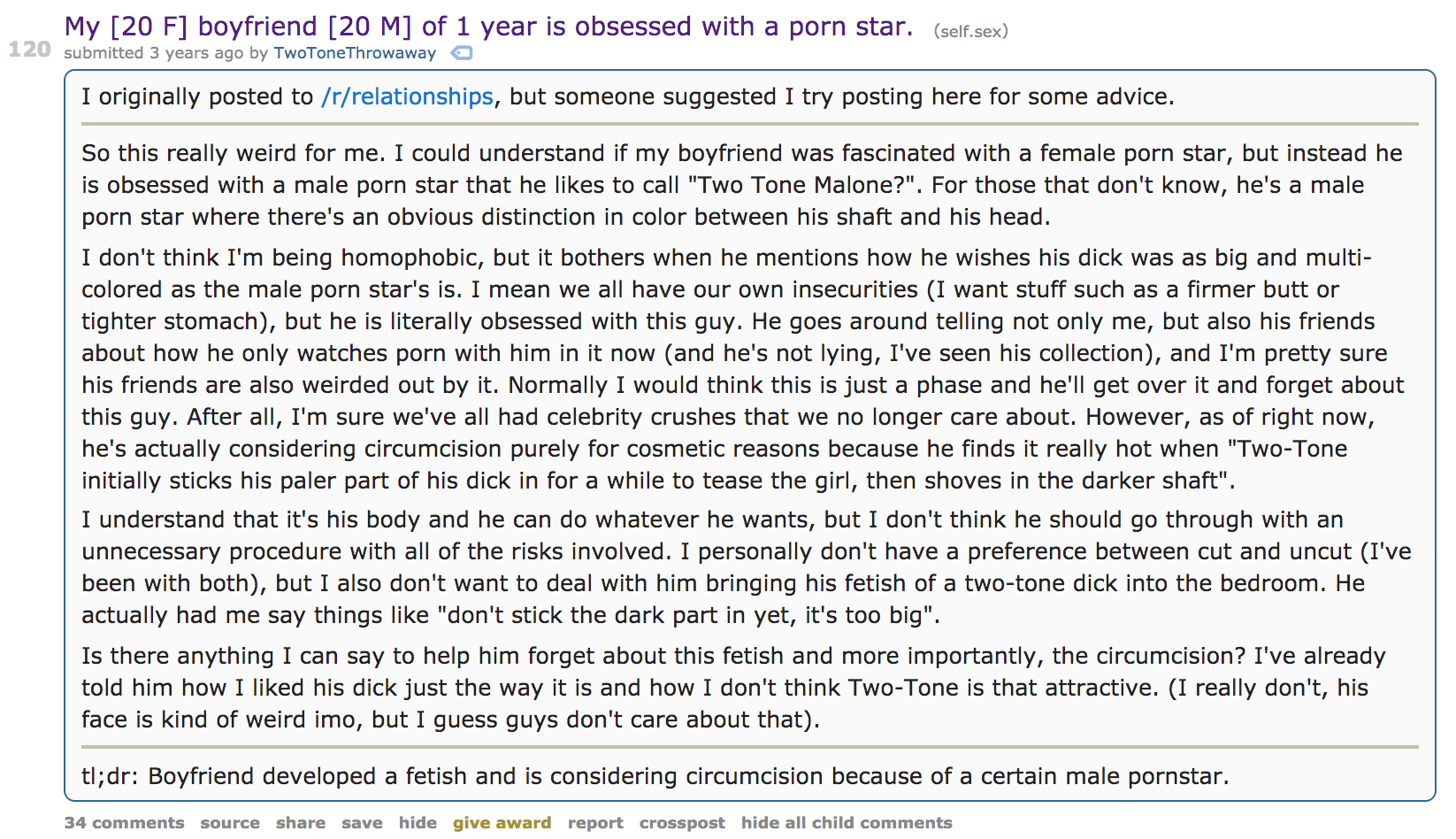 Until December, there was a whole subreddit for the actor Ryan Madison; it was banned due to a lack of moderation. Still, lots of comments on Madison's Pornhub videos read something like this:
This guy is a very talented performer. The stamina is unreal! I can see this guy having a lot of female fans. He is very respectful to the women he is working with and I imagine a lot of women love to watch that.

Big fan of your work Ryan, no homo but I aspire to be like you brodie! Love your style and love knowing that some of the moves I thought I invented are performed by you! Inbox me if you get a chance!!
Two years ago, someone posed the question to r/AskMen: "Straight guys … do you have any favorite or least favorite male porn stars?"
One user, u/Mustang80, said he likes Jordi "El Nino" Polla because, like the actor, he is "short, skinny and Spanish … so I'm glad someone as niche as me is being represented. Pretty cool seeing him take down thick girls significantly taller than him."
Another user, u/girraween, says he liked James Deen before the rape allegations, because "he looks like a relatively normal guy who you'd see in the street. … The ones I hate are anyone who's jacked up. They always get veiny and grunt a lot. Ugh. So off-putting."
Several guys I spoke to favored porn star Johnny Sins. According to Google Trends, Sins has grown in popularity since becoming a meme, in which people post screenshots from his videos and pretend he's an actual firefighter, teacher, astronaut, cop or detective.
Jay, a 27-year-old in California, says seeing Sins in memes made him a fan. "I like Johnny Sins because of his humor and how his image is perfect meme magic," he says. "He's always playing different jobs and professions in his videos, and he looks like Agent 47 from the Hitman series, so he'd be great for that role if Brazzers ever does a porn parody." Jay says he only follows Sins on Pornhub and no social media, but whenever he sees a new meme featuring Sins, he goes and looks up the source.
The same goes for Dan, a 29-year-old in the U.K. who admires the fact that Sins "has fun with his job." He tells MEL, "Too many male porn stars are aggressive and treat their job as though they're in the fucking octagon going toe to toe with McGregor." Sins, however, "has a lightheartedness and has blurred the lines between porn and parody so brilliantly it works. One minute he's a doctor, the next an FBI agent, the next a pilot. He's like Frank Abagnale Jr. Master of disguise."
When Calvin, a 20-year-old in Toronto, sees Johnny Sins in a video, it's a "seal of trust" that says it's going to be worth his time. "First of all, Johnny Sins looks awesome — he's got a cute face, fit body, big dick and he's smart in porn and in real life," Calvin says, referring me to Sins' YouTube channel, SinsTV.
"Plus, he's a good actor in porn and non-porn scenes," Calvin says. "Like in the porn parody World War XXX, his acting is … probably better than many actors' in Hollywood. He's just so confident, assertive and [he] knows how to do things. I follow him on Facebook and YouTube, but mostly try to watch every porn Johnny is in, because if he's in it, it's going to be good."
He adds, "Porn is something in which a girl you like is getting banged by some dude, so it's better if that dude is someone you like and are familiar with."
It's a devotion resembling the fandom around an NBA or NFL star. So why do straight guys love their male porn stars so much?
"Given that a majority of porn stars are women, with each woman having her own unique features and identity, it's almost rare that you see a male porn star with his own individual personality and following," Sam, a 23-year-old in Texas, tells me. "I don't mind the generic average male porn star, but they all seem to be the same: dull, emotionless, lacking character and just there to serve one purpose."
Sam likes ludicrous storylines and goofiness in his porn, and he praises two actors in particular: Johnny Sins and Danny D. "I'm straight, so looks aren't my go-to when choosing a male star, but rather the kind of feeling they give me when performing," Sam says, adding that their videos "make for an interesting watch, and not something [where] I want to just 'skip to the good parts.'"
Sam's third-favorite male porn star is the French actor Manuel Ferrara, "one of the most respectable porn stars in the industry," Sam says.
"I've read [that] he takes the time to sit with the female performer before shooting, get to know her, talk about limits, what she's comfortable with, what she isn't comfortable with," he adds. "Having a male star who genuinely cares about the female actors and her boundaries just makes watching his scene much more… genuine? I feel comfortable when watching his scene, because I know that the women he is with are completely safe in his hands, and they probably genuinely enjoy having sex with him, because he cares."
Your Hardest Questions About Porn, Answered