For years I've struggled to put my finger on the peculiar sadness of Subway, the submarine sandwich fast-food chain. It is an aspect as familiar yet ineffable as that yeasty odor in each store, the yellow-green light on fake wooden tables. The company could shutter tomorrow and we'd still carry with us the stain of their sweet onion sauce.
I got to thinking about the aesthetics of Subway again when a tweet from their Canadian social media team went viral — for a theoretically depressing reason. The account had released a poll asking customers to pick their favorite Greek ingredient. Days later, when the poll had closed, someone noticed that not a single vote had been cast.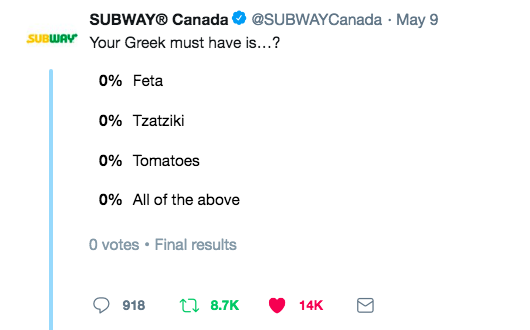 It's not that "nobody" cared to indulge a Subway regional brand rep by interacting with this pointless mini-promotion. It's that nobody cared. Literally no person on this planet could be bothered to click on the words "feta" or "tzatziki." This was unprecedented. With a following of 135,000 users, @SUBWAYCanada should have been assured of a few hundred votes, easily. But nope. It was almost as if people withheld their opinion out of spite. Every corner of the internet fosters irrelevant debate over piddling minutiae, yet when Subway tried to spark that kind of discussion, we gave them the cold shoulder.
To be honest, I get the feeling y'all think you're better than Subway. Maybe you lost respect for the franchise after their longtime spokesman, Jared Fogle, turned out to be a pedophile and child porn distributor. Or it could be they botched your most recent order — not toasted enough, lopsided cheese coverage? Were you angry when you learned that they misrepresented the length of their bread? And now it's hitting me: the melancholy of Subway is defined in how we distance ourselves from it. Nobody will admit to making Subway a habit. When you picture a Subway location, the place isn't packed with stoners like a Taco Bell at 2 a.m. or happy families like a roadside In-n-Out. I'm guessing you envision a restaurant mostly empty, the employees lurking somewhere out of sight, with a lonely customer or three working down a footlong BMT, the only sound that of rustling sandwich paper. Not for me, you tell yourself. It's barely a meal.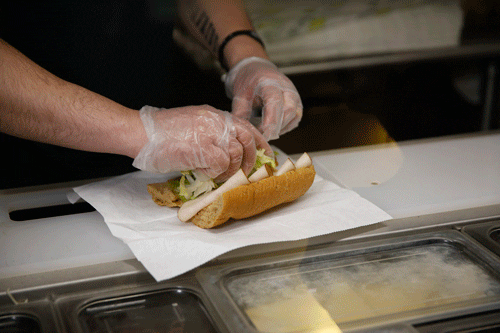 But you know what? That's exactly why you dipshits need to appreciate Subway. The restaurant's blandness is its strength. Subway is Old Faithful, and it's fine. They're making food you could have easily made yourself at home, but you didn't, and you're not at home, are ya, smart guy. So stroll on in there and customize your hoagie and house it while looking at your phone, then get on with your very important day. OK?
In high school, I didn't even have the option of Subway. We had to walk to a Blimpie for lunch. "What's Blimpie?" you ask. Fucking exactly. The best I can describe Blimpie is that it was like if Subway had been through a few rough years and was trying to get sober. It was staffed by one grandma with a hacking cough, and the iceberg lettuce was a shade of dirty white unknown to nature. I would have killed for Subway then — and later, in college, I had it.
Due to a snooty zoning law, there were no other fast-food spots in this tiny New England town; Subway existed because the geniuses in municipal government didn't realize it was a chain. Their spot was across the street from a legendary mom-and-pop deli, so you went there when you didn't have an hour to stand on that line. You wound up resenting Subway for this, soaking up the overflow business and your last few dollars whenever you were truly desperate for sustenance. Then, one day, the place burned down, and we immediately understood what we had lost.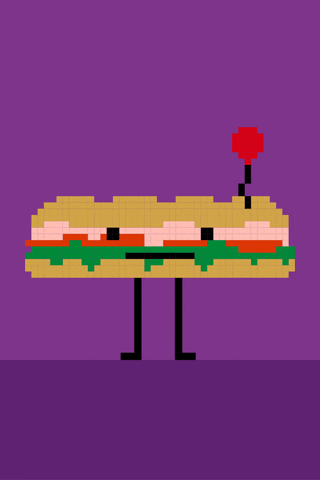 Pretty soon, you're going to understand, too. Subway closed 350 stores in 2016, some 800 the year after, and, continuing with this "aggressive revitalization plan," will shutter hundreds more U.S. establishments in 2018. Meanwhile, they'll expand with 1,000 new locations anywhere besides North America — in countries that grasp the value of ubiquitous and unsurprising mediocrity. At this rate, you'll eventually have to fly to Brazil or Australia when you get that once-in-a-blue-moon craving for tuna with banana peppers, or whatever weirdass thing has become your go-to combo. Because no matter how many months its been since you ate Subway, you do have a "usual" there. Admit it. You can make fun of them all you want, but you'll be back. You can't keep buying $9 avocado toast forever — and avocado is 75 cents at Subway. Stop by before it's too late.