This weekend saw the release of Amazing Grace, the terrific, long-awaited documentary that chronicles the making of Aretha Franklin's epochal 1972 gospel album of the same name. Because she recorded the record live in an L.A. church, the film ends up becoming one of the greatest concert movies ever.
But which one is the best?
There are plenty of worthy contenders, but my pick is Stop Making Sense, the phenomenal 1984 film that captures the Talking Heads during their December 1983 performances at the Pantages in L.A. Plenty of concert films are euphoric and electric. Stop Making Sense is a work of art.
It starts with the concert's conceptual thrust. The show begins with frontman David Byrne coming on stage with a boombox and an acoustic guitar. All by himself, he plays "Psycho Killer." And then, song by song, more and more members of the group come out, as well as their supporting musicians, including legendary keyboardist Bernie Worrell and guitarist Alex Weir. Stop Making Sense demonstrates visually how music is made, by individual human beings, and how a community comes together to play that music. Soon enough, the film is a party, and the band proceeds to deliver some of the best New Wave/rock/funk of the early 1980s.
Byrne and filmmaker Jonathan Demme conceived Stop Making Sense as a cinematic experience. One of Demme's innovations was simple but crucial: He rarely cuts to the audience, a typical crutch in concert films. But nobody ever wants to see the crowd during a concert film. Instead, he embeds us with the musicians, letting us groove on each player's contribution. Throughout the film, we never forget that music is the joyful combustion of talented souls focused on a common cause. It's a celebration of just how amazing people really are.
There's plenty of poignancy in Stop Making Sense now. Talking Heads were near the end of their peak at this point. (Unlike a lot of bands, they've never reunited to tour, mostly because Byrne refuses.) Worrell died in 2016 at the age of 72. Demme died in 2017 at the age of 73. But the film still feels new, young, alive. When Stop Making Sense plays in theaters, it's very hard not to get up and dance. I know programmers that actually screen the movie in spaces without seats. All the easier so that you can move.
I'll never forget the first time I saw Stop Making Sense. It was at the Egyptian here in L.A., not that far from where the Talking Heads played those iconic shows long ago. When the movie was over, I was dumbstruck by its power and its sheer pleasure. I couldn't even speak. Then, as the credits ended, one lonely voice in the crowd yelled, "Play it again!" Sadly, the projectionist didn't oblige.
Below, other members of the MEL team offer their picks for the best concert films, everything from classic rock to hip hop to EDM.
Shut Up and Play the Hits
I didn't really pay attention to LCD Soundsystem until my junior year of college, when I was working as an intern for Variety. One of my editors sprung a last-minute assignment on me: "You look like an LCD fan. Can you cover the premiere of the documentary tonight?" he asked. I nodded yes, even though I couldn't name a single tune.
Shut Up and Play the Hits follows the indie dance-punk band's final show, at Madison Square Garden, and brings us into leader James Murphy's own headspace as he faces the end of a multiyear passion project that ended up being bigger than he ever imagined. The band is ready to go out on a high note after just three albums, all of which received acclaim. I only understood this acclaim in the abstract, really. The first song of the concert, "Dance Yrself Clean," changed that.
I was perplexed by how slowly it starts — just Murphy in the spotlight, warbling over a pitter-patter drum machine, some lone synths and the donk of a cowbell. But then the beat and the band kicks in after three long minutes of building anticipation, and I bounced up in my seat as the fans in the Garden erupted on screen. It was a riot of raw musicianship, punctuated by Murphy's diary-entry lyrics and the desperate energy of the band members. And all those shots of overwhelmed fans in the crowd (including the legendary Crying Boy) helped underline how huge the moment really was.
Shut Up and Play the Hits is a movie with a lot of beautiful shots, and I love how directors Dylan Southern and Will Lovelace filmed the concert with a real knack for capturing the intimacy between the band members, especially Murphy and keyboardist Nancy Whang. Equally moving, though, are scenes away from the show — like Murphy, back to the camera, silently surveying a basement room full of the band's equipment, lined up one last time under flickering fluorescent lights. The interviews within the film clarify and deepen the existential musings Murphy placed throughout LCD's discography, and the contrast between the show and the literal morning after gives the film a weight and stakes that many concert movies just don't have.
Of course, LCD ended up getting back together after all. I saw them just a few years ago, in L.A., and funny enough, I thought of Shut Up and Play the Hits while dancing in the crowd. It took the band's farewell for me to pay attention. I'm just glad I got a second chance to see it for myself. — Eddie Kim, Staff Writer
Dave Chappelle's Block Party
There are classic concert films I love, like the 1969 Woodstock documentary. There's also the Wattstax show — it took place three years later in Southern California and marked the seventh anniversary of the 1965 Watts Riots — it was a benefit concert put on by soul music label, Stax Records, and nicknamed "the Black Woodstock." Both of those were incredible shows, ones that capture a specific time in America. But my favorite concert film has to be Dave Chappelle's Block Party. The movie not only boasts a ridic playlist, it also documents another hinge in American history — the beginning of the 21st century.
"On September 18, 2004 Dave Chappelle threw a block party in Brooklyn, New York," an onscreen credit reads. It's the moment that marked the last time people outside New York imagined Brooklyn as Spike Lee's Bed-Stuy, and not the BK it was about to become as it rapidly-gentrified into a location for Lena Dunham's Girls. This concert film was the last portrait of that OG black and brown Brooklyn that's now disappeared into history.
Honestly, Dave Chappelle's Block Party is special for so many reasons. The movie's dedicated to J Dilla. Respect. It was filmed by visionary director Michel Gondry. Its soundtrack features Kanye, Mos Def, Talib Kweli, Common, Dead Prez, Jill Scott, Erykah Badu, the Roots, and a for a special surprise, a reunion of The Fugees. If you can believe it, Lauryn Hill actually showed up for it. This was before the Roots became Jimmy Fallon's late night houseband, before Mos Def became an ex-pat who's rejected America, and long before Kanye lost his damn mind.
These days, it feels extra wild to see Kanye stomp his way into the block party backed by a black marching band, as he performs "Jesus Walks." The indie rap gods, Dead Prez get the crowd hyped with their banger "Hip Hop." Jill Scott blesses the crowd with some of her cosmic mama vibe. Mos Def drops a dope version of "Umi Says." But no single rapper on the bill compares to Talib Kweli who shows up on some beast mode energy. Kweli spits his bars like he's cocking back a hammer and firing out each word.
The big highlight of the night, though, has to be the reunion of The Fugees, and that rare exquisite feeling that only comes from seeing Miss Lauryn Hill sing "Killing Me Softly." As Dave Chappelle says at one point in his film, "This is the concert I've always wanted to see." Dope thing is, he legit made it happen. As Chappelle says, "We shook up the world!" — Zaron Burnett III, Contributing Writer
The Last Waltz
For the uninitiated (who are you people??!?), The Last Waltz was the final show of the original lineup of one of rock music's hardest working groups, the Band, who had made their bones backing Bob Dylan in the 1960s when Dylan had gone electric, before striking out on their own with critically acclaimed records like Music From Big Pink and Stage Fright.
But back to the Waltz — this movie has everything. Martin Scorsese behind the camera, doing trademark Scorsese things; a collection of musical guests like Joni Mitchell, Neil Young, Neil Diamond, Van Morrison and Dylan (to name a few), all of which are or will be in the Rock 'n' Roll Hall of Fame; band tension (specifically over the amount of rarified air provided to Robbie Robertson, the Band's lead songwriter, guitarist and close friend of Scorsese); a weird (and weirdly awesome) music video interlude; Michael McClure reciting The Canterbury Tales during set break; and possibly one of the most powerful performances of a song I've ever seen, when the Band plays "The Night They Drove Old Dixie Down" with all the "fuck it, let's kick this song's ass" bravado you'd expect from a band who knows they'll never play together ever again.
My suggestion to you is, do what I used to do in college: Get a jug of meh wine (I recommend Carlo Rossi), get drunk, pop on The Last Waltz and sing your fucking heart out. Oh, and remember: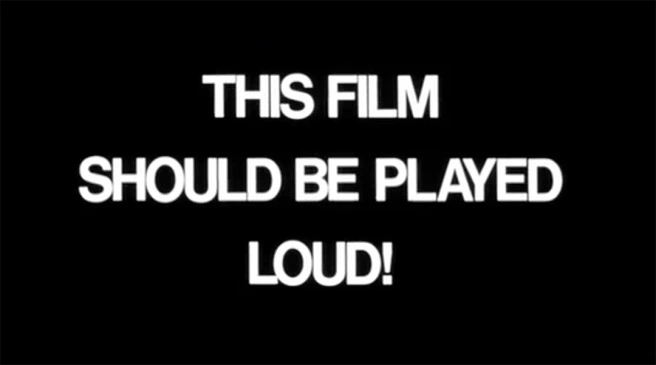 — Jeff Gross, Social Media Editor
We Are Your Friends
When I initially pitched We Are Your Friends as a great concert movie, there was some hesitation over whether it counted. Partly, it's because we're not quite sure if a rave counts as a concert, or if EDM DJs are in the same league as rock stars. But this is also precisely why WAYF is a great concert movie — it's a film rooted in millennial uncertainty and anxiety.
The film follows an aspiring DJ, Cole (played by Zac Efron), and his friends as they navigate the gritty party scene of Downtown L.A., where they live paycheck to paycheck and try to figure out their place in a world where the markers of adulthood are out of reach, where a "stable" job means fueling a toxic subprime mortgage industry and where music provides the only solace.
After he loses everything, the movie ends with Cole playing a track at a festival that conveys his pain, anxiety and anger at the world to a 128bpm backing track.
While other concert movies use the final gig as the moment of peak success — the moment that made all the pain and hardship worth it — WAYF makes none of these promises. There is still no guarantee that Cole will be a superstar or ever leave the San Fernando Valley. If anything, the concert is the place where Cole has no choice but to face the harsh world he finds himself in. It's not so much cathartic as it is a tragic resignation. — Hussein Kesvani, U.K. Editor