As the latest advent of quarantine horniness, extremely online guys and two-dimensional mascs are balancing shampoo bottles on their erections. Yes, the latest trend in horny on main culture is sexualizing Head & Shoulders.
Part shock value and part thirst trap, the Shampoo Challenge is better understood as what happens when torso Twitter thots share a timeline with an increasingly mainstream furry and anime art communities.
In fact, the Shampoo Challenge started as a trend in an anime Facebook group before slowly proliferating across the internet. Twitter user @_Sugar_Senpai, in a now-deleted tweet, posted two anime drawings from Facebook of chiseled men standing in bathrooms with bottles on their erections. She captioned the tweet, "New challenge ?"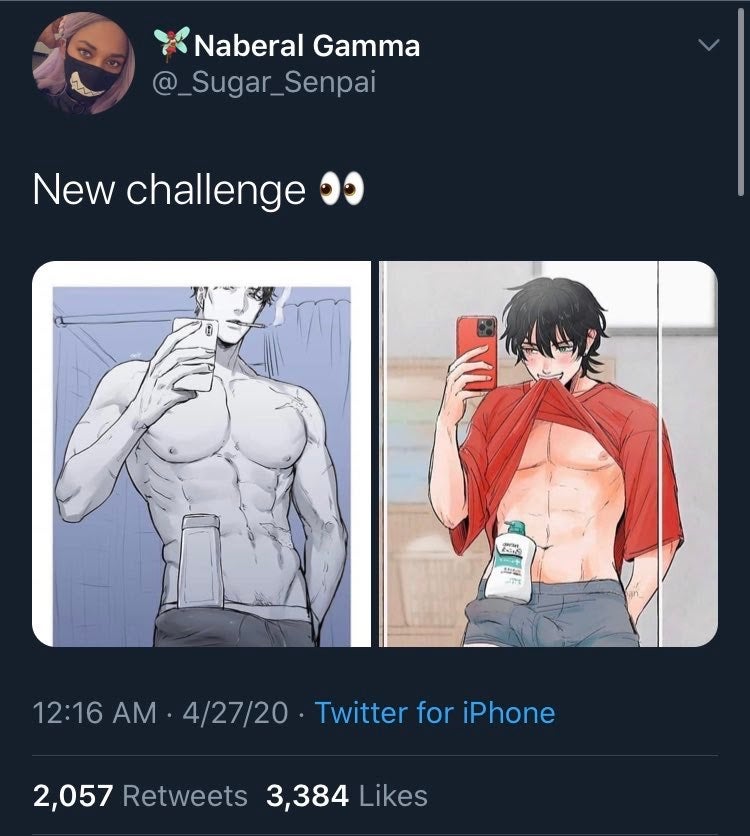 Quickly, the challenge spread through queer and furry communities before hitting the straight men of Twitter. Alex, a straight 23-year-old from Michigan, hopped on the trend with his girlfriend's encouragement. He balanced Head & Shoulders' Classic Clean shampoo on his baby-blue Fruit of the Looms. "It just seemed kinda funny, so we said fuck it," Alex tells me.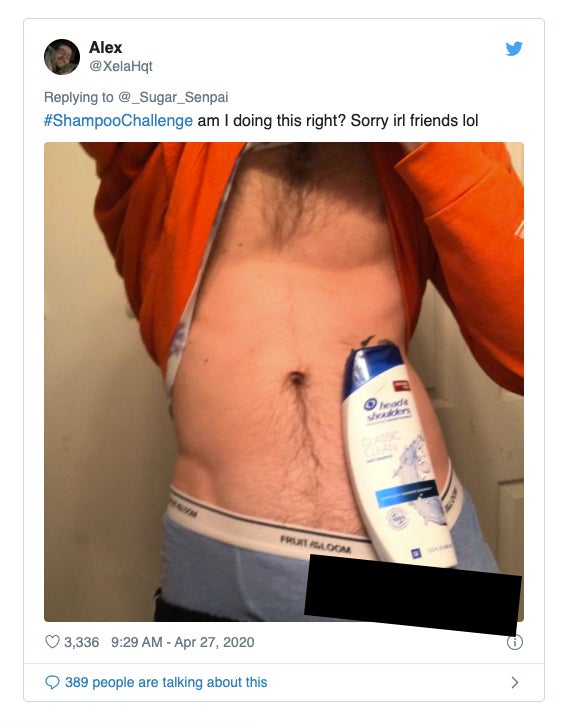 I was curious: How hard is it to balance a bottle of shampoo on your dick? Not too challenging if you're leaning it on your stomach, Alex says. "I've got a good platform, I guess."
Some have even monetized the Shampoo Challenge. Angel, a 23-year-old trans girl from New York, did the Shampoo Challenge after seeing backlash to a cis girl's version with a strap-on. She posted a selfie with her Yves Saint Laurent clutch sitting atop of her penis and captioned it, "The boys lose again! ✌️"
Angel linked to her recently launched OnlyFans account, garnering 30 new subscribers from the post. "It's just kind of tongue-in-cheek for a girl to participate, and I love to confuse people," Angel tells me. "Women do everything better, including balancing stuff on their dick."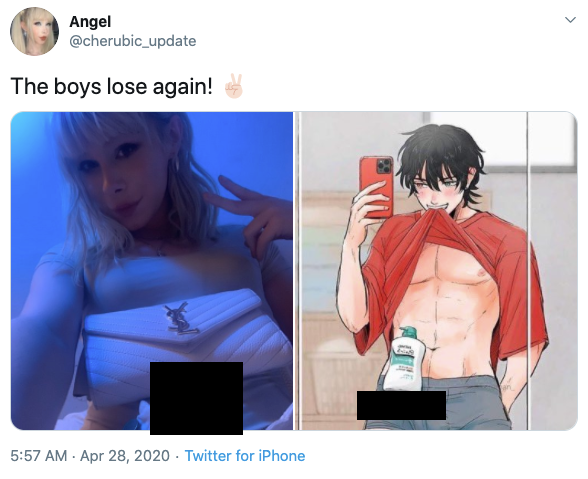 Bradley Zadrozny, a 25-year-old gay man from Sydney, Australia, posted his Shampoo Challenge after seeing drawings of masc bear and wolf fursonas stabilizing shampoo on their stiff ones.
It's rare to see a furry trend hit the mainstream without a little bit of real-life skin. Fursona drawings, after all, can be time-consuming and expensive when commissioned for detailed portraits. Zadrozny, a furry, says he didn't have much time to spare: By the time a fursona piece is finished, the trend may have passed. So he opted for a selfie, balancing a conditioner bottle on his AussieBum briefs. "Guys will jump at the chance to have fun with their dicks. This is just an excuse to do that [and] show it off," he tells me.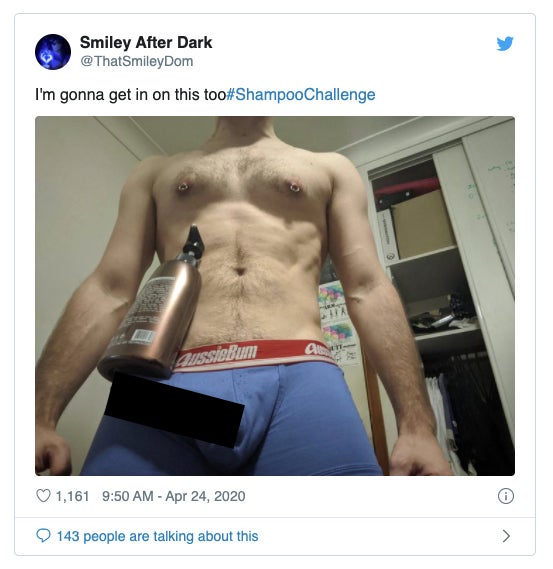 "I just saw some of the people I follow doing it, so I figured why not. Just something to pass the time while being stuck inside," says Rickie, 21, from Washington, D.C.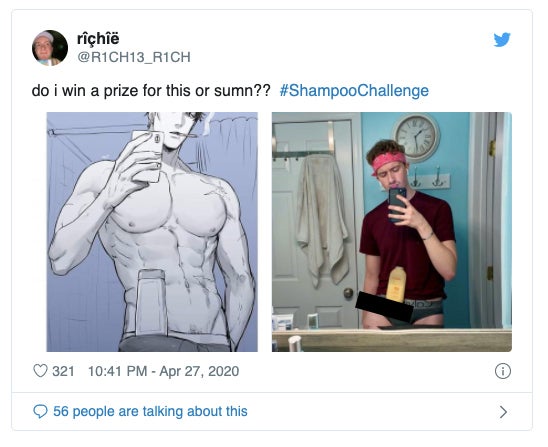 As with any trend, artistic internet challenges will usually be co-opted by hots looking for any opportunity to show those abs and go viral. What better way to get those reply guys gagging than thot-posting during a pandemic when everyone is living online?