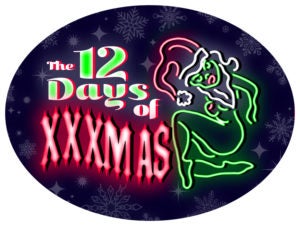 This year, we're swapping out the typical 12 days of Christmas for something even better: 12 days of sex workers who should absolutely be on your radar. Whether they're breaking new ground on OnlyFans, using their platform to call attention to issues like racism and immigration or shattering our ideas of who's "allowed" to make porn, sex workers are both reimagining what sex work can be and changing the world — one swingin', phalloplastic dick at a time.
When 30-year-old Bubba Burls first started uploading clips to his Pornhub channel, he was merely acting out his own fantasies in various "big guy" cosplay scenes. "I think my earliest video was a Fred Flintstone-themed solo session," he recalls. "I was in an apartment, on a computer chair, in orange-and-black spotted fur, wearing a necklace of plastic tiger teeth. I positioned the camera so that it would make my bone look nice and big, and then I tugged on my club for a bit."
"Yabba dabba doo!" he jokes.
But before long, the 6-foot-2, 375-pound "burly chub" discovered another, unexpected perk to getting down and dirty online: As he writes in his Pornhub bio, it motivates him to work out.
Burls recalls his Bible Belt childhood as a blur of horniness, spent jerking off to his dad's stash of Playboys and tying washcloths around the bath faucet to get a steady, warm stream of water on his junk. The whole time, though, he felt insecure about his body. "I've always had a lot of self-esteem issues, which came mostly from being overweight," he tells me. "Now, after Pornhub, I'd say I'm merely shy, but not terribly so."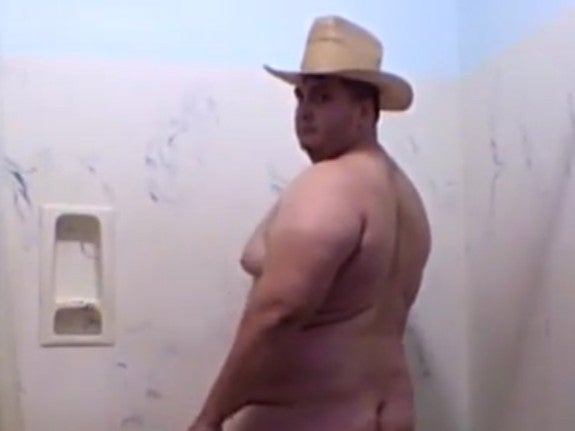 He doesn't post his workouts online — he strength trains and does cardio — but Burls says seeing his naked flesh on-screen keeps him motivated to build muscle and keep his heart rate up. "One of the fundamental pitfalls of body-shaming is that it makes people less likely to take care of their bodies rather than more likely," he explains. "When you like your own body and are conscious there are others who like it, it's easier to don tight workout gear — or to get naked, as the Ancient Greeks did — and ride a bike or lift weights."
The words "fitness journey" still conjure mental images of airbrushed influencers holding up laxative teas for the camera, but Burls is among a handful of amateur pornographers doing exercise differently. Forget the cheesy mantras and strict caloric goals, for them it's all about documenting the results of their workouts — and sometimes, but not always, the workouts themselves — through NSFW videos, and bringing their fans along for the ride.
Ben, a 27-year-old yolked brunette who posts to OnlyFans under the handle "Growing Bottom," started making X-rated content earlier this year to help pay his way through grad school. After decades of struggling with anorexia, body dysmorphia and depression, he found himself in a good mental place with his physique, so he started posting selfies to track his efforts to gain muscle mass.
He strictly avoids terms like "fitness," and instead calls it "growing." His Twitter account — which currently has more than 50,000 followers — has become a shrine of thirsty progress photos and weightlifting clips, and those who want more can sign up for his OnlyFans to see the results of his workouts in anal scenes, jerk-off sessions and boned-up selfies.
Ben doesn't have any specific weight goals or workout plans, and rarely posts details of his own routine. "Primarily I grow for myself," he writes over DM. "But I like sharing my results, and ultimately, it's hot and erotic to me for people to see them too. I'd be lying if I said it wasn't an enormous motivator." It certainly allows for a more intimate relationship with the guys who get turned on by his progress, who reassure him that he's "growing beautifully"; in turn, he reassures them of how horny it makes him when they compliment his ever-more-swole build. (He frequently posts his updated measurements to OnlyFans.)
Others have jumped on the horny fitness bandwagon, too. Lola Montez is a jacked female bodybuilder who uses her OnlyFans as a way to please followers more interested in the aesthetics of her fitness pursuits than anything else. Meanwhile, The Best Flex is an entire website dedicated to hot muscle gainers and alpha bros, who flex their pumped biceps in domination videos for willing subs. And top OnlyFans earners such as Vera Bambi often sprinkle sexy workout videos in among the cosplay porn.
According to BrainFacts.org, there are two things that motivate behavior — necessity and reward. Anything can be a reward as long as it motivates us or causes pleasurable feelings, and we're encouraged to keep doing that thing by the brain's dopamine reward system, a neural circuit that turbo-charges us with feel-good chemicals when we do something we see as rewarding. Feeling desired is most definitely a pleasurable feeling, so it makes perfect neurological sense that desire could be harnessed to serve as a motivator for something difficult like working out. Likewise, researchers at the University of Bath in the U.K. have found that people are motivated to exercise either by intrinsic factors (like enjoying the post-workout high) or external ones (like being concerned about how their body looks to others).
For those like Ben and Burls, who are turned on by seeing their audience react to their workout habits, this is creating a unique new symbiosis between fitness and NSFW content. That is, it's the NSFW work that's inspiring some adult creators to exercise (or holding them accountable to their workout goals), but they're also finding that the fitness content (whether NSFW or not) is a good way to bond with and stay relatable to their paying customers.
Again, it's an ethos that feels a million miles away from the #fitspo and #thinspo posts that still dominate Instagram, usually sponsored by companies who want you to feel shitty about yourself and buy their useless merch. Fitness content has long been driven by the lie that you too can look like an impossibly hot, bronzed god (or goddess) by merely clicking a link to an overpriced 10-minute "booty buster" workout. These types of posts, however, cut through this noise to sell what you really want: An extended, horny and frequently much more explicit version of a booty-buster video.
They certainly don't disappoint Burls' fans. "You are truly handsome, I could keep watching forever. When you flex those huge arms and pecs for us and show off it's so damn exciting," a commenter writes below one of his Pornhub videos. "Wish I was there lathering up every curve and roll of that big chub stud body, especially those huge guns," adds another.
Which, just as Burls intended, leaves him sweating once more.