Grimoire was the fidgety kid in class. Through lecture after lecture in high school, he mindlessly flipped his pen through his fingers, dropping it routinely and disrupting class. The more he dropped his pen, the more attention he drew, and eventually, pen spinning was banned at his school.
He needed to do something with his nervous energy. So he took to YouTube.
There, Grimoire discovered KTrinh93, a famous pen spinning YouTuber, and picked up basic pen spinning techniques so he'd never drop his utensil again.
But he didn't stop there.
Grimoire entered the world of competitive pen spinning. He discovered a thriving community around collaborative videos, known as CVs — trick videos involving multiple pen spinners. The community invented new moves and tricks, created modified pens with added weights for different spins, and — of course — stirred up plenty of drama. He even chose a name for himself: Grimoire is (literally) his pen name.
Hold on, I told him. Back up. There are well-known pen spinners? And mixtapes? And a pen spinning world tournament?
Believe it. Competitive pen spinning has a rich history. It started in Japan in the 1970s, made its way to the United States in the '90s and eventually culminated in the Universal Pen Spinning Board — an online forum for pen spinners all around the world — which opened in January 2004.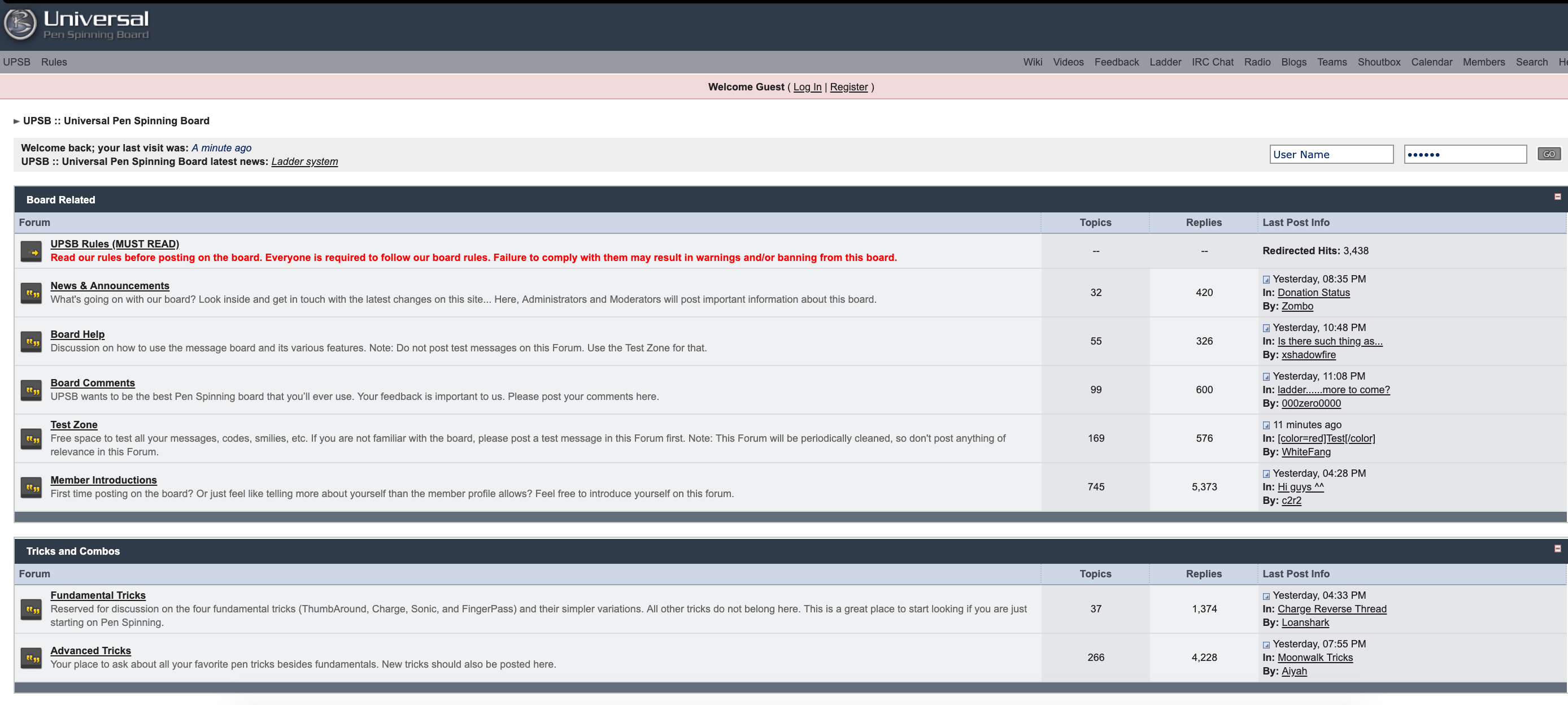 Today, thanks to the internet and an unflagging competitive spirit, pen spinning has grown a substantial following. So much so that the 2019 Pen Spinning World Tournament — first organized in 2007 on the UPSB forum — kicks off next week.
You Spin Me Right Round, Baby
"Pen spinning isn't an easy, quick hobby," Grimoire, now 17, says. "It takes time and dedication to learn. I think I stuck around because I just enjoyed doing it, as well as the modding aspect."
After learning as many tricks as he could on YouTube, Grimoire discovered the niche pen spinning community in March 2016, when he joined up with "a small little team called SOL." He created his first collaboration video, began training for 2017's Pen Spinning World Tournament and released his first "serious" CV in 2018. "It actually had some pretty big-name spinners," Grimoire says, "like Megas, Tchus and DArKt." (We'll get to them later.)
Andy, a college student in Southern California, got into pen spinning three years ago because he "got stuck on a delayed flight with no phone battery left," he laughs. "It was really the only thing I could do to keep myself entertained while I was there."
Like Grimoire, he got home, went on YouTube and discovered KTrinh93. "I just found a lot of fun in doing it," he says, "even though I didn't really progress much, only learning the most basic of tricks and linking them together."
This KTrinh93 tutorial has nearly 1 million views:
The Fall — and Rebirth — of the Online Pen Spinning Community
The United Pen Spinning Board was a thriving, central hub for the pen spinning community — until 2017, when it suddenly shut down.
"Zkhan, the person paying to keep the domain, said he wouldn't pay for a site that nobody was using," Grimoire explains. The pen spinning community scrambled to find a new home.
"For a while, the Reddit server was the only public one available, but some of us were unsatisfied with how it was moderated," Grimoire says. Andy, too, takes issue. "You can't really go against what's already been declared before," he says of r/penspinning. "Like, new propositions and ideas aren't exactly discouraged, but they certainly aren't encouraged."
So Grimoire and a few spinners broke off and created The Workshop, a Discord server with sections for "announcements (used for CV signups and releases), general discussion, spinning, modding, off-topic/daily life, and a meme-related shitpost channel," he says.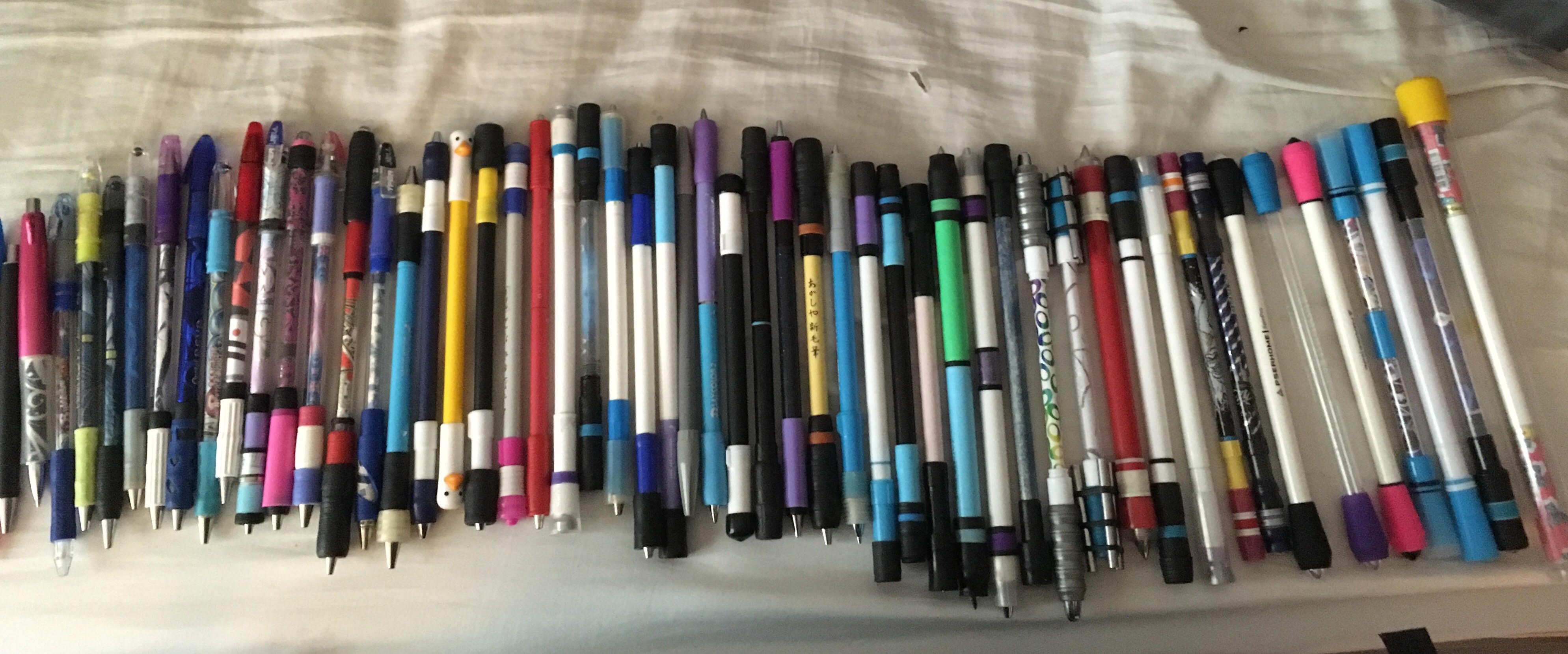 For the most part, spinners in the Discord "discuss all aspects of spinning: theory, new and upcoming spinners, tournaments, etc," Grimoire says, adding that there is another Discord server called Mango, which is a bit "more relaxed, with an emphasis on spinning."
It's the positive space Andy had always been looking for. "Most people [on Discord pen spinning chats] are really helpful and nice," he raves. "It seems everyone just wants everyone else to spin better."
The Pen Spinning Superstars
Who are the Michael Jordans of spinning pens? The celebs who developed huge followings for their prowess?
There's i.suk — "regarded as one of the best spinners, if not the best," Grimoire says, adding that some drama and allegedly sketchy judging at the 2017 World Tournament led i.suk to lose. "Sirapob technically beat him in round five," he explains, "but that was only due to menowa's biased judging." (We'll come back to that, too.)
I.suk "revolutionized power tricks (continuous, fingerless tricks) and pen spinning as a whole," says redditor zXntle. "He's constantly improved since he started, even past the point when others stopped trying. He is still active in the community after 11 years and has participated in numerous world tournaments."
"Then there's DArKt, an incredibly good Brazilian spinner," says Grimoire. "Tchus, Megas, Gollumsk8 and Tache are all noteworthy French spinners."
"Other notable spinners include coffeelucky, a judge for [World Tournament 2017]," zXntle says, "and Vôre-Tèx, who is an exceptional pen modder, if you are interested in that part of the hobby."
"Supawit and Spinnerpeem are two Thai legends in the community," Grimoire adds. "Baaron is well known for his creative and original links. The Japanese community has a lot of really well-known people, such as Ponkotu, Arezert, Menowa, Ocha [and] Kay, one of the first professional spinners who does it for a living." Grimoire adds a few more spinners who are "not quite [World Tournament] material yet."
What's it like to be a "mini-celebrity" in the pen spinning world? "It's probably one of the greatest communities I've ever had the pleasure of being a part of," Ktrinh93 tells MEL. "Perhaps I'm biased — maybe people were nicer to me — but … you never really felt bad or stupid sharing your ideas because everyone wanted the community to thrive and encourage new spinners and new ideas."
And yes, there are real-life meetups. "In November 2017 I met up with a spinner who made it to round three [in the World Tournament]," Grimoire says. "His name's DioBrando, and it was the first time I'd met up with a spinner in real life. It was really cool to discuss pen spinning face to face with another person." There's also a massive offline meetup in Japan every year — but sparks fly there as competition heats up.
There, prior to the 2017 World Tournament, "i.suk actually beat out menowa with a power-focused combo, something menowa's spinning is based on. It's pretty obvious that menowa didn't take that too well," he explains — which is what allegedly led to menowa giving i.suk a low score in the world tournament. Drama!
And as with every community online, zXntle says, there are some well-known bad eggs. One guy "steals pen mod designs from others and tries to pass them off as his own," he says. Others, he says, are just generally "toxic" and disliked — but he won't name names, refusing to "draw unnecessary hate."
The Best of the Best
Most of the drama in the pen spinning world centers on the yearly World Tournament, where "the best pen spinners in the world to come together and show how they've improved," zXntle describes. They submit their solo videos to judges, who determine winners and announce the next round on the tournament's website.
During the tournament, 64 spinners — usually between ages 15 and 20 — will participate. They're judged on four main categories, explains "coffeelucky," a tournament representative: execution (smoothness and beauty), difficulty, originality and effectiveness. There's an official rulebook that details each criterion, coffeelucky adds, "but it is pretty long." (He's not kidding.)
The 2019 tournament begins on August 11th and stretches throughout the month. New videos will be uploaded every round. There will be prizes for first, second, third and fourth place, the rep says. Most importantly, they're actively seeking a sponsor so the competitions can continue. The World Tournament has succeeded in connecting pen spinners around the world, coffeelucky says. Now the goal is to find "the best pen spinner."
But as pen spinning becomes more elite, coffeelucky is worried the sport's complexity — with "tricks, linkages and small refinements in finger positioning" — might scare away casual fans. Grimoire says the judging drama turned him away from getting involved in the tournament this year; he's sticking to modding. ("I currently own around 55 mods," he says.)
Still, KTrinh93 hopes the casual tutorials and community will keep the sport thriving into the future. "The best thing pen spinners can do is to just keep sharing the fun wherever we are — whether it's at school, work, or hanging out with friends and family," he says. "It's always nice to go out in public and see someone casually spinning a pen and striking a conversation with them about it."