I had Tinder on my phone for all of two weeks, back in 2014 — the year the match-making app truly peaked, hitting a billion swipes per day. Through a combination of laziness and distraction (I was more invested in OkCupid, which had more fun weirdos and attention toward "compatibility"), I never met up with any of my matches, nor did I get a solid grasp of how the Tinder game is played. My bio was idle provocation. "Chipotle sucks," it read, because I was sick of every millennial in New York waxing on about their burrito bowl addiction. This led to a few silly debates, but nothing more than flirty banter. It felt almost purely virtual, like old AOL chatrooms.
Now, with shelter-in-place orders in effect around the nation due to the coronavirus, Tinder is effectively this directionless (and some say pointless) for most of its users. But people are still on there, suggesting that the promise of dates and hookups was never quite the main attraction. The company seems to be admitting as much, too, as they've made their "Passport" feature free for the month of April, letting folks switch their location to "connect with people virtually" around the world in a time of social distancing. Clearly, the hope is that Tinder can be a means to an end besides love or sex.
And maybe, in fact, it always was.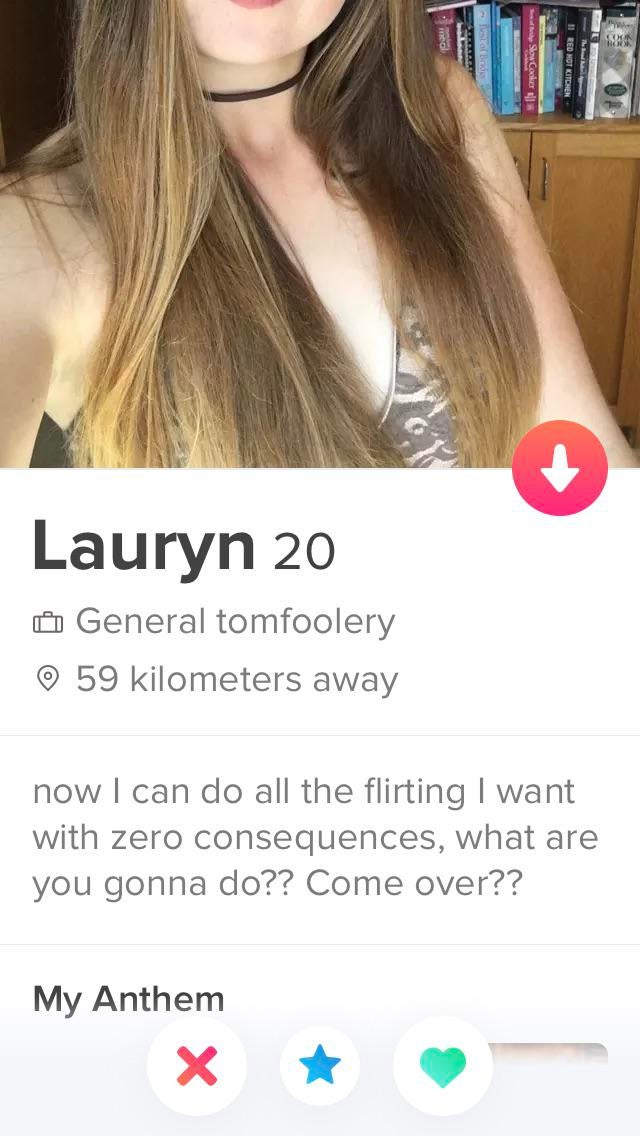 Ian (not his real name), a 22-year-old man in Brooklyn, says his Tinder these days amounts to a "combination of using it as an outlet for abject boredom and trying to get nudes." Given the lockdown, he figures "most of the people I match with are on for similar purposes as well."
As it happens, his Tinder habits haven't been remolded by quarantine. "It's actually not that different for me, personally," he says. "The main difference is that other people are now using it the same way as me, which actually makes it a little more fun." He's used the Passport to explore potential matches elsewhere in the city and has seen people from across the U.S. and Europe, which "lends credence to my theory that a lot of people are really just on it to fuck around." 
"Literally never not using Tinder, quarantine sure hasn't slowed me down," says Joel, 31, in Bellingham, Washington. His behavior on the app hasn't shifted much, either. "It also hasn't changed my success rate though (which is humiliatingly low) so it hasn't really mattered much," he adds with a laugh. "To me it seems like dating apps are mostly just little programs designed to provide us with a constant hit of low-key rejection, but there's something weirdly addictive about that."
David, 24, in Denver, is similarly downbeat on the question of what he can get out of Tinder. "I was actually considering deleting it before the lockdown," he says. "Admittedly pickings are slim in Denver; they call it 'Menver' for a reason." Perhaps that's part of why he remains active on the app despite the pandemic. "It just feels like part of a routine at this point, like dating hasn't completely gone away." Before, there was disillusionment, but lately, he hopes "to find someone to have good conversation with and potentially have FaceTime dates with and maybe meet up once all this is over. It'll be nice to have something to look forward to besides general normalcy," he explains.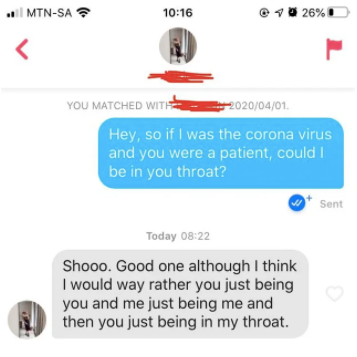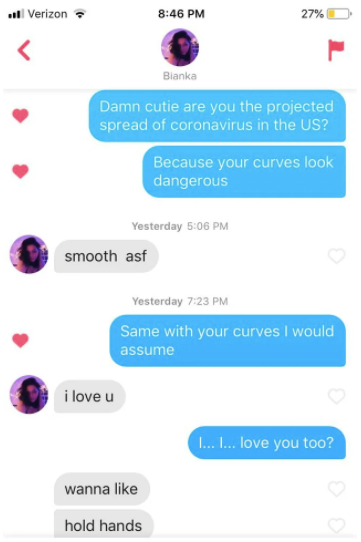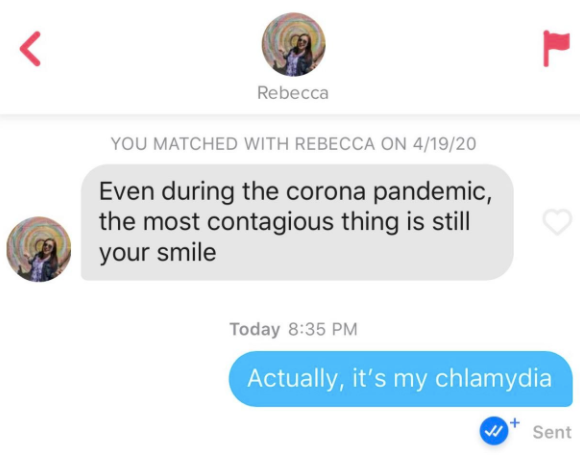 Jaye, a 23-year-old trans woman in the Bay Area, likewise indulges in the fantasy of post-quarantine relationships. "I have [Pandemic Tinder] broken down into two categories," she says. "The lesbians/trans folx who I'm actually interested in potentially seeing after this is all over, and the men who are fun to flirt/sext with (but they keep asking if I'll break quarantine for them, so that may be a short-lived endeavor)." Apparently, not even a deadly plague can dissuade some fuckbois. "The second message is almost always some variation on 'so… do you want to come over?'" Jaye says. "And when I say no, they UNMATCH ME." 
Recently out of a job, Jaye's been using Passport to check out cities on the East Coast, mulling a cross-country move. After coming to the Bay in January, she "was using Tinder to meet new folx and build out a little sphere of influence," and while she did sleep with a number of those people, it was the drive to make new local friends and connections that made the app useful. In pandemic mode, she's "been low key hoping to meet someone I can maybe U-Haul with once this is all over? But I know how unrealistic that is. This whole situation has really heightened my Hopeless Romantic Lesbian vibes."
Sarah, 32, in Washington, D.C., also thinks about meeting an "actual partner" via app, though in practice, "my threshold for going out with someone is much lower than that," particularly as she got familiar with D.C. and wanted to do the kind of social networking that Jaye describes. She, too, is feeling out potential new homes through their Tinder populations. "I've used the Passport function mostly to check out L.A., just out of curiosity," she says. "I've also looked a little bit at Phoenix and Denver. I guess these are places I would consider moving, even though I don't have any specific plans to move or stay or anything." 
"Since I can't meet up, it feels like the distance doesn't really matter as much," Sarah continues. "Before quarantine, a lot of guys expected to meet up within a week or so of matching, but now I'm weeks or months away from meeting anyone, whether they're across town or across the country. If we can sustain interest that long, we've got something worth traveling for."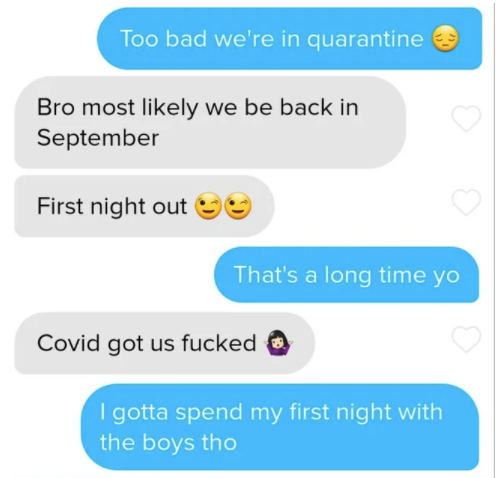 "I am looking at Tinder but not using it," explains R.P., a 31-year-old woman in New York. She laments a match with a guy "who seemed cool" but revealed himself to be "too dumb."
"And it's not like I'm gonna act on anything anyway," she continues. "I have noticed a higher female-to-male ratio of people swiping on me, which is interesting. Usually I get like 500 times more dudes. I think fewer guys see the point if they can't fuck." Although one man, she reports, told her to come sit on his face, "and I was like dude, only if the governor says it's okay."
Why bother muddling through these exchanges? Well, she says, while the Passport options are akin to "looking really hard at a lovely cake that you can't eat," staying with local Tinder means "you can save some cake for later!"
However hopefully any of these people regard the prospect of a future romance (or fuck buddy), it's clear that the possibility counts more than the expectation. Nobody seems that bullish on Tinder's ability to meet any greater desire, but this doesn't stop them from tapping in and seeing what happens. Such was the case before quarantine, and so it is with the opportunity for a first date essentially foreclosed — only today, there's an indefinite waiting period for measuring in-person chemistry. As ever, the daydream of a positive outcome overrides an awareness of many glaring obstacles; it's as though you must accept those limitations and your skepticism in order to swipe around freely, without anxiety or angst.
For C., a 35-year-old woman living in the deep south, this paradox — and the atmosphere of Pandemic Twitter — are quite familiar. "I was housebound for most of my 20s due to disability, so I kind of already know what this level of isolation is like. It's bad," she explains. "And I've still never been close to being in a relationship, years afterward, even though it's what I always really wanted out of life."
Currently, she's "immunocompromised and quarantined in a rural area of a red state" with her 70-year-old parents. "I don't feel super confident any future, much less a romantic one," she admits. "So I asked a couple counselors how I can learn to accept that it just won't happen. Because I think I have to come to terms with that in order to grieve. But both times they just told me to get back on the apps. Like maybe it'll still happen somehow, maybe there will be someone cute you never would've met otherwise, and you can talk to them for a minute, and it'll be fun, and most of us have to basically live on the internet right now, so in a way it's like we're all in the same place, etc." C. says.
That said, this is a lacking solution, and quarantine isn't exactly helping matters. "Sometimes I would like more actual interaction, but dudes seem even more depressed, or even less horny?" she explains. "I mean, before all this, it seemed like dudes were mostly horny just for the knowledge that they could get a woman to fuck them, and anything past that seemed to depress them. I am more actually horny, but I've tried to learn to work with what's there. But it's weird now when they notice someone doesn't live near them and act as if that's all too impractical for them. What would be a more practical plan, meet someone irl for takeout, then ghost, during a pandemic? I don't know, it's all very strange."
As to both her Tinder life and the coronavirus situation, she says, "all anyone seems to know to say is short-term kind of American advice, which is either optimistic or full of denial, I guess, depending on how you look at it. Like I said to both counselors, there has to be a better option than [the apps] because it seems like either just cycling between hope and pain or numbly distracting yourself, and they didn't really have an answer other than 'One day at a time.'"
In that, she has more or less summarized the whole short history of online dating tech, which is not a mechanism for developing human bonds but a toy that generates coincidences until you find one to pursue. With only the coincidences left — the algorithmic shuffle that serves you names and faces — we are left to recognize that Tinder never offered much else. For the extremely sex-driven and superficial, it was enough to throw darts at the map and fuck whichever hottie got hit. Others happily ventured on low-stakes dates that occasionally led to something more. But countless Tinder users have long been caught in the swirling entropy of the thing itself, the curiously non-sexual experience of being bounced off one another like particles in a super collider.
While the hookups may have fallen off, that digital roulette spins on.