Sometimes, during truly awesome sex, a vain little thought will cross your filthy mind: I bet someone would get off watching this. But while amateur porn and cam sites abound in 2018, the scene feels chaotic, overcrowded and not altogether profitable. How (and where) do you begin to monetize your sex life? Behind a paywall, of course.
That's a tweet from 49-year-old Jack Mackenroth, an activist, designer and model who competed on Project Runway as the show's first openly HIV-positive contestant. Having cultivated a thirsty Instagram following for years — in 2014 he launched the #WeAreAllClean trend to raise money for AIDS research and combat the stigma of the disease with steamy shower selfies — he opened accounts with the subscription sites OnlyFans and JustForFans this year. Fork over $14.99 per month to either provider and you get total access to the hundreds of pornographic photos and videos Mackenroth shares on his pages: everything from solo cock shots to fuckfests with other hunky men.
"I have no aspirations of any porn-lebrity at all," Mackenroth tells MEL about the explicit content he provides for price. "But the money is very enticing. For the amount of work you put in — which is not sitting in the cubicle — it's very good." Apparently, many of his original Instagram fans found his subscription deal well worth the fee. And, as Mackenroth says, the more recognition and viewership he gets from these devotees, the more propositions he receives from well-known porn actors who want to film with him, which leads to still more hot content. The dollars fuel his future fucks.


The idea of porn is simple, right? You want to see hot, sexy people do hot, sexy things. For the majority of recorded history, this fact drove the creation of erotic art in every medium: sculptures, paintings and novels all depicted graphic intercourse. But the advent of photography, film and audio recording shifted the focus from imagined bodies and theoretical screwing to real people having actual sex.
The so-called "Golden Age of Porn," which spanned the 1970s and 1980s, included the peak of Playboy and adult cinema — a time when you had to pay for your smut. As recently as the early 2000s, retired porn star Jesse Jane told GQ, fans "actually had to buy your product or DVDs."
For a while now, though, web piracy has been eating the industry alive, and popular streaming "tube" sites for porn are viewed as parasites by many creators. In a digital landscape, conventional studio porn is all but dying. Platforms like OnlyFans and JustForFans, meanwhile, look to be on the upswing, with performers more than happy to rake in money with private, pay-only feeds: "I know people in the porn industry who have all of this content and they're just churning it out to upwards of 5,000 fans making $40,000 a month," Mackenroth told Gay Star News. He himself has several hundred followers on OnlyFans, which, after the site takes a 20 percent cut, means a monthly windfall of thousands. He's putting it toward a nursing school program that starts in the fall. Once he has that degree, his sex videos "will be in the past."
In the meantime, he's "playing the game" of keeping his subscriber count up. "People are super-fickle," Mackenroth says. "I charge $14.99 a month, and people expect so much from that." But I'm just a person; I can't film every single day." On the production front, he says: "It's all been quite a learning curve for me as well. At first I had some naked photoshoots, videos other guys had taken while we were having sex … and that runs out very quickly. I'm still figuring out what people want." Along the way, he's posted ambitious group sex scenes — one featured five other male porn stars — and performed with a trans man, which made for some divided reactions, if not outright backlash.
"Ironically, before this happened, I wasn't that sexually active a person," he says. "The year before, I stopped sportfucking — I had no casual sex, didn't want to have sex that wasn't leading to something more."
Call it the Instagramification of porn. Alongside industry veterans, men and women who have never before done an adult scene on camera (but regularly tantalize legions of social media admirers with semi-nude photos) are realizing that they can curate dual internet personas — one that won't run afoul of the community guidelines on mainstream apps, and another that's no-holds-barred, but more of a VIP experience. (Mackenroth signed up for OnlyFans after amassing 100,000 Instagram followers, many of whom beseeched him to start recording homemade porn.) And it's not just sex they're selling. The exclusive content can include sweaty workout videos, vlog-style monologues, and more. On the other side of the spectrum, I found a guy who seems to only post his feet. As OnlyFans puts it: "Whether you're uploading tutorials, tips, behind the scenes footage or just endless selfies, a lot of your followers would be willing to pay for them!"
That this allows for a more intimate connection isn't lost on the people running the sites. JustForFans, as the new competitor in the space, boasts that it has extra ways to ensure titillation: You can buy the shirts and jockstraps off your favorite hotties (supposedly), download whatever they post or even start texting them and swapping photos. This goes well beyond providing the visual inspiration you need to rub out a quick one and get on with your life; it's closer to kind of flirty relationship you might have via Snapchat—which is also a major new hub for personalized adult entertainment.
Porn is no longer a one-way street, and its stars are not the unattainable gods and goddesses they were. They're now the cool, attractive, naked friends you met online.
While he currently has more followers on OnlyFans, Mackenroth thinks its days are numbered with the emergence of JustForFans. "I was frustrated as a user [on OnlyFans] because things loaded really slow — but it was the only option." Then he spent time on Fire Island with Dominic Ford, the guy behind JustForFans (and a porn personality himself), who showed him the whole site. It's "so much better," Mackenroth says. "There's a media center where, overnight, you can upload a hundred videos, whereas on OnlyFans you'd have to do it post by post. You can do screenshot galleries. You can sell Skype shows. … It's a lot of really techie stuff. You can also post directly to JustForFans from your phone. Way more bells and whistles for the user. There's a phone number if people want to chat with me on there. Everyone I know, especially gay guys in the porn industry, is moving to JustForFans."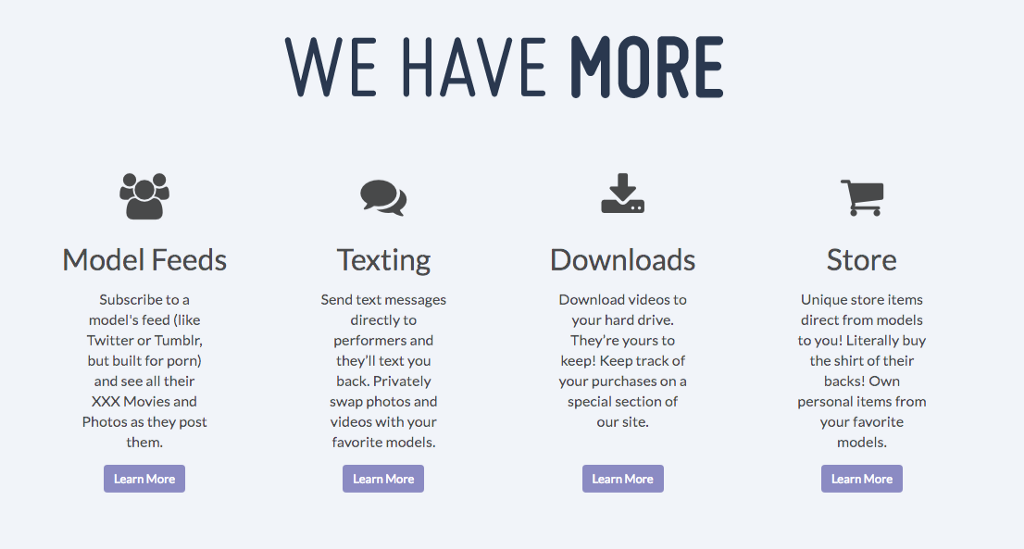 It's worth pointing out that this engagement with porn performers isn't something you can steal, which makes for an advantage against piracy. Nevertheless, a search of "OnlyFans" on Pornhub yields numerous videos ripped straight from the site, some edited into compilations. Others are actually previews posted by the performers themselves as a way of attracting new subscribers. It's anyone's guess as to how effectively the fan sites' operators will be able to quash the pirated material on the streaming tubes, but already Reddit's r/onlyfans forum has been permanently closed due to multiple Digital Millennium Copyright Act complaints, meaning either OnlyFans or several of its creators have gone after pirates for rehosting exclusive material there. That vigilance could bode well for the longer-term success of the pay-to-play model.
Mackenroth has found his videos elsewhere online, but he's not too concerned about it. "You can be vigilant and try to keep taking that down," he says, "but most of the population is not gonna pay for porn. What [the subscribers] are paying for is a direct line to me." And that suggests they are less interested in studio-style production than a certain closeness. "I know nothing about video editing," Mackenroth confesses. "I'm probably the most rudimentary in those terms. I don't use my laptop; I do everything on my phone. Half the time I film something, I don't watch the whole thing — I know what happened. I just post it, because people want the next thing. It's like feeding the beast."

But whatever the relationship, this is about money — "a means to an end," as Mackenroth says. Although I messaged 30 men and women with active presences on OnlyFans and JustForFans to discuss their financial strategy and artistic angle, I got just one other reply. It was from Bryan Silva, a lanky fellow made virally famous by a Vine you'll have to see for yourself and a stint in the gay porn scene, which, as he's frequently clarified, does not make him gay. After serving a prison sentence stemming from a standoff with police in 2016, Silva is once again shooting porn, this time for OnlyFans, using Twitter to hype videos with captions like "Getting my 10 inch huge dick sucked by a dude."
He only had one question when I got in touch with him via direct message: "Will I be paid for my time?" MEL does not pay for interviews, but I mentioned it could improve his exposure. Silva was ready for that: "How many daily impressions do you get on the website and I'll need proof of this," he wrote. Damn. No wonder this aggressive negotiator is part of an entrepreneurial wave that could reshape porn as we know it.
I wouldn't be surprised if we soon saw bundled packages of these individual X-rated feeds, something like customized cable packages — a flat rate to follow any five, or 10, or 20 accounts. Hell, the performers could even unionize. If you can manage to turn a profit on digital porn these days, then anything is possible.