What's the drink of 2020?
I guess you have to model it after the actual chaos of this deeply stupid year — it would be a cocktail that seems a little like a mistake. It would certainly have sharp and bitter flavors, layered on top of each other. It would be pretty high in alcohol, in a nod to the intensity of 2020 as well as our collective need for some strong relief. And, because it needs to be more than a metaphor of how fucked-up things are, the cocktail would have to be flat-out delicious — a soothing reminder that simple things can still surprise and delight. 
It's with all that in mind that I nominate the New York Sour for cocktail of 2020. It's just a whiskey sour, one of the world's most popular cocktails, garnished with red wine to create something a little strange and uncertain. Unlike many cocktails, its flavors warp over time as the glass warms and moves with each sip. And in a year defined by cultural division, the New York Sour's appearance is a cheeky reminder of it — deep purple striated against bright gold, at odds but ready to blend into a single dusky shade of pink. When you're getting tipsy on this stuff, it almost feels poetic. 
By historical accounts, the New York Sour was actually concocted in Chicago in the 1880s, and went by several names (including "Continental Sour" and "Southern Whiskey Sour") while being popularized in other big cities, including New York. The whiskey sour had taken off a decade prior, and it's easy to imagine a curious bartender adding some dry red wine in an attempt to put a signature touch on a crowd favorite.  
There are only four key ingredients in the drink: Whiskey, lemon juice, sugar and red wine. While bourbon is the classic choice for a sour, I actually think the extra hit of spice and pepper from rye whiskey makes it the superior choice. (My pick? Rittenhouse Rye, which is extra strong at 100 proof instead of the usual 80). Fresh lemon juice is essential, and while many recipes call for simple syrup, I encounter no problems when making the drink with regular white sugar. 
The wine is where the fun comes in. No matter what you pick, the red should add both fruity complexity and a dry edge via tannins, which provide bitterness and tone down the overall sweetness of the whiskey sour. The flavor of the drink can change dramatically depending on the age, strength and varietal of the red you pick. "Tempranillo offers a lot of plum and dark fruits, Shiraz is full of cherry, California Cabernet exudes currant and black berries and Missouri Norton brings dried fruit, currant and spices," as bartender Matt Seiter writes.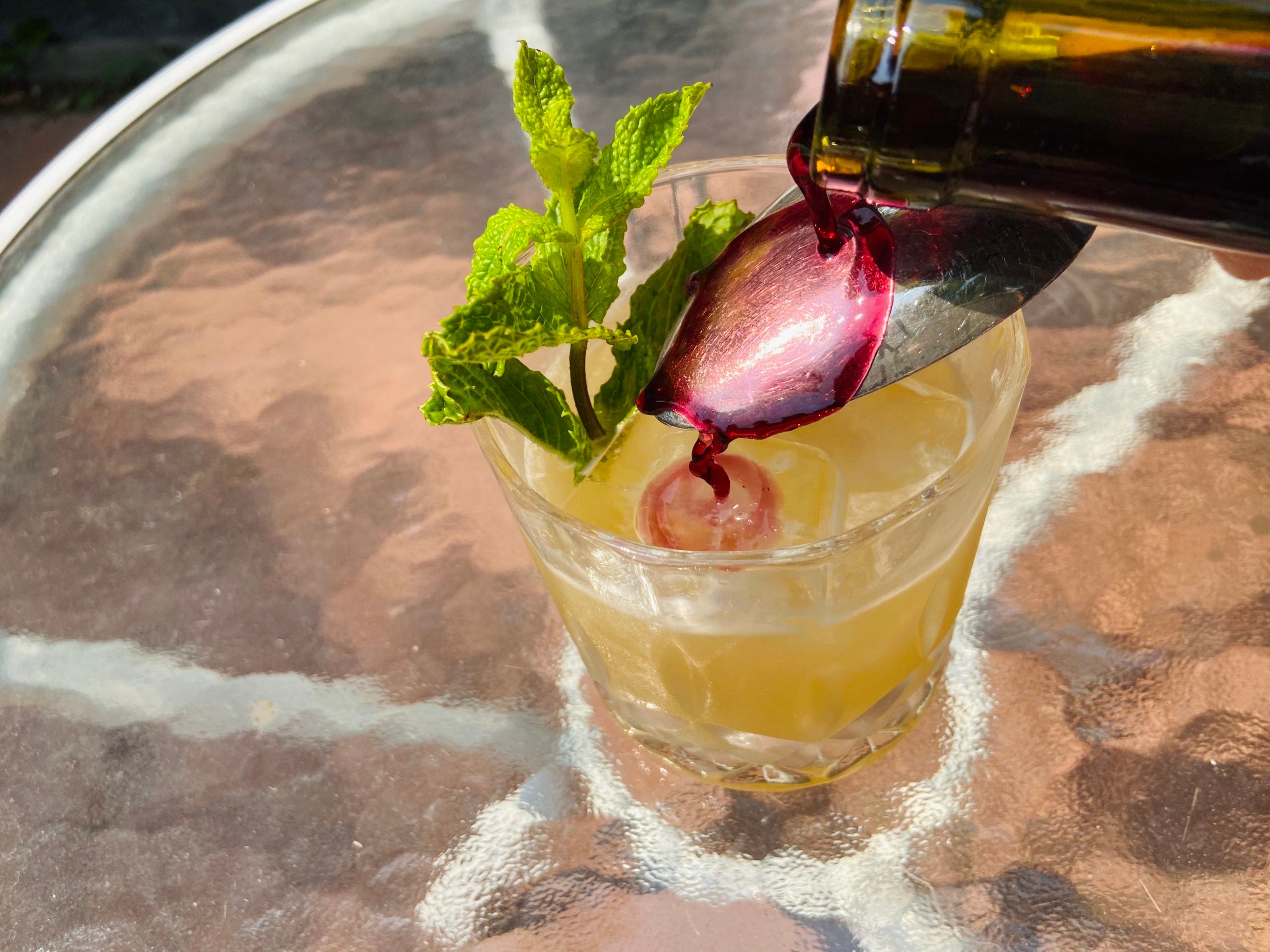 I think the best balance comes from a moderately priced ($12 to $20) syrah — something you'll enjoy drinking all on its own, because you only need a couple ounces for the float on a New York Sour. The trick is to pour the wine on top of the cocktail using the back of a spoon, which prevents any big splashes mixing the drink up. Lastly, I like to garnish with something green, like mint or a rosemary sprig. It adds contrast and shape to the drink, but more importantly, herbaceous flavors help tie together the bright acidity of the sour and the mineral, savory fruit in the wine. (Mint and whiskey also just historically play together well; see the Mint Julep.) 
The New York Sour is a bold, beautiful looking cocktail that can put you sideways from the overall alcohol content, if you're not careful. It's a great twist on a drink many already know and love. For me, it seems to sum up the way my mind bounces between mania and depression when considering all that has happened this year. And I couldn't help but laugh when I read about the oldest known mention of a whiskey sour, in an 1870 edition of the Waukesha Plain Dealer in Wisconsin: "'Then may God have mercy on your soul,' says I, taking a drink out of me cousin's glass. 'Amen,' says the Methodist, as he orders another whiskey sour."
That's a vibe, alright. If you really squint at a New York Sour, it kind of turns into a symbol of how a glass can look half-full/empty. Or maybe it's just that I'm getting sentimental after quaffing two in a row.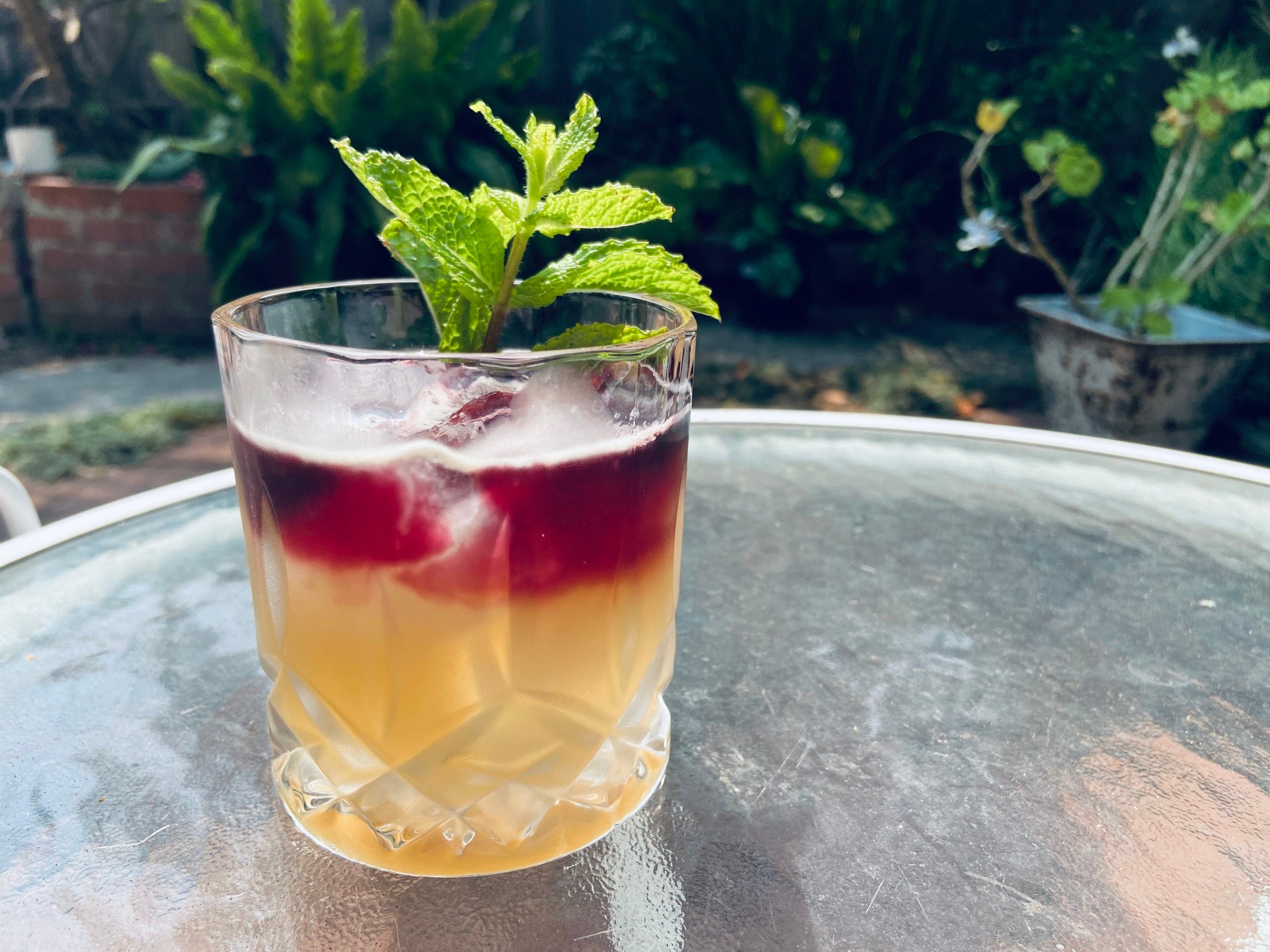 Ingredients
2 ounces of whiskey (preferably 100-proof rye)

1 ounce of lemon juice

1 tablespoon of white sugar

2-3 ounces of dry red wine 

Garnish of your choice (preferably an herb like mint)
Instructions
Add all ingredients except the red wine into the shaker of your choice, along with a handful of ice cubes. Shake hard for 10 seconds, then strain the mix into a rocks glass with fresh ice. Slowly pour the red wine onto the back of a spoon, moving around the glass to add an even layer of wine. Garnish, drink and contemplate how 2020 is a disastrous mess that we can still learn and build from.