I killed—no, scratch that—slaughtered a significant amount of brain cells last year. The majority of these mass murders took place over the summer when I attended a handful of jam band concerts. The following accounts are my hazy (and not so hazy) memories from the shows.
The Grateful Dead Fare Thee Well Tour, Chicago
Day 1: Friday, July 3
My girlfriends, Claire, Mary and I left our hotel in the South Loop of Chicago and arrived on Shakedown Street at 6 pm sharp. We immediately found ourselves awash in a sea of heady white people. So many bodies, so many dreadlocks, so many bare feet. It reeked of nag champa and for a split second I questioned my own judgement when it came to planning to do three nights in a row of Grateful Dead shows. Can I really handle a whole weekend of this vibe? I thought to myself.
Several gulps of tequila and lime juice on ice later, the answer was a resounding "FUCK YES."
An hour later, we met up with the male contingency of our squad outside of the stadium, which consisted of our friend James, his brother, Mark, and their friend Karl. We doled out tickets and headed into the stadium. Roses were being passed out at the entrance to honor the band's 50th anniversary, so we each took one. We settled into section 323 and immediately befriended our fellow concertgoers, who were mostly middle-aged white dudes in Dead shirts. We introduced ourselves, they were chill with us and we were chill with them.
We started discussing Karl's penchant for Taco Bell, and decided that stopping at one en route to the show was of the utmost importance.
Karl pulled out a massive bag of mushrooms that he'd rolled up in his pant cuffs, followed by a less massive bag of molly. I had liberal servings of both. Most people rag on how gross mushrooms taste, but I have to say they've never disgusted me. I think their flavor profile is very similar to that of pistachios, and I love pistachios. In fact, I love them so much that when I was 5 I ate so many pistachios one night that I threw up. So, needless to say, I enjoy mushrooms for more than just their psychedelic side effects.The band took the stage just as I was swallowing a particularly large cap, and opened with "Box of Rain." Five songs in, they were playing "The Wheel" and I was tripping my balls off.
Allow me to let you in on a little secret: MDMA + Mushrooms = the perfect drug combination. Sometimes mushrooms can take you on a dark journey that you aren't ready to explore, so the introduction of molly keeps you in a place of love and light while you're hallucinating. Also, I had gotten a blowout the day before and was feeling really good about my hair, so that also helped keep my spirits high. If you're going into a situation where you might be doing drugs for days at a time, it's important to feel confident about your appearance, lest a random glimpse of yourself in a reflective surface cause you to become unsoothed to the point that you have a bad trip. The MDMA kicked into high gear, too, during the set break, and when the band resumed playing, the stadium became a live entity–a surging sea of bodies illuminated by the psychedelic lights pouring out from the stage. I felt like a spectator at a Hunger Games event, except way more chill because it was a Grateful Dead show and not a celebration of teens trying to murder each other.
The rest of the second set was peppered with increasingly intense moments. In the middle of "Let It Grow" I began having lots of realizations that I felt were imperative to write down in my phone, which included wisdom such as "The world is yours," and "Everything was created just for you." I reached peak emotional capacity during the encore. The opening chords of "Ripple" played and tears started involuntarily spilling from my eyes. Slowly at first, and then at an unmanageable rate.
What I assumed would be a light and semi-private cry-moment became full blown weeping. I'd experienced this type of emotional outpour once before, sans-mushrooms (when I saw Deep Impact in theaters) so I knew that I couldn't fight it, and decided to roll with the sobs. My body clearly needed the release.
Day 2: Saturday, July 4
Claire, Mary and I woke up feeling fresh as fuck, thanks to a post-show pizza and a semi-early bedtime. We spent the day celebrating our nation's freedom like any young, American women would: by eating Mexican food and getting blowouts.
We reunited with the guys before showtime and decided to post up in a different spot in Soldier Field, this time landing behind a group of women, including a blonde named "Renee." "Shakedown Street" was the opener, and everyone's spirits were high, except for Renee, who spent most of the first set aggressively insisting that Claire and I stand at least three stairs behind her. We tried our best to respect Renee's wishes, keeping our distance while passing around various articles of contraband, including several bottles of tequila mixed with grapefruit juice and the bag of mushrooms that we'd smuggled into the stadium.
You can not imagine how un-soothing it is to have your shoes untied by a stranger.
Eight songs in, the band played "Friend of the Devil" and, judging by the video we took of our entire group scream-singing along to the lyrics, it's safe to say we'd all entered a very special mental space by that point. Even Renee had managed to harness some chill, and was becoming much more lax about her personal space boundaries. At one point during the second set, she and her girlfriend grabbed Karl, lifted his shit up, rubbed his chest and put little glow in the dark star stickers on his nipples. Renee then beckoned to me. As I approached her she lovingly placed a star sticker in the center of my forehead. The rest of the show went by in a blur, and after an insane rendition of "Stars and Stripes Forever" complete with a fireworks display, it was over.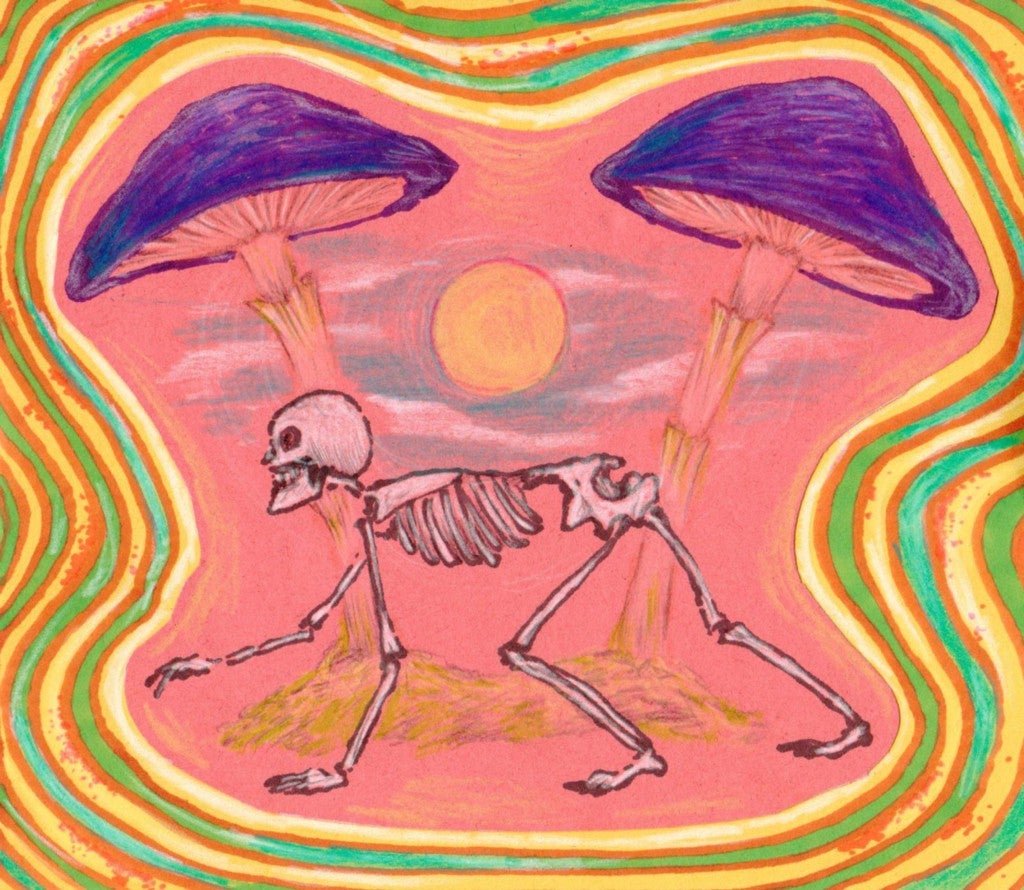 Day 3: Sunday, July 5th
Our entire squad arrived on Shakedown Street feeling…fragile. This was mostly due to the fact that, after the previous night's show, we went on a nitrous balloon and "street molly" (a bag of yellowish, Splenda-flavored powder that Karl had procured from a random pedestrian) fueled rampage across the city and ended up at a loft party until 6:30 am. Before entering the stadium that Sunday evening, it became abundantly clear to me that my brain was fried when I mistook the bottom half of a mannequin for a real person, turned to Claire and whispered "Who is that?"
We returned to our spot from Friday night where our fellow audience members were ecstatic to see us again. The sun started to set, creating the most serene pink sky, and The Dead took the stage, opening with "China Cat Sunflower."
The bag of mushrooms was passed around, as was the remainder of street molly. As the first set came to a close, I was feeling amorous, so I texted Todd, a guy I'd met at the loft party from the night before who was also at the show, to see if he wanted to meet up and make out.
I'm just going to be real right now and admit that I might have taken too many drugs to be able to accurately describe what the concert was like, what songs they played, or what even happened while we were there.
He was down, so I bid farewell to my friends and embarked on a mission to meet Todd in section 141, which was near the floor seats. However, as I left section 323, the mushrooms began to kick into overdrive, and I completely stopped comprehending what numbers meant. I walked up and down the same set of stairs multiple times, then decided the best thing to do was to lean against a beam for a while, people watch and make Todd come to me. I was texting him and trying my best to relay my exact location when I felt a slight tug on my right foot. I looked down and a tall, troll-like man was untying my shoelaces.
You can not imagine how un-soothing it is to have your shoes untied by a stranger. He proceeded to chase me around the beam trying to untie my left shoe until I karate kicked him and yelled at him to stop. Thoroughly freaked out, I abandoned my make out mission and sprinted back up the stairs towards the only thing that mattered and the only numbers that meant anything to me: Section 323.
By the time I'd reunited with everyone, the second set had started, and the band is well into "Truckin'." I was pissed that I'd missed most of the song, and silently vowed to never again leave a show for a hook up. I couldn't tell if the second set was truly better than the first, or if I was just experiencing a rush of euphoria because I was no longer being chased by a shoe-untying troll whilst hallucinating, but either way, life was back to being great. The Dead finished with two encores: "Touch of Grey" and "Attics of My Life." We waited until the stadium employees basically forced us to leave, then filed out reluctantly.
Phish, The Forum, Los Angeles
Saturday, July 25
Here's what I have to say about Phish: In my headier high school days I was a fan, but I've never been a superfan. Besides their album Farmhouse, I actually don't know that many of their songs. I've seen them maybe four times total, and the only thing they've done that's truly blown my mind was when they played a cover of Led Zeppelin's "Good Times Bad Times," at their 2012 Long Beach show. That being said, after Trey Anastasio slayed at Fare Thee Well, I decided I was super excited to go to Phish's July show at the Forum.
Our squad regrouped (albeit a bit smaller this time): James and Karl met Claire and I at her place around 5:00pm. Karl was particularly amped up and needed to meditate, so he shut himself in Claire's room. 20 minutes later he emerged feeling more zen, and we ordered an Uber to take us to Inglewood. Once in the Uber, we started discussing Karl's penchant for Taco Bell, and decided that stopping at one en route to the show was of the utmost importance. We arrived at the Forum around dusk, killed some beers in the lot and found our seats minutes before Phish took to the stage. They launched into their first song, and out came the mushrooms and molly from Karl's pant leg.
I'm just going to be real right now and admit that I might have taken too many drugs to be able to accurately describe what the concert was like, what songs they played, or what even happened while we were there. I have no concept of the set list, nor did I did recognize a single song. I remember dancing a lot and like, waving my arms in the air excitedly. At one point during the show, Trey and another guy jumped on trampolines while playing the guitar, which everyone seemed to really love. There were also lots of lights going on. I don't know…maybe I'm not the Phish head I thought I could be. Perhaps my jam passions lie elsewhere. (Spoiler alert: they definitely do.)
Dave Matthews Band, Verizon Wireless Amphitheatre, Irvine
Saturday, September 12
I fucking love Dave Matthews Band. As the summer went on, it became clearer and clearer that the only way to bring the jam initiative full circle would be to go to the DMB concert in Irvine. This point was really driven home after a late night hang at Karl's where he showed me and James a video of a sax solo from their 2002 concert in Montreal that "changed his life."
Who wouldn't want to go to a Dave Matthews Band concert in Irvine on a Rasta Bus?
My excitement for this show quickly spiraled out of control. I got Claire equally as hyped and we snatched up lawn seats before they sold out. Then I had perhaps the single most brilliant idea of my entire life: we would rent a Rasta Bus to take us down to Irvine and back. For those not in-the-know, the Rasta Bus is a reggae-themed party bus company that operates in the greater LA area. When we called to inquire about availability, all they had for the 12th was a 27 person bus. We booked it immediately, figuring we'd fill it up no problem. After all, who wouldn't want to go to a Dave Matthews Band concert in Irvine on a Rasta Bus?
Turns out, no one wanted to go to Dave Matthews on a Rasta Bus. As of one week before the concert, we had about five people, including Karl, committed to going. Things were looking bleak, so I decided to pull out the big guns and send an email to everyone at the company I worked for, thinking that would elicit tons of takers. I crafted what I thought was a truly chill email, with a couple puns and an original meme attached, and sent it out to the entire company, urging them to join me and my friends on this journey. Nobody responded.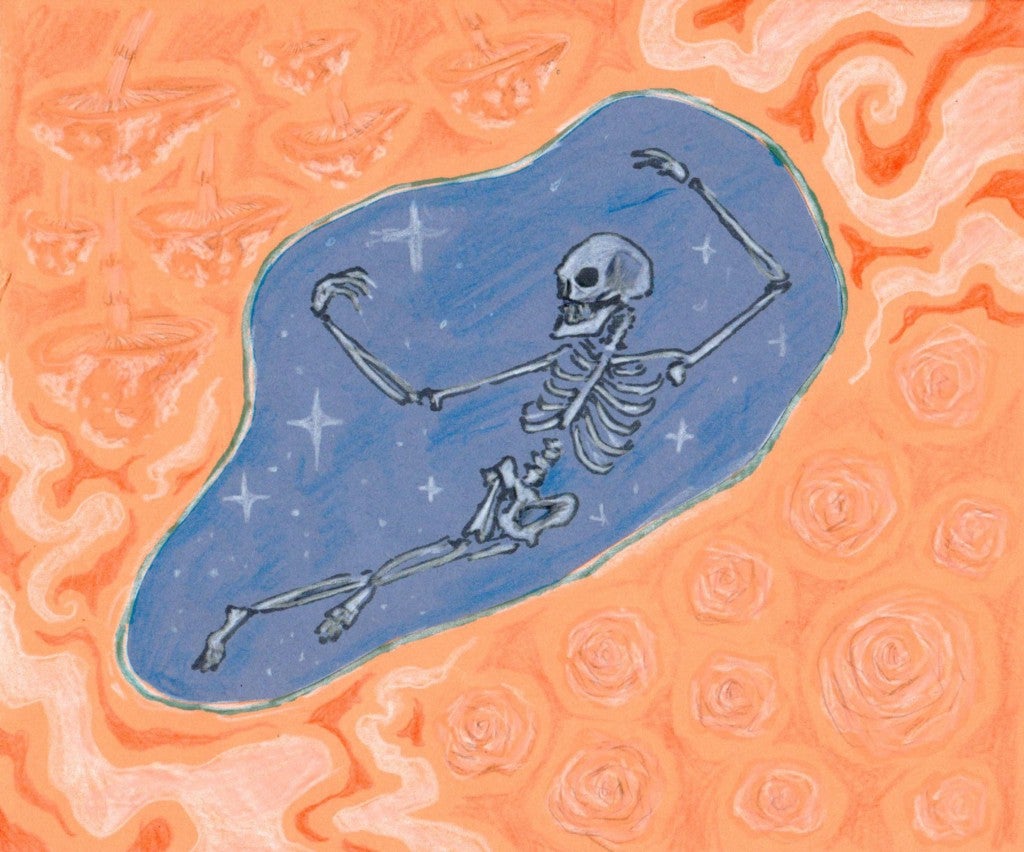 Claire and I were not going to be deterred on this mission. She put up a post on Craigslist, and started texting random bros she knew, figuring that would at least buy us a few more bodies. No dice. I put my meme on Facebook, hoping that might shake things up. It didn't. There was no way I was going to cancel the bus, but I was starting to get nervous that I was going to have to pay upwards of $500 to get to Irvine and back.
Things came together mere days before the show, when a married couple Claire knew said they were going with a ton of people and wanted to get in on the bus action. In addition to the married people and their friends, we got a few more of our girlfriends to join and managed to get our final number of bus passengers up to 18. That was doable; We breathed a collective sigh of relief.
My 16-year-old self was proud of my 31-year-old self for doing whatever it took to get down to Irvine to be at this show.
The 27 person bus pulled onto my narrow, West Hollywood street at approximately 4:30pm, and everyone loaded in, beer and tequila in tow. Our bus driver gave a welcome speech and let us know with a wink that he "Couldn't smell anything" so we were free to do as we pleased. I was elated that my dreams were finally becoming a reality, and put on a playlist of Dave Matthews Band greatest hits to celebrate/get everyone in the zone. The bus dropped everyone in front of the venue and we hiked a literal mile to our seats. Once we found a spot on the lawn, we immediately started getting stoned.
Let me just tell you that Dave Matthews has still got it. He played everything I could have wanted to hear. He played "Tripping Billies", he played "Lover Lay Down", he played "Two Step". He played a 15 minute version of "Crush", my most favorite Dave Matthews song ever. It was actually transcendent. My 16-year-old self who was never allowed to go to Dave Matthews Band concerts because they were always in Dallas and I lived in Oklahoma City was proud of my 31-year-old self for doing whatever it took to get down to Irvine to be at this show.
During the second set, Karl and I broke off from the group and tried to sneak into the floor section and failed miserably. We ended up back on the lawn, having a pretty deep conversation about sex and sexuality, like two woke, 90s grad students. Herbie Hancock came out and played four songs, including "What Would You Say" which was insane. After a three song encore that concluded with "Dancing Nancies" into "Warehouse" everyone hiked back to the bus and we had a chill ride back to LA. I smoked more weed (I'd never gotten stoned on a party bus and needed to take full advantage of this opportunity), and it became apparent that there was a vibe happening between me and Karl. He asked if he could spend the night, I said yes, the bus dropped us off at my place and I had one of the top sexual experiences of my entire life. And it's all thanks to Dave. And the Rasta Bus. And Phish (well, mostly Trey). And of course, every member of The Grateful Dead.