Ah yes, food and sex — the great primal preoccupations of the human race. When the two come together under one FDA-sanctioned roof, even Ron Swanson gets a little giddy. Strip-club buffets have been around for a while, despite being mysteriously absent from your Zagat's guide. I must reassure the squeamish that tales of tainted cuisine at these clubs are mostly fake news, and that I myself have been lucky enough to enjoy a buffet at a topless club that would put Golden Corral to shame.
And so, today I'll dutifully take you through the alluring world of lubed-up poles and greasy fingers to explore Zagat's blind spot and profile a few clubs with something for everyone on the menu.
For fans of…: Silicon Valley, fried chicken, salt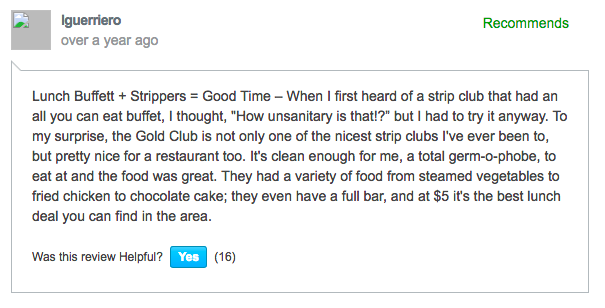 The Gold Club sets the standard for every other place on this list. Voted Best Gentleman's Club by SFWeekly three years running, its free weekday lunch buffet is the feather in its bedazzled cap. Tech bros love it, and the biggest complaint is that it's such a popular downtown lunch destination that it's often hard to get a table (a fitting analogy to the tech boom and resulting housing crisis in the Bay writ large).
Gold Club chefs serve up a range of standard Boston Market-type options, with fried chicken just like mom used to make (for those Oedipal patrons among us). Germ-o-phobes and teen Yelpers rejoice, there are "no pubes in the macaroni" to be found here. The only downside might be the number of chicken breast jokes.
For fans of…: Late-night binge eating, standard breakfast fare, Denny's

It's late at night, one day is bleeding into the next, and you need something in your system to sop up all the Jagerbombs and the inevitable march of time. The clock strikes 2 a.m., and Chicas Locas is the place to be. The breakfast spread rivals even the best complimentary hotel continental options. You'll feel like you're in a dimly lit Holiday Inn lobby with relaxed dress code enforcement!
Home of the classic "legs and eggs" buffet, the club deconstructs the staples of a Denny's Grand Slam breakfast and serves eggs, breakfast meats and other standard fare in an all-you-can-eat style. The early bird gets the worm, and hopefully not the DUI.
For fans of…: Olive Garden, Pizza Hut, Trader Giotto's

Ever hit up the Cicis Pizza buffet in your local strip mall and wish the toddler at the neighboring table would just shut the fuck up? This might be the place for you.
Maybe you pull that pizza out of the oven on Saturday night, turn on Skinemax HD and fall into your weekly existential crisis reminding yourself that it really isn't delivery, it sadly is just DiGiorno and to live is to die alone. Hit up Cheetahs for a change of pace! Eat your feelings with some Italian fare at their free weekday pizza and salad buffet and remember that the dancers are working, not providing free therapy. They may take it all off, but you will carry the weight of your mistakes for the rest of your life.
For fans of…: Epcot, themed parties, free-verse poetry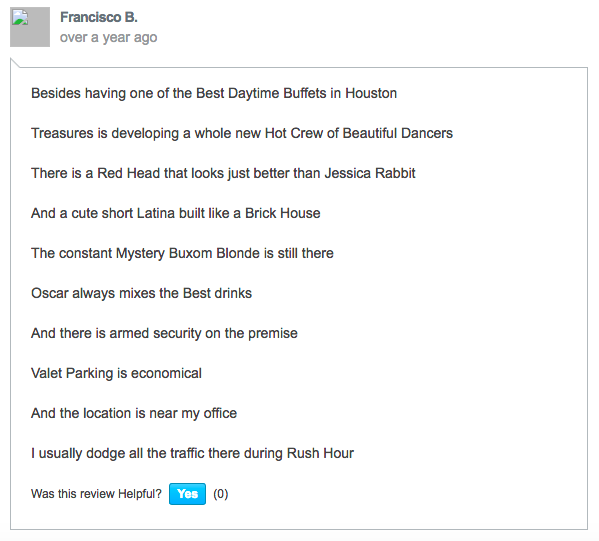 Two snaps and a respectful tilt of the beret to my favorite review from Francisco B., providing a poetic snapshot that goes where no cameras are permitted. As with all strip clubs, Treasures advertises itself as the purveyor of "premier adult entertainment" in Houston, with a sister club in Las Vegas. I don't know how the show is, but the effort they put into their buffet is unparalleled. If Epcot is your favorite Disney theme park, or if perhaps you were that kid in middle school whose parents always threw themed birthday parties, you're going to eat this place up and go back for more.
In short, Treasures offers both lunch and dinner buffets with themed menus for each day of the week. Still need to be tricked into eating your veggies? Try something stir-fried at the Tuesday "Asian & Cajun" buffet! Riding that bedraggled wave into the weekend? Put some wind back in your sails with Friday's "Surf and Turf" spread.
For fans of…: The Smiths' Meat is Murder, kale, Portlandia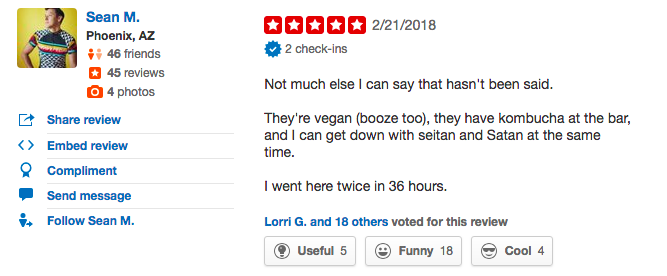 This one isn't technically a buffet, but as with everything else, we'll make an exception for the vegans. Casa Diablo is the world's only vegan strip club and thankfully moves us past the days of treating any performer like "a piece of meat." Leather and fur are banned from the stage, and the all-vegan menu includes meat and dairy-free takes on bar food like burritos and Sloppy Joes. Just don't wipe your hands on your dollar bills.
Despite keeping the cuisine meat-free, Casa Diablo's second location — Dusk 'Til Dawn: Casa Diablo 2 — has some major beef with its neighbor, the Acropolis Steakhouse, a long-standing carnivorous strip club. Even still, this spot has it all: Romance, violence, revenge and the unlikely star — tofu. Throw on your PETA shirt and hit the ATM, you filthy, cruelty-free animal.