As Nathaniel, a 40-year-old in Philadelphia, turned around to show police the words LEGAL OBSERVER written on the back of his shirt in neon green, his body lit up in pain. "I had identified myself as a legal observer, and that I was there to supply people with information on what happens if they get arrested," he says. "But as soon as I turned around, they shot me with rubber bullets."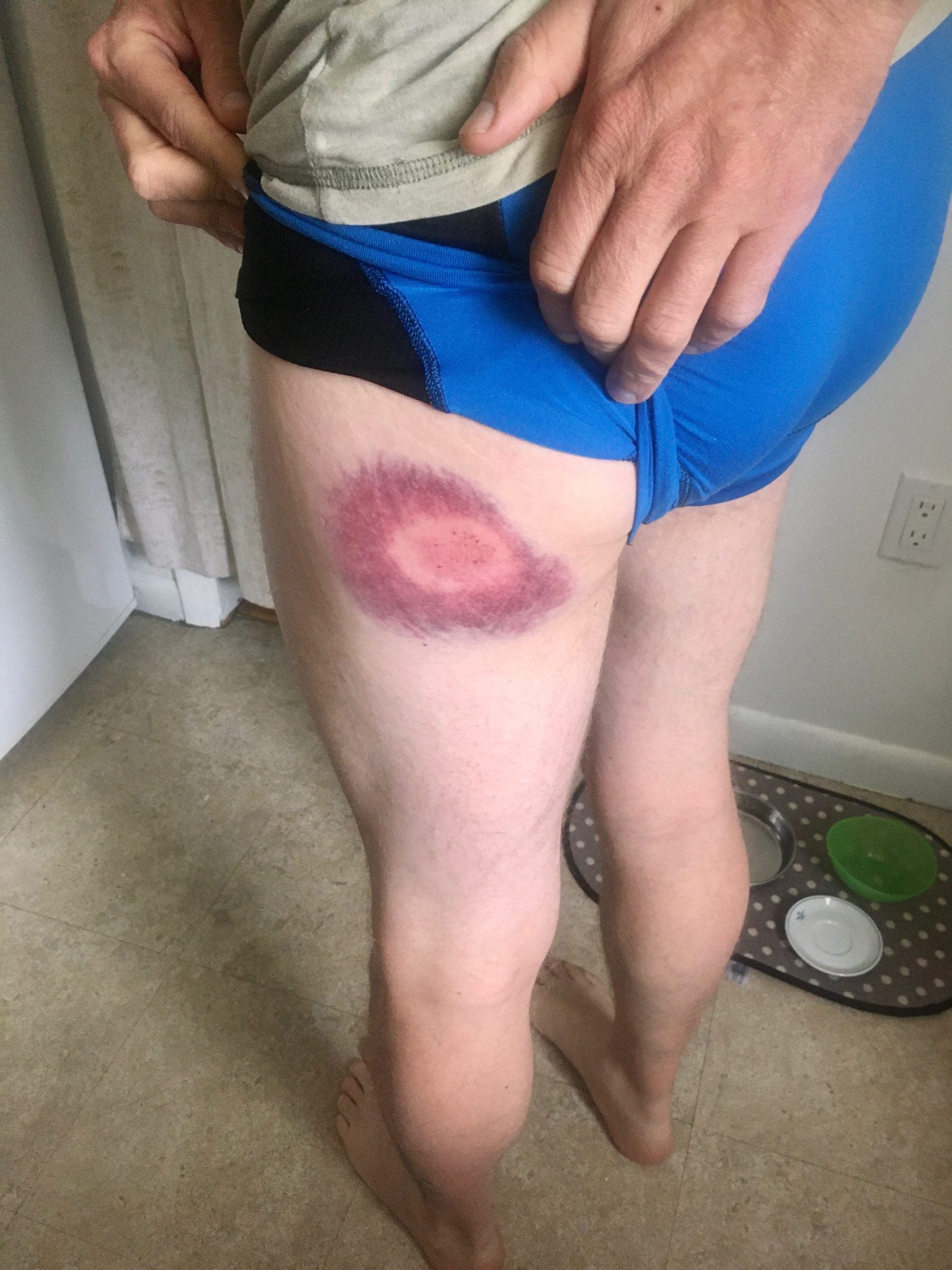 Exactly as he told the cops, Nathaniel's role as a legal observer is to observe and record any police misconduct or violence, while making sure protestors know their rights and resources in case they do get arrested. And in the 15 years that Nathaniel's been participating in protests this way, he says the police "have generally been a bit more hands-off. But this action has been pretty harsh for legal observers and medics," he tells me. "It's unprecedented. They're beating heads."
"Two of our legal observers have had concussions, and myself and another legal observer were sprayed directly in the eyes with pepper spray after identifying ourselves as legal observers," he continues. "The police are always harsh to people of color, so that's no different, but they're taking that level of brutality and extending it now to folks like us who have usually had a little bit more protection because of our privilege."
Still, Nathaniel and the legal cooperative he volunteers with, Up Against the Law, continue to go to protests every day because they provide a lesser-known but integral service to those protesters: jail support. They compile a list of who gets arrested and track them through the prison system.
"People are getting pulled off the street and very forcefully arrested, so we're getting calls from the protesters themselves using their one phone call, or friends will call about friends being arrested," Nathaniel explains. "Our job is to find out the person's name and information, and then start calling the jails to find out where they might be."
Things would obviously be easier if every protestor knew which number to call for help, but they don't. Which is why Nathaniel and other legal observers work overtime during protests to "get the word out." "We ask people to write down our number. We also have Instagram posts, Twitter posts — whatever gets the word out as much as we can about the arrests and what to do and who to call when it happens," he tells me. "But you just can't reach everyone."
Nevertheless, as the arrest numbers in Philly soar, Nathaniel says Up Against the Law's arrest hotline has been ringing nonstop. In turn, they've been calling police stations nonstop. "We just keep calling them, finding out who's coming up on the next list," he says. "Every four hours, there's a new list of people who come up. So you call the jails and ask if so-and-so is on the list, or if they were charged or bailed."
Once they know which jail someone is at — and what their status is — Nathaniel passes the information over to friends, family and the rest of the community so they can set up camp outside the jail in a show of support. "Typically, the people outside the jails are organized autonomously by folks who are supporting their friends and comrades," he explains.
Having a group outside the jail with food, water, blankets, legal support and a ride home — who are also making noise and celebrating your release — "helps build solidarity, and decreases the effects of the dehumanization and isolation of jail," Nathaniel continues.
As much attention the protest itself gets, Nathaniel argues that jail support is the "most important thing, and happens long after the protest is over." In other words, he adds, "Don't just go home when it's over. Continue on and show up for jail support. Bring a case of water, offer rides home or just make some noise."