A man's ankle is disputed territory. As body parts go, it seems like the ankle would require a remarkable imagination and/or atypical proclivities in order to find all those thick tendons, knobby bones and coarse leg hairs remotely intriguing. But when it peeks out of a pair of pants, people lose their shit.
It's called the mankle, or sometimes the power ankle — the trend of wearing cuffed pants with no visible socks, in any kind of weather. Men have been rocking the look for several years now, at least. In 2015, the Awl published a collection of photos titled "All the Exposed Men's Ankles in the February GQ in Order." This winter, the Wall Street Journal asked, "It's February, Why Are There Bare Ankles Everywhere?"
If R&B artist and fashion demigod Frank Ocean is any indicator (oh, he is), a photo posted on April 5th, 2019, signals that the trend is alive, in one form or another. Rapper Vince Staples commented, respectfully, "Pants in the socks like Goku you got a vision I applaud it." Alas, Staples was wrong, Ocean clarified: The pants were just cropped there, no tuck.
The question is, whither the cuffed-pants trend? Is the bare ankle here for good, or has it overstayed its welcome in the world of menswear?
To find out, I posted up in trendy Tompkins Square Park in New York City's East Village, spending a day observing different leg-baring styles in the wild. I saw enough to justify starting an Ankles of New York Instagram account. Definitively, on a weekend where temperatures topped 60 degrees, the ankles came out. By way of hems, cuffs and pin-rolls, the pants rolled up in outfits of varying formality.
One dude wore the ubiquitous tech-bro-endorsed Allbirds — aka the Startup Yeezy — with an ankle-baring pant and, paradoxically, a visible no-show sock: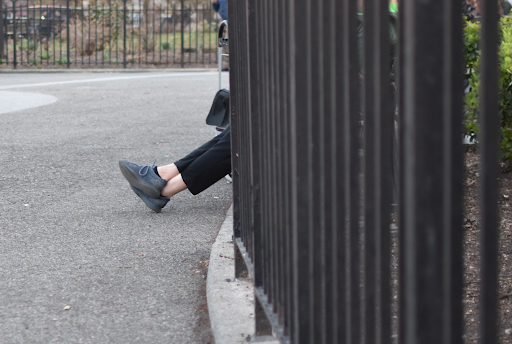 With this guy, I imagined the Joker saying, "You wanna know where I got these pants?"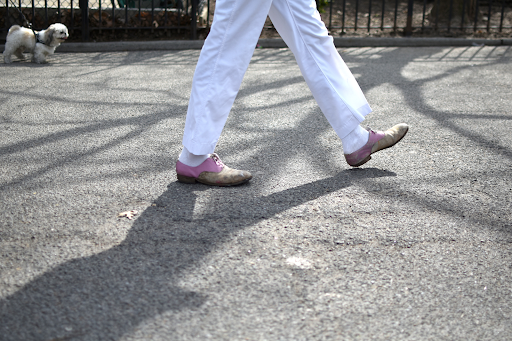 And finally, here's a covered ankle in a pragmatic but casual look: Crocs.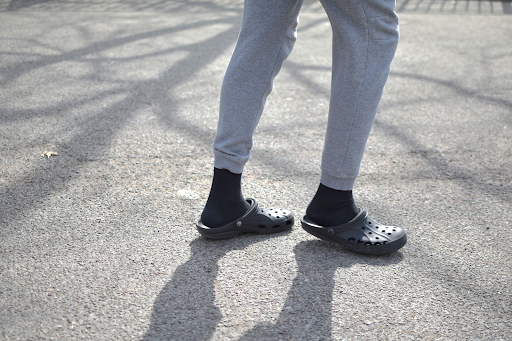 More often than not, the ankle was covered with a high sock. Maybe it's a little too early for the little ballet-slipper socks guys wear in the summer to show a nude ankle. These, too, are controversial: Their elastic tends to dig uncomfortably into the foot, and lots of guys feel they're too effeminate. Instead, they'll simply forgo socks altogether, which has to stink.
I also talked to stylists, several of whom I spoke to confirmed: Showing a little ankle can still look good. If you're just now gathering the bravery to show some dermis down there, time is on your side.
Laura Solin-Valdina, of NYCStylist, has worked with Katie Couric and Ariana Rockefeller. She tells me she's been cuffing pants "depending on the profession of the client and [their] age" for approximately two years. The size of the cuff, she says, "depends on how classic or trendy somebody wants to be.
"My clients are dressing in proper business attire," she explains. "For a suit with a shirt and tie, they wouldn't generally go to a trendy size of a cuff — 1 and ¾ inch would be too funky for them." As for the longevity of the trend, she says, "I don't think [the cuffed pant is] past its prime for the general masses. It's like the trickle-down effect." Solin-Valdina compares the look to skinny ties, which she used in photo shoots for 10 years before they went mainstream.
Gabrielle Rosenberg, a wardrobe and prop stylist who's worked with Seth Meyers, Nick Kroll and Cardi B, says cuffed or cropped pants are "ideal for styling" and "look great on a lot of men." She prefers shortened pants worn with white sneakers or loafers, and she's "never heard the term mankle, but it's befitting."
One skeptic: Samantha Brown of Samantha Brown Style, who says cuffed pants peaked several years ago. Brown has styled for over 1,000 fashion shows, and her credits include clients like Nylon, the New York Post, GQ and Match.com. "Late 2016, early 2017, we started to see the pant hems rise," she recounts. "Then they seemed to get shorter and shorter and shorter. Then we saw a loss of sock. The trend evolved there. Little variations came forward, [like] the bare ankle. Men started wearing double monk strap shoes with the top strap open."
So what's next? Before bringing your entire wardrobe to the tailor for a hem update, consider the ebb and flow of fashion. Solin-Valdina and Brown have both observed men's pant trends swinging in the opposite direction from this cropped look.
Right now, "2019 is definitely moving towards a more oversized silhouette," Brown says. "And, at least on the runways, I don't really think that that's going to translate to what we see on the streets as much, maybe a little bit with the fashion crowds. But I highly doubt that the Wall Street types are going to start wearing, you know, oversized slouchy double-breasted suits from the '70s and '80s."
Fashion is "moving away from that ultra-tailored slim fit that we've had for the past couple of seasons," she concludes.
Solin-Valdina predicts we'll see the average man start to wear pleats. Pleats! Also, baggy pants with "super breaks" that have a "drape-y, billowy effect." Michael Jordan's closet just said hell yeah.
We speak while Solin-Valdina is walking in NYC's Flatiron district. At one point, she spots a man in his 30s or 40s rocking a cuffed pant with the sock visible. She mentions the sock with a laugh. So… maybe don't do that?