Postmates, the premium delivery service for hungry people too hungover or lazy to leave their homes, just announced it's launching Postmates Plus Unlimited — a $9.99 monthly subscription that will waive the delivery charge and 9 percent service fee on all orders of $30 or more. The new feature is being called "Amazon Prime for food delivery," which gives subscribers exclusive discounts, free two-day shipping and access to Amazon's streaming video service for $99 a year.
So is Postmates Plus Unlimited worth it?
In an interview with Bloomberg, Postmates chief technical officer Sean Plaice described Plus Unlimited as a service so convenient it'll turn users into Postmates loyalists: "Why use any service but Postmates to get your food delivered? You have a subscription. It gives the best, most affordable delivery." (Sorry, UberEATS, Seamless, GrubHub and Delivery.com.)
But don't forget that because it only applies to orders of at least $30 (unlike Amazon Prime, which has no minimum), Plus Unlimited is pretty much only a sound economic choice for people who often make large orders — single people, this is not quite the deal for you.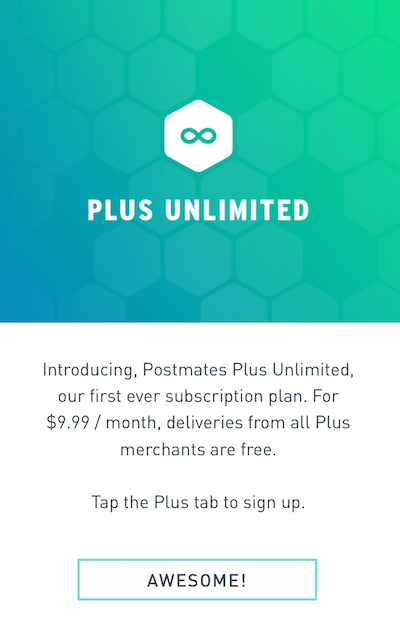 When I decided to see what I could get for $30 at Chipotle, for example, I had to order two extra carnitas burritos with guacamole (a $1.95 surcharge per burrito), chips and guac, one taco and a Nantucket Nectar just to break that threshold ($30.80). Without the Plus Unlimited subscription, I was charged the 9 percent service fee ($2.77) plus a bonkers $25 delivery fee based on how far I was from the nearest Chipotle, making my grand total a stunning $58.57. (I live in a Chipotle desert, apparently.) This is an unusually high fee. If I had ordered from one of Postmates' official merchant partners I would only pay $3.99, though delivery typically exceeds $10, according to Bloomberg (coincidentally, almost exactly the same price as Plus Unlimited).
If I were to make that Chipotle order at least once every month, then Plus Unlimited makes sense for me: The all-in monthly cost for this single order comes to just $40.79, saving me $17.78 a month (or more than $200 a year). So if you're the type of person who orders with a partner or your live-in family (or perhaps with a group of coworkers), and you consistently rack up a $30-plus bill on lunch or dinner, Plus Unlimited is a smart play for you. (You can imagine that companies who often use Postmates for their employees, clients or guests are already in the bag on a deal like this.)
But Plus Unlimited makes less sense for those of us either trying to stave off heart disease or who usually eat alone. If you use Postmates to make numerous smaller orders over the course of a month, each under $30, you'll pay that $9.99 fee but never actually see any benefits of the subscription. A roast beef and provolone sandwich with a 22 oz. drink and bag of chips from Jersey Mike's ($9.28) comes to $21.03 after the $1.75 service fee and $10 for delivery, as just one example. More than half the cost of that order is in the delivery and service fees which (because it's under $30) you'd still have to pay as a Plus Unlimited subscriber.
Bottom line: If you're lazy and have a big enough appetite (or just a lot of friends), Plus Unlimited is a deal. For the rest of you? You're just out of luck. Even Domino's charges for delivery these days.
John McDermott is a staff writer at MEL, where he last wrote about Ethan Klein, the man waging a crusade to keep YouTube honest.
More tech coverage on MEL: