Last spring Memorial Day, Ben* traveled to Ensenada, Mexico, for what he thought was going to be a weekend oceanside vacation. Instead, his trip ended with more than 10 broken bones, a two-week hospital stay, nine surgeries and more than $1 million in medical costs.
I had everything planned. I'd spend a three-day weekend in Mexico, come home to resign from my job at a startup and go back to school. I was 27 years old. There was a place waiting for me in the MBA program at the Instituto de Empresa — an internationally recognized business school in Madrid, Spain. I was sailing along. Life was good.
For our Mexican getaway, three friends and I rented a swanky place near the ocean that was the perfect home base for the long Memorial Day weekend. We had decided to drive there from L.A., where I had lived the last three years. Stewart, my close friend from high school, was riding shotgun with Maya and Zoe in the back. The plan was to visit my grandfather, who lives in Ensenada, and have one last hurrah before I moved to Madrid and started the next chapter of life. I knew the program would keep me locked down for at least two years — a lifetime of serious adult work seemed to be looming beyond.
We crossed the border at Tijuana, drove down the coast and stopped for lunch in Puerto Nuevo — a famous lobster village in Baja California. After lunch, we loaded ourselves back into our Mazda 3 and headed south. I was driving. Stewart was in the passenger seat. Maya and Zoe were in the back reading magazines and daydreaming out the window, appreciating the view and living in the moment. We were headed down the 1D, the Mexican version of the Pacific Coast Highway. Beautiful, wind-swept and serpentine, full of roller-coaster hills and blind curves, it's known to some as "The Toll Road," for the toll of human lives it has claimed. Of course, we made jokes about it — whenever you're driving somewhere and you pass a bad car accident, or even when you hear about one, you never think it could happen to you.
We climbed one hill after another, admiring the view, having fun, responsibly wary of other drivers. Descending a particularly steep hill and taking a sharp curve, we suddenly encountered a huge propane truck. It must have been doing five miles per hour, just crawling along.
But by the time I realized how slow it was going, it was too late to react.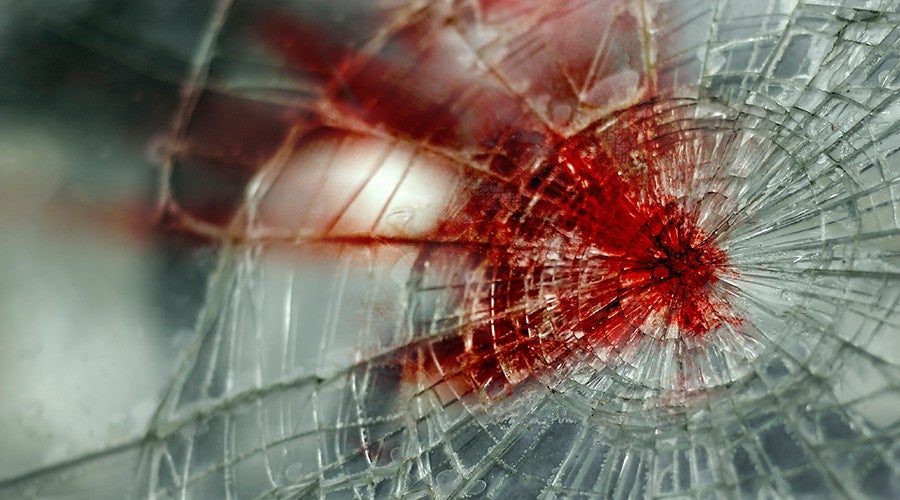 My head hit the windshield. I was knocked unconscious. When I came to, it was like being in a war movie, or some action film where someone gets blown up. My ears were ringing. Stewart was out cold in the front seat. Maya was screaming. My first instinct was to help everybody, but I couldn't move. The windshield was spidered with cracks. There was smoke in the air. It was difficult to breathe; the gunpowder smell from the deployed airbags filled the car. My face was bloody. My vision was blurry. I had pain all over my body. It was excruciating. I managed to unbuckle my seatbelt, open my door and fall to the ground. I'm not sure if I lost consciousness again or not.
The next thing I knew, a woman appeared. She grabbed my arm and attempted to drag me away from the wreckage. Then another woman appeared and started arguing with her in Spanish, saying I shouldn't be moved. That I was fluent in Spanish made it no less surreal. Two ambulances arrived. My three friends went into one; I went into the other.
Instead of driving the 15 minutes south to the closest town — Ensenada, in the direction in which we were headed — the ambulance took me 40 minutes back north to Tijuana. I didn't know it yet but I had a broken nose, a broken jaw, broken facial bones, three teeth knocked out, four broken ribs, a broken right wrist, two broken fingers, a broken heel, an abdominal wound, an intestinal rupture and a broken sacrum, with minor sacral nerve damage. For some reason, the EMTs wouldn't give me any pain medication. Every bump and turn in the road was torture. To stop me from bouncing, the EMTs used their arms as straps to hold me tight to the gurney. That, of course, only made everything hurt even more.
At the Centro Medico Florence clinic in Tijuana, I had two surgeries and was given six units of blood. Then I slipped into a coma.
A week later, when I came to, my parents and my brother were there. A police officer stood sentinel outside my door. I was informed I was under arrest. Under Mexican law, all participants in a car accident (drivers and passengers alike) are placed under arrest until all parties sign a waiver of release. Unfortunately, by the time I woke up, Maya and Zoe were already back in California; only my friend Stewart was still in the hospital with two broken vertebrae and a large gash in his arm. Along with a broken pelvis, Maya suffered a bad concussion; she will be forever identified by the Harry Potter-like scar on her forehead. Zoe sustained a broken jaw, lost five teeth and had a broken nose, a dislocated hip and a broken leg.
Luckily my mom, who is a lawyer in California, has a good friend in Oakland whose partner is based in San Diego and has legal ties to Tijuana. The guy's name is Pepe, and he had connections to Mexican authorities. He spearheaded the process to remove and withdraw the charges brought against me. When it was determined that only two signatures from the other passengers in the accident could suffice, the officer outside my room was removed. I was deemed legally able to leave the country.
The only problem was, I couldn't leave. It took six more days until I was healthy enough to be moved. As it was, I was still on a respirator. I rode in a Mexican ambulance with my mom, the respiratory doctor and a nurse charged with hand-bagging me in lieu of a respirator, with which the ambulance wasn't equipped. My brother and dad followed in my mom's Prius, tailing the ambulance through the chaotic streets of Tijuana, running red lights to keep up. At the border, I was placed into an American ambulance.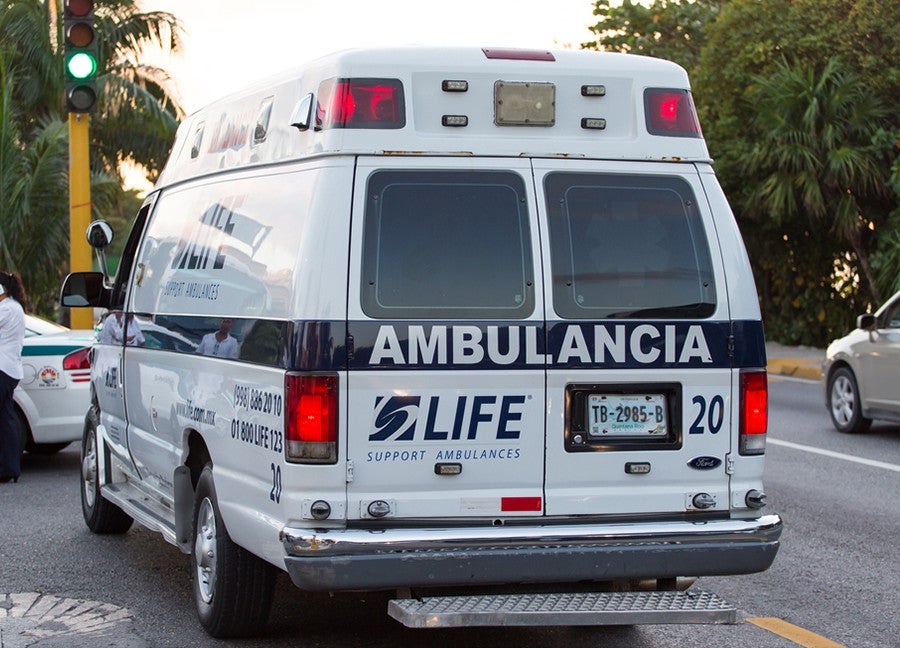 Over the next weeks as I recovered in San Diego — I needed seven more surgeries once I returned stateside — I tried to piece together my Mexican experience. I could remember the brutal crash with the propane truck, the feeling of dread just before the impact, the screaming of the female passengers, the blood in my eyes, the horrible pain of that first ambulance ride. I seemed to remember a nurse putting glue up my nose. And there was another short memory of one of my female friends, I think it was Zoe, walking into my hospital room and screaming when she saw me. I remembered her struggling fiercely with the nurses, who were trying to keep her from coming too close to my bed.
I also remembered two vivid hallucinations. I was in a chateau in Tijuana, laying on a luxurious overstuffed couch, hanging out with a bunch of scantily clad women. There was a moat that went around the chateau; people were riding inner tubes, laughing, having a good time; kids played soccer on a lush field. Suddenly the scene changed. I looked around the room to discover I was sharing an IV with three other people. Our beds were close together with our heads facing center to each other. Empty bottles of Jameson, Jack Daniels and José Cuervo littered the room. The IV bag above us appeared to be a green glowing skull filled with a mysterious combination of liquids.
Another time I found myself floating out of my hospital window and hovering over the streets of Tijuana. A tranquil and pleasing tea-garden like soundtrack was coming from a nearby Chinese restaurant. People were walking around with buckets of water and rice paddy hats. Before I could enter the restaurant, I was suddenly back in my hospital room, which I was now sharing with a 5-year-old girl. Like me, she needed surgery immediately to save her life, and there was a big argument going on between the medical staff and the parents, each arguing the case for who should be operated on, whose life should be saved.
Since time was of the essence, it became evident that only one of us would live. The little girl's parents pleaded her case: She had so much life ahead of her; priority should be given to the young. But then my dad yelled, "He's supposed to go to business school this year! He's a huge fan of the Golden State Warriors!" The doctors ultimately selected the girl for surgery. Then she died. Then I woke up.
It's now been months since the accident. I'm mostly grateful to be alive. It sounds like a cliché, but that's exactly how I feel. I appreciate every breath.
Today, I'm back home where I grew up, in the Bay Area, surrounded by friends and family, who bring me burritos from the Mission District and yuppie food from all over San Francisco — after two months of having my jaw wired shut and eating only liquid foods, I can't even begin to describe how wonderful everything tastes. My grandma brought me cheesecake with chocolate sauce and a carton of milk. The next week, it was homemade lemon bars. More recently, a few of my super friends brought Chicago-style pizza from a place we use to hang out at in high school. To be able to have a slice of pizza while laughing at a friend's joke — who would ever imagine such a small pleasure could be so monumental?
Another good thing that came out of the accident is all the time I've gotten to spend with my parents, and all the time I've had to reflect on our family and the future. What exists now is an immeasurable debt that I feel. I'm genuinely looking forward to caring for them as they get older and I'm fully healed.
And then there's the community of people who have signed up to receive updates on my condition and to donate to my medical costs, which, to date, has been $499,877.91 for my time in San Francisco alone. Some of them are perfect strangers. I can't begin to express my gratitude. I expect the bills to be somewhere between $1 million and $1.5 million by the time it's over. Even with insurance, the co-pay is astronomical.
The rest of the recovery has been shit. Since I moved to rehab they stopped giving me IV opiates, which was a significant challenge to get through. I had become a medically-made junkie so I had to be weaned off the drugs. Flashbacks of the seconds prior to impact pop up now and then. For instance, whenever I'm in my wheelchair descending a ramp, I'm instantly transported back to Mexico. It's like a roller coaster in the moments before the first descent. My insides become filled with butterflies and my breathing changes. My reality becomes that memory and although it's only temporary, it's no less severe.
Most of my days now are spent in and out of specific rehab: speech therapy, occupational therapy, physical therapy, psychological therapy and acupuncture. I can't imagine training for the Olympics could be any more difficult. Major milestones included standing up without using a walker and played a game of cards with my friends.
Large gains, I'm finding, are made in small increments. And recovery will be a lifelong process.
— As told to Ari King
*Name has been changed.
Ari King is a writer in New York City.
Trending on MEL:
For even more MEL, follow us on Medium or subscribe to our newsletter.