On November 11, six years after losing both of his legs to an IED in Afghanistan, Rob Jones completed his latest mission: Run 31 marathons in 31 days.
The 32-year-old Virginia native commenced his "Month of Marathons" on October 12 in London and continued running — not unlike Forrest — around the continental U.S., raising awareness for wounded veterans.
The "Rob Jones Journey" spanned 26.2 miles throughout the aforementioned London as well as Philadelphia, New York, Boston, Toronto, Detroit, Columbus, Louisville, Chicago, St. Louis, Kansas City, Denver, Salt Lake City, Seattle, Portland, San Francisco, Los Angeles, San Diego, Phoenix, Albuquerque, San Antonio, Houston, Dallas, Oklahoma City, Memphis, Nashville, Atlanta, Charlotte and Washington, D.C.
He says being a double amputee was the second-biggest challenge to running a marathon every day for a month.

The biggest challenge was the drive to each city, especially between Portland and San Francisco; Salt Lake City and Seattle; and Albuquerque and San Antonio. My wife would drive the RV until 2 or 3 a.m. while I slept in the back. Once we got there, we'd stash the RV at a fire station, school, police station or retirement home, while I headed off to make my 7 a.m. start time.
Obviously, the Marines had prepped me for a lifetime of early mornings. I enlisted in 2006 after my junior year at Virginia Tech and volunteered to go to Iraq, where my primary task was finding weapons caches — artillery rounds, grenades, machine-gun rounds, RPGs, that kind of thing. We'd get intelligence from local Iraqis and search entire areas with metal detectors, leaving no stone unturned. Whatever we found, we handed over to Explosive Ordinance Disposal to get rid of.
About four years later, I joined a volunteer platoon headed to Afghanistan. My job was similar to the one I had in Iraq, but instead of finding weapons caches, I looked for improvised explosive devices. We'd patrol up to a danger area — a place we thought there'd likely be an IED — and I'd walk through the zone first with a metal detector and clear a safe route for everyone to follow behind me.
On July 22, 2010, I was attempting to clear a route through a danger area and got hit by the IED I was trying to find. Both of my legs were amputated above the knee.
Today, I get around thanks to my prosthetic legs. There's a carbon-fiber socket molded to fit my leg that's held on with suction and friction. Depending upon whether I'm walking, running or biking, I'll attach a bionic knee, running prosthetic or biking prosthetic.
I wouldn't call it comfortable to run with them. I'd never think, You know what? I want to be extra comfortable right now so I'm gonna put on my prosthetic legs! They're actually minimally uncomfortable. But we've spent a lot of time trying to make them as comfortable as possible and got them to a point where I can wear them for a long period of time with too much discomfort.
The first marathon I ran was the Marine Corps Marathon in 2015. I don't know exactly what made me want to do it. I was training for triathlons at the time and only running 5Ks. I was looking for an extra challenge and decided it would be fun to attempt a marathon. I signed up for it without having ever really run more than 3 miles at once.
I did it, which proved that I was able to run marathons. So when it came time for me to think of another big challenge, I remembered there was a guy who did 50 Iron Mans in 50 days. I took that format and put my spin on it — 31 marathons in a row in 31 different cities.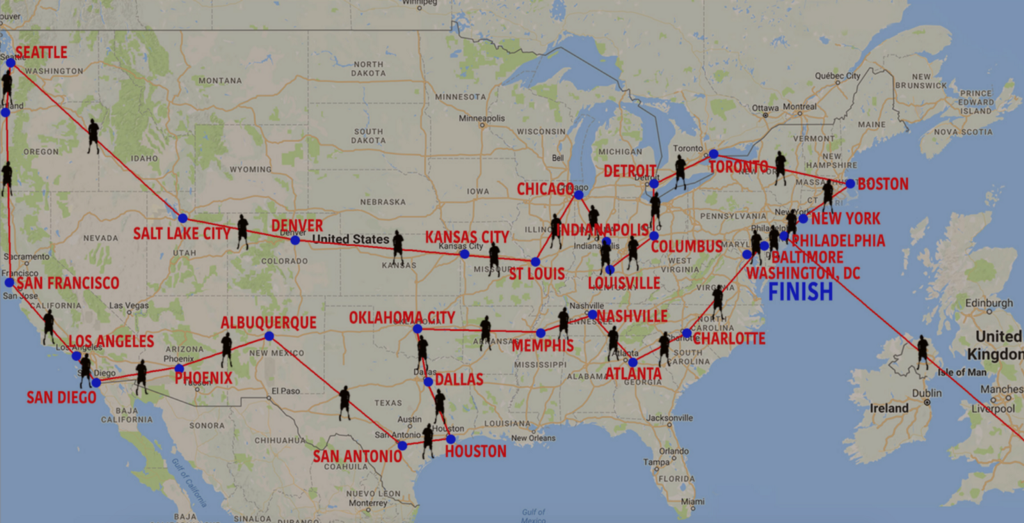 The toughest was in Houston. It was like 80 degrees and 90 to 100 percent humidity. Those conditions are hard on me because I get hot easily. My legs sweat, and there's nowhere for the sweat to go when it's inside the socket. It just makes everything really uncomfortable and drains my energy.
In a few different cities, my Marine Corps brothers came out and ran with me. There were a few guys who ran their first-ever marathon with me. They were hurting like you wouldn't believe! But they did it because we were in the Marines together.
In San Diego, there was a little kid named Aaron, who was probably 8 or 9 years old, and all he wanted to do was run with me. He ran the first 12K with me, and his grandmother tried to make him leave, but he started to cry. So she let him run another 6K. Finally, though, they had to shut him down because he had a cross-country race the next week, and he'd never run more than a 10K. He was devastated. He just cried and cried. I tried to console him, but it didn't work. I felt so bad that he had to leave.
In Nashville, it had just rained and there were a few wooden bridges on the trail that I was running on. I tried to slowly jog across one of them because I knew that they were going to be slippery. Sure enough, I slipped and landed on my butt and injured my back. It felt fine the rest of the day, but for the last four marathons, my back was killing me.
My final marathon was in D.C. I had a huge group of people run with me. My last chunk was about 9 kilometers. We mapped it out so I would do three big loops in the area I was running, and for the last mile, I would swing by and pick up a bunch of people who wanted to run the last leg with me.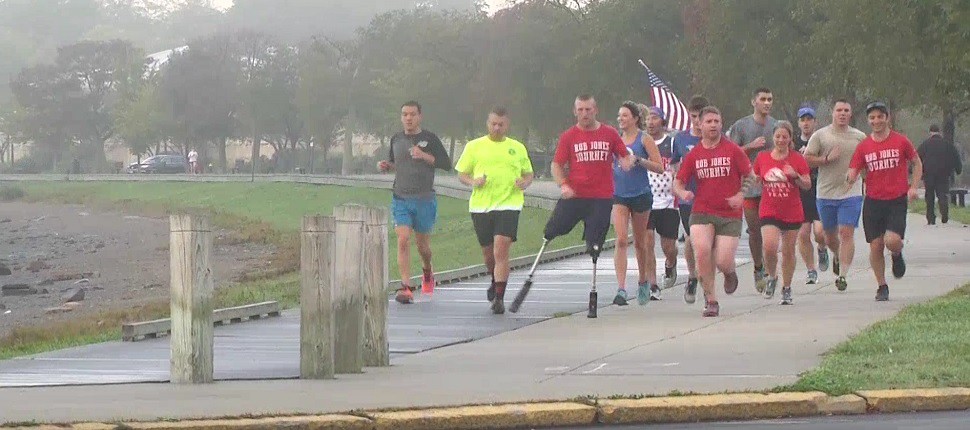 It was around the Reflecting Pool of the National Mall. The 16th Sergeant Major of the Marine Corps — the highest enlisted guy in the Marines — was running with me. He was singing cadences, like "Everywhere we go, people want to know who we are… ." My wife joined for the last mile, too. So did my close friend from my deployment. For the last couple hundred feet, my mom even joined in.
I put myself through all of it because I wanted to get the story out there of a veteran who had a traumatic experience in Afghanistan but was able to come home and use it to his advantage. Because it seems the only story that's usually out there is the one about the veteran who sees war and comes back home and can't find his place in the world.
I don't necessarily want to change that narrative — that's something that does happen, and it's a necessary story to tell. But I did want to make sure that there was an alternate narrative, too. Because sometimes veterans have traumatic experiences and are able to become stronger from them.
I certainly did.
—As told to C. Brian Smith