When I was a kid I had a golden retriever named Jake whose eyes would ecstatically roll back into his head if I scratched him just above his tail for any length of time. Paws would curl; eyes would squint; devotion would be reaffirmed. That's essentially when I learned that not all sensual bliss is sexual.
Such is the premise of a therapeutic Japanese head massage.
A colleague recently experienced the real thing in Tokyo and returned downright evangelical about the practice, which claims to release tension in muscles around the head, neck and eye areas by massaging pressure points on the head.
Alleged benefits include preventing migraines, headaches and back pain; promoting hair growth; relieving sleeplessness, restlessness and insomnia; relieving symptoms of anxiety and depression; renewing energy levels; and boosting memory capabilities.
Some have gone as far as to call it a facelift for your scalp, and a 2016 study — and websites like this one, this one, this one and this one — claim regular scalp massages can combat hair loss. One Vancouver salon says Japanese head massages are especially beneficial for those suffering from "brain tiredness" caused by "stress, overwork, worry and/or constant computer use."
I'm suffering from all four, so I booked a 90-minute "Head Spa" treatment at Koji Toyoda Salon in West Hollywood, the only Japanese head massage in L.A. that boasts a Micro Mist machine to provide ultrasonic vibrations that "create tiny water particles to penetrate the scalp." The cost: $60 + tip.
Koji's hip, fluorescent, hyperclean aesthetics are reminiscent of a Pinkberry. Once inside, I'm escorted by a tiny woman named Emi—who resembles a Japanese avatar—to a dimly lit antechamber in the back of the salon, with two chairs reclining into wash basins. Pandora's Zen Garden channel delicately fills the air with traditional Japanese flutes. Koji, the salon's namesake, hands me a glass of mint-infused water and explains he built this room specifically for the Head Spa treatment. (He did not, however, spring for Pandora Plus, so the Zen Garden is intermittently interrupted by H&R Block commercials reminding me that Tax Day is right around the corner. *Gong.*)
As Emi examines my hair, Koji explains that head massages are standard with any salon treatment in Japan. The relaxation technique was designed with the help of Japan's top health-care professionals from fields as diverse as neuroscience, acupuncture, psychology and massage therapy. It also allows the therapist to pinpoint whatever issues you have — dry scalp, oily scalp, hair loss, etc. — and customize the treatment to you.
My issue, per Emi: "Your hair is very oily," she says with raised eyebrows, before asking when I last shampooed it.
"Yesterday," I lie, embarrassed to admit it's been more like a week.
In that case, she says, she'll be using four separate products today as well as the Micro Mister.
I nod, feigning comprehension.
The first product is a purifying shampoo to get rid of all the residue and impurities on the scalp and in my hair. "Pressure okay? I have strong hands," she says cheerfully while attacking my scalp with purpose, like she's kneading soil in preparation for planting vegetables. The second product is a rebalancing shampoo to balance out my pH, Emi says, pointing out again that my follicles are over-producing oils.
Instead of waiting for your tax refund, you could get a refund advance of up to $1,250 with no interest at H&R Block!
The third product is a hydrating conditioner with peppermint and tea tree oil, which combine to create a tingling sensation. "Tea tree oil is everything in my life," another voice in the room—which I later learn belongs to the receptionist—chimes in. "I rub it on my face, and it helps with acne." Emi adds that it brings blood to the surface and heals anything that's wrong, which is supposedly what makes it so beneficial for hair loss. Personally, it feels like Emi is coating my dome with a York Peppermint Pattie.
Next, she begins the massage in earnest, focusing on pressure points down the center of my scalp with a combination of "effleurage," "petrissage" and "tapotement," massage techniques that utilize her fingers, knuckles and the palm of her hand. I'm instructed to breathe, as Emi claims oxygenated blood flooding the scalp will maximize the massage's benefits. I notice my eyes rolling back into my head like Jake's used to do when I petted him as Emi engages certain pressure points on the back of my neck, enveloping my body in a wave of tingles. It's very, very pleasant.
Now, I'm ready for the Micro Mister treatment. Emi escorts me to the front of the salon and has me sit beneath a futuristic device that's burping plumes of smoke.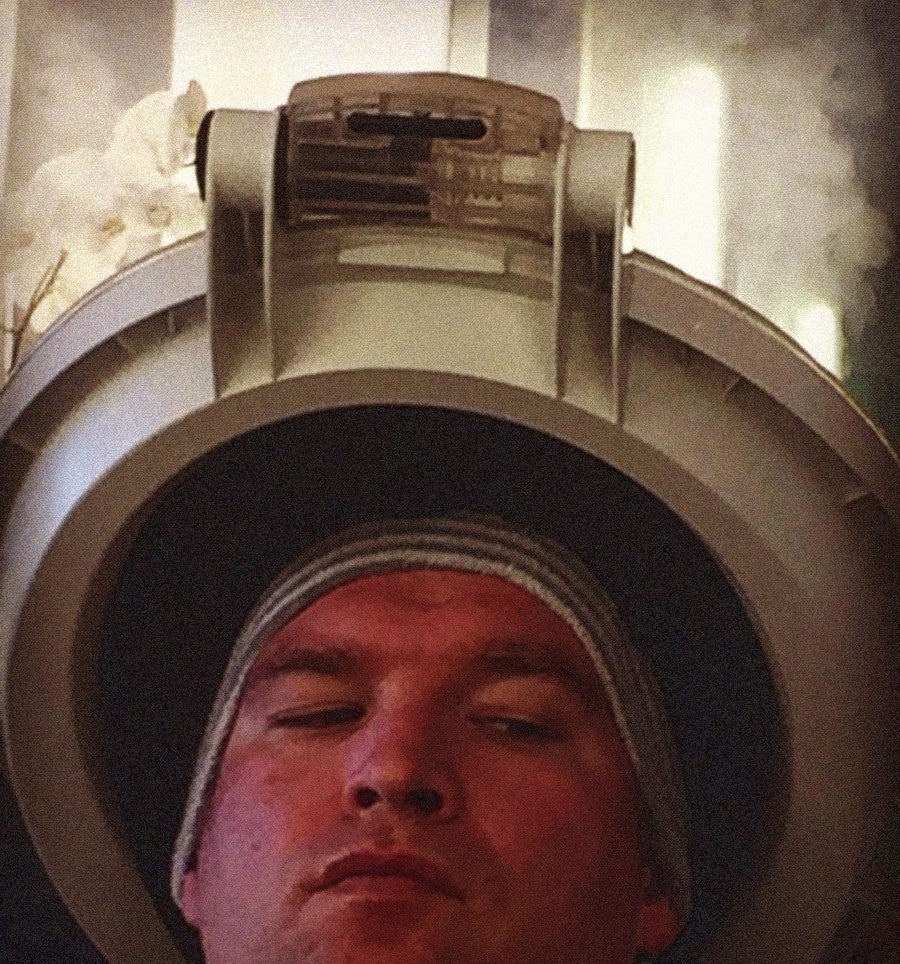 The ionic Micro Mister first runs hot, Emi explains, to open up the cuticles and allow the tea tree conditioner to penetrate as deeply as possible. "Like when you wash your face with warm water to get all of the gunk out of your pores," she notes. Right at the 8-minute mark, however, the Micro Mister abruptly switches to cryogenic-freezing phase, sealing the cuticles and locking everything in.
Emi finishes the treatment by tactfully targeting my freshly micro-misted, massaged scalp with energizing drops made with caffeine and cinnamon. My eyes roll again, but this time because I'm beginning to call bullshit on the entire endeavor.
"Whatchya doing now?" I ask.
"The energizing drops prevent hair thinning by promoting blood circulation and further stimulating the scalp," she replies without hesitation. The biggest benefits of the scalp massage, she explains, is to stimulate the hair follicles. That explains why the majority of Koji's Japanese head massage clients are men with thinning hair. "If your hair is thinning, you have to find the root of the cause," she explains. "That's usually in the scalp. So we're stimulating it and unclogging the hair follicles, which will promote more growth."
I imagine if I were losing my hair and desperate for a solution that might sound a little bit less like horseshit.
That said, overall, it's been a pleasant ride: I'm decidedly more relaxed than when I walked in, and I'm even sold on a bottle of magical hydrating tea tree conditioner. But as I ease out again into mid-afternoon L.A. traffic, I wonder if this fleeting moment of serenity couldn't have been reached via 30 minutes of Ashtanga yoga or a touch of tantric meditation.
Neither of which would require an ionic Micro Mister.