I was an early enthusiast of the Craigslist M4M personals section when it arrived in New York City in the early aughts. I'd recently broken up with my college boyfriend — the only man I'd ever had sex with — and was eager to expand my horizons (anonymously, of course). I was still mostly closeted, clinging to the scraps of my fleeting heterosexuality and looking for someone similar — ideally a college lacrosse player home on summer break, which is why I marketed myself as a "straight preppy jock who NEVER does this."
It definitely worked. Within minutes, my inbox would be peppered with a half dozen Dave Matthews fans — likewise claiming to be "totally straight" — lining up to deepthroat my Dancing Nancy.
Nor did it take long for the practice of posting, reviewing and occasionally meeting guys to devolve into a compulsion — thanks in part to a burgeoning coke habit. I manically enveloped myself in Craig's lowercase royal blue Times New Roman font — and honed my creative writing chops in the process — by suggesting elaborate role-play scenarios. For instance: "Step brothers with wandering hands are forced to share a bed when money gets tight around the new family home." (Actual brothers secretly jerking each other off would be weird, I thought, so I settled on "step" — years before, it should be noted, the fauxcest porn trend.)
Obviously, it was all weird, especially in retrospect, as now I'm a nearly 40-year-old openly gay man. Yet Craigslist has always stubbornly remained a component of my sex life — an ol' reliable bridging the gap between the clunky, pay-for-play print personals of the 1990s and today's swipe-centric hookup apps. Maybe most of all, Craigslist was text-based rather than image based, allowing me to present a narrative before presenting a picture of my penis. Plus, I could be precise about what I wanted, and more importantly at the time, what I didn't want. Though as Matt Breen, my former editor at the Advocate, explains, "You got to see people's terrible prejudices, like 'no fats, no fems, no Asians,' or guys only interested in 'white fit men, age 25 to 26.'" Those attitudes are still around today on apps, he adds, but they're at least challenged more directly.
Perhaps it's nostalgia for that old, weird, Wild West Web 1.0 or a longing for the faceless security of an anonymous, email-based communication system, but when I clicked on "men seeking men" recently — as I'd done so many times before — and landed on farewell message, my eyes welled up.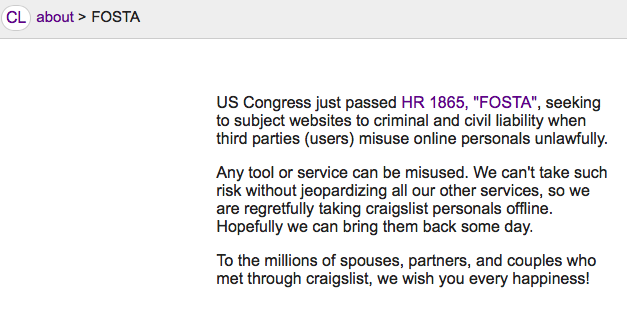 Craigslist explained it was shutting down the personals section in the wake of the overwhelming passage of the Fight Online Sex Trafficking Act (FOSTA) — which President Trump signed yesterday — meant to crack down on sex trafficking of children by holding websites liable for the illegal behavior of users on their platform. While the bill is designed to protect children, critics say it threatens the lives and livelihoods of sex workers by removing tools for finding and screening clients and pushes them back out to the street.
Despite FOSTA's righteous intentions, I couldn't help but wonder if other men of a certain age also were reeling from the sudden death of a longtime cyber-companion. And so, I began emailing every guy I'd ever corresponded with via Craigslist over the past 15 years — 1,342 in all — some of whom I'd hooked up with, most of whom I hadn't.
Judging from the early responses, my suspicion of mass grief was correct. "I'm not at all happy to see Craigslist go," says David, a 43-year-old I have no recollection of. "It was a part of the internet commons I fear we won't get back. The institutions we rely on for gay life online are all private property now. Like the often unquestionably bad sex to be found there, at least Craigslist existed for its own sake."
"I fucked a Marine on the couch in his family room," says Dan, 32. "It allowed people to communicate without the hassle and embarrassment of meeting in clubs and bars."
For example, Cameron offers a sample of his typical post:
LOOKING FOR FWB / JACK BUDDY
Hey fellas. It's been a while since I did anything with another guy, and I'd really like to get back into the swing of things with someone who's looking for a long-term bud. J/O is good and even more is great. I'm a tall guy (6'4") but not a gym rat (245). White. I don't discriminate on age so all are welcome to hit me up (daddy types are killer in my book, but I like 'em all). Not into games though and not into anything unsafe.
I'm not sure if it's better or worse, but Craiglist did this to itself (and by extension, me and my former email pals), preemptively amputating its problematic personals to preserve the the rest of its bigger — and more profitable — webpage. "This was based on their own risk assessment," explains Alexandra Levy, adjunct professor of human trafficking and human markets at the Notre Dame Law School. "Every website had to make that decision for themselves because they knew they would be open to liability under this law; Craigslist now faces the same potential liability as any other website based on user-generated content."
Similar websites like Cityvibe, NightShift, Touchbyvenus, Myscarlettbook, Providingsupport and SouthernGFE have shut down completely in the past three weeks. Meanwhile, Hung Angels removed its forums; YourDominatrix.com shut down U.S.-based ads; Erotic Review — the "Yelp of the sex trade" where men rate their experiences with sex workers, some of whom are trafficking victims — shut down ad boards in the U.S.; Google, Paypal and WordPress removed commercial sex-related ad sites; Reddit announced users couldn't use the site to "solicit or facilitate any transaction or gift involving certain goods and services"; and Pounced.org — a free furry personals website dedicated to "helping furs find other furries as friends or as mates" — notified members that they could no longer operate as a free service due to liability concerns. "In many ways," the Pounced statement noted, "this bill targets small sites like ours directly and favors organizations with the resources to invest in filtering technology, paid staff and legal support staff."
"FOSTA will affect smaller web platforms differently from their larger competitors," predicts Elliot Harmon, an activist with the Electronic Frontier Foundation. "Smaller platforms have neither the capacity to moderate members' activity nor the legal budget to absorb the increase in liability. This became very clear when the Internet Association — which represents Facebook, Amazon and many other large internet companies — decided to endorse the bill."
Craigslist has seen this movie before. In 2009, Cook County, Illinois, Sheriff Tom Dart brought a case against Craigslist claiming its "adult services" section violated local, state and federal law. Those charges were rejected by the court, which held that Section 230 of the Communications Decency Act of 1996 clearly protected Craigslist against criminal charges based on its role as a host of user-generated content.
"Craigslist has already faced (failed) criminal charges for facilitating prostitution," explains Emma Llansó, director of the Free Expression Project at the Center for Democracy & Technology, who adds that's why it's likely more concerned than other sites about ending up in a prosecutor's cross-hairs. Platform holders have, for years, been immune to legal responsibility for what their users do on their platforms, provided that they responded to inappropriate behavior effectively. Unlike Facebook or Google, however, Craigslist has always been simple to a fault, refusing to employ advanced AI to root out problematic posts.
To some extent, Craigslist can shut down its personals because it has a business model that exists outside of the section, explains Josh Millard, moderator of the community blog MetaFilter. "Businesses that are fundamentally dating/hooking sites and apps don't have that option," he tells me. "Grindr can't exactly pivot to real estate listings. When it's a strategy question, your options are different than when it's an existential one."
But back to me. Where am I supposed to go for companionship now? I very much relate to my friend Jim, 67 and retired, who explains he used Craigslist to meet many gay men and calls it "a perfectly wonderful experience. I met sex partners and lifelong friends. We have breakfast together on Saturdays and share thoughts on a whole range of issues — life, sex and aging together. It's been really nice."
The ability to find companionship in foreign lands was similarly important for someone calling himself "London Guy," whom I likely met in 2010 while covering Wimbledon for OutTraveler. "When I moved to a new city, I used Craigslist to connect with people to have sex with," he explains. "Often we hit it off and continued to hang out socially, which helped with loneliness. Even today, I stay in touch with guys I met on the Craigslist personals. We act as a support system to talk out problems with our partners or just to rehash things we tried sexually in the past and how we could explore them with their current partners."
For others, like 36-year-old Evan, Craigslist was simply an efficiency play. "I used it if I didn't feel like going out to a bar and waste time and money when all I wanted to do was get laid," he says, including an example of his go-to post to make that happen:
FACE DOWN, ASS UP, BLINDFOLDED AND READY TO GET FUCKED
I'll leave the hotel room door open, and be waiting with my face down, blindfolded, ass up, lubed and ready. You come in, a bottle of lube will be next to me on the bed, pull out your cock, lube up, slide your cock inside me, pound my ass, thrust your cock balls deep inside me when you blow your load, cum deep inside me, breeding my hole, giving me every drop of cum… then zip up and leave. No talking. I don't even want to see what you look like. Leave me filled with your cum ready for the next guy to cum over and use your cum for lube.
I ask Paul Nelson, a male sexuality educator and clinical sexologist at The Men's Sexual Health Project in New York, if any of his clients are lamenting the passing. "Absolutely," he says. "Craigslist was the only place where men could go for a very long time. Now they're calling me up and saying, 'What do I do? Where do I go?'"
Like me, he explains, many of his clients entered the world of gay sex via Craigslist because the platform made it easy and anonymous for straight guys to experiment. "It's responsible for the explosion of the man-on-man sex amongst straight men in the last 20 years," he says. "A lot of men look at Craigslist as their sexual maturing."
"For gay Gen Xers especially," Breen explains, "Craigslist was significant because there was finally a place to read about the types of sex people were having and to familiarize yourself with the language. I also remember using Craigslist to locate gay neighborhoods in cities I was visiting, noticing in what parts of town people were talking about meeting up and head there — not necessarily to hook up, but just to understand the lay of the land."
Before long, though, Craigslist itself became the destination, like the anteroom of a virtual bathhouse. So perhaps the deep sense of loss I and other men are feeling says more about the weight we place on online connections than anything else. That's at least the suggestion of sociologist Amin Ghaziani, the author of There Goes The Gayborhood who last spoke to me about how gay neighborhoods are becoming more and more assimilated (and therefore, disappearing).
As IRL gay bastions have gone away, he explains, the need for gayborhoods has expanded into virtual communities. "The density of nearby contacts creates a proxy queer space," he says. "A gayborhood can manifest anywhere within a reasonable proximity where there's a critical mass of other men who are logged on at the same time as you are looking for real-world fun. Craigslist didn't provide a substitute for in-person interactions; rather, it facilitated them. The gayborhood went virtual and spread across the city."
Until it didn't.