For Super Bowl Week, we're highlighting a legendary bar and restaurant that invented perhaps the most iconic football snack of all: spicy, salty wings with a side of bleu cheese dressing. Buffalo, New York's Anchor Bar was born in 1935, but the wings came three decades later, transforming the local spot into a destination. Over the last 11 years, Michelle Buchholz has helped oversee its legacy, doing everything from cooking wings to brand strategy. Below, she walks us through Anchor Bar history, what wings mean to a native Buffalonian and what she expects this Sunday. 
I grew up in Buffalo, as one of five girls in my family. My dad was a machine operator — blue-collar work, basically — so we didn't go out to eat much. What I always remember, though, is that on some paydays, when he felt he could afford it, he brought home chicken wings from the Anchor Bar. I never could've imagined I'd work there one day. In fact, I never even visited the restaurant until I started working here. It's kind of a neat story in that way, because my dad was always adamant that the best wings in Buffalo came from the Anchor Bar.  
When those wings came through the door, I mean, it was a treat. The best treat. We were just thrilled. The funny thing is, a lot of places have all these different wing flavors now, but back then, it was just the original hot, with bleu cheese and celery. I love drums, and my oldest sisters loved flats, so we used to trade.
And, of course, I remember Buffalo Bills games. My dad loved sports as a whole, but the Bills are who the natives of Buffalo root for relentlessly, year after year, no matter the outcomes. For me, it's the Jim Kelly days that made for the biggest memories. I was young back then, and we were always getting together with friends and family for the games. We still do, but when you're young and you just believe that your team is gonna make it to the Super Bowl, the excitement is so high. I guarantee you we had Anchor Bar wings and pizza for every playoff run. 
Wings and pizza always went together in Buffalo, but it's been quite amazing to see, from a business side, how things have grown. The takeout industry, the delivery apps, all of that is crazy around Super Bowl time. So much so that we hear of chicken-wing shortages — although we've been around for so long that our suppliers will hold a lot of cases for us, so that we don't run out. 
The story is that on March 4, 1964, Teressa Bellissimo's son Dominic was tending bar, and late that evening, his friends came in very hungry. Now Teressa's from Italy, and Dominic's father Frank was too, so she only knew how to make everything fresh. She was prepping soup for the next day and had the wing parts on the side of the soup pot, waiting to go in. She took those wings, since she didn't have anything else to cook, and threw them in the deep fryer. While they were frying, she mixed up a spicy sauce. The rest is history. She served them with bleu cheese and celery because that was probably what was handy for her at the moment. 
About 11 years ago, my friend [Mark Dempsey, current CEO of Anchor Bar] called me and told me he needed someone to help him with operations. So here I am a decade later, helping grow franchises around the country. From cooking in the kitchen to talking to customers on the floor to digital marketing, whatever they need, I'm it. And I do love bragging that I work for the Anchor Bar. We're the wing icon, right? How many food restaurants can call themselves an icon of something? I enjoy going into a new market and bragging about our Anchor Bar story and our wings and food. We're in Frederick, Maryland, now. We're in Rochester Hills, Michigan. We're in San Antonio, Texas. We're all over. 
Our Anchor Bar location in Buffalo has people who have worked there for 20 or 30 years. Our diners really appreciate that. It's a core group of people who love Buffalo and love the Anchor Bar. We don't have a lot of turnover with our staff, and I can't see working anywhere else either, to be honest with you. 
The secret to the wings? Fresh, never frozen, never breaded. The sauce and the fry oil has zero grams of trans fat. We have the ingredients on all our labels, so you can somewhat figure out the secret recipe. Believe it or not, the base isn't Frank's Hot Sauce. 
Oh, and we don't serve carrot sticks!
* * * * *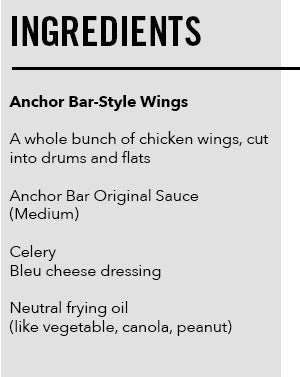 NOTE: The bottled sauce is excellent, but there are myriad homemade versions of the iconic Anchor Bar sauce online, too. The basic idea is to blend cayenne pepper sauce, butter (or margarine), a splash of white vinegar and a little garlic. According to one reputable source, a touch of Worcestershire sauce is the unlisted secret. 
Heat up about 2 to 3 inches of oil in a large heavy pot — you're aiming for 350 degrees — and set your oven to its lowest setting (to keep cooked wings warm). While you wait, cut the celery into roughly 4-inch batons and set aside. Then dry your wings thoroughly with a paper towel, which will help them brown more evenly. 
Fry the wings in small batches, making sure not to crowd the pot. They should be done in about 10 to 12 minutes, depending on the size of the wings. They should be a deep golden color, and you can test the first wing or two for timing by poking through the meat (to the bone). If the juices run clear, you're good to go. 
Keep the wings warm in the oven while you cook the remaining ones. When you're done, dump the wings into a bowl (easiest done in batches) and toss them with the sauce until they're coated to your liking. Serve immediately.