Being a Ryan Reynolds fan means feeling apologetic pretty much all the time. Tell people he's actually an underrated dramatic actor with a light touch, and they'll respond by asking why he's done so many duds over his almost 20 year-long film career. Self/less, R.I.P.D., The Captive, The Change-Up, Green Lantern … Sure, every star has the occasional misfire, but when a Reynolds film bombs (which happens pretty often) there's something unsightly, embarrassing even, about its failure. Partly, it's a matter of perception: Touted for years for his chiseled handsomeness, Reynolds simply looks like somebody who ought to be in moving pictures. And he's been so close so many times to becoming a superstar that there's a natural collective annoyance about it: What's the matter with this guy?
Turning 40 in October, Reynolds may finally be enjoying his moment as a legitimate Hollywood A-lister. His long-gestating superhero movie Deadpool reigned at no. 1 over Presidents' Day Weekend, pulling in an estimated $150 million. What's weird about the film's success is that Reynolds really isn't doing anything new or different, playing a familiar version of the wisecracking, irreverent dude we've seen from him time and time again. But if fans feel like we have to apologize for our allegiance to the guy, we're not doing anything very different from Reynolds himself, who seems to have made an entire career apologizing for his traditionally hubba-hubba good looks — and then apologizing for refusing to be a typical A-list star. (OK, aside from marrying actress Blake Lively.) Deadpool's monster box office isn't proof that Reynolds has finally changed his strategy, it's that he's finally found the right vehicle to express it.
Coming off Canadian television, Reynolds first starred in 2002's Van Wilder as a bro-hero to the collegiate masses. In the early-to-mid-2000s, he was already testing the limits of that frat-guy persona, appearing in everything from horror movies (The Amityville Horror), to comic-book films (Blade: Trinity), to comedies (Waiting…, Just Friends). But no matter the genre, Reynolds' amiable guy's guy often defaulted to playing characters whose hunky exterior belied untold insecurities and disappointment. From the arrogant former-fattie in Just Friends to the peaked-in-high-school stud of Adventureland, Reynolds seemed drawn to protagonists who had been deflated by life, guys who aged out of college but wouldn't quite graduate, guys who had stayed too long at the party.
Even if it was all a calculated ploy — that self-deprecating way of curbing expectations — his strategy was enormously appealing. People named Reynolds their "Sexiest Man Alive" in 2010 (also naming him "Sexiest Dad Alive" earlier this month). But Reynolds continued to maintain that all this newfound "sexy" attention wasn't his thing, doing a tongue-in-cheek cover profile for Entertainment Weekly in 2011 (which he wrote himself, in third person) mocking stars' egos by turning the joke inward: "But Reynolds is also careful not to get too self-righteous, and is not one of those finger-wagging celebrities telling you how to live your life. He prefers to put the word out quietly, through the exciting mediums of interpretive dance and Japanese hand fans." Judging by his emasculating cameos in Seth MacFarlane movies — or in his willingness to play a thoroughly icky, twisted serial killer in the dark indie comedy The Voices — there seems to be a part of Reynolds that really, truly doesn't want to be a superstar, who finds the job completely ridiculous.
This constant tension — the allure of and aversion to fame — plays out in almost all of Reynolds' films. It's easily one of their biggest selling points. He expertly wields a liberating sarcasm that can cut through the pleasant rom-com conventions of The Proposal or undercut the overblown superhero tropes in X-Men Origins: Wolverine. That sardonic manner is his way of speaking directly to the audience, acknowledging that—wink, wink—he knows that we know that the film we're watching is formulaic. Remarkably, Reynolds' wiseass routine doesn't usually come across as smug: There's always a sweetness and buoyancy to his performances that makes his metaphorically arched eyebrow charming rather than insufferable. If we were as handsome as Reynolds, we say to ourselves, we'd totally be as chill as he is about this whole movie-star thing.
Perhaps the problem is that Reynolds' method has always been better than his taste in scripts. Taking welcome risks with The Voices or in the claustrophobic Buried, Reynolds leaps at the chance to display some dramatic range in tiny indies that, sadly, pretty much no one saw. Ditto to last year's Mississippi Grind, a superb gambling drama in which he costarred with Ben Mendelsohn, portraying a seemingly happy-go-lucky card player whose ingratiating personality is a cover for deep discontent. Those roles have been the exception. In Green Lantern, the 2011 fiasco that was supposed to cement his commercial clout, Reynolds gave the material just the right amount of what-me-worry offhandedness, but the film was simply so loud and so dumb that it made Reynolds no fun.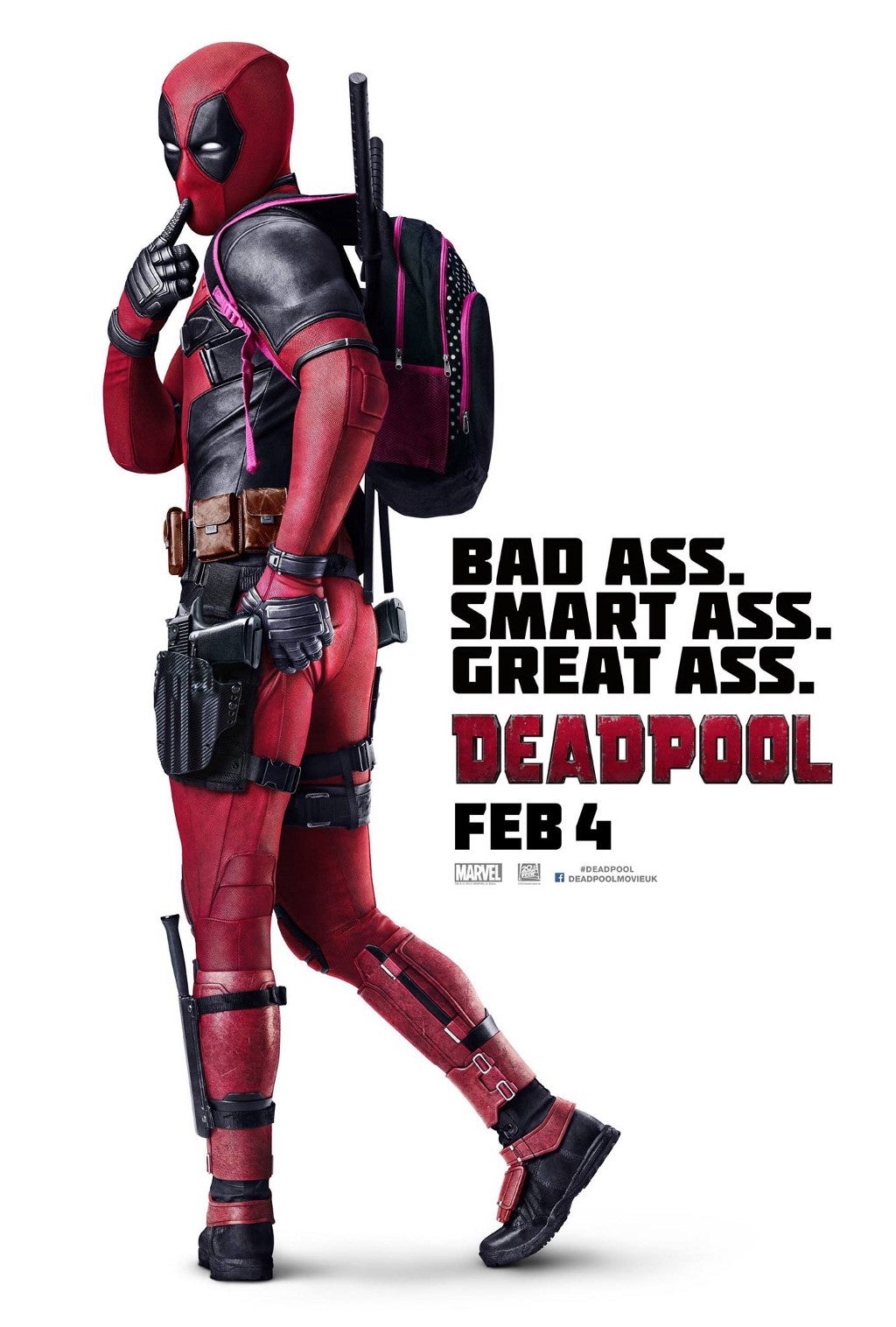 Deadpool manages to do the exact opposite, succeeding exactly where Green Lantern failed. Reynolds plays Wade Wilson, a former Special Forces member who is now a masked vigilante going by Deadpool. Wilson is the typical Reynolds smart aleck — but with good reason. Diagnosed with cancer, he volunteered for a freak experiment that gave him the ability to repair his wounds, but also horribly disfigured his face and body. Not to mention, his girlfriend (Morena Baccarin) has been kidnapped by Ajax (Ed Skrein), a conniving British super-villain who wants Wilson dead. So, yeah, Deadpool is having a bad day, which he explains by speaking directly to the audience in the middle of shootouts as if he's the Ferris Bueller of superheroes.
Except, Deadpool doesn't consider himself a hero, a sentiment he repeats again and again throughout Deadpool, which pats itself on the back for that. Deadpool is the first Marvel movie that seems mortified about being a Marvel movie. If Ant-Man joked good-naturedly about its hero's relative puniness in relation to other Marvel characters, then Deadpool flips its peers the bird. Wade Wilson isn't an anti-hero with a heart of gold: He's a straight-out jerk. The movie won't even allow its audience to enjoy Reynolds' face (and washboard abs), which resembles an oversized, left-out-in-the-sun-too-long prune after Wade Wilson goes through his experimental cancer treatment. (And Deadpool takes abundant pleasure in mocking Reynolds himself — wink, wink — turning Green Lantern's failure into a punch line.)
In the end, Deadpool isn't the greatest movie — too busy congratulating its own irreverence to tell a good story — but it remains a pure expression of Reynolds' own misgivings about the nonsense that attaches itself to celebrity. Despite its narrative flaws, Deadpool lets Reynolds shine in a way he's rarely able to do — in a very high-profile film. No doubt many in Hollywood wondered when Reynolds would get it together and become the star he was always destined to be. Ironically, Reynolds' biggest smash happened because he didn't change one bit.