A couple of years ago, I was splayed on my back, legs askew and chest heaving. Two cameras were slowly circling me with a kind but unignorable scrutiny as an entire hand disappeared inside of my body. I was on a porn set, and I was getting fisted by one of my closest friends.
This was 2012, and I was still relatively fresh on the porn scene. When my friend gently nudged me mid-thrust to tell me that I was bleeding, I immediately panicked, despite not feeling any pain. Twenty seconds later I remembered that I'd only stopped menstruating the day before, and that what she was seeing was residual period blood. No biggie. I'd just motioned to the crew to continue filming when the director stepped up and suggested I put a "tampon or sponge in." I became suddenly, uncharacteristically insecure. What was so wrong with my body's natural functions that they couldn't be displayed on camera?
The director proceeded to give me my first lesson in pornographic censorship. She told me that the company couldn't show blood on camera, even menstrual blood. Why? Because their credit card processors wouldn't allow it. It had something to do with a list of obscenities from the early 2000s — "The Cambria List?" — and, surprise, there was a whole slew of sexual acts and bodily functions that couldn't be shown.
I nodded as though I understood, but my attention was compromised by the pulsing hand still inside my body. I hastily accepted the proffered gift of a small square of cosmetic sponge, shoved it up my vagina, welcomed my friend's hand back inside and proceeded to have a gay (and bloodless!) old time. It wasn't until more than a year later that I began to understand the influence that Cambria's list has on adult content creators.
It was even later until I genuinely cared.
The Cambria List is named for the lawyer Paul Cambria, who unintentionally gained the nickname "censorship czar" when a document he'd been commissioned to put together for the porn studio Vivid Entertainment in 2001 leaked and went viral. Understood to be a style guide of sorts, the Cambria List offered guidelines on sex acts that pornographers should avoid representing in order to stay in good graces with prosecutors who might otherwise bring obscenity charges. Over time, Cambria's name became synonymous with defining "obscenity" — and porn performers like myself felt disdain when we learned about its existence — but the irony is that Cambria was only trying to help.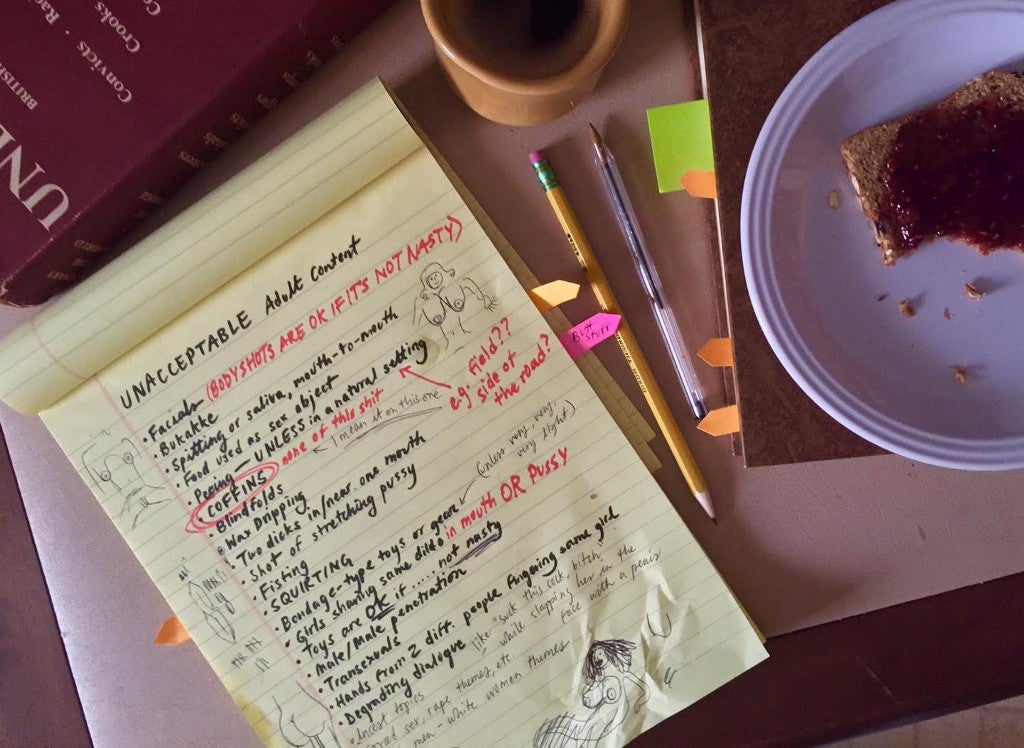 Cambria had begun his relationship with the porn industry as an ally — a criminal defense and appellate attorney specializing in high-profile First Amendment cases. Starting in the 1970s, he began representing Larry Flynt against many charges of obscenity. In the 1990s, he helped Marilyn Manson keep his career afloat despite numerous attacks from the Christian Right. And in 2010, he was responsible for getting adult industry legend John Stagliano acquitted for obscenity charges after an FBI agent viewed several films by his company Evil Angel depicting "numerous scenes of urination, use of enemas and violent bondage."
But despite that record of supporting performers who pushed freedom of expression to its limits, Cambria's whole reputation was quickly tarnished by a simple list.
It began with the Culture Wars of the late 1990s, when religious conservatives, angered by the Clinton administration's inaction on stopping the proliferation of internet pornography, began voicing their disappointment. George W. Bush's campaign promises included a crackdown on internet porn, and when he took office in 2001, he appointed John Ashcroft as U.S. Attorney General to spearhead a series of anti-obscenity legal cases.
As porn industry veterans tell it, the community was flush with fear and concern. Fighting a charge of obscenity not only can cost thousands of dollars in legal fees, regardless of the outcome, but successful prosecutions could mean copious fines, possible jail time and the complete eradication of a business. One of Cambria's clients, Steven Hirsch, founder and co-chairman of Vivid, asked Cambria to put together a list of the most commonly prosecuted sexual themes and acts as a reference to avoid any incumbent legal trouble.
Initially, this list was a resource, according to Colin Rowntree, founder and CEO of the internet's oldest BDSM and alternative sexuality site, Wasteland.com. "When we launched Wasteland.com in 1994, there was very little in the way of rules or regulations of what could go on that new 'internet thing,'" Rowntree says. "When the 'Cambria List' appeared, we saw this as a good first step in establishing best practices and standards to avoid legal problems. … [T]he list at least gave our studio a point of departure to consider what could be construed as obscene by the Justice Department of the time."
The industry's perception of the list soon changed, however, after it was leaked and began to circulate publicly. "Before the list there was more of a shot-in-the-dark ambiguity to obscenity claims," Rowntree explains. "The list armed individuals bent on attacking the industry with specific ammunition." Worst of all, Cambria's reputation in the porn industry became overtaken by the list, across the top of which Hirsch supposedly had scrawled "Cambria said not to do these." Cambria was never able to shake the assumption that he alone had been responsible for the list or that he was racist and homophobic for calling out prosecution trends against pornography representing "interracial" and "male-to-male penetration" sex acts, among others.
"It just isn't true," Cambria told me when we spoke over the phone in December. "The list was never intended as a kind of 'obscenity guide,'" he continued, nor did it reflect his personal tastes, reiterating his support for the right of consenting adults to indulge in whatever sex acts they choose (except for beastiality, necrophilia, sex with minors or actual rape). "My job was simply to identify the subjects that were the most likely to be targeted by the law, and I did so based on past court cases. Both mainstream media and the creative types inside the industry — concerned about their 'freedom' being jeopardized — sensationalized it."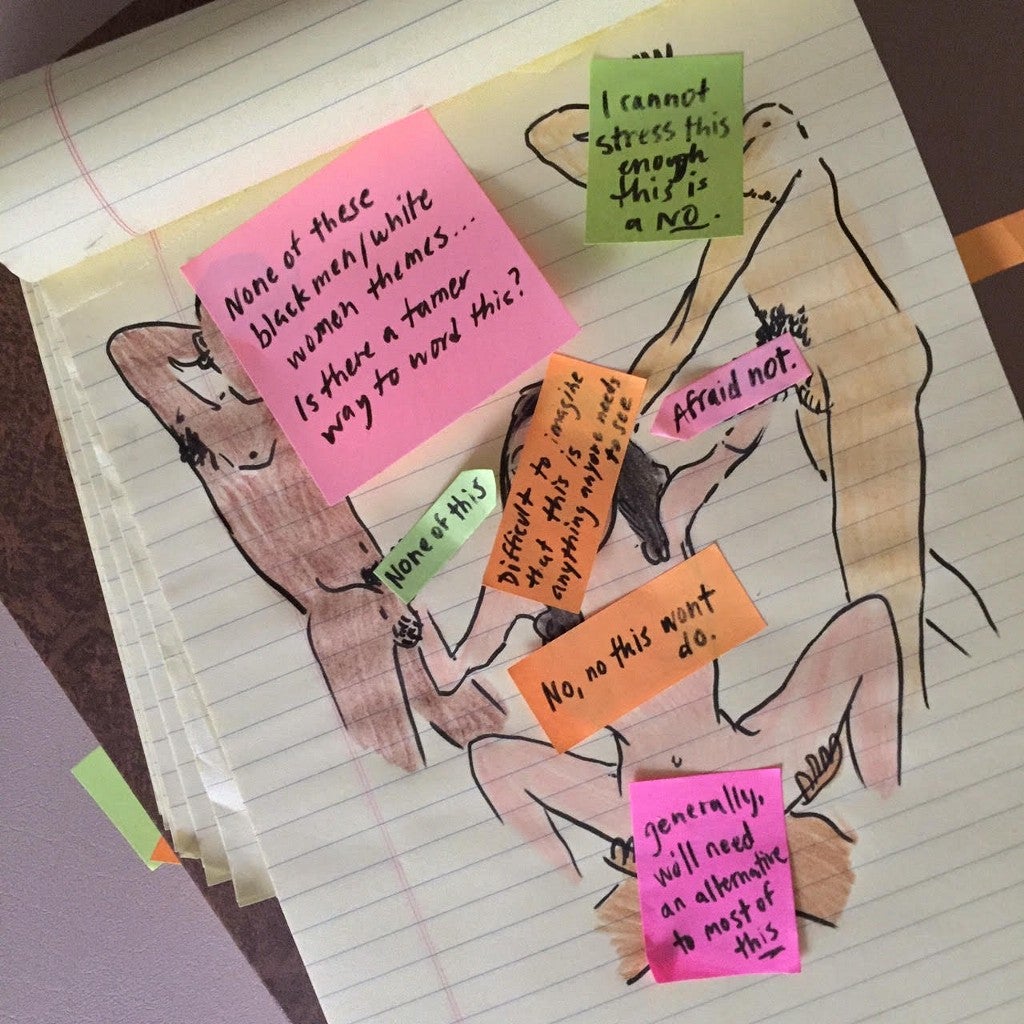 Cambria recalled a time a few years after the list leaked when he and a small group of consultants met with the FBI to discuss the administering the "2257 regulations" (which require porn producers to verify they're not hiring minors, among other restrictions). During the meeting, one FBI agent casually informed Cambria that the agency used his list as a resource when determining whether or not to prosecute obscenity cases. That was when it became clear to Cambria that the list's purpose had been completely inverted. Originally designed to help porn companies avoid prosecutions, it was now being used as a guide to determine what to attack.
"They didn't do these obscenity prosecutions in Los Angeles or New York City," Cambria explains. "They were very strategic. They did them in states like Texas, Alabama, Mississippi and Utah, where they could capitalize more readily on jury shock value." That explains why Cambria included themes such as "bi sex," "transsexuals" and "black men-white women" on his list. Although interracial sex and homosexuality have been officially declared "not obscene" by courts in the past, as long as those themes inflame, prosecutors will continue to target conservative juries in the hopes of distressing them.
Aware of the increased risks more conservative areas of the country present, the porn industry has shielded itself by declining to distribute more controversial content there. That, or they'll leave more controversial imagery off of covers of DVDs.
But as DVD sales decline, the Cambria List has lost its teeth. In today's tube site culture, where very few adult themes are omitted from the unending tidal wave of content, the topics once considered controversial on Cambria's List are now as easily accessible as finding a new banana bread recipe. "The more extreme the content is, the more clicks it gets, so it drives up their numbers and their website analytics skyrocket," Rowntree says.
For shits and giggles, he cross-referenced The Cambria List to PornHub's freely accessible offerings after our conversation, finding hundreds of clips depicting every single one of Cambria's "hot topics." Fortunately for Cambria—a lifelong supporter of freedom of speech—the list lives on only in name. Perhaps one day, people will forget about it altogether.
Andre Shakti is an adult performer and a staff writer at Harlot.
More sex on MEL:
For even more MEL, follow us on Medium or subscribe to our newsletter.