It took me decades to realize I was meant to be a himbo. I thought that in adulthood I had to be "smart," have a respectable "job" and wear shirts with "buttons" and "sleeves." Discovering the comfort of tank tops and moving to California accelerated a himbofication process that might otherwise have taken a lifetime, reaching its conclusion only when I washed up as a sunburnt old man in the Florida Keys, sipping bottomless margaritas and pretending to fish off a pier.
Thinking in the other direction, though, I can't help but suspect that this himbolution would have happened faster had I been given a Ken doll as a kid. Instead, my toys were the action-oriented figurines of the early 1990s — Teenage Mutant Ninja Turtles, G.I. Joes and characters from Jurassic Park whose arms you could rip off to simulate "dino damage." I had no idea that in this very same era, Mattel was putting out Earring Magic Ken, said to be the first "gay" Ken, who wore a mesh top, a leather vest and a necklace that, according to some, had a cock ring on it.
Or what about the 1992 My First Ken model, who came in a "stunning white ballet suit"? Then there was Shaving Fun Ken,"the hottest guy you have ever seen," according to an ad, whose only interests were tossing a Frisbee, maintaining the stubble of a Hollywood hunk and running a hand through his immaculately coiffed hair to make Barbie swoon. Role model!
Ken turns 60 this year — let's count ourselves fortunate that Mattel hasn't dropped a salt-and-pepper "Zaddy Ken" for the occasion — and in all that time, he's had dozens of careers. But throughout, his himbo nature shines through. He's handsome, athletically built and content to be little more than his girlfriend's matching accessory. When he debuted two years after Barbie in 1961, thanks in part to consumer demand, there wasn't much precedent for masculine dolls, so his role in the franchise was kept as simple and vague as possible: He was to be Barbie's "escort," and clearly subservient. A himbo excels at being a kept man. Ever since, while he does occasionally earn his keep, Ken has retained the signature cabana boy aura.
Even if you break down Ken's many professions, you find that the great majority don't meet the criteria for what most of us would consider work. It's in the nature of a himbo to coast through life, never clocking in for a 9-to-5, just soaking up vibes and brightening the world with his pearly smile. Most commonly, in addition to "Escort," Ken is a "Beach Bum" (once promoted to "Lifeguard"), "Tourist," "Prince" or "Roller Skater" — and when he is earning a wage, he's apt to be a hair stylist, dancer, rock star or pro athlete. Easily the lowest-status gig Ken has had was as pizza delivery guy in 1988, and I've gotta tell you, he doesn't look so much like someone employed by a pizzeria as a himbo who loves pizza and wants absolutely everyone to know it.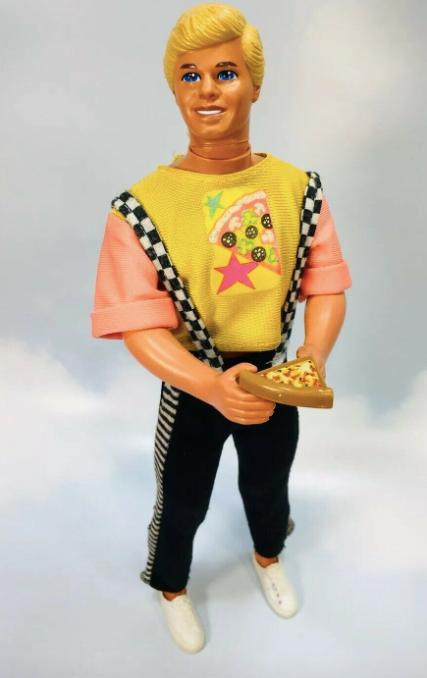 The only real argument against Ken's long-running himbo deity status is the anatomical one: He's famously neutered in the groin department, a design choice that has a strange and complicated history all its own. Instead of the magnum dong you'd want to complement the sculpted himbo form, he's got that barely suggestive nub — a pity considering that in the early days of the Ken doll concept, more significant bulges were on the table.
On the other hand, the laughable innocence of the, shall we say, more aerodynamic junk is perhaps a different sort of himbo feature. Ultimately, Mattel didn't want curious little girls to play with an accurate if scaled-down version of adult male genitalia (no more than they wanted this clientele to fiddle with nipples on the Barbie doll, hence the smooth boobs). A himbo is wholesome above all else, and while actual himbos are assumed to perform quite well in the bedroom, Ken's sexlessness tells you that he's far more than just a fuckboy — he's a dependable fellow who picks you up in a cool convertible for a fun day at the beach and doesn't expect sexual favors in return. (Between 2004 and 2011, although he and Barbie were officially separated, they stayed friends. )
How inspiring that, for all the changes he's undergone, and his now diversified appearance, Ken has never shed the identity of an All-American Himbo. Except for those times when he was a doctor. To be fair, it's possible he wore the scrubs for a stripper routine. Never mistake Ken for a man of ordinary ambition: Underneath any outfit, he's positively rippling with the power of a chill, empty-headed Adonis who's always up for a game of volleyball.
May we all get on his level.