Why don't we eat stuffing more often?
It's the one food that symbolizes Thanksgiving for me, even more than a roast bird or pumpkin pie. Growing up, stuffing only appeared when the last week of November rolled around, and I never tired of tasting different versions in different homes. Linus had his Great Pumpkin; I had the Great Stuffing to look forward to every year. 
I'm hardly alone in my adoration of this bread-y baked foodstuff, and it's a common trope to hear people declare that they love stuffing more than anything else on the Thanksgiving dinner table. So what gives? Does the artificial scarcity of stuffing during other times of the year grow our emotional tie to it, a lá the cult fandom around the seasonal McRib release? Does it need to be this way? 
There's no good reason to hold off from more frequent stuffing consumption, especially when you consider the apex evolution of this traditional Thanksgiving dish: the fried stuffing ball.
This bronze orb of creamy bread, sausage and aromatics is fluffy enough to dip into gravy or dab with tart cranberry jelly. Frankly, it makes soggy stuffing cooked in the bird seem almost medieval in comparison. I made these for the first time a decade ago during college, when I was in my apartment alone the weekend before Thanksgiving. They were the best thing I ever wrought from a humble box of Stove Top-brand stuffing mix, and it was almost sad that my roommates weren't around to taste them. (Less sad: settling down with a full plate of balls and a massive bong. What happened to my metabolism?) 
Fried stuffing balls can't help but sound like a stoner's delight, yet I think anyone who loves Thanksgiving flavors can and will fall in love with them, too. The recipe below is just a basic template that can lead to all kinds of experimentation. In fact, you can make these balls out of pretty much any stuffing recipe as long as it's a stovetop (not baked) version and moist enough to mold into shape. 
The Recipe
(Makes 10-12 balls) 
1 six-ounce box of Stove Top stuffing mix or similar

or 

6 ounces of dry diced bread (either stale or toasted in a low-temp oven)

6 ounces of uncased Italian sausage 

1/2 cup minced celery 

1/2 cup minced carrot

1/2 cup minced onion 

1 minced garlic clove 

3 tablespoons of butter

1 cup chicken stock and 1/2 cup water 

Salt and pepper to taste 

1 egg and 1/4 cup additional chicken stock 
For breading:
1/4 cup all-purpose flour

1/2 cup panko or Italian-style breadcrumbs

1 pinch kosher salt (for breadcrumbs)

2 eggs, beaten
Toss your sausage into a pan over medium-high heat, then use a spatula or spoon to break up the meat as it sizzles. Once the sausage browns around the edges, add all the minced vegetables and a pinch of salt and black pepper. Sauté the mixture over medium heat until the carrots soften and the onions begin turning translucent. Add the butter to the center of the pan, let it melt, then add your stuffing mix or bread.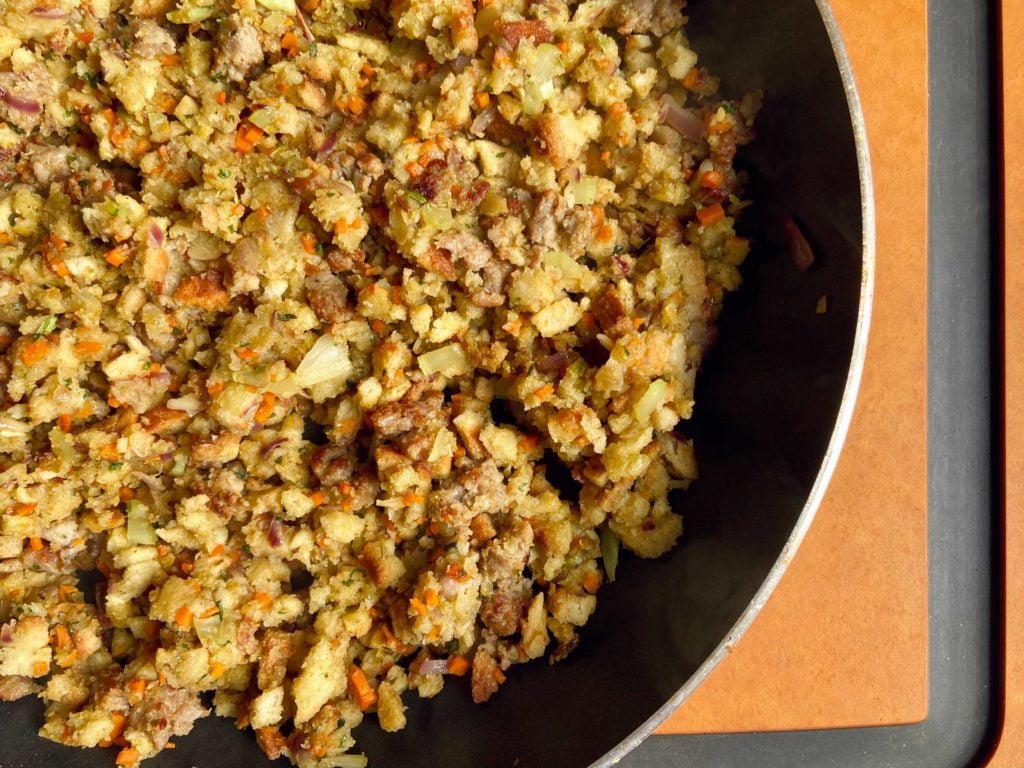 Stir everything together, toasting the bread in the fat. Finally, pour in the stock-and-water mixture, then mix again. When the stuffing looks cooked and moist throughout, turn off the heat and cover with a lid or foil for 10 minutes. After the short rest, fluff the stuffing with a spoon and set aside to cool to room temperature. Taste the stuffing and adjust with salt and pepper. 
When it's cooled off, whisk one egg with a quarter-cup of chicken stock in a cup, then pour over the stuffing — this added moisture will help keep the mix tender when it fries. Mix well, then roll the stuffing into 1.5-inch balls using your hands. (I like to spoon stuffing into the palm of my hand, then use the fingers of that hand to compact and rotate the lump into a smooth-ish sphere.) Line up the balls on a tray or plate, then put them in the freezer or fridge (whichever has space) for 10 to 20 minutes to help the balls chill and solidify.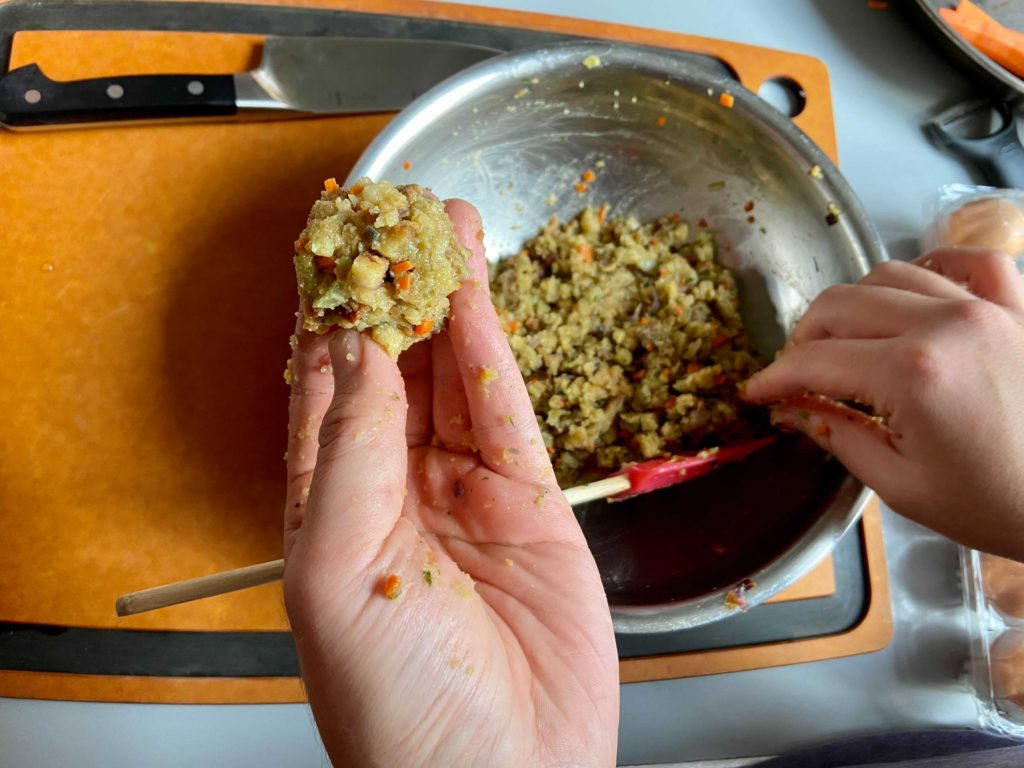 Now it's frying time. This is a deep-frying operation, but you don't really need more than two or three inches of oil; I used a wee little six-inch saucepan in order to increase the depth while using less oil. In my case, I used about two-thirds of a quart of canola, but you'll probably need more. You want to fry at around 375 degrees, and for my pot, that took about two minutes over a medium-high flame to achieve. (Just be careful your oil isn't overheating while you're distracted with the next steps, and use an instant-read thermometer if you have one.) 
If you've breaded anything before, the process is exactly the same: Roll the balls in flour, then beaten egg, then breadcrumbs. I prefer to flour all the balls at once and hold them on a tray on a piece of parchment paper. When your oil is ready — a test pinch of breadcrumbs should sizzle as soon as it touches the liquid — dunk a floured stuffing ball in egg, then drop it into the breadcrumbs, using your fingers to coat every surface of the ball. Carefully drop the ball into the oil and use a spoon to swirl it around. The oil should sizzle evenly, not hiss or spatter; if it bubbles too aggressively, turn down the heat.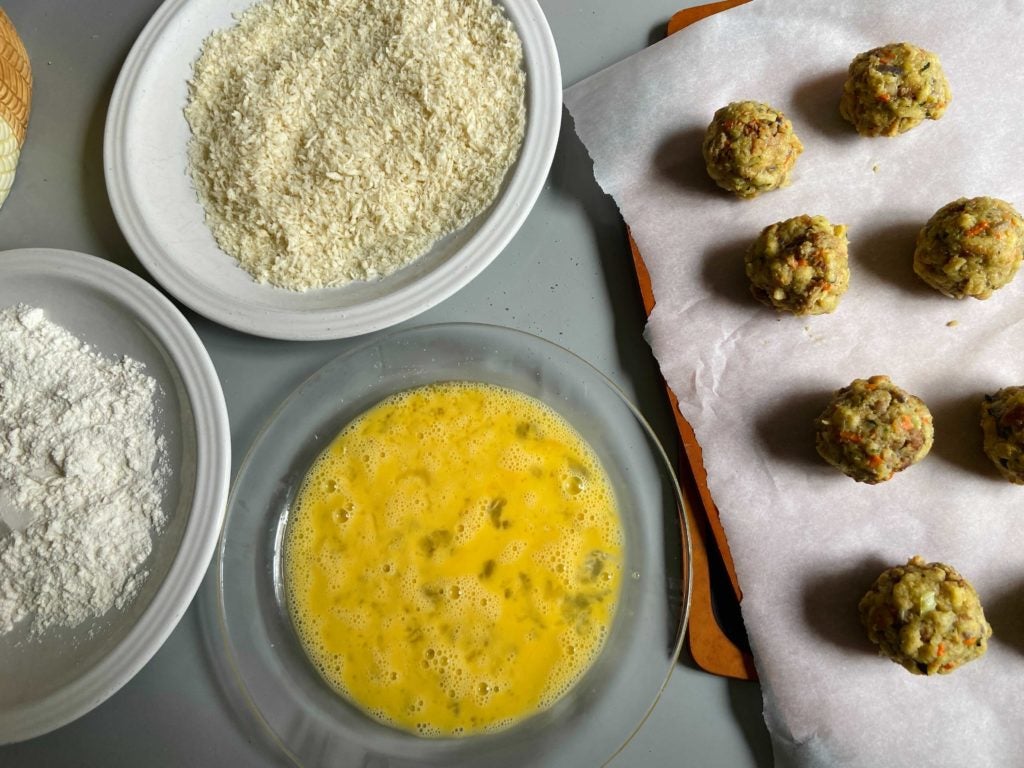 I had to fry these balls two at a time in my tiny pot, but it didn't matter much because they only take about a minute to turn crisp and brown. Evacuate the cooked balls to a wired rack or a plate with some paper towel to drain, and sprinkle with kosher salt while they're hot. Serve with cranberry sauce or, if you're really decadent, some brown gravy. 
To be honest, this is the kind of treat that would be an ordeal to make for a big Thanksgiving dinner party. Does anyone really want to stand at a massive pot of oil, your fingers encrusted with a mass of batter, dropping in their 25th ball of the afternoon? I don't think so. Not when there's a terrible Cowboys team about to get dunked on in front of America.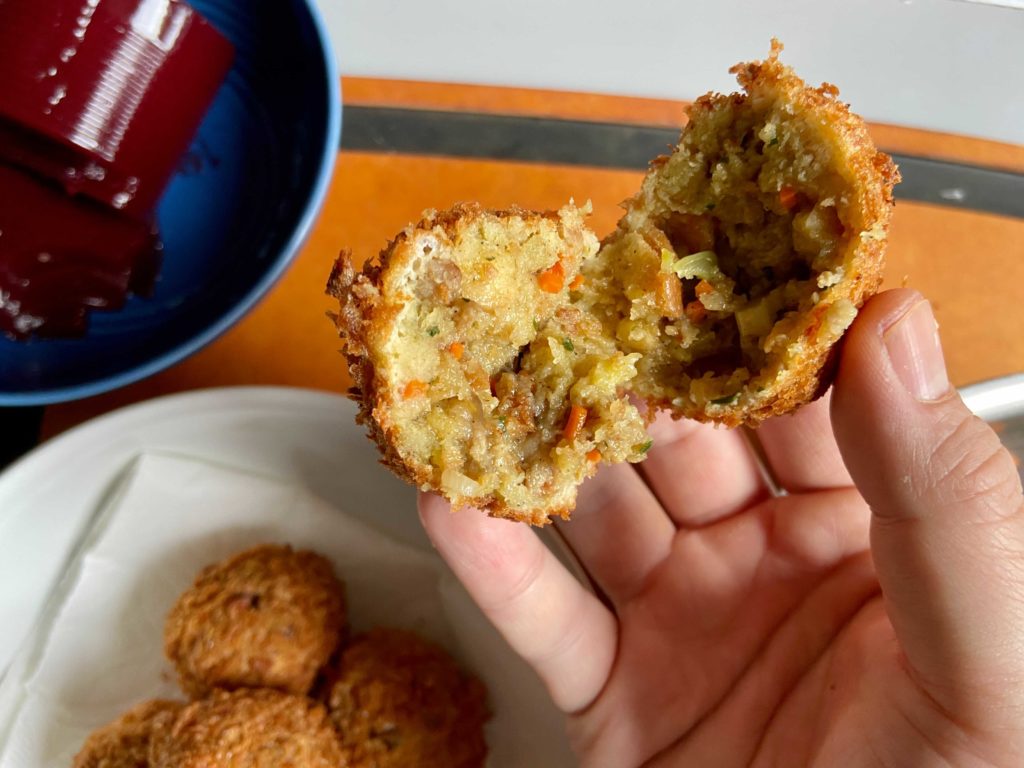 Instead, consider this recipe perfect for everyone who's celebrating with a small group of loved ones this Thanksgiving — a special dish for a very unique year.