If I could watch any TV as a kid, I wanted it to be The Simpsons. But, because The Simpsons wasn't always on, I wound up seeing a fair amount of the syndicated programming around its weekday evening slots on FOX. That's how I began, at an impressionable time of life, to catch snippets of The Nanny, starring Fran Drescher. Most details and plots of the mid-1990s sitcom are lost to me now, but Drescher's presence — her big hair, loud fashion ensembles, trademark nasal laugh and outgoing, perhaps overly social demeanor — are not. In retrospect, I think I had a crush, one that would later be reaffirmed by my feelings for Marisa Tomei in My Cousin Vinny.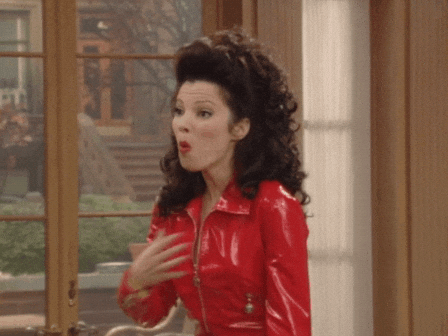 Beyond my infatuation with Drescher's unmatched New York accent, I do recall the basic premise of The Nanny: By complete happenstance, only a street-smart Jewish woman from Queens can hold together an upper-crust, Anglo-American family headed by a distractible widower. It's something like The Sound of Music with the status-fluid dynamics you found in The Jeffersons or Trading Places in decades before. And the importance of the working class to the stability of the rich is apparently a theme that stuck with her in the years afterward, to judge by a history of anti-capitalist statements. This week, she even agreed on the necessity of a general labor strike.
I'm afraid to say that much of this is rather too good to be true. Drescher has controversially supported the Israeli Defense Forces, helping to raise millions for soldiers that the U.N. has accused of intentionally firing on children, journalists and people with disabilities. For all her socialist talk, meanwhile, she still has a posh living room decorated with "photographs of herself meeting establishment Democrats," per a February profile in the New York Times; as recently as 2017, she was taking selfies with Joe Biden. Of course one should never take an actor's roles or a handful of their tweets as indicative of their bedrock politics. So why does this particular dissonance rankle? Probably because, in her furthest-left comments, she makes good points, and bluntly at that. It's what we're dying to hear from celebs, and when, for example, Britney Spears calls for the redistribution of wealth, it can feel as if a dam has finally burst.  
I suppose if we're desperate for Fran to be a full-fledged comrade, it's because she'd fill a generational niche. Spears is the ur-millennial, on the cusp of Gen X; Susan Sarandon and Jane Fonda are elder hippies; Emily Ratajkowski and Cardi B (who may inherit Drescher's job in a Nanny reboot) are under-30 icons to the zoomers born after them. At age 62, Fran might round out this ensemble well, a true Boomer willing to call out inequality and status quo bullshit wherever she sees it. That would be more like her character on The Nanny, or in Weird Al Yankovic's cult film UHF, where she's a fed-up TV station receptionist who forces her way into a local news broadcasting gig where she can expose corruption and grift.
Yeah, yeah, none of this stuff is real, but I've been cooped up in my apartment for two weeks, and a man can fantasize. 
So, let's just see if this goes anywhere. I'm ready to be disappointed — but also to be pleasantly surprised. Fran, you can take the leap whenever you want. We'll be waiting with open arms. And 12-year-old me will be happiest of all.