You're lying on your back, taking in a cloudless blue sky. Suddenly, a ridged isthmus of flesh enters your periphery. The sun goes dark, blocked out by an unmistakable labia minora. The obstruction draws closer and closer, until — blackness. That there's a pussy on your face, friend (or a butt — choose your fighter). If the above scene appeals to you, you may already be indoctrinated into the art of face-sitting, a sexual act that is, in essence, an all-access pass to both genitals and ass.
With more than 190,000 subscribers of Reddit's r/facesitting group and 10,000-plus Pornhub videos under the "facesitting" keyword, the act is as close as you can get to your partner's innards without getting your eyes wet.
So, who's doing the sitting — and how can both parties ensure a memorable trip to the Splash Zone?
What is face-sitting?
It's pretty much exactly what it sounds like. During a face-sitting session, one partner lies down on their back, while the other climbs aboard the bottom partner's face and dangles their butt or genitals over their partner's mouth. This makes for some pretty intense oral contact. The top partner can face the bottom partner's toes for easier anilingus access, or they can flip around to face the partner's head for closer clitoral or penile stimulation and/or a tantalizing peek at the tip-top of their partner's head. Face-sitting is also known as queening or kinging — basically, using your partner as a throne as you orchestrate your reign of sexual bliss.
Who's taking a seat on the luxurious Nose Throne?
If your partner has a face, you can sit on it. The face-sitting discourse on subreddits like r/sex, r/facesitting and r/bdsm is largely dominated by vulvar face-sitting — but it's also a great precursor to anal sex. If your partner has a penis, facing their feet also offers convenient access for a good, old-fashioned 69.
How do you ensure that both parties are having a good time?
BDSM trainer Eva Oh, otherwise known as Mistress Eva, explains that face-sitting is all about communication. "Talk about it and lead up to a face-sitting experience by getting heated over what is to come," Oh tells me. "Make suggestions about how you'd like the other party to participate." 
Oh recommends BDSM-style dirty talk, including phrases like, "Only open your mouth when I tell you" or "Please lose yourself on top of me" to get both parties excited before the deed. In practical terms, safety is a must. If you're doing the sitting, you don't want to put your full weight on your partner's face unless breath play is part of the fun for both of you. If you've both expressed interest in breath play, Oh recommends devising a hand signal to use when the bottom partner needs to come up for breath because their mouth will be occupied with your flesh and unable to talk. Finally, if you're the bottom partner, don't be afraid to explore. Freedom is part of the glory of face-sitting, as it leaves your hands free to stimulate other erogenous zones like the nipples or anus.
This sounds BDSM-y. Is face-sitting BDSM-y?
Kinda, yeah. Oh explains that face-sitting is a common form of erotic humiliation within a BDSM context. "Face-sitting in BDSM can be an opportunity for pleasure, assertion of dynamic and connection," she says. "It dances with the emotions of power dynamics, position and place. The one who is sat upon can be absorbed by the full weight and being of the sit-tee, letting them be lost in the joy of the moment." 
Face-sitting also lends itself to smothering, a form of BDSM body worship in which a dom purposefully cuts off their sub's breathing with their genitals. That said, face-sitting is also a perfectly pleasant form of foreplay outside of a BDSM context. It's all about your mentality and comfort level.
I'm a little scared of drowning in pussy and/or ass. How do I breathe while face-sitting?
There's a snorkel for that. Amazon carries a glow-in-the-dark "pussy snorkel" (currently out of stock) that allows the bottom partner to breathe easy while forehead-deep in pussy or ass. "I think part of the allure is that it's somewhat uncomfortable and unbreathable," says Zachary Zane, a Brooklyn-based sex educator and resident sexpert for British sex toy retailer Lovehoney. "That said, if you can't breathe, of course push your partner off you." Zane also recommends starting slow, breathing through your nose, and if all else fails, manually repositioning your partner's assets. "Use your hands to move your partner's butt cheeks so you have more room to breathe," he says. 
• Read next: Is 'Hard Sex' Really the Orgasm Highway We Think It Is?
Want a more elegant experience? 
There's a stool for that. 
A queening stool is a low seat that fits directly over the bottom partner's face, with an opening that allows genital access without the physical face-smushing. If you're into the breath-play element, you can spring for something called a "smotherbox." Smotherboxes take queening stools to the next level, restraining the bottom partner by the neck and holding their head in place. The internet is full of relatively affordable queening stools and smotherboxes, with options like this discreet smotherbox with a tasteful ebony stain.
How long has face-sitting been a thing?
A month ago, Cardi B delighted fans with a timeless erotic couplet: "Put this pussy right in your face; swipe your nose like a credit card." But face-sitting is certainly nothing new. I'd like to think that humans evolved from single-celled organisms to firm-jawed Neanderthals largely because one horny, faceless sea creature started grinding up on another horny, slightly less faceless sea creature. Either way, humans were going to town on one another's vulvas and assholes long before they discovered fire, as evidenced by its depiction in a variety of ancestral cave paintings found around the world.
• Read next: 'Male Squirting' Is a Thing Now
Face-sitting has even earned a place in Western Romanticism, depicted in erotic paintings like Heinrich Lossow's horned-up masterpiece Facesitting. Fast forward to 1980 when iconic British sketch comedy troupe Monty Python made waves with a ditty called "Sit on My Face." A few decades later, face-sitting contrasted so starkly with traditional British sensibilities that it was banned in British porn in 2014, prompting protesters to demonstrate the act in public, introducing an entirely new context to the phrase "stiff upper lip." 
In conclusion: Have face, will sit.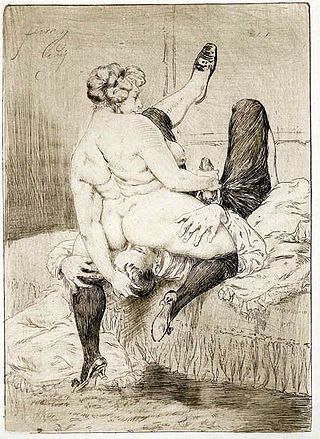 How do I keep things from getting too… toothy?
If you're the sitter, you may find that your partner's incisors are a little too close for comfort. Like, if you sit too hard, you def feel teeth, so maybe it's a matter of pressure and angle? Sometimes if you sort of squat without fully sitting and let the bottom person do their thing, they can do more lip and tongue things. Seems like if you lean forward a little, it's helpful, too. Purse your lips outwardly in order to facilitate a way for your tongue to still come out.
Last question: Should I shave my facial hair for a smoother ride?
Like every other aspect of face-sitting, riding the mighty mustache is a matter of personal preference. "For what it's worth, I'm often complimented on my beard when being sat on," Zane says. "There's something oddly pleasurable about the prickle of stubble." But while he may have had pleasant experiences with stubbly chins, it's worth noting that beard burn is definitely a thing, and not all partners will appreciate a labia, taint or ass full of 'stache. 
In my experience, the face-sitter usually has a way better time with either a clean-shaven partner or a partner with a well-groomed beard — those of us who've jacked it to Peter Brouwer, who played a woodsy Tom Selleck type in Friday the 13th, know that a lush mustache is nothing to sneeze at.
Your Hardest Questions About Sex, Answered