Danny Diaz's haircut is parted in the middle and swooping on the sides. It's a classic '90s butt cut — think Leonardo DiCaprio, Devon Sawa and Nick Carter — but Diaz was born in 2004, and he's never heard of that hairstyle.
If you're young and online, like Diaz, 15, you probably know it as the "eboy cut." An eboy is, essentially, a Gen Z emo kid. He can be found listening to Brockhampton or Billie Eilish and wearing oversized outfits accessorized with chains, black fingernails and, of course, ear-length hair parted in the middle.
"Definitely not straight-up goth," clarifies Josh Richards, a popular TikTok creator who just graduated from high school. "But close."
The Haircut of Gen Z's Hipsters
Eboys are popular on apps like TikTok and Instagram, where teenage influencers cultivate brooding, seemingly unbothered personalities. They're an extension of the teen revolt against hyper-produced, filtered social media personalities. While not all eboys have middle-part haircuts, it's become a go-to hairstyle for the new generation of hipsters.
Diaz, who lives in Miami, used to style his hair like 2009-era Justin Bieber, in swooping bangs that covered his forehead. His hair was constantly getting in his eyes. "I was tired of my hairstyle at the time. When I fixed my hair to the middle part, I really liked how it looked and all my friends were giving me good feedback." And thus his eboy days began.
Part of that style is an intentional haphazardness. For the past decade, well-manicured hairstyles have reigned: Macklemore's Hitler Youth hair, Jon Hamm's Mad Men slickback and Drake's fade, to name a few. The eboy is a rejection of expensive and time-consuming grooming.
"I used to rock a side part back in high school," Gen Z model Kayden Hesketh says. After graduating, he moved to Italy and now works across Europe, appearing in Esquire Türkiye and walking in London Fashion Week. For a fresh look, Hesketh opted for a middle part.
Alongside Fila shoes and Champion sweatshirts, the butt cut is one of the many 1990s staples making a comeback among a generation who know it only on shows like Friends. "Because the whole 'vintage' trend has picked up with fashion influencers, brands are starting to drop back to that era," Hesketh adds, citing Prada and Gucci's recent '90s-inspired campaigns. For him and other models who often have to change hairstyles for each runway show, it just makes sense to go for the versatile middle-part look. "I know a lot of models who just love to wear the hairstyle because it's easy."
The Haircut of K-Pop Boy Bands
Today, the most popular celebrities to rock the eboy cut are members of the K-Pop band BTS. The boy band, alongside other K-Pop staples EXO and GOT7, all feature a few members with a middle-part hairstyle.
While the middle part is currently taking over TikTok, K-Pop acts like singer Chen of the boyband EXO have been rocking the cut since 2015. "You could say that he really revolutionized the middle-part hairstyle," says Jessie, a 19-year-old K-Pop fan, who asked to remain anonymous because they keep their fandom separate from their personal life.
The growth of K-Pop stateside has inspired many fans to get the eboy cut. YouTuber Edward Zo's hair naturally falls into a middle part. But for the six years he's been on social media, the 24-year-old would only post pictures of his hair spiked up or in a pompadour. The middle part was "more of an 'at-home' look," he says. Like many middle schoolers and teens in the 2000s, the style was never considered cool.
However, in the past few years, Zo has seen K-Pop stars help modernize the style stateside. So for the past few months, he's decided to let his natural hair hang loose, which culminated in a middle-part hair care tutorial on YouTube. Not only did it save him time in the morning getting ready, but it's also led to more Instagram followers. Zo notes his recent top posts mostly feature his hair in a middle part.
"I look at people who comment, 'Oh my god the hair looks amazing,'" Zo says. "Whenever I click on their profile, you can tell that follower is into K-Pop and that whole aesthetic."
Zo says the style still isn't gone growing. As a budding actor in Los Angeles, he doesn't see the look worn by other guys at Equinox or out at industry events. "I see it on Instagram, I see it in Urban Outfitters and I see it in K-Pop," Zo says. "But I don't see it in the mainstream."
Kewei Du, a Gen Z TikTok influencer who goes by Bro Coke, is hoping to change that. "It's just always been a dream since growing up," Du says of getting the haircut. As a kid in Shanghai, he fell in love with K-Pop boy bands, '90s Hong Kong street culture and the Backstreet Boys.
To make it his own, he dyed his hair bright orange but let his black roots show. Now, he gets compliments from friends, younger teens and even older generations on his haircut. "They would compare my hairstyle to different idols from different ages," Du says. Like who? Jimin from BTS, Hong Kong actor Aaron Kwok and "the guy from Backstreet Boys" (Du doesn't know which one). He's happy with the compliments, especially when he's compared to BTS; he's a longtime fan. One day while recently out, he says, "I even had a guy literally Googling BTS's photo in front of me."
When I chat with Danny Diaz, I ask him to guess what a butt cut was. "Short on the sides, but the top of the middle parts where it's like two curves," he suggests. I show him a few examples: '90s DiCaprio, the teenage actor Lincoln Jolly playing a year-2000 stud on PEN15, and my own editor, who rocked the butt cut as a seventh-grader in 1999.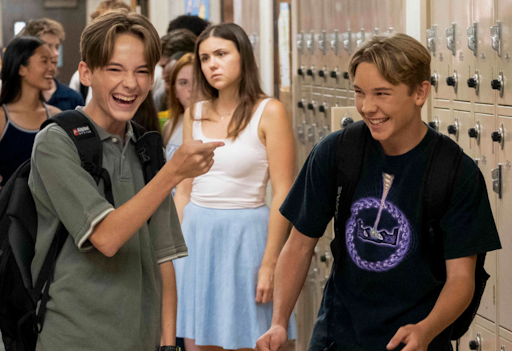 "Oh," Diaz says upon reflection. "So it's basically a middle part."