Three times in two months, the pop star Charli XCX posed with controversial objects for her fans. She yelled "Gay rights!" while holding a bottle of poppers. She gamely displayed the ashes of a fan's mother. Then, on Monday, October 28th, she signed a douche, and Twitter exploded.
Marcus, whose last name we agreed to omit, is a 19-year-old college student. At 3:30 a.m., he arrived at Charli XCX's concert at 02 Institute in Birmingham, England, even though the show didn't start until 7 p.m. He wanted to be the first in line for her pre-show meet-and-greet. Aware he was about to meet his idol for the first time, he wanted to commemorate the moment with something unforgettable — so he gave her an unused enema, which is used to clean the anus before sex.
After tweeting the photo, Marcus was immediately criticized. He's become the catalyst for claims that stans are bullying their idols to gain fame on Gay Twitter. These supposed clout seekers are being called misogynistic, and Music Feeds accused Marcus of potentially sexually harassing Charli. 
Marcus disagrees. He tells MEL — in an interview edited for length and clarity — he has no regrets for asking Charli to sign his douche. After all, Charli publicly stated she doesn't mind.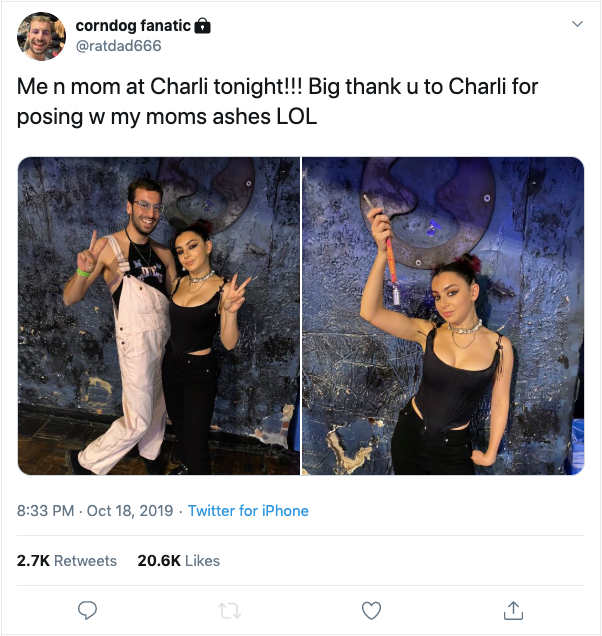 *****
I was on a group call with my friends, and we were joking about what I could get her to sign. We were thinking an ashtray or a cigarette packet would've been funny. I don't think they really expected me to do it, which is also what made me want to do it more.
I walked in, spoke to the tour manager while I waited for her to finish speaking to the last person. When she was ready, I went over and gave my phone to the photographer, hugged her and said, "Hi, my name's Marcus. So amazing to meet you."
I got the poppers out. Charli said, "Oh, do you want me to sign them?" I said no, but I asked if we could pose for a photo where she held the poppers under my nose. She said she couldn't. It would be bad to have a photo [out there] of her giving drugs to her fans, but it was really creative, she said. She loved it.
So we posed for a nice, normal photo. Then I asked if she'd be able to sign my douche, which I had in my pocket. I just said, "It's a gay thing." 
People were saying she looked uncomfortable in the photos, but I asked her to sign it after the photos were taken. I realize I was thinking about how funny it would be for me, and I didn't consider how Charli would feel about [the enema] as a taboo object.
Marcus headed directly from the meet-and-greet to the concert floor. While waiting for the show to start, he posted the photo on Twitter.
I thought it'd get five retweets and like 20 likes, like my normal posts. Until a large fan account, @FckyeahCharli, retweeted it, it was extremely small.
I wanted to save my battery so I could record the show, but my phone died during [the song] "Unlock It." By the time I turned my phone back on, it was at 300 retweets.
A really nice girl next to me during the show kept updating me, because it was all over her timeline. By the end of the show, I had people ask if it was me and if they could see [the douche] and take pictures with it.
In the following days, Marcus' tweet continued to go viral. A writer for Junkee called on the singer's queer male fans to do better. Marcus booked a ticket to see Charli again.
After I looked through the replies and saw the hate, I booked the second show last-minute. I was really scared I'd hurt Charli. So I rewrote [a] message I sent her on Instagram on pen and paper and booked coach tickets for the same night to Manchester so I could get there early for a spot. I got to Manchester at 4:00 a.m. and was second [in line].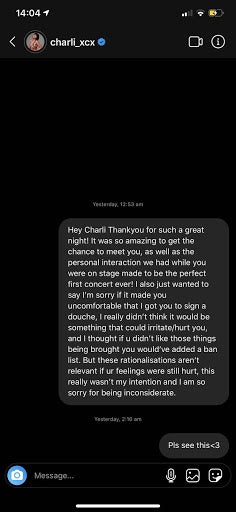 Then, Charli tweeted "have some respect. that's all." A lot of people assumed [that] to be directed at me. I [did too]. It made me extremely nervous to meet her again.
That day, Charli released her Twitter statement about her meet-and-greets. During her Birmingham concert, she spoke about an incident: "If you know, you know."
When she made the speech on stage, I was on the verge of tears. Straight after, she sang "February 2017," which is my favorite song off of the [new] album. That made me less nervous for the meet-and greet, [which] was after the show.
As soon as I walked in, she said, "Oh, hey, you again!' [She] asked how I was holding up. She said not to worry, it'll all blow over in a few days. [She] asked if I'd seen her Notes app post, and I said yes. She told me that after she signed the douche, she and her manager laughed about it, and it hasn't made her uncomfortable in any capacity.
I said I had written an apology for her, but she said she didn't need one. I said I wanted her to take it anyway. She also asked me how bad the hate was, and I told her I was getting death threats. She said if the response to her meet-and-greets are going to continue like what I got, she'd cancel them. I don't want them to be canceled from something I started. I feel regretful that I caused something worse.
I asked if we could take a picture of her ripping the apology letter in half so I could caption it "She didn't accept it :(" — but she said she didn't want to add fuel to the fire, which I understand. I asked her to write a few things down, which I plan on getting tattooed permanently. I said "Love you, bye" and left.
A week later, Marcus is still fielding hate messages online. The man who had Charli hold his mom's ashes told Paper magazine what he and Marcus did are very different and accused Marcus of tricking Charli into content for clout. Marcus disagrees.
It was not sexual harassment. If she said no to the poppers, she would've said no [to the douche]. Her not knowing what it was and my getting her to sign it anyway may be questionable, but in the moment, I was obviously flustered and nervous. So it didn't cross my mind.
I do agree it is inappropriate, but that's what makes it funny to me. I have a strange sense of humour, and Charli said she doesn't mind seeing strange objects. It's not what she takes from meeting her fans.
Charli has shared an insight into her boundaries, but the same probably wouldn't apply to someone like Billie Eilish. Other [queer] icons like Katya from Drag Race have shown extreme boundaries, like signing an amputated leg.
I know Born This Way-era Lady Gaga would have loved to sign a bottle of poppers. Joanne or A Star Is Born Gaga? Probably not.
I think I'm like every other stan. They don't think their words or actions are going to be noticed because everyone else is doing it too. 
So does Marcus regret the douche photo? 
If you asked me before the Manchester show, yes. But now, absolutely not. Knowing I have Charli's love and support is good enough for me.