If you're like me, you've been obsessively wondering how Beyoncé is spending her quarantine. Now we know: Queen Bey finally put these questions to rest — thanks to an extremely horny surprise new feature on Megan Thee Stallion's song "Savage."
Rap Beyoncé is canonically the best Beyoncé, and the "Savage" remix — just over four minutes long — is an auditory blessing. The Houston icon gives us three (!) verses, rapping about twerking in the mirror (!!) and delivering a strongly needed dose of quarantine thirst.
"Hips TikTok when I dance," Beyoncé raps. "On that Demon Time, she might start an OnlyFans. Big B and that B stands for bands. If you want to see some real ass, baby here's your chance." (As extremely online and naked people know, OnlyFans is a popular platform for monetizing nudes.)
No, your ears didn't deceive you. The elusive singer is down in the digital thirst trenches, just like the rest of us locals. It sent a shock wave through Twitter.
It really shouldn't come as a surprise she knows about OnlyFans, one of the fastest-growing revenue streams. Beyoncé has always been a side hustler. Her clothing line Ivy Park's January relaunch sold out in hours, while her Coachella concert film Homecoming on Netflix was said to be worth $60 million. If it's monetizable, Beyonce will find a way to sell it.
OnlyFans is certainly lucrative. In March, the subscription content service, popular among sex workers for posting porn clips and nude photos, reported 3.5 million new users, including 60,000 new creators. This came just as the coronavirus pandemic spurred global stay-at-home orders and massive job layoffs.
With Beyoncé's blessing, OnlyFans memberships may skyrocket again. Just look at the spike in Google searches over the last few hours for the other phrase she name-checks: "Demon Time."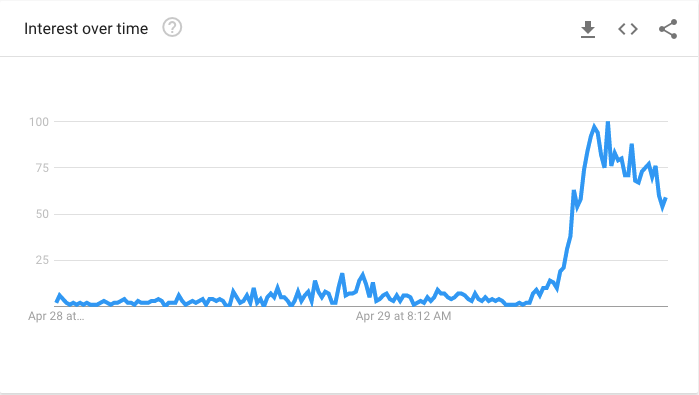 What is Demon Time? These are the after-dark hours in which strippers and adult performers dance on Instagram Live for horned-up viewers. Just imagining entering the same livestream as Bey boosted my serotonin levels more than sunshine could. 
By speaking positively, if only briefly, about OnlyFans and Demon Time, Beyoncé has given us free rein to lurk without guilt.
At press time, Beyoncé has yet to start that now highly anticipated OnlyFans account. So I'd like to think she's still secretly watching and tipping her favorite performers like the rest of us. If Queen Bey publicly condones digital lust, then we'd all better get in formation and support our sex workers.