While Snapchat may have started out as the app horny youngs used to send each other self-destructing nudes, it's proven its power as a more versatile part of everyone's social media lineup over the past few years. Even us olds. While everyone on Instagram is filtering their pics for the gods and everyone on Facebook is painstakingly composing their anti-Trump statuses, people on Snapchat are still goofing around and experimenting with what works.
Sure, you can check Vice and MTV headlines there now, but you can also put an eggplant emoji on your friend Brian's crotch, and it seems like most people are there to do the latter.
With that in mind, here are some non-sexting considerations for your bountiful Snapchat life:
Use the chat feature
Other social apps let you rake in validation with features like the fav, the like and the comment, but Snapchat is a much more insular game. Yes, you can post your story for all your friends to see, but you're the only one who sees the roll call of who actually watched it. And even then, someone looking at your content isn't the same as them necessarily enjoying it. Are they rapid-tapping through your story just to get it over with, or are they watching every video and reading the captions? There's truly no way of knowing.
That's why the chat feature is so nice. You don't have to contribute anything huge, but something as simple as an "omg" or a "gorg" sent in reply to a particular snap can end up filling the space where a like or a fav would have gone. It's a nice way to signal not only, "I ingested your content," but "I liked your content," which we all know means, "I like you." The greatest Like of all.
A buddy of mine recently snapped a pic from a Beyoncé concert, and I replied with some sort of general, "AHHHHHHHHH," but was also able to ask him if she'd performed certain songs yet. Then, when the songs I loved came up, he Snapchat DMed me videos of them. Was it the same as being at the concert? Of course not. But it was a testament to the power of the chat feature, and it was way easier than sending a text. Thank you, Snapchat.
Don't DM me if you don't check my story…
If we're mutually following each other's snaps, and you never, ever check my story (I can tell!), but you still want me to open some direct pic of your new sunglasses, you are out of your dang mind. It's called tit-for-tat, man, and if you expect me to care about the minutiae of your day then I expect a little reciprocity.
This isn't to say that if you don't check my story very often you need to go jump in a volcano—we all look at our apps with different frequencies and for different reasons—but expecting me to go above and beyond with your photos in this scenario is a pretty big ask for someone who doesn't seem to give much of a crap about what I'm posting. Either leave it in your story and hope I choose to look at it on my own, or show up to our Snapchat friendship and play ball. Your choice, man.
…And don't DM stuff that's on your story already
This is something I've seen people complain about on a few occasions: If you're already putting a pic or a video into your snap story, you don't have to also DM it to your closest friends.
Doubling down on a post makes sense if we're talking about your cousin Mara who only looks at Snapchat once a week and might not see the video before your story expires. In that case, by all means, post it to your story and send an extra copy directly to Mara's inbox so that she doesn't miss it. But if I'm your good buddy, and an active Snapchat user, I'm generally seeing most of the stuff you're putting into your snap story anyway and it's safe to assume that I will watch your cool video in a timely manner. No need to make me watch it twice. I'm extremely important and busy.
Don't be scared to get weird
We can all tell what filters you feel cutest in (shoutout to the dog nose), but that's only part of what makes snapping fun. Play with the app's bizarre sponsored filters—they rotate in (and out) on the daily. Or put the sexy dog nose on the dumpster outside your apartment. This app has such frivolous, powerful technology attached to it, and your mission statement can certainly include "be a hot person," but that's a boring end game. Feel free to throw "be a funny person" or "be an observant person" into the mix, too.
Use the emoji stamps! The drawing function! For how simple the user experience is, you can do a lot artistically with Snapchat. In fact, MEL's very own Spencer Olson is a true Snapchat artist, and you can be, too: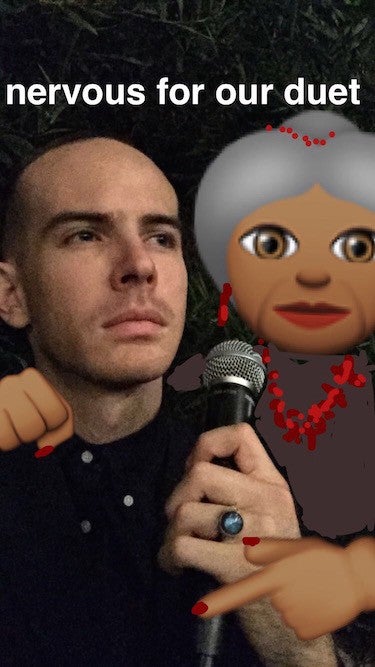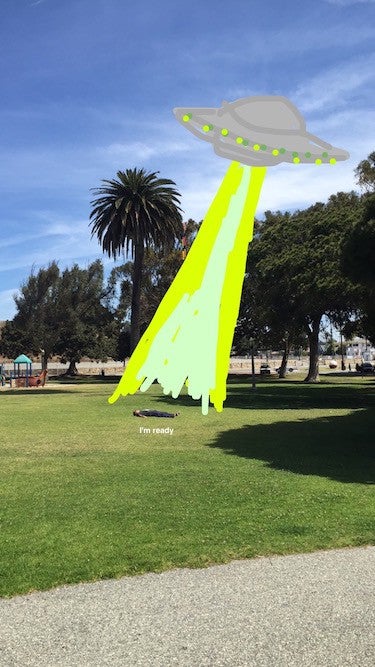 Christine Friar is a writer from Brooklyn.