One of the many ironies of living in a male-dominated world is that men's fashion is in a perpetual state of repression. Men — holders of power, bottlers of emotion — have for the past 200 years largely had their sartorial habits limited to J. Crew-sponsored powder blue shirts, navy suits, beige slacks, and sometimes, one desperate little hint of self. 
The latter, I posit, is the depressing energy behind colorful socks or rubber ducks on men's underwear. It's even the spirit by which we get something as offensively hideous as the piano key tie. Think of this little fragment of added idiosyncrasy as being similar to the marginal increases of minimum wage: It's never satisfying, but more often than not, it's enough to keep the wolves of revolution at bay. 
There have, of course, been several attempts to rebel against this Brooks Brothers hegemony. In the 1970s, men showed their dissatisfaction with dull grey suits by wearing tie-dye. The 1980s gave us glam, but that never took off in a practical sense, and the decade instead ushered in the mainstream corporate uniform as propagated by Gordon Gekko in Wall Street. In the 1990s, we saw the introduction of ripped jeans and skin-displaying tattered clothes, but any hope for a potential menswear revolution was immediately quashed in the early 2000s by Justin Timberlake's denim suit. 
The latest bold attempt to lurch men's clothing into a much needed coup is being piloted by those guys brave enough to don dresses instead of tuxedos, or sheer blouses instead of the infamous "going out shirt." The response to this insurgency by everyday men's fashion, meanwhile, is to make clothes that acknowledge this yearning for something less boring, while still very much making the exact same boring button-down shirt, only now, embroidered with tiny pineapples, chili peppers, flamingos, whales, etc.
"A Bonobos button-down with tiny pineapples signals you're not oppressively masc, while still conforming to conventional forms of masculine fit of clothing," says MEL staff writer and resident style expert Joe Longo. It's this very fact, Longo admits, that initially drew him to these colorful animal-print shirts, especially when they were less ubiquitous. "For a long time, I found shirts with cutely printed pineapples, dinosaurs or even red solo cups to be a way to say, 'I'm not like all the other guys,'" says Longo. "[It says], 'I'm different and want to talk about more than just sports. See, I have a flamingo on my shirt, I can talk culture. I put thought into what I wear.'" 
While Longo remains a fan of these playful shirts, he acknowledges that, "a button-down is still a button-down, even if it's got tiny pineapples." But why did we get stuck with an endless series of dull button-down shirts in the first place? Because the fact is, men's clothing didn't always used to be so fucking beige. Just look at Louis XIV and his colorful, voluminous and ornamental approach to men's fashion: The guy was a walking advertisement for the infinite possibilities of outfits, once you dispel the notion that a classic masculine look is shaped by starch, straight edges and pointed collared shirts — a notion that wouldn't rear its boring head till a few decades after Louis' death.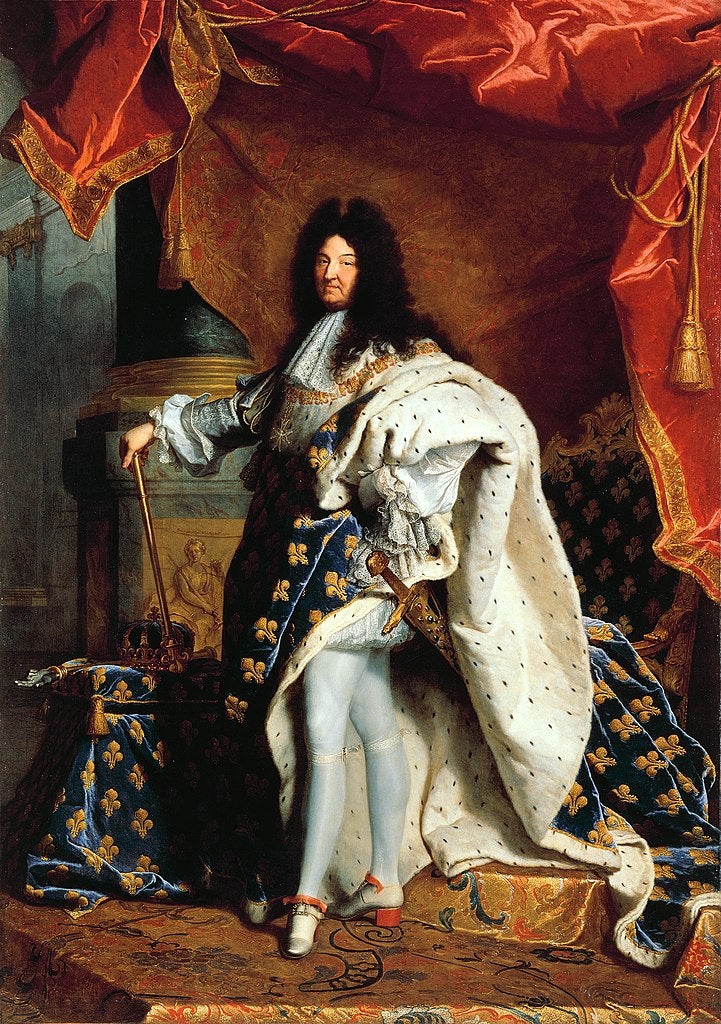 Leave it to a class-obsessed, social climbing, 18th century Englishman to muck it up. As noted by Esquire, back in "Regency England — the period spanning roughly 1795 to 1837— there was this guy called Beau Brummell, and he's the reason we can't have nice things," writes Alexandra Rowland. Brummell, a dandy, was noted for his muted, grey approach toward men's style. "Dandyism was concerned with physical appearance, a façade of leisure and privilege and the 'cult of the self' — and Beau Fucking Brummell was the king of the dandies," writes Rowland. "He went so hard on his own aesthetic that he (with some assistance from abstract outside forces like the Napoleonic Wars) managed to wrench men's fashion away from the bright, ornamented style of 40 or 50 years previous, and steer it into a conservative dreariness that is not unfamiliar to the modern eye."
As noted by Alice O'Keefe in her article, "Why Do We Dress Boys in Clothes That Are Grey, Joyless and Dull?" for The Guardian, that dreariness is exactly the sort of men's clothing archetype cited in Grayson Perry's book on gender, The Descent of Man. "'The real function of the sober business suit is not to look smart but as camouflage,' he [Perry] writes. 'A person in a grey suit is invisible.'"
So if the grey suit is a sort of camouflage, then the button-down shirt with tiny parrots on it is the perfect baby step for someone trying to look a little less invisible without, ironically, getting recognized for it. "Men are starting to experiment with extremely fun colors in socks and that's had a snowball effect," Rayne Parvis, a certified style coach and stylist, tells me. "Lower-end retailers are offering men's button-ups and shirts with animals [on them] as a way for a young man to have fun with his fashion in a unique way."
Think of a button-down shirt with tiny gators printed on it, then, as menswear's ode to socialist realism — a form of highly regulated artistic expression, officially sanctioned by Stalin's Soviet Union. The Bonobos "Daily Grind" dress shirt, with pink flamingo print, is menswear's state-approved button-down for the guy who needs you to know that he's a bit quirky, but still loyal to the traditional menswear aesthetic. It says, "I'm actively trying to deconstruct traditional notions of masculinity, even if I'm not sure what was wrong with it in the first place."
It's worth noting that the button-down shirt, adorned with a scattering of tiny creatures, is merely just an extension or, perhaps, a natural evolution of the embroidered logo that's been used to gently spice menswear for decades, with brands like Ralph Lauren, Lacoste and Paul Smith having helped pioneer the cute animal logo. "Eton, a high-end men's suits and accessories brand, offers its tailored clientele dinosaur-printed shirts as well," says Parvis. The upscale animal-print shirt in question is being sold on their website as "a journey of the unexpected. The printed, metamorphized animals add an interesting and playful touch to your outfit." 
"Playful touch" is the perfect, desolate encapsulation of this latest trend in menswear brought to you by Gap Inc. But if you hate it, don't worry, Longo tells me that he can already see the eventual corrosion of this latest menswear trend: "Now every dude wears them, because they don't want to just be 'the sports guy' anymore, which inherently now makes them an aspect of bro culture."
Thus begins the natural second stage of any menswear trend that was never really that queer to begin with: its appropriation into preppy frat-boy culture. 
Just as the polo-playing horseman logo on a Ralph Lauren shirt was the Ghost of Frat Boy Past, the tiny whale has emerged as its beer-guzzling, date-rape curious successor. 
Still, we shouldn't blame the brothers of Alpha Sigma Pastel-Colored Everything for their noxious but understandable segue into tiny animal-print shirts. Nor should we point fingers at the guy wearing Sperrys for proliferating the button-down shirt with the tiny whale logo on it. They're all just following the tyrannical menswear order that has insisted, for more than two centuries, that there's only one way to dress and still be considered a man.
While it would be irresponsible — absurd, even — to compare masculinity's oppressive sartorial tactics to the governments of authoritarian regimes, what the hell, I'm going to do it anyway. Because there are some parallels between the proliferation of tiny dinosaurs on men's button-down shirts, and for example, the Iranian government granting a limited number of women permission to watch the Volleyball World League games in 2015. On the one hand, obviously the dearth of menswear options isn't even in the same dimension of oppression as being denied basic human rights. But on the other, offering men little cartoon animal patterns on their otherwise standard, meh Oxford shirts is exactly the sort of pathetic sop that an otherwise restrictive system of governance might concede.