In honor of the "Butt Cut" — the tragically unhip-yet-ubiquitous 1990s hairstyle that I, sadly, used to rock — as well as my perpetual desire to clown on Gen-Z — no exactly style-mavens themselves — I submit to you: Which is worse, the Butt Cut or the "Bieber"?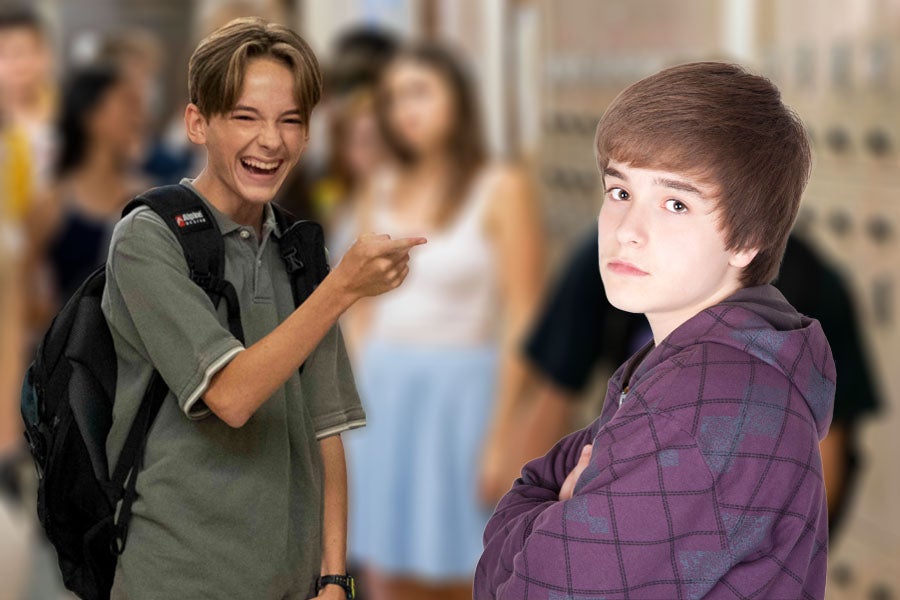 That kid on the left knows the answer.
Must Read
"A Complete Cultural History of the 1990s Butt Cut"
If you grew up in the 1990s — and are a dude — you probably know exactly what a Butt Cut is: Hair, parted down the middle, with "bangs" that fall over the forehead in a lower case "m" shape — kinda like a butt, as seen from the lower back. Since the 1990s, the Butt Cut has (thankfully) fallen out of favor. But with the premiere of Hulu's new middle school comedy PEN15, in which the style figures prominently, Butt Cuts are making a pop-culture comeback. So, naturally, let's talk about how they came to be so popular in the first place. READ MORE
Chocolate Starfish
Give it up for C. Brian Smith, who flew all the way to London to get his, ahem, asshole plasterized (not sexually, no) and then cast into edible chocolates, courtesy of the asshole-molding business, Edible Anus, co-founded by artist Magnus Irvin and Dutch entrepreneur Mike Ritzema.
Irvin and Ritzema, who first became anal chocolatiers back in 2005, are in the business of celebrating an oft-forgotten, yet vital bodily feature, the casts of which can also be purchased in bronze, silver and glass. Of course, we were all-too-excited to give it a whirl.
A Drug-Dealer's Dream Come True
What's one of the most difficult parts of being a drug dealer, a bookie or a sex worker? Dealing in cash. That's all changing, however, now that Venmo, every millennial's favorite quick-pay app, has debuted a branded, pre-paid MasterCard that anyone with an account can buy, charge and refill without ever dealing with a bank.
Joseph Longo spoke with an Adderall dealer and a college student moonlighting as a bookie about how they're using the new Venmo card to skirt the system.
Placebo Effect
Two weeks ago, we reported on the oft-miserable experience of quitting antidepressants, the withdrawals from which can cause side effects like lethargy, rage, anxiety and suicidal ideation (among others) unless dosages are decreased over a period of months, if not years. So the fact that placebos, those "fake" pills that look like the real thing, have been shown to be at least as effective as antidepressants at treating mental illness, makes you wonder why doctors aren't handing out placebo prescriptions to their depressed patients left and right.
Seeking Workout Buddy
It's well-documented that working out with a friend is a great way to stay motivated and push yourself outside of your comfort zone. But finding the perfect partner, that's a workout in and of itself, because it's not always simple to match your gym needs with someone else's. Which is how stuff like this happens:
While there's no guarantee that any gym buddy is forever, by taking a few initial steps you'll at least know what to look for.
Get Off of Captain Marvel
You can't throw a female-led superhero movie these days without hitting some repressed red-piller itching to explain why the the film's star or its creators hate men. Case in point: The MCU's Captain Marvel, starring Brie Larson, which has already been review-bombed on Rotten Tomatoes, and boycotted in favor of another female-led flick, Alita: Battle Angel (I'm just as confused as you are), by hordes of nerds tired of having "feminism shoved down their throats."
Obviously, this is all mind-bogglingly stupid.
Rollin' with the Doggies
What, you thought walking your dog was as simple as putting a leash on and doing a few laps around the block? False! Walking your dog can be incredibly dangerous.
Stop. Laughing.
Okay, perhaps "incredibly" is too strong a word, but there are certainly things to consider before embarking on a pup walk, particularly if you're 65 and older.
Give Me Some Space, Baby
Keeping sex fresh and exciting in a relationship is hard, especially in this braggadocious era where people are often out-and-proud with their ass-eating, pegging and other sexual hijinks. Often times, we react by trying to get close in other ways, like binge-watching Netflix. Rabbi Shmuley Boteach, author of Kosher Sex and host of the reality sex-counseling show Shalom at Home on TLC, thinks that's a waste of time. Instead, he advises that the only way to keep up the passion is to be close — but not too close.