"I have a body bag, too," Mistress Justine Cross brags, thumbing through a costume closet full of lab coats and lingerie before moving on to a set of drawers. Each is meticulously labeled: "collars and leash," "acrylic cock board" and "leather hog tie." But the body bag is nowhere to be found.
"I think it's in the wash," she says.
We're hanging out at L.A.'s Dungeon East in Downtown's Arts District, the newer of the two high-end erotic playgrounds Cross owns. (Dungeon West opened on L.A.'s West Side four years ago.) Typically, guests have included entertainment industry professionals looking to shoot fetish content or traveling dominatrixes looking for a place to meet up with clients. But in the past year, Cross has found a new source of income thanks to a site called KinkBNB — an Airbnb-esque home-sharing service designed for hosts who don't merely tolerate travelers' desire to have kinky vacation sex; they facilitate it.
Like any $250 hotel suite, there's an iPod complete with ad-free Spotify and Pandora accounts, shampoo and conditioner (to be used in the doorless shower) and plush cotton robes. But unlike, say, the Four Seasons or Hilton, Cross's guests are invited to use the Dungeon's lube and condoms, chose from a variety of sterilized vibrators or floggers in the pleasure chest and play with some of her more unique toys, including a "sex saw."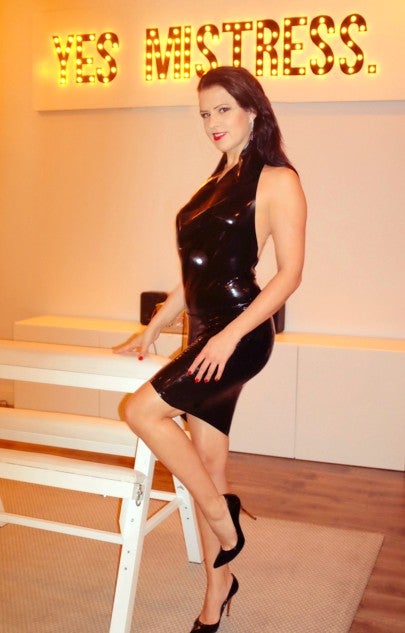 Cross has found that kinksters want to participate in the "sharing economy" as much as anyone else — but they'd prefer to share with other sex-positive people on sex-positive platforms.
Eve Manix, a sex educator in San Francisco, found out firsthand how Airbnb can be quite unfriendly to those with alternative sexual preferences. When she listed her place on the site last February, she included prominent photos of her dungeon, figuring the rare amenity would help her listing stand out from the Ikea-furnished pack. "I didn't think I was violating Airbnb's terms and conditions," Manix says. "I thought I was offering a very San Francisco experience." A few weeks later, however, Airbnb removed her "Lair" without explanation or apology.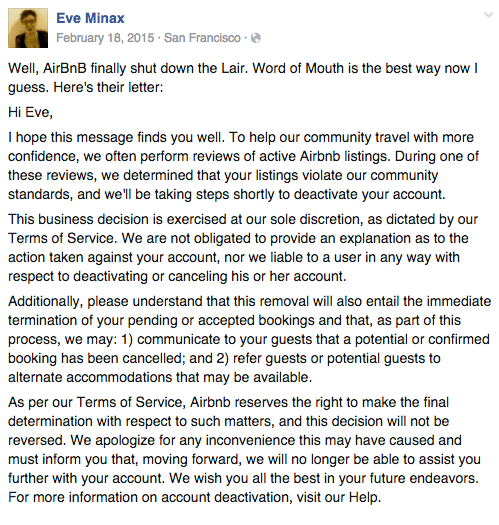 After Minax took to Facebook to complain, her rant inspired her friend and tech developer, Darren McKeeman, to co-found KinkBNB — an alternative platform for all of the mistresses, masters, slaves and switches looking for somewhere to stay and hookup on their next vacation. Through a mutual friend, McKeeman and his business partner Ryan Galiotto (himself a founder of a kink community space and store in the Bay Area) connected with Cross, inviting her to list her Los Angeles dungeons as KinkBNB's very first rental options in May 2015. Close to nine months later, a community of 6,000-plus travelers in 23 countries can now choose from about 100 listings. Users must be invited by a friend or vetted by the staff before they can begin "dungeon sharing" — to keep trolls and prudes (as well as trollish prudes) out of the picture. Once they're on the platform, guests narrow down the options through keywords like "orgy friendly," "toys available" and the rather vanilla "pool" or "air conditioning."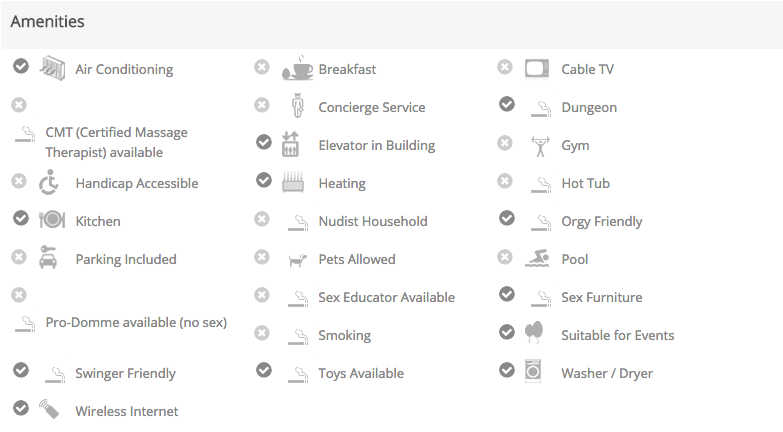 The site also helpfully specifies what types of holidays each property is best suited for. According to Dungeon East's listing, it's ideal for travel described as: "adventure," "foodie," "honeymoon," "hookup / tryst," "luxury," "party," "retreat" and "romantic." Cross suggests another reason to rent the place: your next "slavecation." (She is fresh off one with her submissive male partner.)
"I even come here to have sex," Cross says. "When you're home, your stuff is there. There's cat hair and you need to pay the bills. If I'm here, there's less distractions." Indeed, the clean-white aesthetic, milky leather couches, large windows flooding the room with natural light and the phrase "Yes Mistress" spelled out in round lightbulbs make it easy to take your mind off everyday life. The minimalistic approach—no trace here of what Cross calls "dungeon purple"—have helped Dungeon East become KinkBNB's second most popular property, as has its size.
At 1,400 square feet, there's more room for experimentation than in the smaller dungeons found in more compact cities like New York. This appeals to traveling professional dommes, who rent Dungeon East out for business trips, and post-50 Shades newbies as well. "There are people who have never been to a dungeon before [who] are totally new to kink and BDSM, and people who have been playing for 20 years," Cross says. She's more than happy to offer expert instruction to those less experienced in BDSM for an additional fee and who might otherwise be intimidated by some of Cross's more experimental toys.
"Nobody has a Fuck Saw at home," Cross says as she shows off her motorized sex machines (designed for vaginal or anal insertion), her shiny white metal St. Andrews cross and spreader bar, and her selection of flogging tools. If they sound dangerous, she assures me her space is fully insured. Not to mention, there are fewer neighbors to worry about. Cross tells guests they can scream louder at Dungeon East than pretty much any hotel in L.A., including the Chateau Marmont — an old favorite of professional dominatrixes, thanks to its private bungalow layout.
While mostly anything goes, like any dominatrix (or Airbnb host), Justine is very clear about her rules before she hands off the keys. "Some people want to do fire-play, [but] it's too dangerous and I don't want to take the risk. I always say, 'No one's gotten killed from a spanking.'"

But unlike Airbnb, where guests aren't usually invited to browse the homeowner's drawers, Cross welcomes guests to borrow any of her numerous handcuffs and vibrators. Germaphobes may scoff; most people aren't used to sharing such personal items or hooking up on a memory foam mattress where hundreds of others already have. Luckily for Cross, part of the whole being-a-mistress-thing is always having a slave around to clean.
"After every session, guests are expected to clean up, and then once a week, my slave comes in and deep cleans the studio. He'll mop; he'll steam clean the carpets," she explains. "I also keep going back and reading [Marie Kondo's] The Magical Art of Tidying. Organizational fetishists open my space's closets and are like, 'Oh my God, I love your labels!'"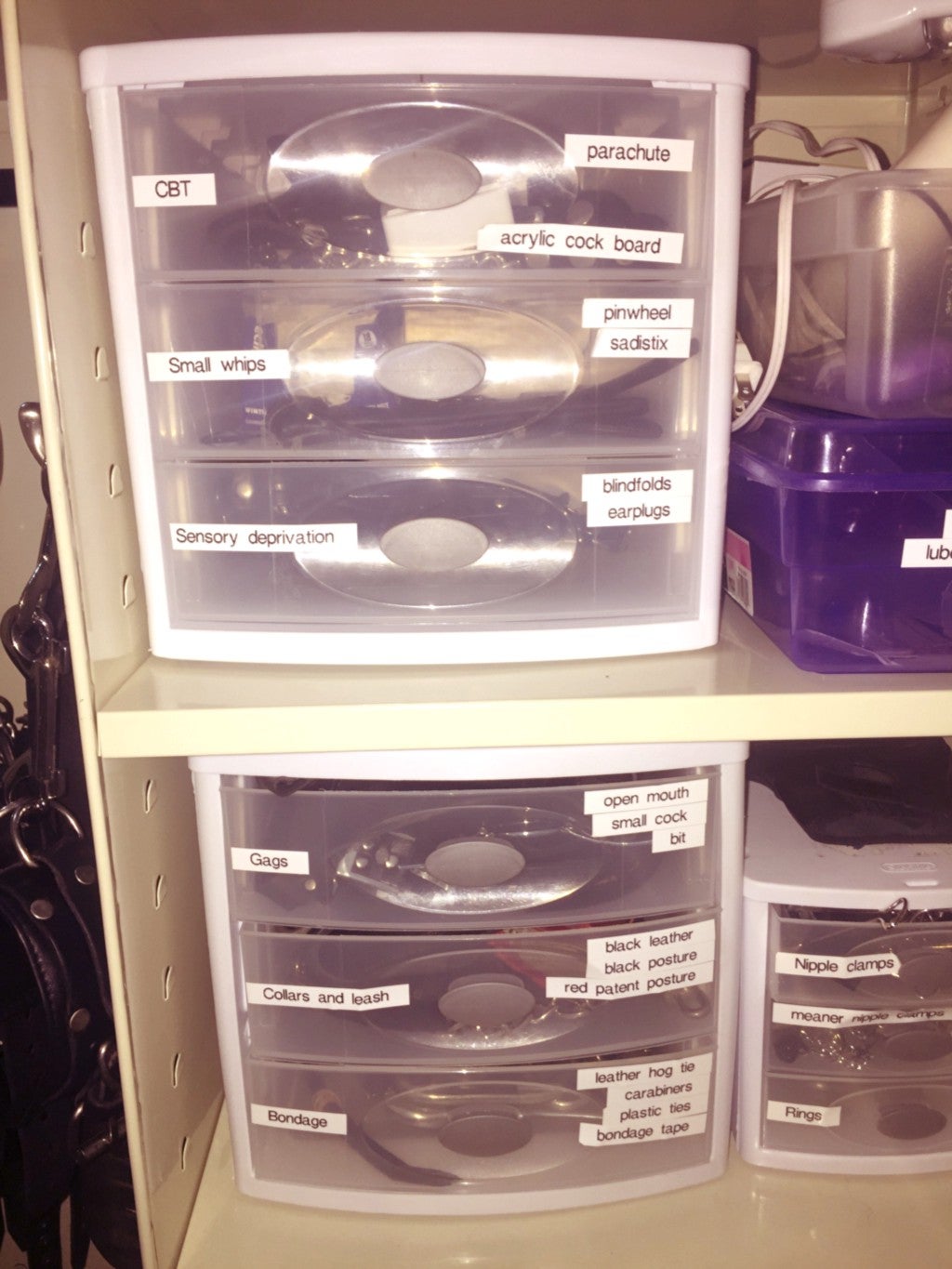 "A few of my friends have shown their moms my dungeon, and [their moms] are like, 'That's so nice,' Cross says. "That should be my tagline: 'The dungeon you can show your mom.'"