In her recent eulogy to porn on Tumblr, Vex Ashley, an alt porn model and self-described Internet Naked Girl™, mourned the loss of one of the freest sexual spaces on the web. "At 21, being 'sexy' felt like it was defined by the world of mainstream porn that seemed to require a body type, presentation and level of perceived marketability that I felt excluded from as a weird, goth teenager," she says. "Finding DIY porn communities on Tumblr showed me that you didn't have to be the cookie-cutter image of A Porn Star I had in my head."
For Ashley, Tumblr has been an important space not just for porn performers and sex workers, but for all sorts of young people, often female, queer and trans, figuring out their sexualities and desires away from the homogenizing force of mainstream media and the seedy, secretive tone of tube sites like Pornhub. "Tumblr made sex a community experience," she continues. "Sex wasn't this separate, shameful thing, it was allowed to exist right next to every other facet of our messy, millennial experience. We shared it, discussed it, debated it and curated it."
Earlier this month, Tumblr's CEO Jeff D'Onofrio announced that the platform would start banning adult content December 17th. All existing posts containing explicit sexual content and nudity will be set to private mode, and new posts containing material determined to be "adult content" — defined as photos, videos or GIFs that show real-life human genitals or female-presenting nipples, and any content that depicts sex acts — will be flagged and deleted. It's a decision that effectively sounds the death knell for Tumblr as we know it, and Tumblr users have been mourning the loss of the unique digital space since the announcement.
Writer and community director Kate Hagen told Vox that she used Tumblr as her exclusive source for porn, pointing out that much of it was made by women, most of them queer, and that the content "feels so much more curated and 'safer' than what you might get by clicking a random tube site link." She adds that "the kind of porn that's available on Tumblr is so much more diverse and inclusive," a sentiment Ashley echoes in her eulogy. "[Tumblr] allowed for sex in a space that didn't feel like it was dominated by male desire," she says.
It's hard to think about male desire, and the loss of online spaces free of its dominating influence, without thinking about the male gaze. A feminist concept born of the second wave, Laura Mulvey coined the term in 1975 in her landmark essay, "Visual Pleasure and Narrative Cinema." She described how the camera in Hollywood films "looked" at actresses with a kind of dominating sexual voyeurism — a "controlling and curious" gaze — casting them as objects of heterosexual male desire. The audience member and protagonist, both assumed to be straight men, are powerful "bearers of the look," while the women on screen are passive "spectacles" on display. "In a world ordered by sexual imbalance, pleasure in looking has been split between active/male and passive/female," Mulvey writes. "The determining male gaze projects its fantasy on to the female figure which is styled accordingly." In other words, women in film are decorative: their inner lives are not interesting to the audience, because their purpose is to be beautiful and titillating, and nothing else.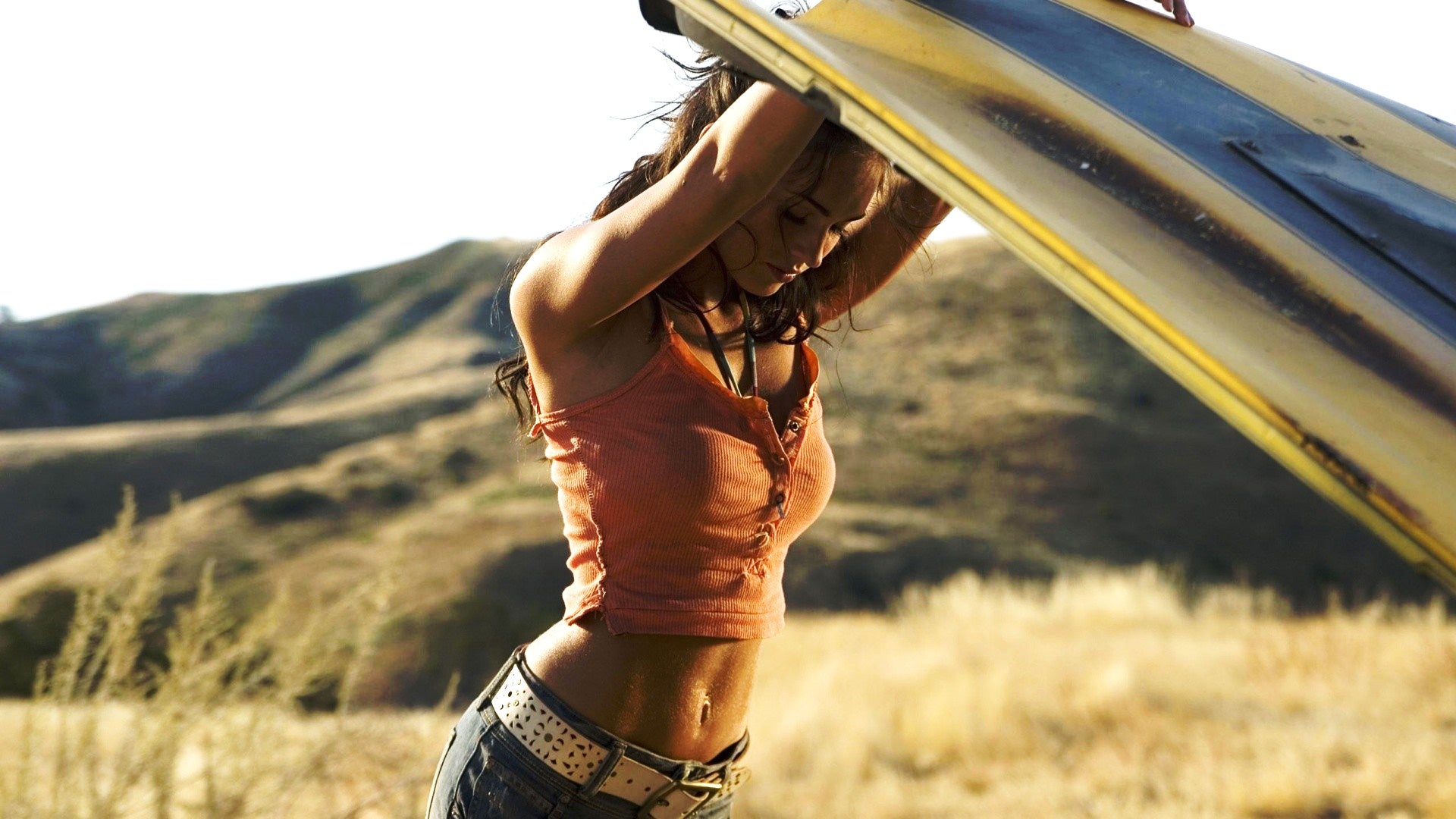 Mulvey's idea was immediately controversial, and it has been subject to sustained criticism since. In 1992, bell hooks contested the universalizing use of "women," pointing out that Mulvey was in fact speaking only about white women. "Black female spectators, who refused to identify with white womanhood, who would not take on the phallocentric gaze of desire and possession, created a critical space where the binary opposition Mulvey posits of 'woman as image, man as bearer of the look' was continually deconstructed," she said, centering instead the "oppositional gaze" of black people in general and black women in particular.
Mulvey's binary framing has continued to be deconstructed, but the idea of a "male gaze" gained traction and popularity because of its explanatory power, with feminists enthusiastically applying Mulvey's lens of analysis not just to Hollywood films, but also television shows, music videos, advertisements and billboards, fashion editorials and pornography — even entire social media platforms like Instagram and non-mediated environments like co-ed high schools. Despite Mulvey herself cautioning in 2015 that her 1975 essay "should be read as a document of its time, not for [its] abiding theoretical value," the concept had continued and perhaps even become heightened in the decades following its publication, especially during the 1990s and 2000s, which were something of a heyday for the male gaze itself.
The 1990s — an era in which silicone breasts bursted from red Baywatch swimsuits and Playboy magazine still held significant cultural relevance — gave way to the even more porny and bikini-waxed 2000s, during which Britney Spears writhed naked on our screens save for strategically-placed diamonds; leaked sex tapes turned Paris Hilton and Kim Kardashian into superstars; and American Apparel used a barely-legal amateur porn aesthetic to advertise U.S.-manufactured clothing to teens. More explicitly than in 1975, women in the 2000s were routinely presented in mainstream media as ready and willing to be fucked. In film, actresses bent over at the hip, ass jutted, as the camera lingered on their stomach and breasts; burger ads were essentially soft-core porn; and fashion editorials and advertisements showed beautiful models simulating blowjobs, splaying disembodied legs and mimicking death, but in a sexy way. They were the best of times and the worst of times: an era that gave us Britney and Justin's iconic double denim outfit and thongs peeking from low-rise jeans — and which blew up the male gaze into cartoonish new proportions.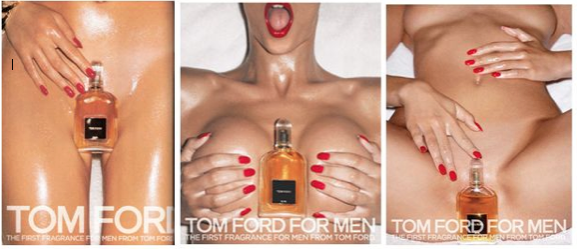 But now, at the end of 2018, talking about the male gaze almost feels retro. Playboy is "woke" now, Carl's Jr. has abandoned its "slutburger" ads, and feminism has gone from being a maligned, marginal identity to a popular, almost mandatory, social norm. VICE has called the male gaze a "dated" term and gender studies professor Susan Bordo likens it to "stale bread" (although read her full argument; that's a drastic simplification of it). The male gaze is such an earnestly second-wave concept that it's sometimes used to parody a certain self-serious feminist sensibility. For example, in Season One of Netflix's adult cartoon BoJack Horseman, the neurotic Diane wonders aloud whether, "as a third-wave feminist, it's even possible for women to 'reclaim' their sexuality in this deeply entrenched patriarchal society, or if claiming to do so is just a lie we tell ourselves so we can more comfortably cater to the male gaze." Essentially, in 2018, Mulvey's concept feels like a Discman or an iPod: an endearingly dated and once-useful relic from an earlier time.
If anything, today, we're more likely to discuss the male gaze in the context of its alternatives, especially the female gaze. The female gaze has long been proposed as a solution to hegemonic male desire — Mulvey herself suggested a "politically and aesthetically avant-garde cinema" that challenged Hollywood's sexist assumptions in her 1975 essay — and some commentators suggest that it's already a robust, counter-hegemonic force. Two major blockbuster films are repeatedly cited as evidence of the mainstreaming of the female gaze: the 2008 film adaptation of the young adult vampire romance novel Twilight, praised in The Guardian as a "defiant articulation of the female gaze and female desire," and Magic Mike XXL, a 2015 comedy-drama about male strippers hailed by Dazed as "empowering the female gaze." The advent of blogging and social media has also allowed for women and other marginalized groups to take the helm and represent their own desire, and here, once again, the newly-puritanical Tumblr has been pivotal.
* * * * *
Experimenting with the female gaze on Tumblr has been a great personal interest of mine, because until the platform's recent porn ban, I ran a project called Critique My Dick Pic on it. The premise of the blog was pretty much exactly as it sounds: men and other people with penises would send me photographs of their dicks, and I would critique the pictures "with love." With love, because Critique My Dick Pic was a body-positive project since its inception. I made it a founding principle to never criticize the penis itself or any aspect of the sender's body, focusing instead on the photographic merits such as lighting, tone, framing, pose and composition, and rounding the review off with a bold letter grade.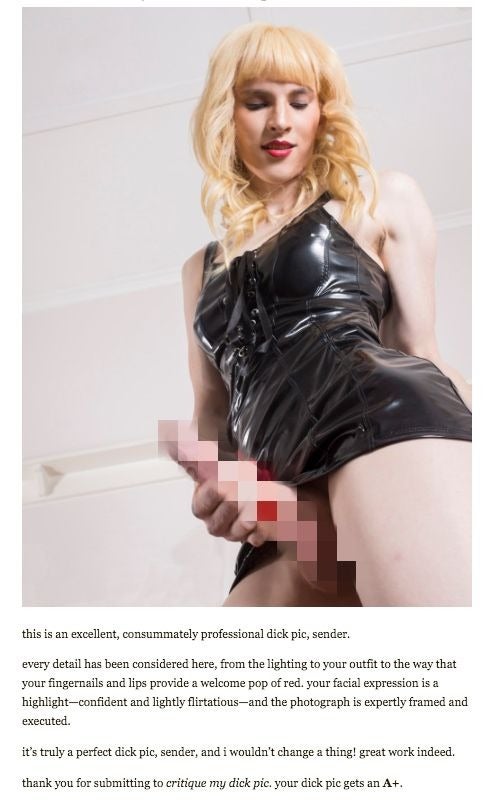 From the very beginning, I considered Critique My Dick Pic an exercise in cultivating a female gaze. Dick pics are a form of sexual communication ostensibly intended to arouse women, but in reality, they're most often used to shock and harass their recipients. In the online environment, dick pics are usually sent unsolicited to women who aren't prepared to see them — like a digital version of flashing, they pop up in DMs and inboxes unannounced; annoying at best, hostile at worst. They're almost always artless and dull, too: utilitarian advertisements for size or announcements of sexual arousal (the man's) rather than carefully composed erotica designed with female pleasure in mind.
With Critique My Dick Pic, I set out to change that: I wanted to raise the bar (no pun intended) for the benefit of dick pic recipients worldwide. A year after launching the blog on Tumblr, I discussed this goal in The New Inquiry. "I want to prioritize dick-pic recipients and in turn make dick pics more thoughtful," I wrote at the time. "I want to depart from the idea that penises are little more than punchlines by framing men and other people with dicks as sexy, as objects of desire: looked-at and not just lookers." I said that we needed more sexual material that assumes a female audience and more honest representations of female desire. I was speaking in the language of the female gaze.
It didn't take long for this goal to unravel, though, not only because most men are stubbornly resistant to taking better dick pics, but because the female gaze is complicated by the existence of queer and trans audiences, and the plurality of desire in general. As I quickly realized, dick pics aren't always sent by men and received by women: sometimes women donned dildos and strap-ons for the camera, and gay men asked me to critique their photographic efforts for their male partners, and trans women and non-binary folk sent me some of the best and most memorable dick pics of all.
It felt quaint to speak about the female gaze in light of all this. Women's desire is sidelined in porn and other sexual material, it's true; but as I discussed in 2014, even more woefully sidelined than the desires of straight women — so far sidelined they're off the court — are those of queer, trans and nonbinary people, especially those with nonwhite, fat and/or disabled bodies. How does the "female gaze," a binary concept, allow for that plurality of desire?
* * * * *
In light of the limitations of the female gaze, but in recognition of the usefulness of Mulvey's framing, it is becoming more popular to speak of a "queer gaze" now. It's a timely term: Millennials are queerer than any generation before them, with 8.1 percent identifying as LGBT — a number that would likely be higher if surveyors asked about non-binary identifiers like "queer" that millennials and Gen-Zers prefer. Representations of LGBTQ people and their sexuality in mainstream and alternative media are both increasing in number and improving in quality. In 1987, literary and queer theorist Leo Bersani noted that "the family identity produced on American television is much more likely to include your dog than your homosexual brother or sister."
Although this remains, on the whole, an accurate assessment, shows like Will & Grace, Modern Family and Queer as Folk helped to gradually erode that norm to the extent that, in analysis by GLAAD of the 2017-18 television season, 6.4 percent of characters on broadcast primetime television were identified as gay, lesbian, bisexual, transgender and/or queer — albeit that most are white gay men.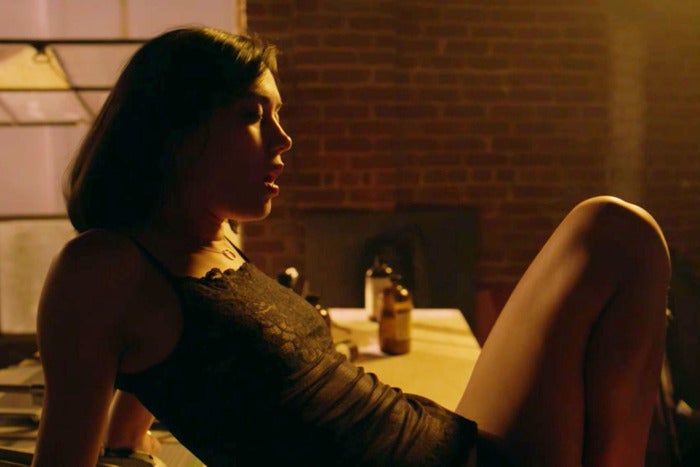 Representation is slowly improving for other marginalized groups, too, including gay and bisexual women, non-binary and trans people, queer people of color, and people without conventionally beautiful bodies. Two of Netflix's recent teen rom-coms, To All the Boys I've Loved Before and Dumplin', star young Asian-American and fat female protagonists respectively — casting that should feel unremarkable in 2018, but that would have been unthinkable even a decade ago. Queer women over the age of 30 will remember a time when Ellen Degeneres was essentially the only famous lesbian on television; now there are entire shows centered around female queerness like The L Word and Orange Is the New Black, with casually bisexual characters like Ilana of Broad City and Eleanor of The Good Place popping up with increasing frequency. Caitlyn Jenner's coming out in 2014 had a mainstreaming effect on the representation of trans women, and TV shows like Vida, BoJack Horseman and Shameless have portrayed black, Latinx and non-binary queerness in an unforced, almost incidental way.
Things become queerer still when we move away from mainstream film and television: Hayley Kiyoko has become pop's "lesbian Jesus"; a song called "Pussy Is God" by a gay, genderqueer artist called King Princess currently has almost 1.5 million views on YouTube; and social media is gay enough that LGBT Influencer Marketing is a real sub-industry in 2018.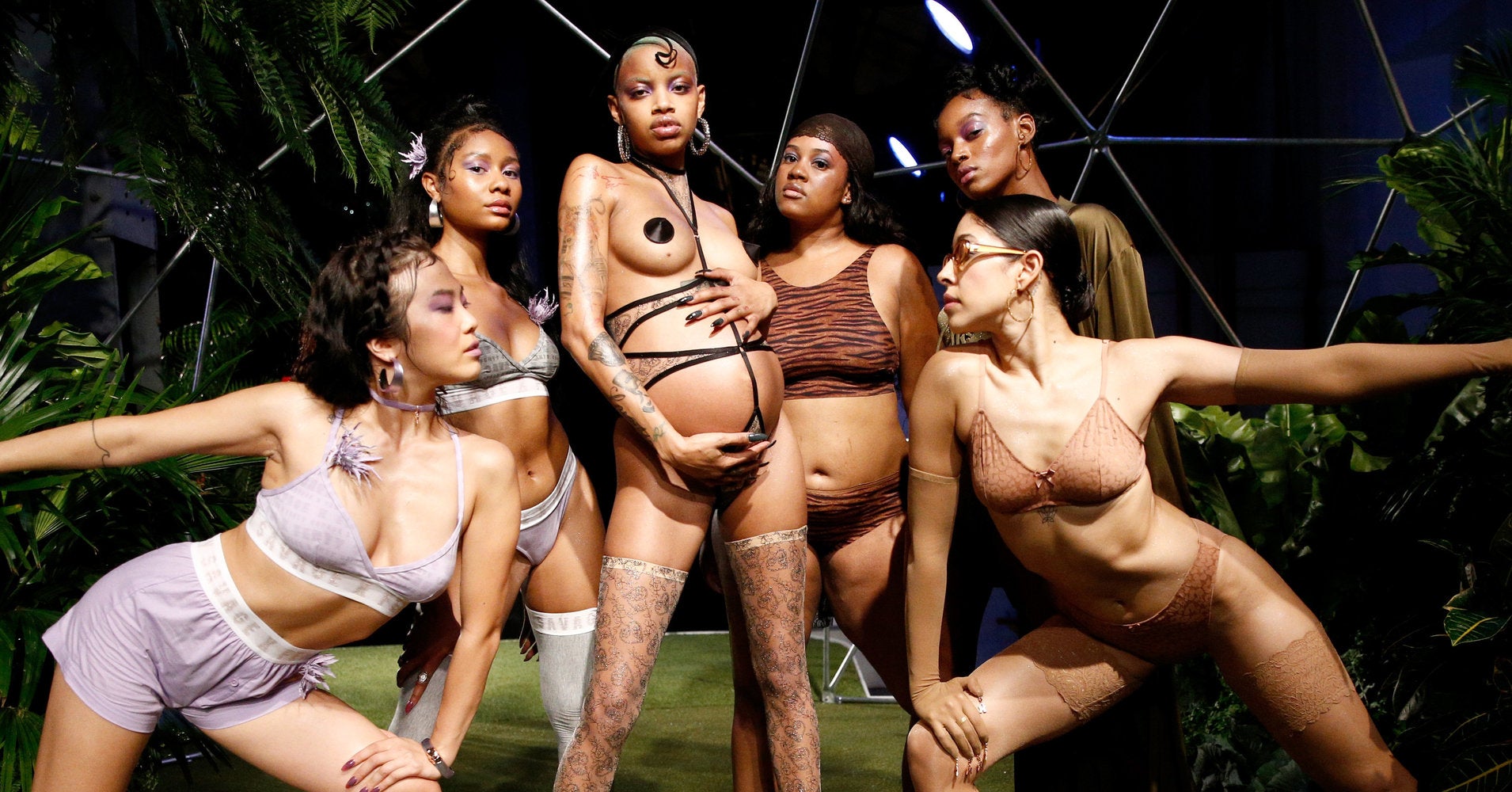 Greater representation of diverse sexualities has also had a broadening effect on traditional beauty standards, with a wider range of people now cast as desirable. In 2014, People named Lupita Nyong'o its most beautiful person in the world — again, not exactly laudable progress this late in the day, but the award has never before been given to a dark-skinned black woman. Writer Enuma Okoro has said that, "for black women especially, [Nyong'o] is a welcome sight in a public media eye that tends to obscure the beauty of dark-skinned women, an acknowledged issue in Hollywood circles." Rihanna's lingerie and beauty lines have both been heralded for size and shade inclusivity and the diversity of the models used to advertise them, including then-pregnant Slick Woods, Duckie Thot and Paloma Elsesser. It's been slow progress, but beauty standards are no longer quite as captive to the Euro-centric male gaze as they once were.
* * * * *
Celebration might be premature, though. Despite the giddy excitement that increased diversity tends to generate for marginalized groups, it's easy to overstate how far we've actually come. In 2017, only 24 percent of protagonists in the 100 highest grossing films were women; just 4 percent of American films are directed by women; women are treated as a niche porn audience; and mainstream beauty standards still overwhelmingly favor young, white, thin and cisgender bodies without visible disabilities. The grip of the traditional male gaze may be weakening, but it's still tightly clenched.
Last month, Victoria's Secret senior creative Ed Razec gave an interview in Vogue defending the brand — long considered a bastion of the male gaze — against charges that its runway show lacks diversity. "If you're asking if we've considered putting a transgender model in the show or looked at putting a plus-size model in the show, we have," he said. "I don't think we can be all things to all customers." Razec also responded to criticism that the lingerie line is not size inclusive. "[I]t's like, why don't you do [bra size] 50? Why don't you do 60? […] Shouldn't you have transsexuals in the show? No," Razec fumes. "No, I don't think we should. Well, why not? Because the show is a fantasy."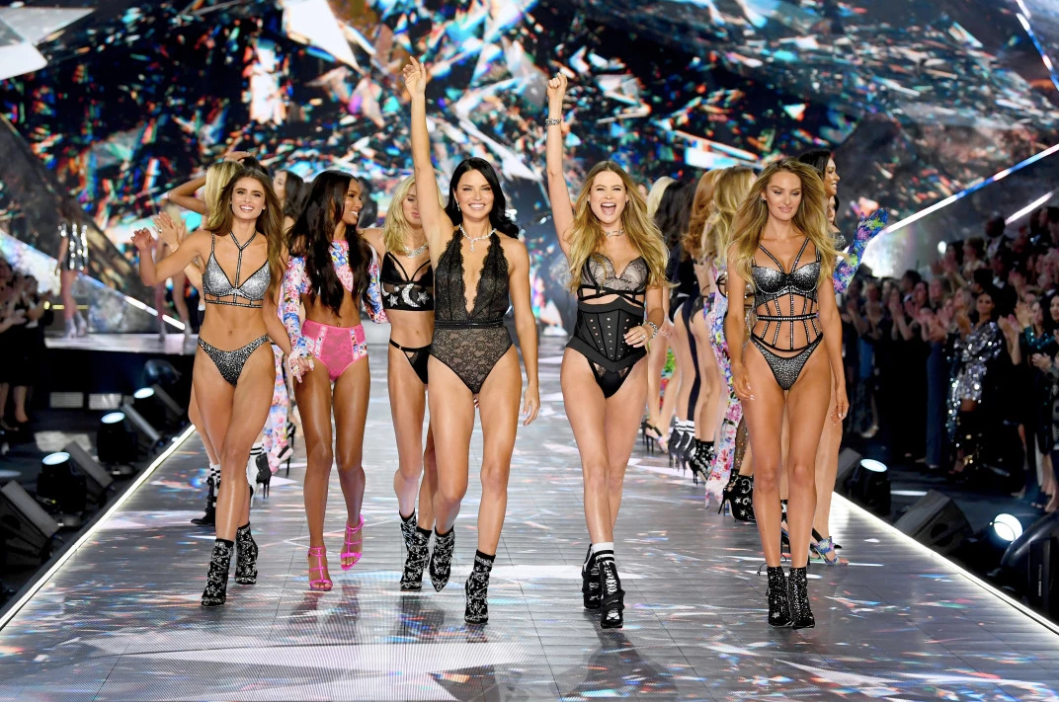 The message is clear: Victoria's Secret executives aren't interested in expanding the fantasy that their brand represents to include alternative desires or conceptions of beauty. It's a business, after all, with the sole aim of maximizing profit; and in the estimation of its executives at least, the biggest bucks still come from catering to the traditional desires of heterosexual men. On this point, money talks: Victoria's Secret sales are declining and audiences are starting to tune out, but there were still 3.3 million viewers of the show in 2018, and as late as 2016 the brand was generating nearly $8 billion in revenue.
Of course, diversity can be profitable, too, and brands are starting to realize this. There's a significant market for size inclusive clothing lines and diverse films and television shows, and the physical and cultural products that meet this demand are being handsomely rewarded: Early adopter Dove's body-positive "Campaign for Real Beauty" in 2004 boosted the company's profits to the tune of $1.5 billion, and Rihanna's Fenty Beauty line is estimated to have skyrocketed her net worth by $72 million. Social media-savvy brands like Fashion Nova have cunningly leveraged the followings of body-positive "influencers" on Instagram into clothing sales — although in doing so, the brand has been criticized for exploiting amateur plus-size models and paying them less than their straight-size counterparts.
These brand controversies indicate a deeper problem, which is that market logic only ever gets us so far. Unless there is a corporate interest to be advanced or product to be sold — Dove moisturizer, Fenty lingerie, Fashion Nova bikinis — companies don't tend to deliver diverse, let alone radical, conceptions of beauty, and on the whole, standards remain traditional and unachievable. In a critique of actress Jameela Jamil's recent argument that airbrushing should be banned, Hannah Giorgis takes an expansive and structural view of the problem. "Removing the mechanisms by which these images become so aspirational does little to change the fact that aspiring toward beauty is an inherently tainted project for many people," she argues. "Beauty, after all, is not apolitical; it has always been about power."
Despite the exceptional presence of women like Nyong'o and Elsesser, beauty is still largely defined from the top as synonymous with whiteness, thinness and youth, and women are bombarded with its most profitable iterations in advertisements for makeup, lingerie and cheap clothing. Limited diversity might be marketable, but the advertiser's gaze is rarely female, queer or oppositional.
So, companies won't save us — that much has always been obvious — but corporate interests aren't just unaligned with the goals of radical, sexually-diverse communities. Increasingly, they pose an existential threat to them through the erosion of free online spaces. Corporate conservatism and the cataclysmic effect of FOSTA/SESTA laws have meant that the online spaces where most people now spend huge chunks of their lives are becoming sanitized, sexless realms in which queer and feminist expression is silenced. Facebook, Instagram, YouTube, Skype and now Tumblr have all banned adult content and nudity, and the prohibitions are explicitly gendered in nature, with "female-presenting nipples" defined as axiomatically sexual and banished from sight. "When I read 'female-presenting nipples' I realized [Tumblr is] just another site that hates the female form," YouTube personality Stephanie Michelle told Vox following the ban's announcement. "Is there any woman out here in 2018, sex worker or not, that's surprised by the ability of a company to demonize a woman's body? I don't think so."
Commentators have linked Tumblr's porn ban to Apple's stringent App Store policies, but a former engineer told Vox that "the real problem was always that [parent company] Verizon couldn't sell ads next to porn." Arch-capitalist tech companies like Apple and Verizon are monopolizing and sanitizing online spaces in pursuit of massive profits. Meanwhile, sex workers, radical artists and queer communities are shuffled along with their sexually explicit content to whichever few remaining online spaces will take them. For digital and social media companies as much as soap manufacturers, the bottom line is king — and if free sexual expression threatens that bottom line, it gets swept even further to the margins.
* * * * *
So where does this leave the male gaze on the eve of 2019? Well, it appears that the sun is finally setting on its empire. It's not 2002 anymore: Formerly sexist brands like Axe are now critics of toxic masculinity and headless breasts are thankfully passé. Female, queer and oppositional gazes are increasingly evident in both mainstream and alternative media — we have Magic Mike XXL now! And Hayley Kiyoko! And body positive Instagram accounts! And Rihanna's lingerie empire! Critique My Dick Pic had a good run on Tumblr, and Vex Ashley's Four Chambers lives on. We're living in woker times, and meathead male sexuality doesn't pack the marketing punch it used to.
Still, like plenty of other waning empires, the male gaze remains in a relatively strong position, with a continued ability to turn a profit. In most of the spaces in which people move, sex is still defined according to a heterosexual male perspective: online spaces are increasingly censorious and puritanical, defining female nipples as axiomatically sexual; Victoria's Secret executives refuse to budge from the narrowest possible conception of beauty; and women are filtered into oblivion on Instagram. Traditional, Euro-centric beauty standards are slowly being eroded, but the idea that women and non-binary people shouldn't have to spend thousands of dollars a year in the pursuit of beauty is still too radical to entertain. As free online spaces are shuttered and cleansed, dull heterosexual homogeneity prevails.
In some ways, we've come so far since 1975: There's a cavernous appetite for alternatives to the male gaze, and innovative, inclusive communities have formed around the collective desire to create and foster them. But proclamations that the male gaze is a "dated" or "dead" idea seem premature when you consider that it's been 44 years since Laura Mulvey first coined the term to criticize classical Hollywood cinema, and how glacial the pace of change has been since then. Female, queer and oppositional gazes have emerged like seedlings through concrete, but they're critically threatened by conservative corporate interests and the continued hegemony of conventional male desire.
There's life in Mulvey's idea yet, and still so much more work to be done.