The first email update arrives within 24 hours of my order. It's to alert me that the "unique fabric" for my custom T-shirt has been cut. Along with some text, it includes a photo of a woman cutting a piece of this unique fabric. I assume she's in Portugal since that's where Son of a Tailor, the company I bought the shirt from, produces what it has on offer. 
Two days later, another email: "We have finished sewing your garment." This one too, is accompanied by a photo. It's of a different woman, who is, of course, sitting at a sewing machine. Admittedly, it's all a bit gimmicky considering these women aren't cutting my shirt, but the updates and the photos are a nice touch. They keep me engaged and invested in my purchase. Which is probably superfluous considering I'm already, at $68 — yes, it's a $68 T-shirt — heavily invested in this whole thing. 

I first came across Son of a Tailor — the Copenhagen-based fashion-tech company offering a made-to-measure approach for T-shirts, sweaters, button-downs and other menswear staples — via a YouTube ad. Lured by the promise of a perfect-fitting T-shirt, I clicked through and found myself entering in my height, weight, age and shoe size to see what Son of a Tailor's algorithm assumed would be my precise fit. "We found shoe size added more accuracy," says Jess Fleischer, the company's founder and CEO, explaining that since your foot size is the same length as your forearm, it provides an extra upper-body measurement.
Next, I selected my body type as well as whether I wanted the T-shirt to have a loose, regular or tight fit. Based on my answers, the width of my custom T-shirt was increased in the shoulders and narrowed around the hips. By clicking on the "advanced" button (and therefore, deviating from the algorithm), I was able to change the length of my sleeves along with the width and hem, which I messed with by about an inch. "We offer a free remake guarantee and will remake a shirt for free if our Perfect Fit Algorithm doesn't work," Fleischer tells me. "Only around 3 percent of customers have opted to use the guarantee, implying that the algorithm is somewhere near 97 percent effective." 
I was still pretty skeptical, though. After all, just last year I wrote about how retail companies, despite having spent millions of dollars trying to hack the problem of virtual fittings, were nowhere near a workable solution. "It's just not possible yet," Matthew Szymczyk, CEO of Zugara, a company that's been working on a viable virtual fitting-room solution for more than a decade, told me.
In fairness, while Szymczyk and others are working to figure out a solution that serves the demands of mass production, Fleischer is doing something else entirely, focusing completely on individual fits, not getting individuals into fits predetermined by clothing brands. "When I looked at the clothing industry, I saw an industry that innovates in new fashion trends, but was 100 years behind in supply-chain innovation," he tells me. "Mass amounts of fast-fashion garments are produced without being sold, while e-commerce has perpetuated a habit of 'order and return,' which puts immense pressure on inventories and creates even more waste via CO2 emissions."
The process Fleischer has leveraged is the same as Toyota's lean manufacturing process, a means of making goods in a low waste way. "Instead of mass production that optimizes for batches of items, this views each garment as the production unit and designs production around it," he says. "We use data science to translate the Perfect Fit inputs into a custom pattern. Then, we have an entirely tech-enabled connected supply chain that translates individual patterns into manufacturing and helps us communicate constantly with production partners." 
"We've gotten our costs down to be in line with high-street T-shirts that aren't custom, and have decreased our lead times from an average of 18 days in 2018, to seven days for a custom T-shirt in 2021," Fleischer continues.
The result is a one-of-a-kind purchase, even if it's not necessarily a one-of-a-kind approach to bespoke threads. For instance, Fashionista reported back in 2017 that fit analysts at the women's clothing brand Red Thread were "designing, tailoring, measuring, cutting and sewing the garment to the customer's desired specification using Red Thread's mobile scanning technology, which creates a 3-D body model that supplies up to 15 key measurements."
Whoever came first, Fleischer argues that the growing shift to made-to-measure clothing is better for everyone. "We've designed overproduction out of the equation," he says. "We eliminate waste at every step — from fabric cutoffs to incorporating washing machines in-house to cutting out a transportation step, to co-locating facilities in Europe instead of shipping things around the world for small cost savings."
This approach is what Carmen Keist, who teaches retail merchandising at Bradley University, refers to as "slow fashion." "A basic white T-shirt is going to be in fashion for the next hundred years," she says. "Slow fashion then is getting these key pieces of clothing that you expect to wear for at least 20 years to actually last that long."
The obvious drawback is the price point. At $68, Son of a Tailor's T-shirt is six times the price of one from any of its fast-fashion competitors. 
As such, it took a week before I decided to pull the trigger and invest in what could otherwise be spent on an entire outfit. Ultimately, I ordered one because I'm a plain T-shirt guy. It's what I wear to work. It's what I wear to cook and clean. It's what I wear out to dinner with my girlfriend. I've even worn T-shirts — much to the chagrin of those who care about me — to formal outings. The T-shirt is my suit and tie. And so, I thought, Why not spend a little more and get one that feels like it was built just for me?
Along those lines, Keist tells me that the higher cost could actually deter some of our more unhinged consumption habits. "If I spend $30 on a button-down shirt, I'm more likely to go out and buy a new one when that one feels like it doesn't fit anymore," she explains. "But if I spend $150, that might give me pause."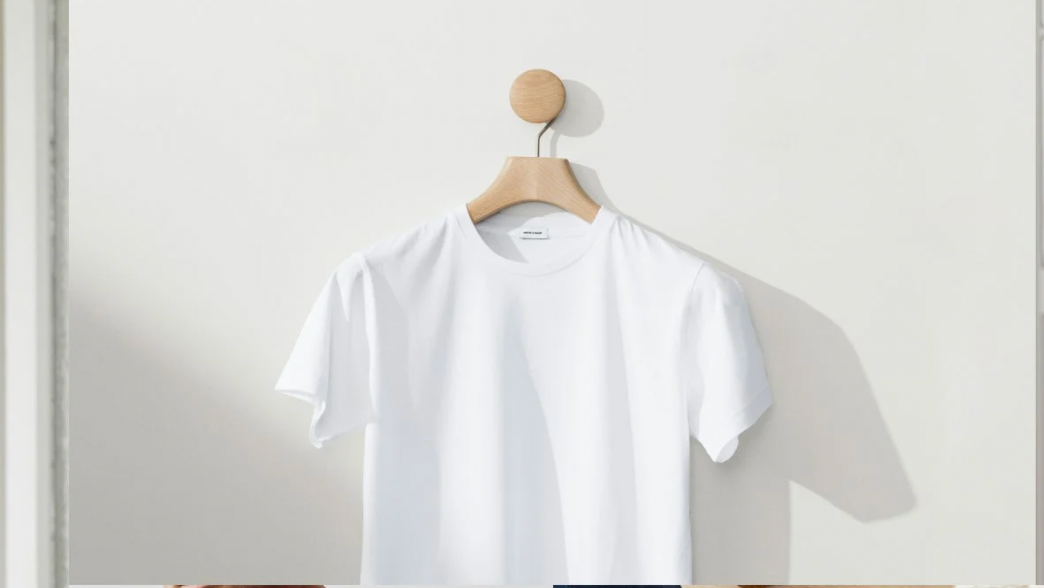 For what it's worth, I'm pleased with my Son of a Tailor shirt. The hem is just the right length. And the 100 percent long-cotton fabric, which is supposed to fray and wrinkle less, feels light, breathable and silky against my skin. Better still, the torso is narrower than my other T-shirts, which is never the case with a shirt that's not too constricting around my shoulders. Or as my girlfriend succinctly put it, "That looks like it really fits."
As for the emails, I received the last one a little over a week after my T-shirt arrived. "Meet the person who made your garment," its subject line read. "Her name is Emilia." Introducing me to her is, per Fleischer, the final pillar of his custom approach. "Our model reconnects products to those who make them," he says. "Think about the planetary impact if everyone did that."