The 1990s were just getting underway, and Axl Rose was plotting the future of Guns N' Roses. After the success of their visceral debut Appetite for Destruction and the controversy that greeted the follow-up EP G N' R Lies, which included the racist and homophobic "One in a Million," there was plenty of anticipation (as well as a little dread) about what would come next. Rose felt confident, telling a journalist about some of the tracks he was working on for what would be the Use Your Illusion albums. A few songs in particular, he said, "if they come off like I want them to, are going to be the biggest things this band has ever done. I was working on, like, writing these ballads that I feel have really rich tapestries and stuff, and making sure each note in effect is right. [Because] it has to be the right note and it has to be held in the right way and it has to have the right effect, you know?"
• Read next by Tim Grierson: Paul Newman's Most Essential Roles
The ballad "Sweet Child o' Mine" had been Appetite's biggest hit — to date, it remains the group's only No. 1 — but Rose thought he could top it with "November Rain." It had been a song he'd been chasing for nearly a decade, first conceiving the epic piano anthem when he was still a kid living in Indiana, dreaming of moving to L.A. and pursuing rock stardom. By the time GNR finally recorded "November Rain," they were probably the biggest band in the world and Rose most definitely was trying to come up with a pull-out-your-lighter power ballad that would demolish anything their competition could conceive. "November Rain" was a monster and also ridiculous — and that goes double for the video that emerged in its wake. It's one of their most indelible love songs. It was also, according to guitarist Slash, "the sound of our band breaking up."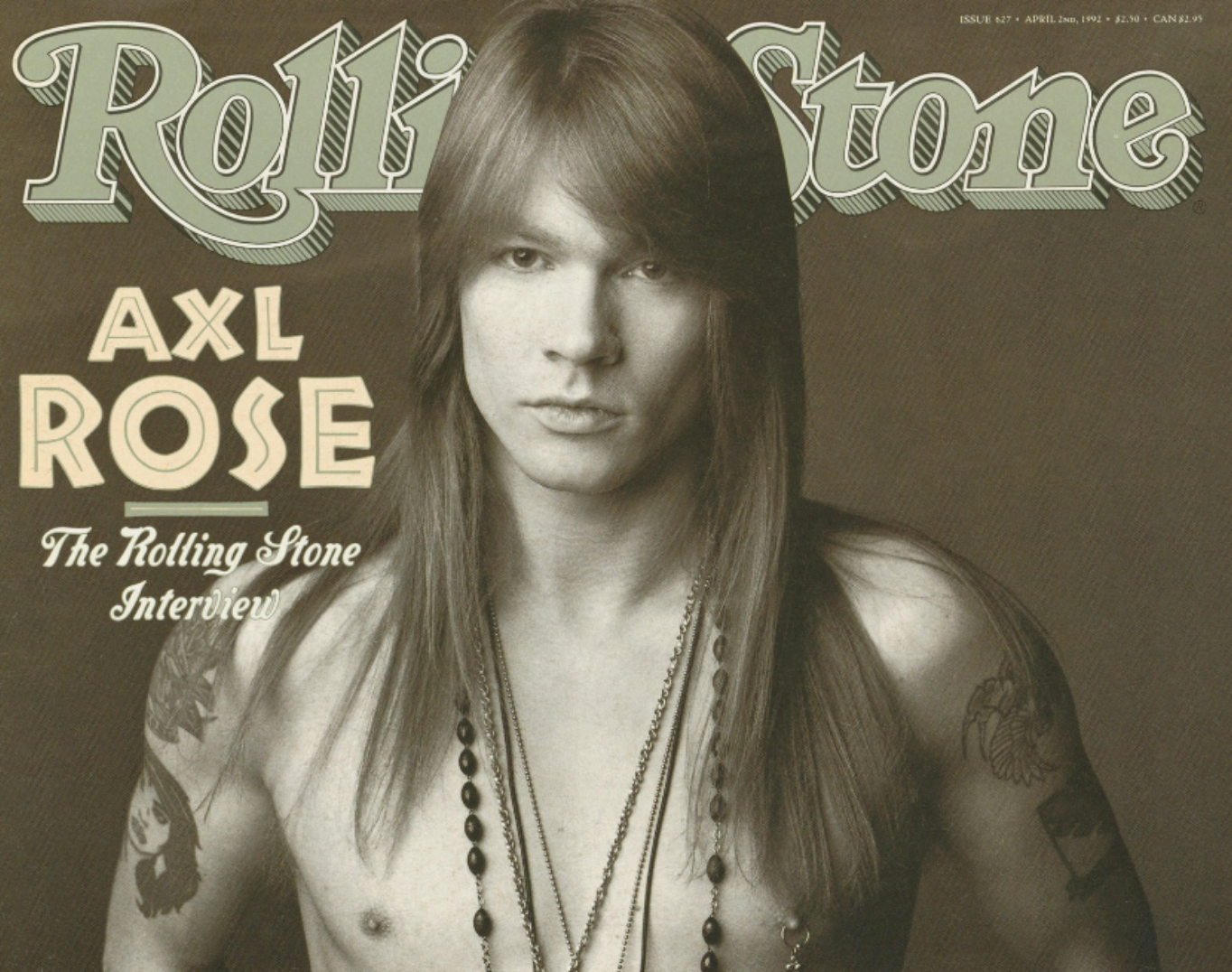 Ever since Rose emerged as the slender, boyish frontman of GNR in the late 1980s, he's always had this fascinating dichotomy to his personality. A songwriter capable of great sensitivity and tenderness, he could just as easily demonize women, treating them like sex objects and targets of his violence. (Unfortunately, that's apparently not poetic license on his part: He's been accused of assault.) That anger and pain has been with him since childhood, when (Rose claims) he was sexually abused by his biological father. (He also asserts that his stepfather was physically abusive.)
"I got a lot of violent, abusive thoughts toward women out of watching my mom with this man," he said in 1992 about his biological dad. "I was two years old, very impressionable, and saw this. I figured that's how you treat a woman. And I basically put thoughts together about how sex is power and sex leaves you powerless, and picked up a lot of distorted views that I've had to live my life with."
Amidst that anger and toxic worldview, however, Rose also had a penchant for sweetness. The same artist who paraded virulent homophobia in "One in a Million" absolutely adored Elton John, and while traveling back and forth in the early 1980s from his Indiana hometown to L.A. on a bus to visit his pal Jeff Isbell (who would change his name to Izzy Stradlin for GNR), Rose started thinking of some piano chords that sounded John-like. As others have noted, "November Rain" is strongly reminiscent of "Funeral for a Friend/Love Lies Bleeding," the opening salvo off John's acclaimed 1973 masterwork Goodbye Yellow Brick Road. Whether or not it was an intentional homage, the song forming in Rose's head was a salute to a musician who profoundly shaped him as a performer. "If you want to learn how to sing all different styles, try singing like Elton John — anything from the blues on," Rose once said. "It amazes me that radio in America doesn't give Elton John the space that they give Led Zeppelin, the Beatles and the Stones."
When Rose moved to L.A. permanently, joining Stradlin and Slash (the group's guitarists), bassist Duff McKagan and drummer Steven Adler, they worked on tracks for their debut, Appetite for Destruction. Even back then, Rose had a pretty clear idea of what "November Rain" would be. (In fact, he'd played the song for a potential Appetite producer, but told him, "That one's for the second album.") Appetite debuted in July 1987, but it took awhile for the record to take off. In fact, in a story that's now become legendary, GNR's label had to cajole MTV into airing the video for the snarling opening track "Welcome to the Jungle" — which the channel reluctantly did early in the morning on a Sunday. After only one airing, though, audiences went nuts for the clip — particularly the telegenic Rose. Nigel Dick, who directed "Welcome to the Jungle," had an inkling that female fans would respond to the singer. "I remember looking at my monitor and thinking, 'This sucks, this is really ordinary,'" he told Rolling Stone about shooting the video. "And there were some girls from the label who were peeking over my shoulder, and one said, 'This is so fucking cool.' I quickly readjusted my opinion, because obviously, they thought he was really hot."
The 1980s were a period of bad-boy metal bands — some more cheesy and hair-metal-y than others — and it wasn't uncommon that their frontmen were good-looking dudes. But Rose in his prime was the prettiest — his features had a feminine softness to them that belied the degradation and rage in his lyrics. In a 1989 interview, he talked about how he coped with his emotions, saying, "When I get stressed, I get violent and take it out on myself. … When I get mad or upset or emotional, sometimes I'll walk over and play my piano."
The band had laid down a few different versions of "November Rain" during the Appetite sessions, including an acoustic-guitar take, but even during the 1986 recordings, it was clear that the song worked best on piano — and stretched out to a length that commercial radio would balk at. (Anything around five minutes tends to make programmers antsy.) The 10-minute version that eventually surfaced on an Appetite deluxe anniversary edition is pretty stunning, avoiding the bombast that would later appear when the song was included on Use Your Illusion I. It's stripped-down and direct, Rose singing to a distant lover with raw hurt in his voice.
"[It's] our 'Layla' song," Rose would say, a nod to the Derek and the Dominos hit that saw Eric Clapton lay bare his desire to be with his best friend George Harrison's wife, Pattie Boyd. It wasn't simply that, like "November Rain," "Layla" was a song of unrequited love: Both of them were lengthy ballads that contained a dramatic coda that was a sonic left turn. Rose often cited "Layla" as one of the best songs ever, alongside Metallica's "Fade to Black" and the 10cc's "I'm Not in Love," two other self-consciously sprawling tunes. ("As weird a cross as it may seem," Rose admitted, "those three songs are my favorite songs of all time. … 'Layla' I didn't get into til I was a bit older.")
When Guns N' Roses convened to work on the Use Your Illusion records in the early 1990s, they were at the stage of the clichéd Behind the Music narrative arc where a group is incredibly popular but torn apart by internal strife. Right on cue, the band members were fighting, and they were also dealing with the fallout of nasty public confrontations, like the riot that took place during a 1991 St. Louis show in which Rose freaked out about a concertgoer with a camera, jumped into the crowd to get him, failed and then angrily stormed off stage, causing fans to go berserk. A year before that, Adler had been booted from the lineup, replaced by drummer Matt Sorum. ("I'd been kicked out of the band for partying," Adler later said, "and the biggest irony is, I was partying with the guys in the band.")
The Illusion sessions only exacerbated the tensions: Rose wanted these new albums to be far more ambitious and adventurous than Appetite, driving his cohorts crazy in the process. "Thirty-five of the most self-indulgent Guns N' Roses songs," Slash later recalled about making the Illusions twins. "For most bands, it would take four to six years to come up with this much stuff."
And while many of the songs were co-written by a few band members, "November Rain" was Rose's baby. Perhaps not surprisingly considering his obsession with getting the song just right, he kept making it more and more intricate. "Now we had this piano, and an orchestra, backup singers and all this kind of crap we didn't necessarily want, as a band," Slash is quoted as saying in Watch You Bleed: The Saga of Guns N' Roses. "But it was something Axl still wanted, and that's what he got." ("I felt like, I didn't really sign up for this — all these ballads," Sorum complained in the same book. "I was hoping to join a badass rock 'n' roll band. I was like, 'What's with the piano?'")
At nearly nine minutes, "November Rain" was a colossus, aiming for the overblown grandeur of 1970s anthems like "Stairway to Heaven" or "Dream On." But, of course, Elton John remained the sonic north star. "We listened to Elton John for inspiration for the drum fills and overall tone," Sorum told Rolling Stone. "I vividly remember sitting with Axl listening to 'Don't Let the Sun Go Down on Me' and Axl pointing out the style of the tom fills."
For the lyrics, Rose poured his heart out about a failing love affair, hoping that maybe things weren't too far gone between him and his girl:
When I look into your eyes
I can see a love restrained
But, darlin', when I hold you
Don't you know I feel the same? 
'Cause nothing lasts forever
And we both know hearts can change
And it's hard to hold a candle
In the cold November rain
But Rose refused to give into cynicism, later expressing the belief that "I know that you can love me / When there's no one left to blame…"
Never mind the darkness
We still can find a way
'Cause nothin' lasts forever
Even cold November rain
It was a big, corny, ornate love song — the type of thing that would have felt utterly out of place among Appetite for Destruction's lean, raw, focused 12 tracks. But on the anything-goes Use Your Illusion records, its cinematic scope was a centerpiece, becoming the group's biggest smash since "Sweet Child o' Mine."
Then there's the video:
In the terrific oral history I Want My MTV: The Uncensored Story of the Music Video Revolution, Andy Morahan, the director of the "November Rain" video, explained how the clip came to be: "Axl had written a trilogy of videos based around a short story by his friend Del James. We made 'Don't Cry' the first video. Axl was undergoing regressive therapy, he'd gone through bouts of severe depression and wanting to blow his brains out, and his personal madness became part of the video's storyline. Izzy Stradlin had left the band, and the cracks were starting to appear — the trilogy was Axl's way of saying, 'I'm gonna take control here.'" 
At the time, Rose was also dating supermodel Stephanie Seymour, who appeared in "Don't Cry." The plan was to make her integral to "November Rain," where she'd play Rose's bride-to-be — that is, until a freak rainstorm ruins the ceremony (and also causes her to die, for some reason). Combining fiction with autobiography, the videos were meant to comment on Rose's failed marriage to model Erin Everly, with Seymour essentially portraying the Everly character. And because this was a period in which MTV was huge and labels had seemingly limitless budgets for music videos, the clip was destined to be obscenely lavish. "I was told it cost $1.25 million to shoot 'November Rain,'" former GNR manager Alan Niven said in I Want My MTV, "which to me is a preposterous waste of money."
Especially for a video that makes no sense. When GNR band members were asked to explain what happened in "Don't Cry" or "November Rain," they admitted they were baffled. Years later, fan-theory videos started popping up on YouTube trying to deduce why Seymour was in a coffin at the end of "November Rain." Did she drown in that rainstorm? Did she actually drown in "Don't Cry"? Did she die of a shotgun blast? If so, did she kill herself? Did Rose kill her? Was the wedding just a dream? No one seems to have any idea, which may have added to the clip's longevity. You kept watching to figure out what the hell was happening.
Soon after making "November Rain," though, Seymour and Rose split up. "Getting involved with Axl Rose? Clearly a mistake," she said in 2014. "It taught me a lot, though. He was a violent person, and I realized I never wanted to be around that again. The thrill of the whole rock 'n' roll thing wore off. I saw the worst of that world and it soured me." (For his part, Rose sued Seymour for, among other things, assault and battery. Meanwhile, Seymour sued him for abuse, subpoenaing Everly, who detailed her own alleged history of being abused by Rose.)
Rose's third and final chapter of this trilogy, a video for the equally bombastic Use Your Illusion ballad "Estranged," had to be reconceived because of the breakup. Morahan, who also directed "Estranged," said in I Want My MTV that Rose told him, "I never want a girl in a video again. I'd rather go out with a dolphin." Which is why, for inexplicable reasons, the "Estranged" clip finds Rose… hanging out with a dolphin.
Between the song's soaring operatics and the video's gargantuan pomp and circumstance, "November Rain" signaled the apex of Guns N' Roses' shameless excess — and, in particular, Rose's desire to make everything as overwrought as possible. The Use Your Illusion records were huge — each went septuple-platinum — but by the summer of 1992, it was clear that GNR were no longer the coolest rock band around. Nirvana's Nevermind had dropped in September 1991 — a week after the GNR records — and by January, it was the No. 1 album in the country. Nirvana frontman Kurt Cobain despised Rose, and indeed Nirvana's feminist, punk-influenced sound felt like a rebuke to the macho, Sunset-Strip sleeziness in which GNR revelled. For the Seattle trio, Rose symbolized rock's pretentious, knuckle-dragging self-importance.
"When a musician starts to use the phrase 'mini-movie' to describe a video, it's time to quit," Nirvana drummer (and later Foo Fighters leader) Dave Grohl said in I Want My MTV. "Some videos I enjoyed just because they were train wrecks, like 'November Rain.' I looked forward to seeing that on TV because I didn't need those nine minutes of my life anymore."
After a poorly-received 1993 covers album, "The Spaghetti Incident?," Guns N' Roses basically went into hibernation. Rose fired everybody, hired a bunch of other people, fired some of them, hired other people, and then spent the next decade and a half tinkering with what eventually would be Chinese Democracy. In the meantime, GNR became a punchline — the once-mighty hard rock band that turned into a self-parody — and "November Rain" encapsulated their fall from grace. It wasn't long before comics were spoofing the video, most memorably on French and Saunders:
But nostalgia is a funny thing. In 2016, Rose and Slash made peace and reunited, leading to a string of successful comeback tours. And two years ago, "November Rain" became the oldest video to be streamed a billion times on YouTube. Even if GNR hadn't been a significant artistic force since the early 1990s, their most brazen ballad had somehow taken up permanent residence in the cultural consciousness.
Which is where Donald Trump comes in.
With all these presidential tell-alls from former aides, it's easy to be skeptical about the dirt being dished. But this anecdote, from former White House press secretary Sarah Huckabee Sanders' pro-Trump book, certainly seems true considering that it comes from a friend. Plus, on the campaign trail, Trump has been blasting "November Rain" to pump up the crowd lately:
What makes all this stranger, of course, is that one might assume that Rose and Trump have a lot in common. Both are megalomaniacs. Both have a tendency to fire everyone around them. Both of them have horrible track records in their treatment of women and people of color. (And, lest we forget, Trump has referred to Rose as "the Donald Trump of rock 'n' roll.") But although Rose largely avoids interviews, he occasionally takes to Twitter, and when he does, he's often attacking the current administration.
And when he's not, he's trying to get Trump from playing his music at rallies, a battle he's been fighting for at least two years.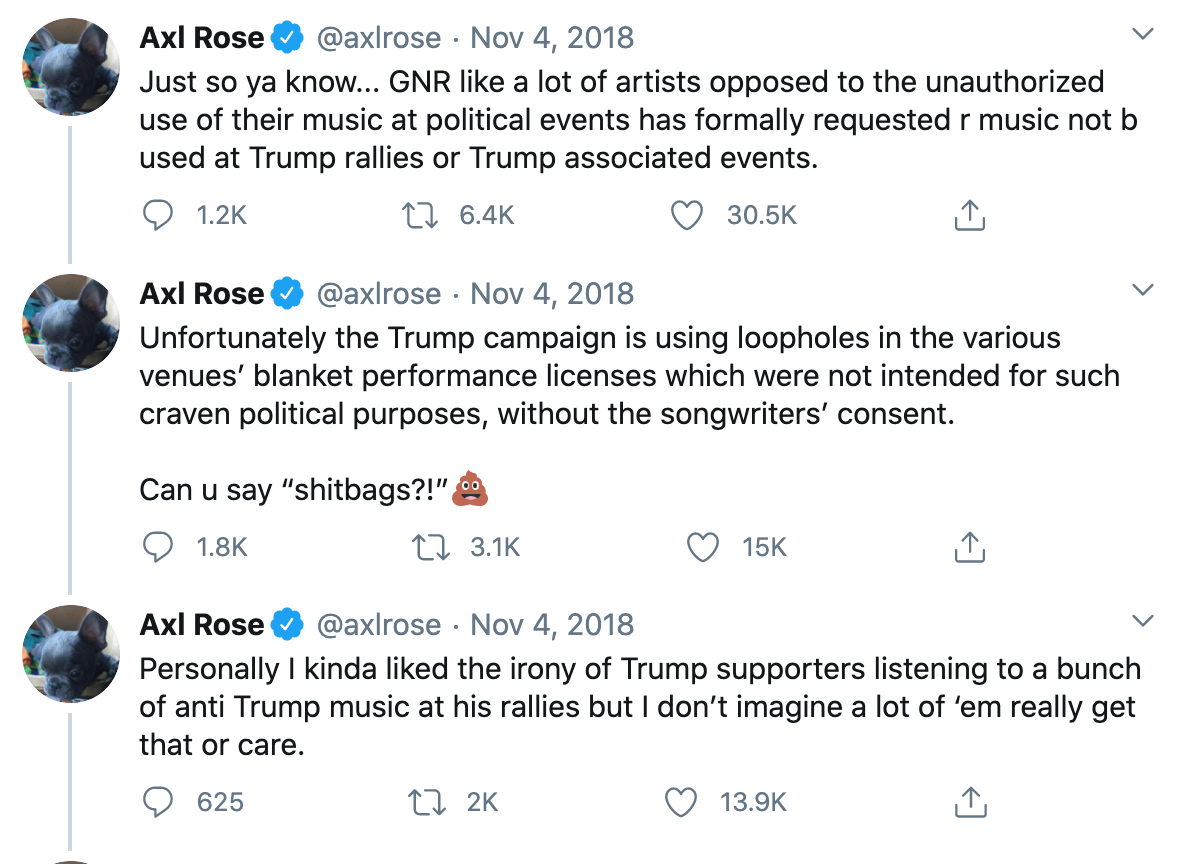 Why does Trump love the "November Rain" video so much? Who can say: The man has extraordinarily terrible taste when it comes to culture and art. But it's not entirely surprising he's a fan. After all, he loves things that have a lot of spectacle. (All those swooping helicopter shots of Slash soloing mightily probably please him to no end.) And Trump clearly loves the group. Back in 1992, it was rumored that he and Rose might go into business with Trump possibly bankrolling a GNR concert documentary in the vein of Madonna: Truth or Dare. ("Axl Rose went to Atlantic City and performed for him on a special occasion," an unnamed source told New York at the time, later adding, "The two hit it off. Despite Axl's reputation for being wild, Trump found him to be quite nice.")
There's some small comfort in knowing that, unlike a lot of rock stars, Axl Rose didn't become one more bitter MAGA conservative. Rose's recent espousing of progressive (or, at the very least, anti-Trump) sentiments has made him a beloved figure among some on the left, although that doesn't entirely forgive his previous behavior. As The Globe and Mail's Denise Balkissoon pointed out in 2018, the band still plays at their shows "Used to Love Her," which features the lines "I used to love her but I had to kill her / I used to love her, oh yeah, but I had to kill her / I had to put her six feet under / And I can still hear her complain." Even as a joke, considering Rose's past, it's not funny.
Such ugliness is light-years away from the sincerity of "November Rain," which was Rose's attempt to express the sensitive side of his personality — the part of himself that wasn't so hateful. But even so, the song's grandiosity hinted at the frictions that would tear apart his group — his ruthless desire to make Guns N' Roses bigger and bigger and bigger butting heads with his bandmates' desire to just keep making good music. The rest of them were going one direction, and he went another.
"This record will have seen us grown a lot," Rose said in 1990 about what he wanted for the Use Your Illusion albums. "There'll be some childish, you know, arrogant, male, false bravado crap on there, too. But there'll also be some really heavy, serious stuff. … You have a choice, man. You can grow or die, you know? And it's like, that's what we have to do. We have to do it. We have to grow."
In a sense, "November Rain" represented that growth. Rose had gone through therapy, tried to do some work on himself, especially when it came to his hatred of women. And you can measure his progress in other ways, like the fact that he's long since distanced himself from "One in a Million." You can grow or die. Axl Rose chose to grow. But in the bombast of "November Rain," the idea of Guns N' Roses died along the way.