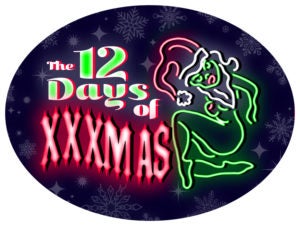 This year, we're swapping out the typical 12 days of Christmas for something even better: 12 days of sex workers who should absolutely be on your radar. Whether they're breaking new ground on OnlyFans, using their platform to call attention to issues like racism and immigration or shattering our ideas of who's "allowed" to make porn, sex workers are both reimagining what sex work can be and changing the world — one swingin', phalloplastic dick at a time.
It's a Friday night in a cramped L.A. living room and stripper Adrienne Lauren is broadcasting her best horse impression on Crowdcast. Wearing a short tartan skirt, thigh-high socks and towering, black platform heels, she squats and trots in front of the camera, thrusting her long dark hair back and forth. It's an odd performance for a stripper, one made even odder by the kaleidoscopic swirls of color writhing behind her on a green screen. "Excellent horse," writes a viewer in the stream's live chat. "Pure breed," types another.
Lauren is performing on NAOMIDROME, a weekly, non-nude virtual bikini club and pole-dancing show. The show's host, Emily Whittemore — otherwise known as "Naomi" — is watching the dancer's horse impression from the side of the screen. Her expression is deadpan. "You don't get to see that every day, do you?" she remarks to viewers. Lauren goes on to share her octopus impression, before attempting to burp the word "encyclopedia" (she does not succeed).
NAOMIDROME, as you might have guessed, is unlike any bikini club you've seen before. Its concept is simple enough to grasp: It's a live-streamed pole-dancing show, around two hours long, where viewers can send in tips and interact with the performers. As a sensory experience, however, it's much harder to define.
Visually, it's chaotic — like Showgirls reimagined by David Cronenberg, packed with pixelated 1980s graphics and writhing alien GIFs (the name NAOMIDROME was fittingly inspired by the director's surreal erotic horror, Videodrome). Sonically, it's just as manic, with frenetic fake applause and glitching laugh tracks peppered throughout. The music that's featured, all of which is original and sent in by viewers, also varies wildly from thrashing guitars and hip hop to pumping techno mixed with old Orson Welles movie dialogue. The majority of tracks are made on a laptop, and are often as lo-fi as the graphics. "This is what dying feels like," writes one viewer about a particularly polarizing metal track. The show was created by Whittemore, a 27-year-old bikini bar dancer from Texas. An art school graduate, she's been stripping in various venues across L.A. for the last four years (before the pandemic, she was a regular performer at the city's infamous Jumbo's Clown Room) and admits to falling into the profession on a whim. "I had a drive for hamming it up, and liked doing edgy shock-value performances," she tells me over Zoom. "Then one night, I was having a drink with a friend, and we started talking about stripping. We were both unemployed, and we both had not much going on. So we left the bar and went straight to a strip club to see if it was something we could do. We got a job that week."
NAOMIDROME incorporates both her art and dancing skills, with Whittemore putting special emphasis on the show's crazed, lo-fi visuals. Initially, it began as a fun addition to her work outside of the bikini club — but then the pandemic hit. "NAOMIDROME started in the middle of March in, like, pretty much the first week of lockdown here in America," she says. Within days, the side project had become a whole career. "It became my only job because everything else fell apart." Thankfully, it's lucrative enough to keep her afloat: All guests — normally between 60 to 100 a show — pay $10 to view the stream. The tips also tend to be frequent and generous, ranging from $5 to $120.
Whittemore is speaking to me from her bed, and on the wall behind her is a giant, room-spanning painting of a strip club (her own work). We're talking here, she says, because her living room is now a makeshift NAOMIDROME studio, overrun with cameras, wires, poles, microphones and green screens. Her small apartment, which she shares with her boyfriend and cat, has been completely taken over by the project.
Thankfully, both the boyfriend and cat are happy to be involved, and play their own role in the show's production. The former does all the technical work and off-camera cues, while the latter — Binx — earns his keep by making sporadic crowd-pleasing cameos. At one point during our conversation, he jumps onto the laptop, knocking it over and disconnecting Whittemore's microphone. "He does this," she says, apologetically. So how exactly does NAOMIDROME work? Every week, Whittemore invites an L.A.-based stripper onto the show — many of whom she has worked with at Jumbo's — and interviews them. The chats tend to be irreverent, surreal and tangential, broken up with horse impressions (in Lauren's case) or "Whose Butt Cheeks Is This Anyway?," a game where you guess who a naked celebrity is from behind. In between, the dancers take turns pole-dancing to viewers' songs, and at the end, the audience decides on the best track. The winning song gets $50, while both Whittemore and her guest get tips throughout the evening (shown on a scoreboard). Viewers also have the chance to be involved in the show, and the interview, thanks to an accompanying chat room — although it's normally just filled with glowing, surprisingly wholesome reviews about whichever dancer is on-screen.
Of course, NAOMIDROME isn't the only virtual strip show that has appeared this year. Many clubs (and sex worker unions) have launched their own online experiences to make up for lost work. Some, like Demon Time, are putting on strip shows through Instagram Live, while others, like New York's Rosewood Theater, are embracing more high-tech virtual reality dances. Even other performers from Jumbo's have started putting together their own Zoom shows.
But NAOMIDROME feels radically different from all of them. This is partly due to its experimental visuals, which are a huge part of the show's identity. There's a lot of double camera work, demented old GIFs and constantly changing, Sega Genesis-style backdrops. "I was inspired by public television from like the 1980s and 1990s, where people were just super experimental and did what they wanted," Whittemore says. "I want it to feel like Barbarella, when she goes into this crazy little psychedelic world."
The guests are, undeniably, some of the best dancers and sex workers in L.A. "Everyone who's been on the show so far is pretty much my friend, or someone I want to be friends with," she says. To date, this list has included names like burlesque artist Coco Ono, go-go dancer Alice McMunn and porn performers Janice Griffith and Ivy Lebelle. "I'm like a casting director who, instead of being horny is just, like, lonely."
Because of COVID, Whittemore currently only allows one guest on the show at a time, and ensures that everyone is regularly tested. For many sex workers, the pandemic has had a devastating effect on their income, so NAOMIDROME — although it never intended to be — has become a port in a storm. As well as offering financial help with its tips, which can be sent through either Crowdcast or Venmo, it also gives performers a chance to dance and, even more crucially in these times, to have fun. Viewers, who mainly consist of Jumbo's regulars and other strippers, also get to see their favorite performers from the comfort (and safety) of their homes.
"I don't know what I'd be doing with myself if I wasn't working on this all the time," says Whittemore. "Maybe I would have read a lot of books or become really smart or something. But I'm glad I'm just hanging on to my strip club life by a hair."
And she definitely misses the strip club. NAOMIDROME is fun and creatively fulfilling, but it's a very different experience from late-night bikini bar life. "In the club, I would just do whatever I would do, and roll off the stage with my money," she remembers. "I miss what physical dynamics are like. I miss people slipping me cash like under the table for just, like, sitting by them, or listening to whatever nasty perverted stuff they were saying."
There's also the ephemeral nature of club work which, per Whittemore, is much more liberating than its online equivalent. Knowing that a performance is going to be recorded and put online for the world to see, possibly forever, takes some mental adjustment. "I normally never have to think, 'Oh man, my butt crack fell out during that performance.' Now, it lives on forever, which can make you question, like, 'Dang — maybe I'm not that good a dancer? Maybe I'm a little bit weird?' And I'd never have thought that in the club."
Still, there are plenty of upsides to online work. For starters, these performances — which were once limited to a small late-night venue in East Hollywood with a 70-person capacity — are now available to anyone in the world who wants to view them. "I'm putting so much of myself and so much work into NAOMIDROME," says Whittemore, "and I think I'm proud of it. It makes me happy to do."
Whether she'll keep doing it once the clubs open back up, however, remains TBD. As Whittemore points out, it's hard to predict what the post-pandemic strip club will look like, or whether it will even be possible. If social distancing has to continue, and indoor capacity gets limited, small clubs could be forced to close. NAOMIDROME's existence also relies on whether it remains popular — its audience seems to be steadily growing, but Whittemore knows not to take anything for granted.
"If someone had said that the world would just shut down and everything would suck, and that there would be people outside burning their masks and telling you that COVID is fake," she muses, looking sad for a moment. "I could not have imagined that. So it's hard to imagine, like, a bright future right now."
In the meantime, while the world's still ablaze, she's happy to keep it going. "I'm trying to transport people into a crazy magical world where hot girls are goofing around together," she says. "I hope it gives people a break from reality. It definitely gives me a break from reality."