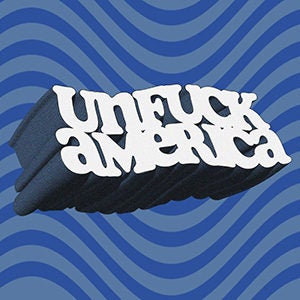 Every day until the election, we're introducing you to one character or issue whose fate centers around the political state of sex and gender. We'll discover which freedoms are at stake, what battles are being fought and what sex in a free country really looks like, all in honor of unfucking a system that seems increasingly hellbent on fucking up fucking. Welcome, everybody, to UnFuck America.
In early 2017, the adult industry braced for a seemingly imminent wave of anti-porn legislation and litigation. The previous year, first the state of Utah and then the national Republican Party had officially declared porn "a public health crisis that is destroying the lives of millions." Soon after, then-candidate Trump vowed to crack down on porn. Once elected, he started filling his inner circle with anti-porn conservatives like Jeff Sessions, who notably expressed a keen interest at the start of 2017 in restarting the Obscenity Prosecution Task Force, created in 2005 as part of the Department of Justice to investigate and sue pornographers for any and every breach of law it could come up with (it was shuttered by the Obama administration in 2011). Meanwhile, at the state level, conservatives seemed poised to craft and pass a slew of new anti-porn bills.
But then… nothing happened. A few states passed anti-porn measures between 2017 and 2020, sure, but they were sparse and toothless. The federal government never so much as feinted toward its promised Trump era porn crackdown. Instead, by 2018, reporters were already writing articles exploring "How the GOP Gave Up on Porn" after decades of dedicated rhetoric and mobilizing.
This wasn't because social conservatives lost interest in casting porn as one of the great threats to American society. On the contrary, activist groups and public figures have continued to call for efforts to reign in or totally ban the adult industry. In late 2019, four congressional Republicans, including soon-to-be Trump Chief of Staff Mark Meadows, even sent a letter to Attorney General Bill Barr urging him to restart anti-porn obscenity prosecutions in earnest. And as adult performer and keen politics watcher Mary Moody observes, "Huge extremist religious groups continue to lobby state and federal congresspeople to push their anti-porn agendas."
But why didn't Trump and his allies launch their expected crackdown? What's more, why didn't the issue even come up during this electoral cycle, despite its apparent importance in 2016?
The obvious explanation is that Trump doesn't care about porn, or want to crack down on it — his pledge was one of the countless false vows he's sworn to as a means of rallying support. A notorious womanizer, Trump has actually appeared in a couple of soft-core Playboy films himself. He even posed in 2016 with the (now disgraced) conservative Christian leader Jerry Falwell Jr. in front of a framed copy of a 1990 copy of Playboy, in which he was interviewed, in an almost too perfect encapsulation of the cynicism of his posturing. Melania Trump, meanwhile, has a history of soft-core modeling.
Some of Trump's allies may truly care about porn, this logic runs. But "the administration hasn't done a good job of prioritizing anything except whatever makes Trump happy on a day-to-day basis," argues adult performer Siri Dahl. So, Trump's disinterest could have been a non-starter.
Yet Trump is nothing if not opportunistic. Thus, his own disinterest in a subject doesn't necessarily mean that he'd choose to deprioritize it later on down the line. Conversely then, it's possible that Trump, or his empowered allies, were honestly interested in going after porn but just didn't have the time or resources to do so amidst the flurry of scandals and big legislative and legal battles that have defined the Trump presidency. After taking office in 2017, then-Attorney General Jeff Sessions reportedly told conservatives pushing him to dive into new obscenity cases against pornographers that his team just didn't have the bandwidth to do so.
Porn insiders believe consistent coverage of Trump's 2006 affair with Stormy Daniels, a story that first broke in early 2018, has made it especially hard for him or his staunch conservative allies to tackle porn. "Following Stormy's publicity spree, [a porn crackdown] would look like a sour grapes personal vendetta," argues Bella Rose, a Christian, conservative porn star.
"Add to that Jerry Falwell Jr.'s recent sex scandal," says adult performer and producer Dana Vespoli, "and I don't think the GOP is inclined or equipped to take on any moral crusades now."
But since when have cascading scandals, greater priorities or appearances of personal biases or impropriety ever stopped Trump and his allies from picking petty fights and elevating non-issues just to soothe their own egos or appeal to their bases?
And so, perhaps the best explanation for Republican inaction on porn is the least Trump-specific: Explicit porn crackdowns only appeal to a narrow base of voters. In fact, they actually rankle a huge part of the conservative base — the anti-regulation, libertarian-leaning wing. These efforts are also usually futile. New laws run up against a growing body of First Amendment-based protections for porn companies. And obscenity litigation, which hinges upon proving that porn offends local community sensibilities, is getting harder and harder to prosecute thanks to porn's gradual social entrenchment, and porn sites' increasingly global consumer bases.
Basically then, Republicans rarely pursue anti-porn efforts because they believe they can make a dent in the industry, explains sexual historian Whitney Strub. Rather, they pursue these bids to maintain the support of the social conservatives and Christian groups that voted for them.
However, Strub notes, "porn has always been the consolation prize" that Republicans offer these groups when they haven't made enough headway on other, larger socially conservative agenda items. He notes that Ronald Reagan only convened his infamous 1985 Meese Commission on the effects of porn on society "because he hadn't done much on abortion and the Christian right was frustrated." Likewise, George W. Bush only launched his Obscenity Prosecution Task Force to make up for focusing on the Iraq War, a growing quagmire, over domestic social issues.
Trump and his allies haven't needed to pull out this concession prize, Strub argues, as "he's been pretty satisfying for the religious right — despite being a disgusting and lecherous human being himself. He's been eviscerating transgender rights," for one thing. He's also delivered evangelicals an arch conservative Supreme Court majority, and the prospect of abortion rights and same-sex marriage rollbacks to come.
"Politics have been especially divisive during Trump's presidency," adds Dahl. For many, if you don't stand behind the president and his allies no matter what they do, then you're aligning yourself with a socialist plot to destroy America. In other words, Dahl says, "maybe they don't need to work as hard to get people riled up" by going after porn. (National focus on the pandemic, struggling economy and racial strife over the last eight months have only further marginalized porn's salience to the 2020 electorate.)
None of this means, however, that Trump and his Republican allies could never wheel back to a porn focus during a second term. Moody worries that, with conservative-packed courts, the anti-porn side of Trump world would feel emboldened to push more aggressive laws and court cases. "When the pandemic ends, we'll be a punching bag again," predicts performer Cherie DeVille.
But if Trump and company do stay in power and pivot back to porn, their efforts probably wouldn't look like past pledges and proposed bills. Following Utah and the GOP's lead, over a dozen states have declared porn a public health crisis since 2016. Yet these resolutions are so riven with rhetorical hyperbole and scientific inaccuracies that "nobody who's not already convinced about the dangers of porn takes them seriously," Strub notes. These declarations are also underfunded, adds JW Ties, a fetish porn producer and distributor. Therefore, they've been functionally ineffective.
State legislators have proposed a host of other bills calling for default blocks on porn on devices and ISPs, better age-verification systems, warning labels on all porn and more. (The most novel legislation comes from Utah, which Strub says has "always been on the far end of the repressive spectrum.") However, the U.K.'s stupendous failure to impose a robust age-verification scheme last year, after years of effort and expenditure, thanks to practicality and data privacy issues, has only added to popular awareness that these sorts of bills are impractical, time-wasting theater.
Instead, Dahl and Strub both note, conservative activists and legislators have learned that there's far more potential in advancing legislation against entities and sites that facilitate sex trafficking. The outward intentions of this legislation are noble, which makes it hard for legislators to oppose it. But anti-trafficking laws like FOSTA-SESTA, enacted in 2018, often conflate all porn — all sex work in general, actually — with sex trafficking, opening avenues for new and potent litigation against producers and distributors. Self-censorship by platforms looking to avoid charges under FOSTA-SESTA allegedly played a role in the death of Tumblr's vibrant porn scene — not to mention the death of a number of forums sex workers used to organize, share information and stay safe.
This legislation tends to get support from both sides of the political aisle, Dahl points out. It's a good way of proving to constituents, who don't think about knock-on effects for porn and sex workers, that you're doing something to combat definitive evils. She and Strub both expect to see more of this legislation crop up no matter who wins the election, and no matter what the traditional anti-porn block of religious conservatives wants for its support.
Or better put, even though Team Trump hasn't taken a keen interest in porn, and Democrats typically ignore the industry, that doesn't mean the adult world will be safe after 2020. Not by a long shot. It just means that they'll likely face more insidious and oblique threats rather than overt ones.