There was a time when naming a sandwich after a celebrity was a cute marketing gimmick, a fun way to align a restaurant with a certain brand or lifestyle and a certain cache of coolness. After all, a celebrity sandwich is the breaded intersection where fame and the flavor profile of Russian hot mustard can combine in the most deeply satisfying way possible.  
But times have changed. Now, naming a sandwich after a celebrity comes with all sorts of previously unexpected risks. That's not to say celebrities have always been safe bets. Famous people have been flaming out in ways that cause the culture to slow down and rubberneck the spectacle since time immemorial. However, that same celebrity could usually redeem themselves. These days, though, their transgressions are such (and we've evolved as a society enough) that it's impossible to forgive the awful behavior that their fame once obscured — and no amount of pastrami, rye bread and mustard can change that.  
Like, how many people do you think are still ordering the Joe Paterno at Lioni's Famous Italian Heroes in Brooklyn? It's a grilled chicken and fried eggplant sandwich, with Lioni's fresh mozzarella and a slather of honey mustard. While the ingredients may sound good, the Joe Paterno part is hard to ignore. 
Or what about a Rothlis-burger? At Peppi's Subs in Pittsburgh, they offer a No. 7, which is a "sausage and burger juggernaut topped with egg and American cheese," and served up in honor of their hometown hero, the much-beloved Steelers quarterback who's also allegedly sexually assaulted two different women. 
As with most things in this regard, Woody Allen is a good litmus test for what happens when the guilt and shame creeps in, souring appetites so much that his sandwich has to be canceled, too. He rather famously had a sandwich named after him at the Carnegie Deli, which Delish described thusly: "An authentic New York experience — one this director is famous for capturing in his films — wouldn't be complete without pastrami and corned beef on rye at a legendary Jewish deli."
The Carnegie Deli, however, closed its doors about a year before the #MeToo movement began in earnest. So while Allen was certainly controversial back then, he hadn't become toxic enough to be canceled from bookstores, theaters, streaming services and restaurants. In fact, his name also appeared on the menu of Chicago's Eleven City Diner at the time. "The Woody Allen" there, per a Swiss Yelp reviewer, was as transcendent as the director's films in the 1970s: 
"The first stop, on my quest to do right, came in the form of the Woody Allen. What a fitting name for a sandwich modeled after a famous Carnegie Deli sandwich in New York. Triple layers of pastrami and corned beef on some very legit rye bread; I may go through withdrawal as I talk about it. This sandwich is big, quite possible the size of Mr. Allen himself. The meat is some of the most tender I have ever eaten. One of those descriptions was an exaggeration; I'll let you choose which one. After I finished, I needed the waitress to console me; it was such a sad sight to no longer have any to eat."
That review, though, as lovely as it is, is a couple of years old now. And as far as I could tell from Eleven City Diner's online menu, the sandwich is no longer in circulation. But for official confirmation, I called the restaurant. A gracious host answered and explained that they still offer a sandwich made from the same ingredients as "The Woody Allen," but under a different name. "It's called the Zenith," the host told me. "It's corned beef and pastrami, a slice of Swiss cheese and Thousand Island dressing in between rye bread. It's the same sandwich, just a new name."
"When did the restaurant change the name?" I asked.
"It was changed more than a few months ago," the host responded. "I'd say more than a year ago."
"Had people been complaining about the name?"
"Some people," he answered, before quickly adding, "Not all of them. Some of them."
"How many exactly is 'some'?" I followed up. "Would you say a majority?" 
"Not really, no."
"Yet, the deli's ownership decided they wanted to change the name. Why? Was it to avoid any possible outrage from customers?"
"I'm not sure, sir, because I don't make those decisions," the host offered in return.
To find someone who does, I turned my attention to a spot much closer to home in Huntington Beach, California — Fritzankotter's. Walking into the sandwich shop feels like time travel. Situated in a strip mall on a wide boulevard, it's very Southern California. Yet inside, you could be standing in Anywhere, America. The clientele at lunchtime on a Tuesday is primarily a steady trickle of hungry working men and retirees who come in to get their usuals. 
Fritzankotter's offers a full menu of celebrity-named sandwiches. Some are silly; some are strange; and nearly all of them are from a different time. It boasts a menu board populated with stars unfamiliar to most anyone under the age of 40. Yesteryear legends such as Zsa Zsa Gabor, Red Skelton and Buddy Ebsen. 
Oh, and one other that immediately jumps out at you — Bill Cosby.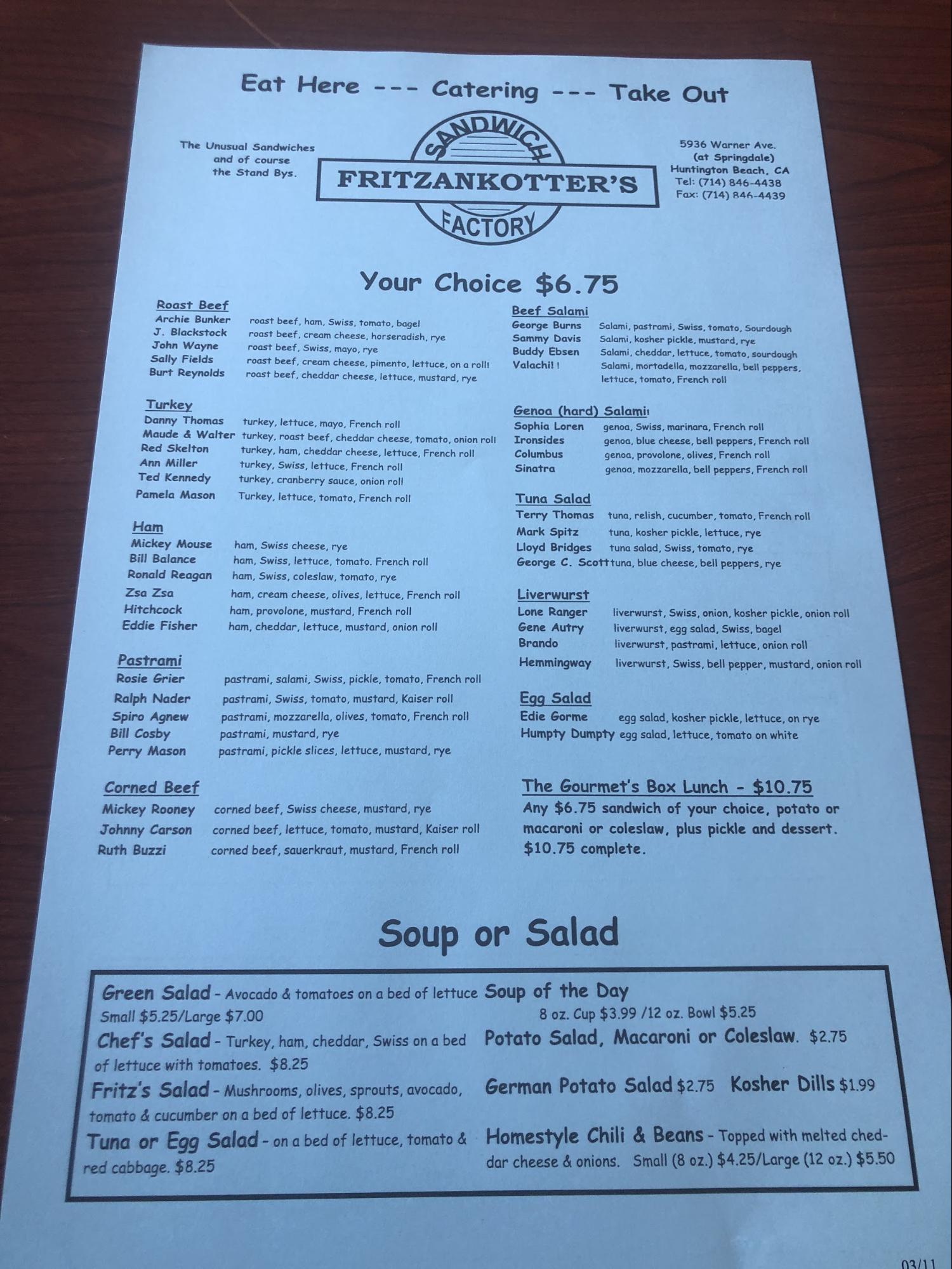 The owner, Larry, a 56-year-old cheery-faced man, tells me he bought the business from the original owner, the same man who had named all of the celebrity sandwiches in the first place. That is, all but one. "There was this one customer, a Vietnam vet, complaining," Larry recalls. "He didn't want a Jane Fonda on there."
"So you changed the menu to make that one customer happy?" I ask.
"Well, we didn't want to offend anyone," answers Dave, Larry's 34-year-old sandwich artist.
"Also, he was a good friend. And he was complaining for a while," Larry says with a laugh. "So I changed Jane Fonda to… Ronald Reagan." He laughs again. 
"That's pretty much it. That's the only celebrity sandwich that's been updated," Dave adds.
"Everything else is original. No change," Larry confirms.
As I peruse the menu, I consider the Tom Selleck (ham, cream cheese and pineapple on Hawaiian bread) as well as the Robert De Niro (beef meatballs, mozzarella, red sauce and bell peppers on a French roll) and the Sinatra (Genoa salami, mozzarella and bell peppers also on a French roll). Ultimately, though, I land upon the Charlie Tuna (tuna, avocado, sprouts, cucumber and tomato slices on wheat). Dave tells me that the sandwich is named for the celebrity tuna fish pitchman, and not Chali 2na, the underground rapper from Jurassic 5. While he and Larry prepare my sandwich, I inquire about their top-selling menu options.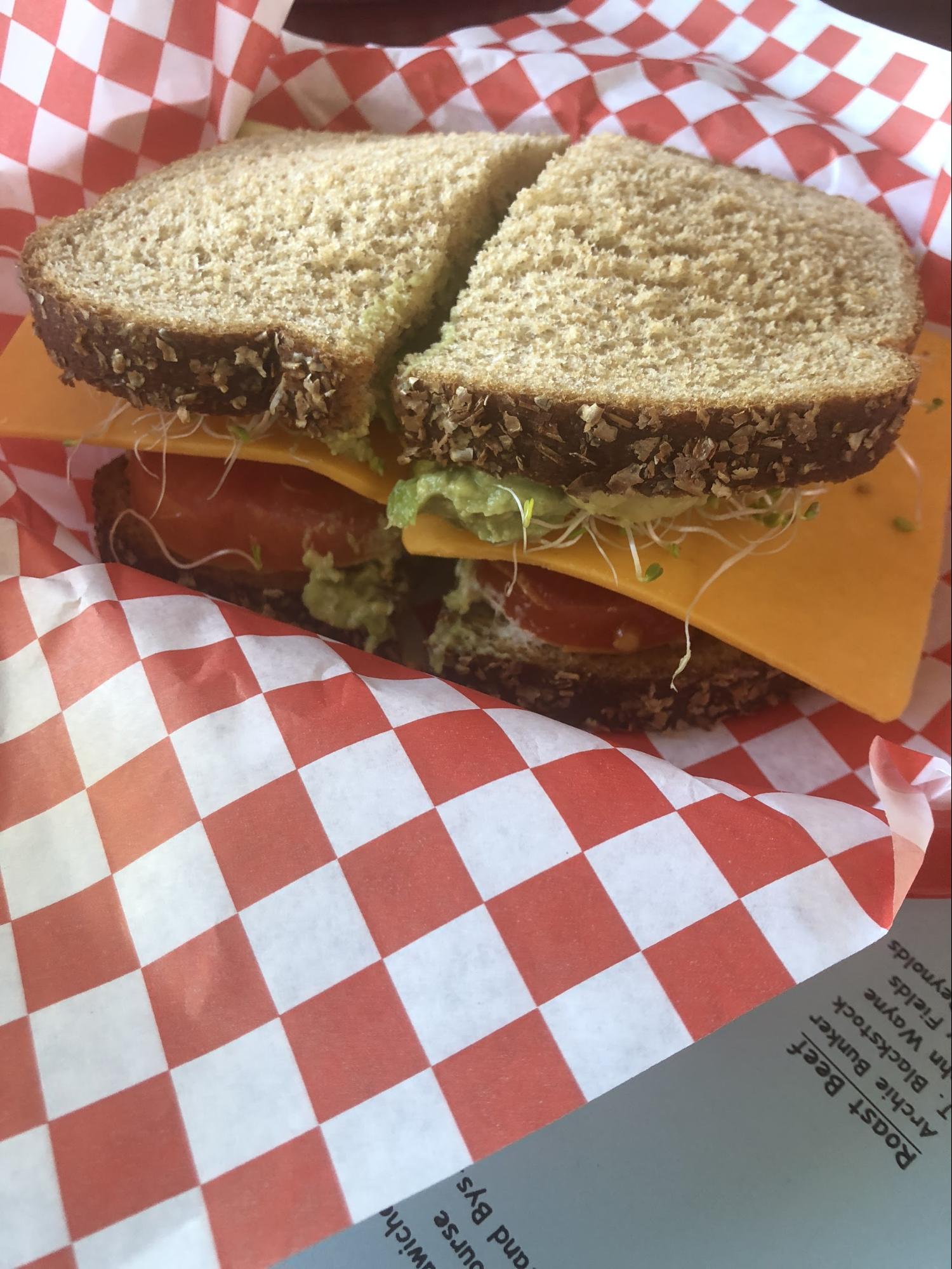 Larry lists out, with a small measure of pride and a wide and friendly smile, The Rosie Grier (pastrami, salami, Swiss, pickle and tomato on a French roll) [also, sic, as Grier's first name is actually spelled Rosey]; the Paul Newman (turkey, jack cheese, avocado, lettuce and tomato on pita bread); and the aforementioned Charlie Tuna. He adds that when celebrities have come into his place, none of them has ever ordered a sandwich named after them. Instead, most of the time, they order a Burt Reynolds (roast beef, cheddar cheese, lettuce and mustard on rye). 
"You know MTV's Wild 'N Out? The guy with the long hair? That's the [famous] guy who comes in the most," Dave tells me.
As for the Cosby (pastrami and mustard on rye), Larry says he doesn't have any intention to change the name. "No," he explains. "Because for all the people who come in — [the sandwiches are] well-known here by those names."
"They come from out-of-state, and they come back to eat their favorite sandwiches," Dave adds. "If we changed everything to weird names they're gonna be like…" He makes a weird face to make his point. "You know what I mean?" he asks. 
But don't some customers make weird faces when they see a convicted rapist being honored with a pastrami sandwich? Along those lines, haven't they gotten complaints about its continued presence on the menu? 
Dave is the first to respond: "To be honest with you… no. Not once."
"Sometimes, customers make a joke out of it," Larry says. 
Cosby was known on The Cosby Show for making giant, decadent hoagies. But why a pastrami and mustard on rye specifically? It doesn't seem like something he or his once-beloved character Dr. Cliff Huxtable would have ever eaten. 
"The original owner — he gave it that name, and he came up with the ingredients," Dave says.
"They just put his name on it, but nothing is really linked to him," Larry adds.
"Like, a 'Bob Hope' is ham and Swiss cheese on rye, and there's nothing to that. It's not like he was known to eat that — it's just a name," Dave explains.
"Yeah, the sandwich isn't really linked to the celebrity," Larry summarizes. 
"But I'm sure if someone did say something about it, Larry would adhere to their feelings," Dave promises. "We're not here to hurt anyone's feelings." 
"The customers totally understand that it's just someone who made up some names a long time ago," Larry concludes. 
So when it comes to celebrity-named sandwiches, it seems the customers are still the ones who are always right. And until the sandwich shops and delis must change the name of a beloved pile of meat and two slices of bread, no celebrity is truly, officially canceled.