All these rich people are dressed like shit.
It's a head-scratching trend I can't help but notice as I stare down first-class flyers on my long walk down the aisle to some far-away, bathroom-adjacent middle seat in Group D.
The guys especially. They're wearing tracksuits, sweats, oversized T-shirts and loose-fitting shorts. Not one is wearing a suit, as I figure men of their status would don for the sport of avoiding eye contact with us plebes. Athleisure and military-style cargo apparel seem to be in fashion among the JetBlue Mint® Experience class. One first-class guy in his 40s has tucked a crisp dress shirt into tactical pants with a "G-100" label. I see only one man who looks remotely dapper, wearing an off-white linen jacket and pants (have fun not wrinkling that!) with a breezy-looking, salmon-colored polo. Generally, though, the younger set of aspirational flight lords looks ready to do a group Slav squat.
It's June, I'm flying from NYC to L.A., and I feel like a world-class idiot: I'm dressed up in formalwear to sit in economy, like a fuckin' chode.

Suits may be "losing their swagger," as Chris Bourn wrote in a March MEL piece asking how long these "magic money costumes" have left in the world, but I am determined to buck this trend and feel as fancy as I can on my 7:20 a.m. flight. It's not just peacocking, though: I've long been led to believe that a suit has the astounding ability to render its wearer eligible for seat upgrades and preferential treatment on airplanes. "Yes, You Can Get Upgraded by Dressing Well," reads one piece, explaining that airline employees who follow strict dress codes tend to pick the most well-dressed candidate for an upgrade when available. So off I go, eager to see how the travel world fawns over the guy who dares not to wear sweats.
The effort soon becomes a comedy of errors as I struggle to get dressed at 4:45 a.m.: I realize I lent my everyday navy suit to a friend, leaving me with no choice but to wear a funereal black wool suit I bought off the rack and never got tailored. I end up ditching  the jacket immediately. It's hot and humid out; again, this is June, the worst possible time to fly in a suit. By 5:45 a.m. in the Lyft to JFK, my right leg is already itchy. I enter the plane wearing a button-down tucked into unbelted black suit pants — I look like an extra from Office Space, a temp at an accounting firm. I comfort myself with the knowledge that pleats are in again.
Of course, no one gives me a second glance. The service is standard, curt and polite. Mercifully, no one in my row wants to chat, leaving me five sweet hours of solitude to sit and think about how my legs feel. 
The answer: not great! Sweating, I strip down to a T-shirt and suit pants. By 7:20 a.m., crotch room is an immediate problem; these less-structured dress pants tend to slide right up there, jockstrap-style. At 10:30, I tap in my Notes app: "Crotch hell. Bunched up and nowhere to move." At 11:20: "Case of the ol' fire thigh. Red ants on the legs. Ay yi yi." In some moments, however, the suit pants are a nice reprieve from the slim-fit jeans I usually wear, and when the air conditioning hits me just right, the thin fabric feels cool, light and refreshing to the touch. I take some photos of my lap, a la Henry Blodget, then delete them, mortified. I try to mentally hype myself up to get in a first-class mindset: I am the fanciest man on the plane, dammit. Failing that, I order a $12 turkey sandwich that's 70 percent mayo.
I wanted a taste of what it's like to feel first-class, but I end up feeling like G.O.B. Bluth in Arrested Development, yelling ludicrously about his expensive apparel — the most ostentatious man in the room, and the least impressive. Not to mention the sweatiest.
So why does suiting up for a flight feel so… wrong? After all, it wasn't so long ago that formalwear was the dress code of the sky. What changed?
The main thing is that travel itself used to be a luxury; boarding a plane was like entering the Rainbow Room, so people dressed to the nines out of respect for the vessel. "We often think of the golden age of air travel as the 1950s and 1960s, which was certainly a time when people would wear their finest outfits to board a plane," says Sara Idacavage, a fashion historian and instructor at Parsons School of Design and the Pratt Institute. "Of course, this was also a time when most people rarely flew (if ever), and passengers were treated to multi-course meals with free-flowing alcohol." The Airline Deregulation Act, signed by President Carter in 1978, led to lower airfare and more options for travelers, resulting in a shift toward in-flight casualwear in the '70s, Idacavage explains. But that's not the biggest reason people look like slobs in first class: It's "more about a widespread societal shift away from strict dress codes in general. This is also a time when it became far more acceptable to wear jeans, and this desire for more 'casual' attire continued to grow."
Finally, legroom decreased in the '80s as airlines strove to cram in as many people as possible. Idacavage sums it up: "Sitting on a small, upright seat for hours and hours is reason enough to want to trade in a suit for sweatpants."
"If Mark Zuckerburg can wear a sweatshirt to the boardroom, anyone can wear one on a plane," says Ian Taylor, London-based editor-in-chief of FashionBeans. "The direction of travel in menswear for the past 10 years has been toward more casual ways of dressing, especially at work. Investment banks have been getting headlines for relaxing dress codes for their employees, and if Goldman Sachs doesn't need you to wear a tie at your desk, why the hell would you wear one on a plane?"
Despite the changing tides, I admit I still respect the suit. I don't believe that a suit is inherently uncomfortable, nor do I believe it has to be an empty signifier of wealth and class. Think about the way President Trump wears a suit: oversized, boxy and unflattering; he wears it as a symbol of his own status, not an extension of his body, the way it's meant to be. Trump dresses to enhance his own largeness, with comical results. But a good suit — seasonally appropriate and correctly fitted, regardless of cost — emphasizes the body's good qualities and can be worn anywhere, by anyone.
Except maybe on a plane.
Clearly, though, I have erred with my fabric choice. I could've downright thrived in seersucker or linen. The thin wool I have is a great three-season suit option but a no-no for an 85-degree summer. That's why Taylor recommends cotton-linen blends for warm-weather travel: They wrinkle less easily than regular linen, but they still breathe. Of course, there are lighter-weight wools "if that's important to you," Taylor adds. "Search for summer suits or tropical wool, which basically has bigger holes in the weave to make it more breathable." If you're worried about wrinkles, try suits with crease-resistant fabrics made specifically for flying. "Comically, they're sometimes known as 'performance suits,' as if you're going to do a triathlon in one," Taylor says. "Check out Paul Smith, Gant and Ralph Lauren for some of the best."
Faye Richards, who builds costumes for the Juilliard School's dance and drama department, also prefers wool suits for being "basically wrinkle-free." But the real trick, she says, is packing a cheap portable steamer. That way, you can fly fearlessly, then blast the creases from your clothes when you land. Richards also advises asking the flight crew to hang up your jacket in the plane's closet while you fly (I tried this once, years ago, and promptly left it there). And, of course, you should hang up your good threads right away when you get to the hotel; don't leave anything in your suitcase. Wrinkles are one thing, but you can prevent a good deal of wear and tear while you're feeling paranoid about creases.
My next burning question for the menswear experts: What's with all the athleisure? Is this how the new generation of professionals and wealthy flyers are demonstrating their status now — with elastic?
Brock McGoff, founder of fashion site the Modest Man, has noticed this too. "I've seen so many young guys in seat 1A — iPads fired up, AirPods in — wearing joggers, [Adidas] Ultra Boosts and luxury watches," he says. Taylor agrees: "Sportswear and streetwear (as broad a term as that is) have been the leading forces in menswear for the last few years. That's true performance gear: breathable, stretchy, moisture-wicking. And big logos let you rep brands that tell your fellow travelers how much disposable income you have to throw away at a hoodie."
"The suit just doesn't produce the same aura that it used to, and younger guys aren't willing to sacrifice comfort when they can demonstrate status in other, more practical ways," McGoff points out. Like what? "Accessories like shoes, watches, bags and even gadgets (like headphones) will always be an easy way for men to demonstrate their status. If you're walking through first class, be sure to glance at everyone's wrist. You'll see a good mix of Apple Watches and Rolexes, among other more luxurious brands."  
Ultimately, men just want to be comfortable, but we'd still like to flex without being too show-offy. For younger guys, "just being in first class" is a perfectly fine signal of status, McGoff explains. What's more, the menswear industry has taken note of the demand for high-end comfort. "Brands are listening," he says. "There are more performance and technical pieces than ever before. Some companies have created entire brands around this (e.g., Ministry of Supply). Others are adding menswear to their lineup (Lululemon). And major brands like Banana Republic are jumping on the bandwagon too (BR's Core Temp line is a great example of this).
Taylor mentions Steve Jobs, who wore a black Issey Miyake turtleneck, jeans and New Balance sneakers as a daily uniform. "He didn't want to waste time deciding what to wear," Taylor points out. "You won't get away with that if you're a junior attorney at a law firm, nor the exec at a modern ad agency, but it proves the point that a suit is no longer the last (or first) word in respectable men's dress."
So let's say you're flying with a colleague, you don't have time to change and you still want to look presentable and professional. What can you wear without sacrificing much comfort? "Call me boring, but a grey marl sweatshirt" — kind of like the MEL favorite Dad Sweatshirt — "is still the everyman hero of our wardrobes," Taylor says. "You can wear the same one with tailored trousers or sweatpants depending on the occasion. If you're traveling with your boss, you can always slip an unstructured jacket over the top of it and you'll still look tailored. Then, when you take your seat, you can recline in comfort." For McGoff, too, it's all about the unstructured sport coatsportcoat, "a great piece that can be dressed up or down." For pants, the performance chino: "It's less casual than sweats or joggers but way more comfortable than your standard heavyweight cotton twill chino." And for shoes, think premium casual, like Common Projects Achilles or Gucci sneakers, McGoff says. (Can't afford those? There are lots of alternatives for sleek white leather sneakers.)
Comfort aside, what of the suit's other legendary quality: the ability to conjure up a free upgrade? I have a feeling that this is an outdated urban legend, especially having not received any preferential treatment thus far (although the way I'm wriggling, I understand why anyone taking a look at me would want me as far from the pilot as possible). 
A pilot and two flight attendants I contact a few weeks later all say the same thing: No way, dude. "I hate when people think that!!!" writes Lauren, a flight attendant for a major airline. "Chances are, if someone is dressed nice, I may compliment them or be like, 'OMG, love your bag,' but I'm not gonna upgrade someone to an empty first-class seat because they've got dress pants on." And here's Mike, a 30-year-old commercial pilot from Chicago: "In my opinion, you only get upgraded if you have status with an airline or maybe if you are military. Gotta support the troops. I think you don't have to dress up anymore, either. You just don't want to show up in ripped, dirty clothes or looking like a slob." Tricia Johnson, 25, a flight attendant for a charter airline, has "no idea" what I'm talking about: "We don't do anything like that." And McGoff, of the Modest Man, says, "I agree with you: I think this is an urban legend at this point. Airlines would never discriminate this way these days."
So what will change the way you're treated? Being kind and helpful, mostly. "In my experience, the way you dress has nothing to do with upgrades, but airline loyalty and being polite will get you very far!" says McGoff. Flight attendant Lauren agrees: "I'm 100 percent more likely to upgrade someone if they're kind, I see them helping someone in need put their baggage in the overhead bins or are just nice and polite to the crew. I will always upgrade in cases like that or give free snacks or drinks. Never for dressing a certain way." Lesson learned: When everyone's dressing down, you can win points by not being a piece of shit.
As for this itchy P.O.S., I land in L.A. in what's left of my fancy getup: suit pants, a T-shirt and black slip-on socks. This morning's outfit was a physical embodiment of my own hubris, and the humbling journey has stripped it all away.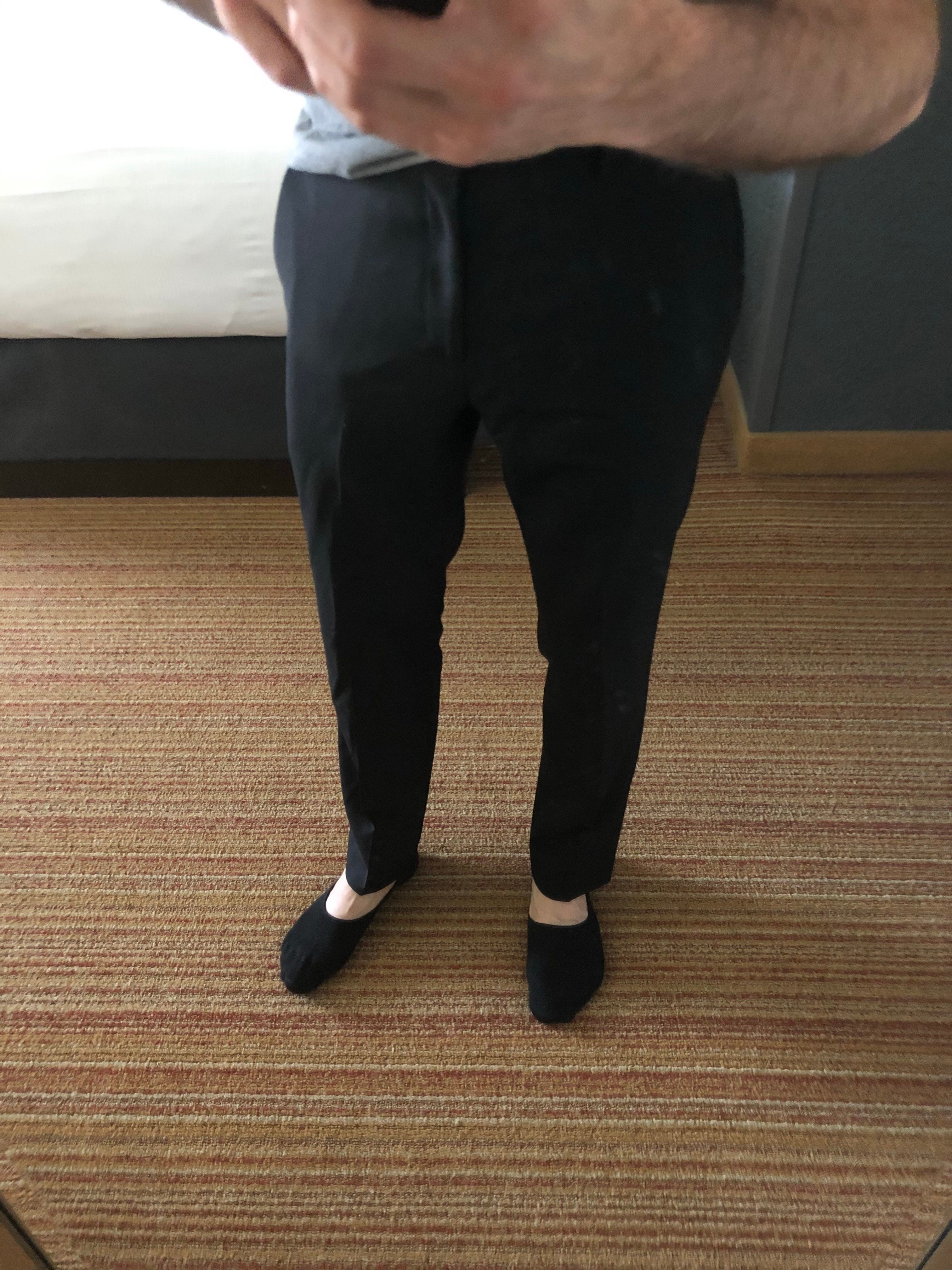 I undress, wash off the layer of airplane grime on my face and promptly hang up the dress clothes. Stunting like I'm important enough to suit up for half a day in a cramped sky tube is exhausting, and all I want is to lie in bed, wearing nothing at all, with no other human beings in sight. Alas, it's a Monday. I look at my suitcase, then, and have no idea what to wear. If I'm not a suit guy or an athleisure guy, who am I? Someone who wears the same boring J.Crew button-down over jeans, like every other male early-30s yupster in an office, too scared of rocking the boat to even tuck in a shirt halfway? Fuck it. Life is so much better when you don't agonize over what level of status to project to your suffering neighbor. And if that's your thing, hey, suit yourself.