If there's one thing I've learned about myself in my 36 years of life, it's that I'm a creature of habit. Perhaps to the detriment of the spontaneity-loving people around me, organizing my life so I have it on good authority what's coming next in my day, week or month is just my preferred modus operandi. 
With that in mind, this quarantine situation has been both a blessing and a curse. The latter because I've been thrown way off track from my pre-virus routine: Get up 7:30 or 8 a.m., get ready, go to work, work until 5 p.m., maybe go to the grocery store, go home, eat dinner and then in bed by 10 p.m. Rinse, repeat. But also the former because it's given me a chance to create a new routine, and in doing so, add some things that've been missing from my old one: Like a daily workout. 
If you've read anything else I've written, you know that I'm constantly on the lookout for shortcuts to living a healthier lifestyle. The quarantine actually offers two: 1) More time in the day — no commute means I've got an extra hour built into my normal wake-up routine, perfect for a quick workout; and 2) fresh new ideas for exercising at home — something I've wanted to do for a while because it means avoiding strangers.
Hence, the video-conference quarantine workout. That's what I'm calling it at least, because there are a number of flavors to the VCQW (that's also how I'm abbreviating it). For example, some people have taken to FaceTime to get their sweat on, one-on-one or within a larger group, running through exercises together or just being online together for the camaraderie.
Others have been opting to follow along to Instagram Live workout classes with personal trainers.
The third flavor of VCQW has been re-appropriating popular office video-conferencing apps — the kind that have become ubiquitous these last few weeks — like Google Hangouts and Zoom to host or join friends' workouts. 
Speaking just for myself, the idea of using Zoom (preferable to Hangouts because of the gallery feature, and a seemingly better connection) was immediately intriguing: I've got some extra free time, I'm home in my own space, I haven't seen my friends IRL in weeks AND I owe it to them not to blow off a session like I might normally if I work out by myself.
Thankfully, I had a friend who was into the idea, too — Kristen Kurihara, a yoga and fitness instructor who'd only recently started doing a Zoom class for a few friends around lunchtime each day.
The first thing I'll say about doing an VCQW with your friends is, y'all better have a plan together, otherwise it's a big ol' mess. And so, synchronize a YouTube class on the TV beforehand, or hope one of you is a professional who knows how to lead a series of exercises for 30 minutes to an hour (like, fortunately, mine). Whatever you do, though, don't improvise, because the downtime deciding what you're doing next plus the fact that you're working out with friends is a recipe for time NOT well spent. "I worked out with a friend over our phones, and we just spent the whole time bullshitting," Chris, a software developer friend in New York, tells me. "There was a whole lot of, 'So what do you want to do now?' and then talking about how hard it is to find toilet paper."
The other thing I noticed was that, if you're going to get your exercise in this way, you better make sure everyone's got a good internet connection. As well thought out as Kurihara's routine was, it's hard to see what's going on when you're watching what looks like a VHS tape that's been recorded over to within an inch of its life.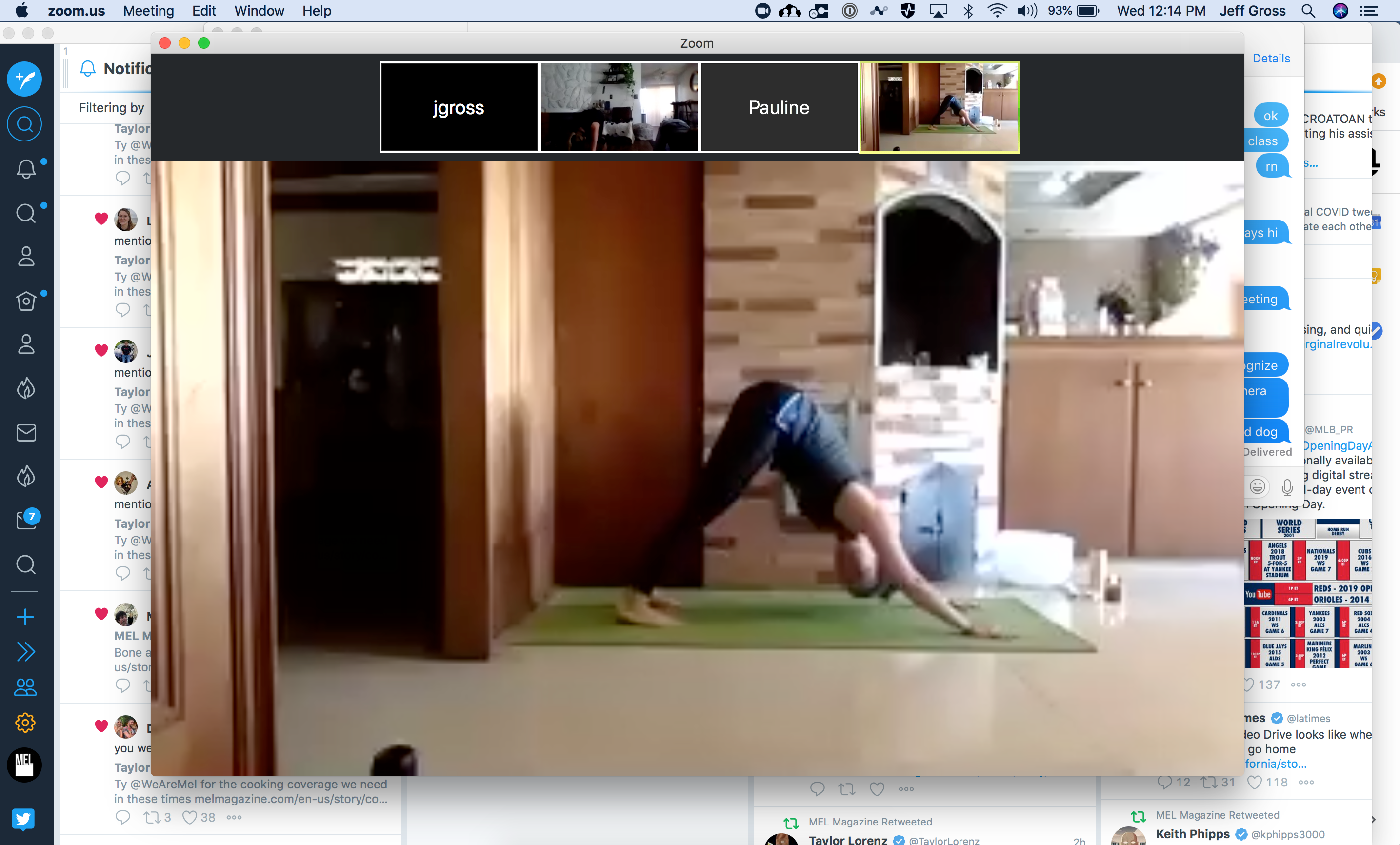 You know what I'm talking about from your work meetings: The one coworker with a shitty connection, trying to talk about something important but they cut out at the most inopportune time and you're forced to ask them to repeat what they just said. 
The same thing happened multiple times while Kurihara and I worked out together, and as a result, I found myself lost on what I was supposed to do next because I hadn't been able to see through the fuzz of the connection.
All that said, it still beat working out alone by a wide margin. In quarantine, we've all discovered the surprising joy of video-chatting parties with our buddies; and being able to work out with friends is just like that — simply minus the booze and plus some sweat. Because while you don't want to talk so much that you become distracted, you can still shoot the shit a bit, spread some gossip and/or share a tip on the best time to brave the toilet-paper line at the supermarket. 
I'm hoping, then, that by including it in my routine now, it will be something that my creature-of-habit nature won't be able to shake when all of this is over, too.