When 28-year-old Sarah Wheeler's grandmother passed away last summer, she was given the task of organizing her possessions. As such, she had to decide what was to be donated, what could be sold and what should be kept. For the most part, the process was simple. She donated her grandmother's old clothes, threw away broken cassette tapes and neatly wrapped stacks of unused china in brown paper for resale. But when she took some vintage jewelry and cutlery to the local charity store, she didn't expect for the cashier to be most interested in the plastic bags they came in.
"She told me she hadn't seen these shopping bags since the 1980s," explains Wheeler, who lives in Kent in the U.K. Wheeler knew the bags were old — her grandmother, who rarely threw anything away, had dozens of them from the British supermarket chain Tesco — but they were largely unremarkable. "I didn't think people would be so fascinated by them," Wheeler continues. "But I was even asked if I had more of them."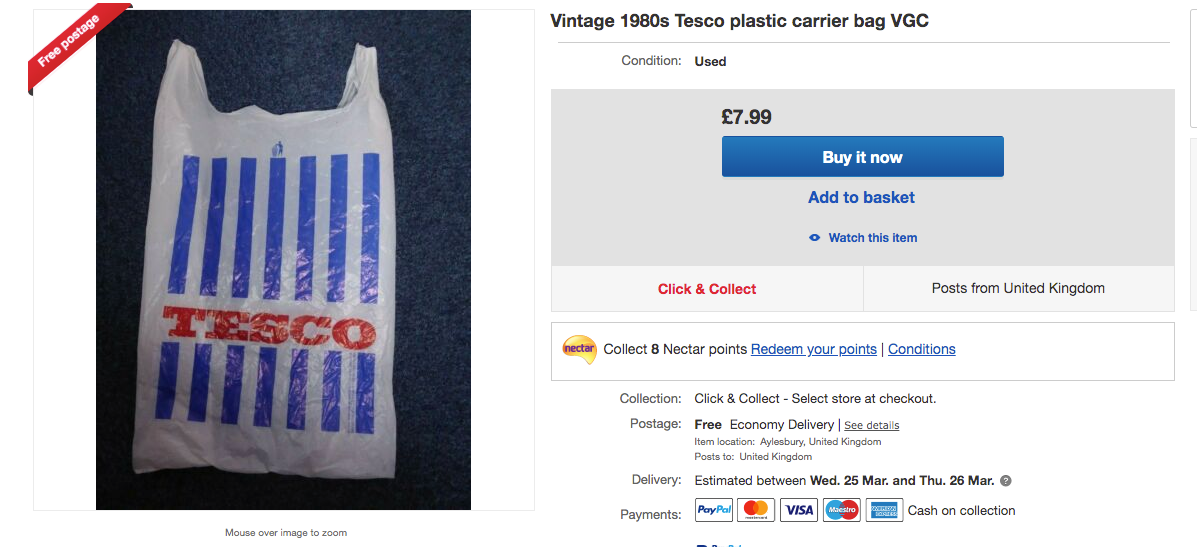 The cashier wasn't crazy — demand for vintage plastic bags is growing. On eBay, just one of the bags that Wheeler's grandmother had kept stuffed in her kitchen cabinet can fetch anywhere from five to 10 bucks. What's more, the bags don't even need to be in pristine condition. A shabby vintage White Hen Pantry bag is currently worth $8, while a creased Publix bag is going for $25. All of which is to say — the more dated the bag, the better the price.
Who's buying these bags? 
According to sellers like bern17, his clientele largely consists of people "without a lot of cash to spend who like the nostalgic element of the bags." Unlike vintage clothing, the popularity of which is a mix of environmental sustainability, ethical fashion and nostalgia, these bags "represent a period that we're all turning our backs on." To that end, bern17 adds, "The grocery store back then was more like a big community hub; it's where people have childhood memories." 
And while bern17 doesn't think vintage plastic bags will ever demand the same kind of cash as vintage records, clothing or even signage, they have a steady market nonetheless. "The things that I sell most are small — they're like reminders of a bygone time," bern17 says. "But they're also affordable in a way that other vintage items aren't."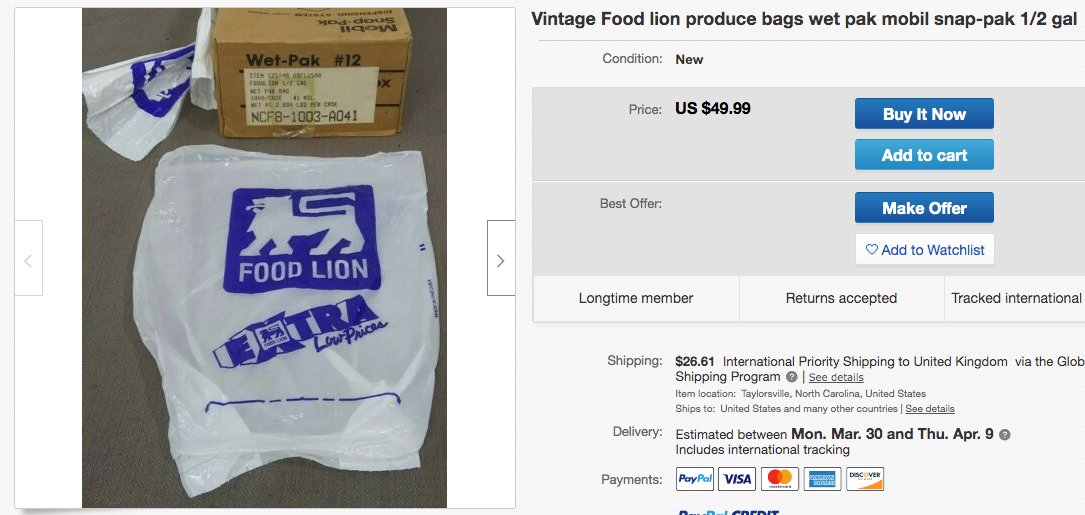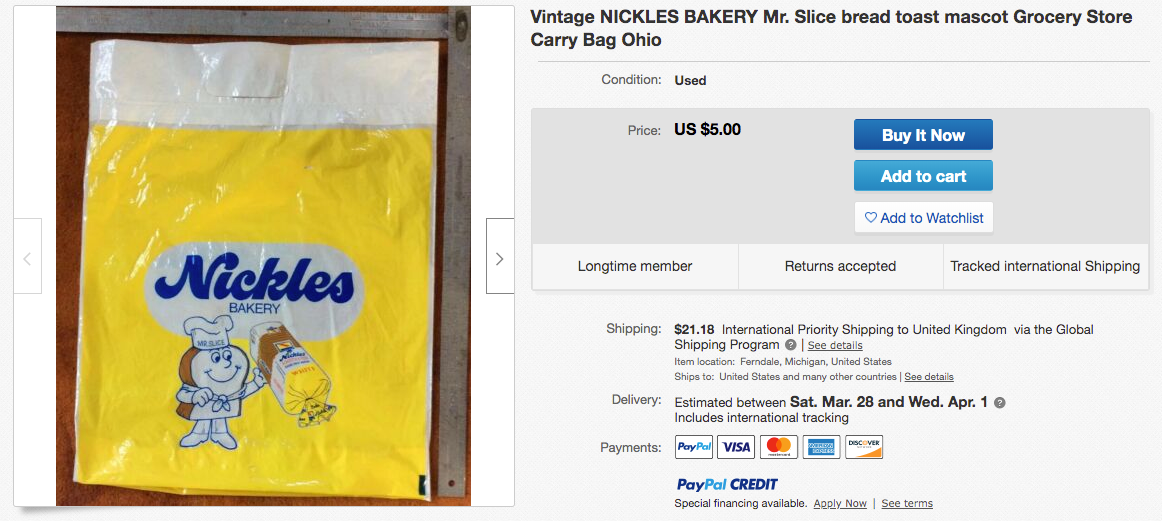 That said, fashion houses have incorporated vintage grocery bags into their collections — e.g., Burberry in 2018 with Christopher Bailey's take on clothes as contemporary storage. Celine and Balenciaga also have incorporated these bags into their offerings, largely as a commentary on unsustainable fashion that, ironically, they remain complicit in. At the same time, they're a lesser-known addition to hypebeast culture; the prime example here being Travis Scott-signed "ASTROWORLD" bags, which were sold for up to $20 each and were out of stock within a few days. 
"Plastic bags might be a continuation of the way people save the fancy paper shopping bags from high-end brands and reuse them either to carry things or as decorations in their homes," says Emily Kirkpatrick, who has previously reported on fashion for the New York Post. She adds that while plastic bags might not have the same luxury status as vintage bags made of fabrics, that might change over time. Plus, vintage plastic bags convey a different cultural message. "The bag becomes its own strange luxury symbol that conveys something about its owner," she says. "In the case of a Chanel paper bag, it's having a lot of money and status; in this case, it might be having an eccentric taste or niche interest."
Wheeler did end up donating around a dozen of her grandma's old plastic bags to the charity store. She was still confused, but her skepticism was short-lived, as she was told that within a few days, a Tesco bag had sold for $5. "Maybe my grandma knew something I didn't," she laughs. "Maybe I need to start keeping my plastic bags in case I'm short on rent."